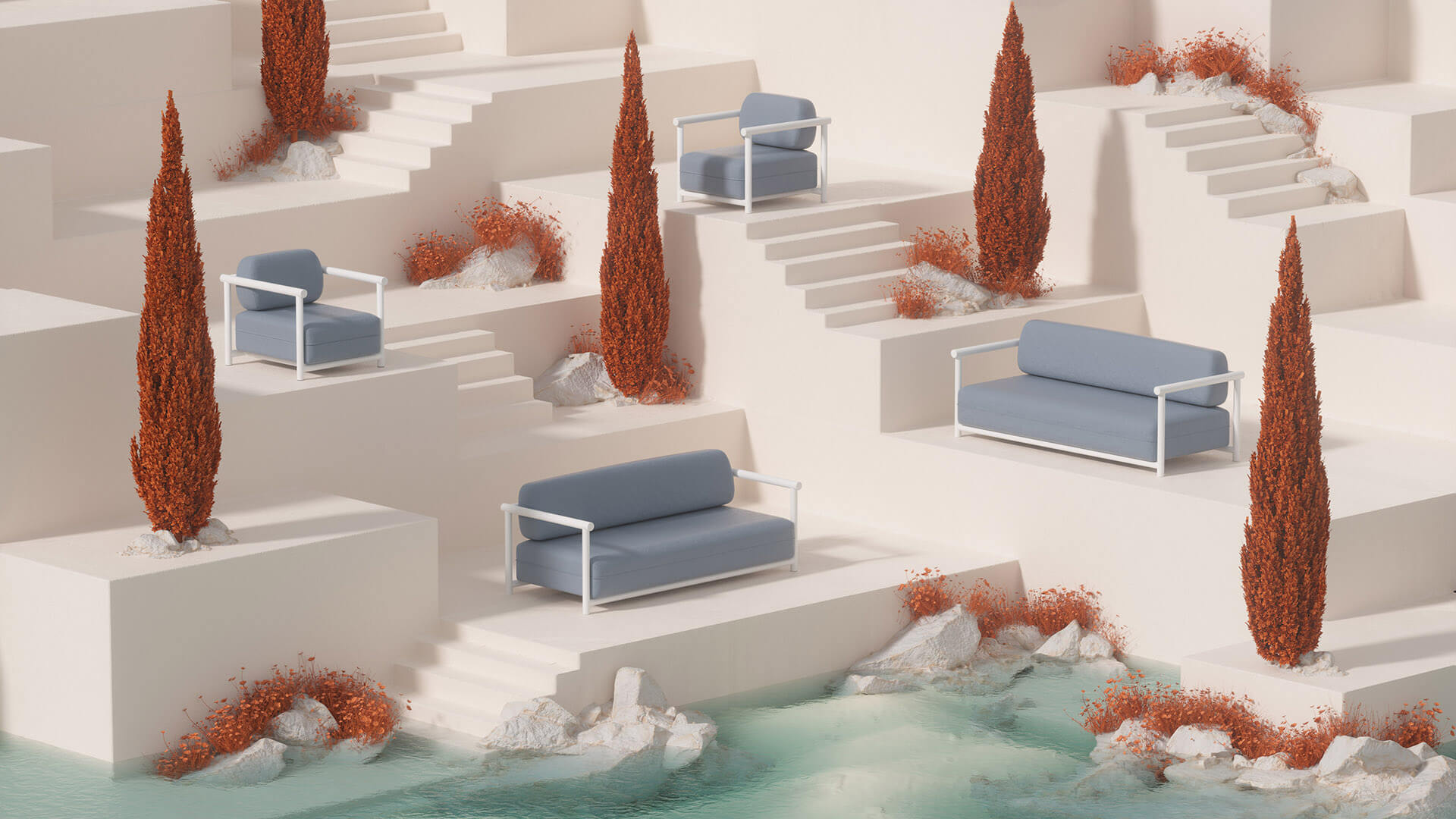 MISSANA launches a new creative direction showcased in the launch of their first outdoor and indoor collection, Bamboo.
After a few complicated months but also full of work, MISSANA launches its new creative direction by the Valencian studio Clap Studio. This new image is presented with the launch of the first outdoor and indoor collection called Bamboo.
Bamboo is a very special collection as it opens the doors of MISSANA to outdoor spaces. It is a collection made up of an armchair and a sofa adapted for both outdoor and indoor spaces, its structure is the one that gives it its name, emulating the stylized shapes of this plant.
"I was inspired by the bamboo forests to create a timeless collection in which both the structure and the upholstery play the main role," explains Pavel Vetrov, the Ukrainian product designer who signed this piece. To achieve greater resistance and durability, MISSANA used a stainless steel structure for outdoor spaces and iron for indoor spaces with a wooden detail at its armrest.
Curious to know more about companies creating incredible indoor and outdoor furniture, don't miss Brand Story – Paola Lenti.
MISSANA is a company born in Valencia, a land bathed by the sun, connected to the sea and surrounded by nature. An enclave located in the Mediterranean, from which the new creative direction of Clap Studio begins under the title "Mediterranean Frame of Mind". "We are inspired by the Mediterranean and by the values of MISSANA: color, optimism, and well-being to create a dreamlike universe in which to show their pieces," says Jordi Iranzo, creative director of Clap.
More than a place what Clap wants to represent is a feeling, a longing, a magical memory of the Mediterranean, "Each new launch will be set in this digitally created land. To present Bamboo we have created a quarry by the sea where the collection appears bathed in the sun and surrounded by nature ".
Clap Studio has decided to use new creative routes in which the limits are expanded, in which everything is possible. Through 3D art, the studio has found a world full of possibilities to present the new MISSANA products.
Bamboo is the introduction to everything that is to come in September. A declaration of intent that MISSANA will reaffirm in the upcoming months.
If you want to know more about captivating furniture collections, don't miss Cimento Collection: monolithic, versatile furniture pieces that captivate with grace and elegance.