Design events
Marmomac's Zodiac-inspired round-up features the best in natural stone design
Drawing inspiration from the constellations, Marmomac has compiled a series of highlight projects in the natural stone industry.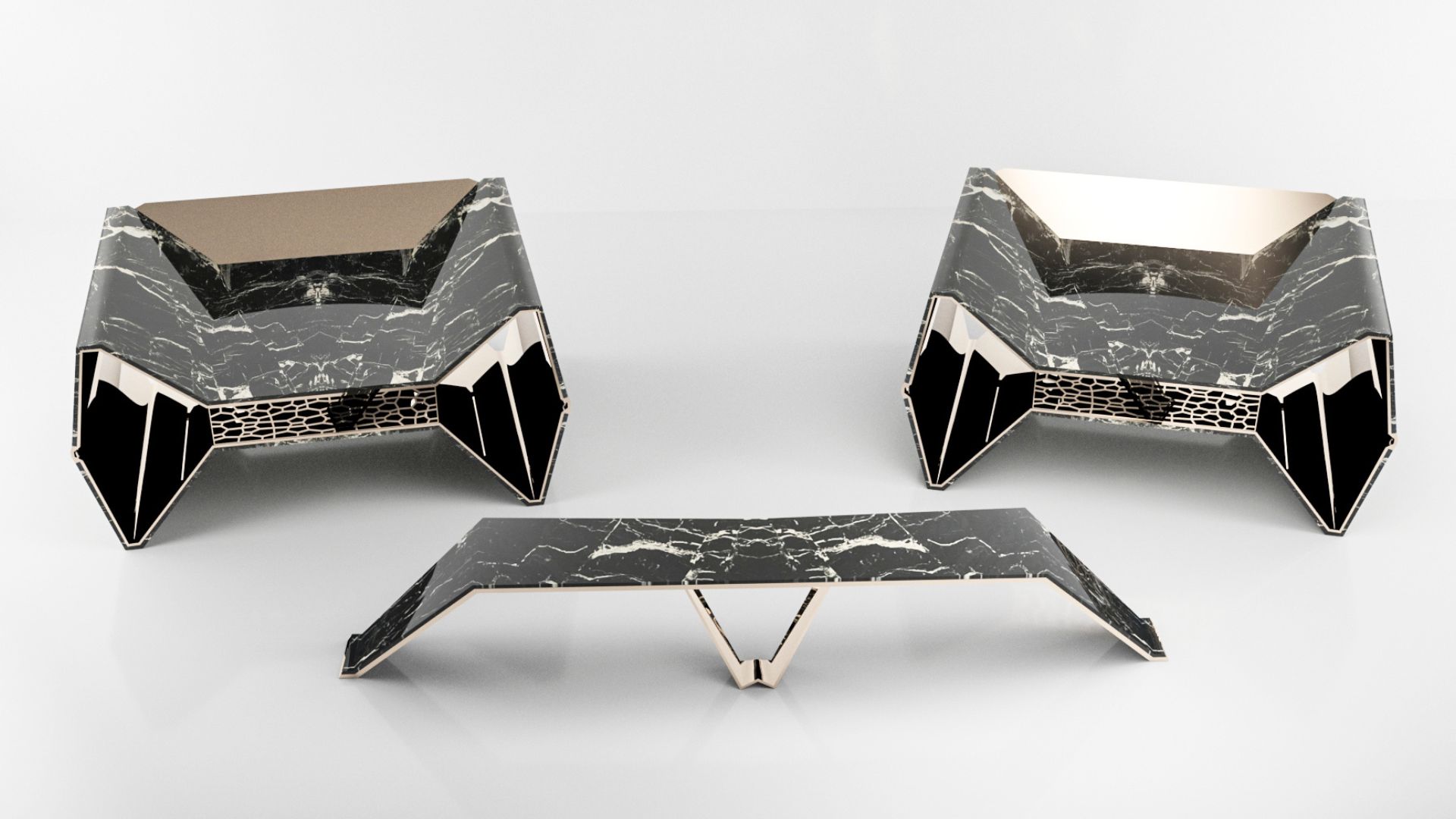 The most important world event for natural stone Marmomac has selected 12 projects that use this material, each of which has been partnered with its own star sign as a way of exploring its aesthetic quality.
Think marble-clad interiors synonymous with the water sign Cancer, and geometric flooring and open-plan spaces reflective of the outgoing nature of Sagittarius.
"Although Marmomac is a b2b fair reserved for sector operators, we have begun to ask ourselves how to bring the consumer even closer to the world of natural stone and how to make the storytelling more accessible," says Elena Amadini, Exhibition Manager at Marmomac.
"The horoscope somehow encourages self-reflection and helps individuals to better understand themselves and their environment."
"The choices a person makes even in the field of design certainly consciously or unconsciously reflect the personality.
Hence the idea of ​​confronting ourselves with astrology, light but also comforting content that speaks to everyone."
The selection includes a variety of different projects, including furniture, interiors and objects d'arte, all of which are characterised by their use of natural stone.
Brands include leaders within the industry like Portuguese company Moca Stone, which exports its products worldwide, and Marimar, an Italian company that, since 1995, has specialised in the sourcing, supply, production and manufacturing of high-end marble, granite, agglomerates, and natural stones.
"The enthusiasm of some companies was so strong that already at the time of the call to action for participation in the initiative, they presented themselves with the project and the request to combine it with a specific sign," says Amadini.
"For the combination, we created a map of the personalities and styles of each zodiac sign alongside a mood board with the candidate projects."
"By crossing the details of the images with the profiles, the combinations were born—like the Virgo's precision, which was combined with the maniacal search for perfection (material, colour, thickness) of the Torresan table, or the creativity and love of the contemporary Aquarius who found their perfect project in the original set of armchairs and coffee table by Allin Studio."
To realise the project, Amadini and the Marmomac team started putting together a contact list of the best companies that use natural stone in their projects.
These companies then provided a project and in some cases, a proposal for it to be paired with a specific sign — see the full list below alongside exclusive interviews with the brands about their natural stone products.
Cancer — MARIMAR
Owing to its streaky and gleaming appearance, marble adds a luxurious element to these bathroom interiors designed by Italian company Marimar, chosen by Marmomac to represent Cancer, a water sign ruled by the moon but also synonymous with summer and light.
"What we do at Marimar is make a wide range of solutions available to our customers, guiding them towards the best solution in the shortest possible time and in compliance with design needs and budget constraints."
"The customer wanted a unique natural product that would respond to the aesthetic needs of the project, an elegant but at the same time warm and welcoming environment," says Marimar.
"Another requirement was of a technical nature: we were looking for a durable surface capable of withstanding daily use."
"Delicate, soft colours characterise Nuvolato Calacatta by Marimar, an elegant Soft Quartzite that highlights this classy bathroom," says Marmomac.
"People born between 22 June and 22 July are endowed with great ideals as well as great sensitivity."
"Their homes are an important point of reference for them, a safe place to take a break from outside stimuli and recharge the batteries: home must therefore be a strong, protective sphere that helps people of this sign find inner resources to face the unexpected."
Discover the project and applications of Nuvolato Calacatta by MARIMAR on Marmomac Plus.
Leo — A.A.T.C. AND CO.
"The fifth sign of the zodiac is ruled by the Sun, characterised by generosity and a dash of vanity," says Marmomac.
"People born 23 July-22 August are self-assured and perhaps a little aloof, but they are also courageous and ready for sacrifices – their environment is out-going and elaborate but must always highlight the self-centred character of this royal sign."
Chosen to reflect this personality is a project by A.A.T.C. and Co. in collaboration with Egyptian-born and Canadian-raised industrial designer, Karim Rashid.
"This creation by A.A.T.C. and Co. creates a perfect environment for every Leo: a new flooring cut by water jet with a fragmented, geometric design interconnecting every tile."
The various works shown in the collection give a concrete demonstration of the different types of techniques and processes that A.A.T.C. and Co. has mastered.
The materials used include Calacatta Arni, Nero Marquinia, Bianco P, Grigio San Nicola, Azul Bahia, Granitello Beige, Verde Alpi and Giallo Siena.
"The goal of the project was to demonstrate how matter/substance can go beyond its physicality by resorting to a strategic use of engineering and know-how in product processing and qualities," says A.A.T.C. and Co.
Discover A.A.T.C. and Co. profile on Marmomac Plus.
Libra — MARMI FAEDO
Described as "lovers of the outdoors and Zen atmospheres," to represent the Libra zodiac sign Marmomac has chosen a house furnished with a "statement" table in Grolla marble by Marmi Faedo, an extremely resistant and versatile material that adapts perfectly to any type of processing.
The table serves as the focal point in an open-plan dining room that merges indoor and outdoor living.
"The main social function is to be able to gather around the table, family and friends, thus allowing the free exchange of ideas, stories and thoughts of shared and daily life," says Marmi Faedo.
"[Meanwhile], the beige nuance of the stone does not invade the colours of the house but dialogue with the materials of the same and is particularly suitable for highlighting the contrasts given by the colour of the sea that contrasts with the blue mortar sky."
The Grolla stone, which is sourced from the company's exclusive quarry offers a very particular hard-limestone with excellent technical-mechanical characteristics.
"It gives us the opportunity to free all the architect's design ideas," explains Marmi Faedo.
"In fact, we realise any need and even tailor-made such as flooring, facades, special project pieces; our stone is particularly suitable for all climatic zones because it does not fear frost or scorching heat, which is why our creations are everywhere in the world."
Discover the applications of this unique marble in MARMI FAEDO profile on Marmomac Plus.
Scorpio — MOCA STONE
To represent Scorpio, the eighth sign of the zodiac, a water sign ruled by Pluto, Marmomac has selected a decorative object by Moca Stone.
"Charming, astute and possessive, people born between October 23 and November 21 have a great sense of humour, love to break rules and are very passionate," says Marmomac.
"Their lively nature demands relaxing and elegant environments with a simple, modern and essential style.
And this hand-finished fruit bowl carved from a solid piece of marble by Moca Stone is unquestionably essential!"
The elegant artefact can be used to hold fruit or as a simple ornament for a kitchen counter or sideboard.
It's representative of Moca Stone's aesthetic, which combines tradition and innovation, each product processed by high-tech machinery and finished by a highly skilled team of specialised artisans.
"These dialogues result in high-end products with refined finishing touches that emphasise the features of the stone that make each product unique," says Moca Stone.
"From the extraction of blocks in our quarries to the design and creativity of exclusive pieces, our professionals are cut out to work closely with you: this is the only way to respect the value of natural materials in every project."
Find out more about MOCA STONE projects on the company's page on Marmomac Plus.
Capricorn — SEZGIN MARBLE
For Capricorn, the tenth sign of the zodiac, Marmomac has chosen this wall application, which uses Thunder Blue by Sezgin Marble, a stone well-suited to indoor applications, adapted ideally to the Capricorn personality.
"People born from 22 December to 20 January are proud, focused on results, elegant and endowed with exceptionally fine taste," explains Marmomac.
"Solitary and self-centred, they are unquestionably extremely charming. Capricorn people have very practical styles and their home environments have to be functional without overlooking a touch of refinement with natural materials and bold colours."
The brief asked Sezgin Marble to create a focal point, which it achieved by using the marble to create a striking backdrop marked by even darker blue strokes, all in contrast with a bold and swirling brown veining.
Discover the SEZGIN MARBLE profile on Marmomac Plus.
Aquarius — ALL IN STUDIO
An age-old material gives life to contemporary furniture in this project by Claudio Dal Prete, chosen by Marmomac to represent the eleventh sign of the zodiac, Aquarius.
"This highly original coffee table and armchair set in Black Calacatta and highly polished Champagne is an ideal match for this sign," says Marmomac.
"It represents the ideal of friendship and open-mindedness, as well as self-control."
"We tried to propose an extreme design project, using both natural stone and metal. As far as natural stone is concerned, we have chosen polished BLACK CALACATTA," says Claudio Dal Prete.
"In order to shape the marble "skin" we used numerically controlled machines with interpolated axes. Then some points were finished manually."
Discover more about this ALL IN STUDIO project on Marmomac Plus.
Pisces — 900 PROJECT
Venetian terrazzo has been chosen as the most appropriate material to link with Pisces, the twelfth and last sign of the zodiac.
"Always in love and very inventive, people born between 20 February and 20 March manage to turn unfavourable situations into opportunities and adapt to adversity," says Marmomac.
"Terrazzo was created when enterprising Venetian mosaic artists discovered a way to reuse marble left over from sites, thereby avoiding the need to transport blocks from the mainland to the lagoon city."
The 900 Project production of large slabs interprets this ancient tradition through a modern approach, an agglomerate marble divided into two large families, which can be adapted to meet the tastes and moods of clients.
The project produces large slabs (305x124cm) thus speeding up the installation compared to the cast in situ from which it also descends.
"A material such as terrazzo is a synthesis product between the inserts of post-industrial marble (resulting from the quarry) and the cement 525, absolutely green and suitable for all uses for interiors and exteriors as possible and imaginable from the floor to wall cladding," says the company.
Find out more about 900 PROJECT on the company's page on Marmomac Plus.
Taurus — TRAVERTINI GIANSANTI
"Harmony, exuberance, freshness and stability are the main characteristics of the second sign of the zodiac, ruled by Venus," says Marmomac.
"People born between 21 April and 20 May are attracted by beauty and love to enjoy the pleasures of life… but without over- doing it! Taurus people are conscientious and tireless workers."
The chosen project is a collaboration between Travertini Giansanti and jewellery designer Bernard Delettrez, who developed a series of design artefacts boasting unique characteristics.
The stone and precious inserts blend to create unique, exclusively numbered artefacts designed to embellish various settings.
Discover the TRAVERTINI GIANSANTI profile on Marmomac Plus.
Aries — PAOLO COSTA & CO.
Also included in the round-up is an artistic​ fireplace by Paolo Costa chosen to represent Aries: hand-finished by expert sculptors in the constant search for details capable of always ensuring truly unique creations.
"The first sign of the zodiac, Aries, is characterised by courage, strength and sensuality," says Marmomac.
"People born between 21 March and 20 April may even be irrational at times but they are always up for any challenge.
Inasmuch they are born leaders."
Find out more about PAOLO COSTA & CO. on the company's page on Marmomac Plus.
Virgo — TORRESAN TRAVERTINO
Meanwhile, the Elica table by Torresan Travertino has been paired with Virgo, a sign which is associated with communication, intelligence and intuition in classic astrology:
"Designed by Paolo Criveller and inspired by the theme of time, this table is a metaphor for perpetual motion hallmarked by the number 3 (the perfect number)."
"The top is defined by a helix with three blades in walnut travertine marble, supporting 3 square panes of tempered glass bonded with thin slabs of classic travertine merely 2 mm in thickness. Lastly, 3 other square slabs mounted to form a prism support the table top."
Find out more about TORRESAN TRAVERTINO on the company's page on Marmomac Plus.
Sagittarius — EUROBUILDING
A stunning outdoor setting by EuroBuilding underscores the beauty of travertine and the positive energy of Sagittarius.
"The setting of their homes simply has to be welcoming for the many guests that Sagittarians invite – but also well looked after, since people of this sign have an essential style and love natural materials, elegance and refinement," explains Marmomac.
"In short, what better place to entertain friends than this outdoor setting with a swimming pool in travertine by Eurobuilding? The same material is also used for the pure outlines of the elegant indoor pool."
Find out more about EUROBUILDING on the company's page on Marmomac Plus.
Gemini — G.R. MARMI
Finally, a kitchen counter by G.R. Marmi demonstrates the brand's workmanship with the excellent quality of white marble with gold veins.
It represents Gemini, the third zodiac sign and a symbol of vitality.
"Communicative, sociable, affable and courteous, people born between 21 May and 21 June adapt capably to every situation and are endowed with considerable intellectual curiosity," says Marmomac.
"Their tastes reflect an inclination never to settle on the obvious and their homes interplay with multiple styles."
Simple yet refined, here, luxe materials and a linear design achieve a balance between tradition and innovation thereby implementing and satisfying every customer's desires.
Find out more about G.R. MARMI on the company's page on Marmomac Plus.
"From the research we commissioned, it emerged that marble is appreciated and considered a current material from an aesthetic point of view, duration and the expressive potential that has been implemented thanks to new technologies / machinery," says Amadini.
"These new processes have caught the interest of the world of architecture because they have allowed a more creative application of stone in terms of thickness and surface effects."
"In homes, natural stone is now used for inserts in floors and walls, in bathrooms, for kitchen tops, and for furnishing accessories. In homes, the use of "total marble" flooring has been reduced, but it remains widely used for the flooring of hotels, palaces, ships, places of worship, and large villas (this to a greater extent outside Italy)."
"With regard to trends, the love of the market for white from Carrara remains, but natural stones are also making a comeback in colours such as pink or green. Concerning naturalness, this is one of the distinctive characteristics of marble and natural stone in general."
"Once chosen, the material can be carried forward and therefore allows amortisation over time of the purchase and environmental costs. In the processing of natural stone, there is no waste because everything, for different purposes, is reused. Unlike some materials, it does not require cooking and treatments that produce polluting emissions (or at least much less polluting). All this generates respect for the environment."