Visual design
4 dimensions printed artificial fruits by Meydan Levy
Meydan Levy awakens our imagination through products that open new directions of thought and make us realize the future truly belongs to design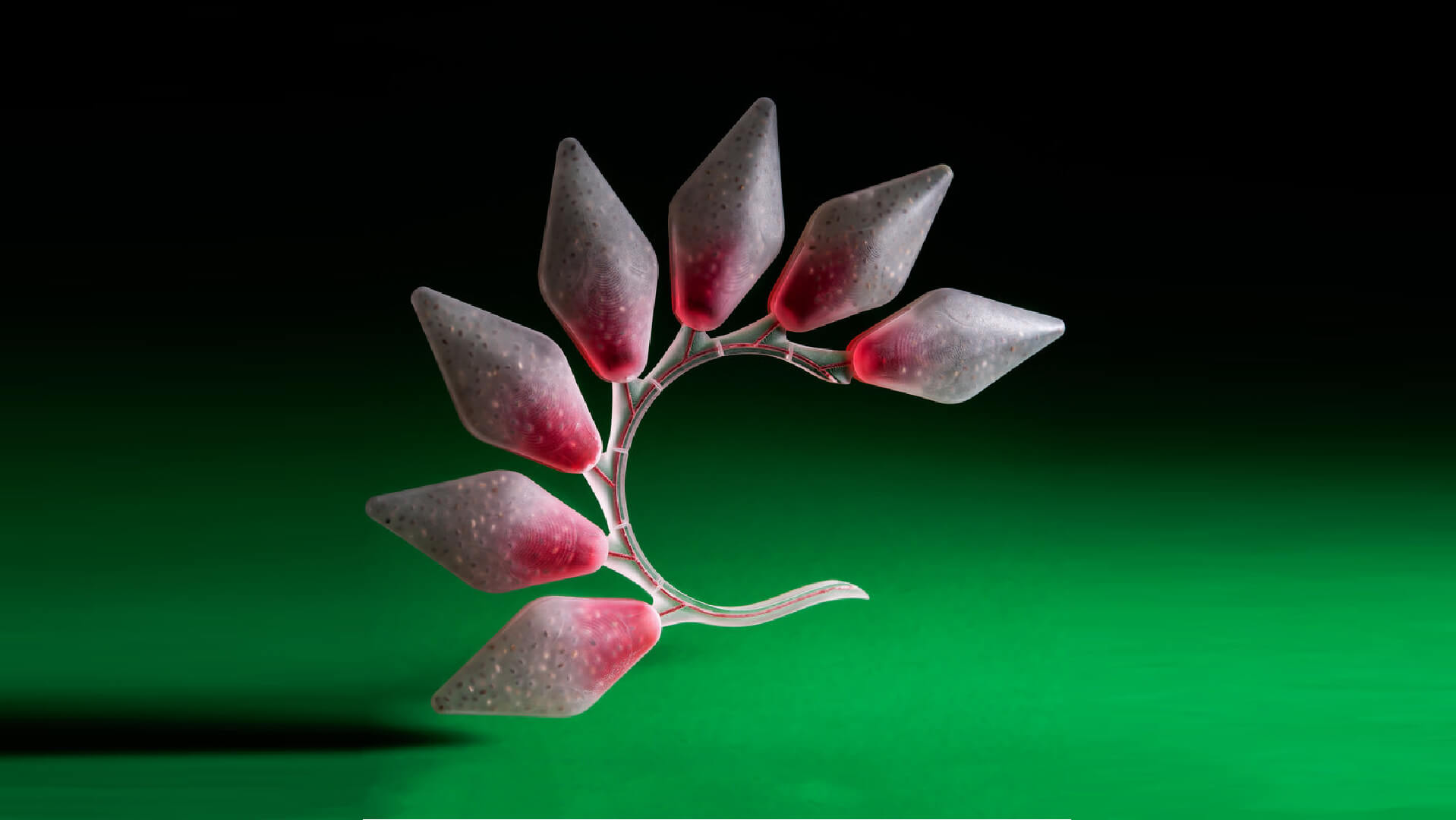 As the world population grows rapidly and with raising demands for food consumption being higher than ever before, Neo Fruit offers a fresh artificial alternative to familiar fruits, conventional methods and technologies by bringing healthy and nutritious edibles that could be printed instead of being grown or prepared. 
Graduate from the Bezalel Academy of Art and Design, Meydan Levy is creating futuristic products that encourage a symbiotic relationship between nature and human development.
His project Neo Fruit is a clear example of his essence as a designer, and through it, he invites us to change our perception of the world and our future in it. 
Created focusing on future scenarios in which food will be created artificially, Neo Fruit is Levy's collection of artificially designed fruits printed in 4 dimensions.
DesignWanted had the opportunity to interview Meydan Levy and learn more about his journey, design perspective, essence, and, of course, the Neo Fruit project.
Who is Meydan Levy? How did your journey in design begin?
Meydan Levy: "My name is Meydan Levi, I am 34 years old and a graduate of the Industrial Design degree at the Academy of Art and Design, Bezalel, Jerusalem. Currently, I'm in advanced stages in setting up a startup company implementing a project I developed during my studies in the field of food design.
Truthfully, I cannot view my personal journey as a design journey because it was closer to a search and wondering journey.
Design was not a dream or a destination that accompanied me throughout my life, I was drawn to the world of industrial design 5 years ago when I was first exposed to the Industrial Design Department at Bezalel Academy of Arts and Design.
As my journey started at a very young age, the foundation was set in my early childhood not as an artistic journey but as a search and a keen sense of wonder."
Why focus on industrial design?
Meydan Levy: "In truth, industrial design came to me by chance. I was looking to acquire more knowledge, I wanted to study soldering of fine metals.
I was looking for some short jewelry courses to acquire the basic knowledge from where I could continue and discover myself.
When I found nothing my aunt Miri told me she heard that there would soon be entrance exams for the Academy of Arts and Design, Bezalel and maybe I could try out. 
After a thought, I contacted a friend who, at the time, was studying there and she invited me on a tour that was quite the experience.
When I arrived at Bezalel, everything was interesting and beautiful. Then we got to the industrial design department and wow… my eyes opened.
Seeing people running with unclear jobs, ingredients, flying sketch pages everywhere, and the highlight of the department the workshop!
I fell in love immediately and knew that I wanted to be there doing that. Thinking to myself that whatever it is they do here good will come of it."
Which designers are you inspired or influenced by? What other fields and inputs outside of the design world provide you inspiration?
Meydan Levy: "I think every encounter with an object has a conscious or unconscious influence on me and on my work.
But the designer I'm thrilled and fascinated with every when I encounter her work is Neri Oxman.
I really connect with her. I feel like we speak the same language and share a lot of thought and expression.
In her work, she unites and integrates her entire world as a woman of science, society, and environment.
She covertly presents solutions that support the material, functional and emotional research that is finally presented as an object.
To me, she is an interesting diverse researcher and designer with a different and new approach and I am fascinated by her work.
Recently, I also found myself following the architectural design world.
Creators like Frank Gehry and Zaha Hadid (or her office) to me are amazing, different but similar. So organic and even futuristic.
Artists like them create fantasy and new worlds.
Practicing the material movement and flow or the breaking of surfaces.
The function is undermined and is swallowed up in the work combined with their unique attention to detail and the creation of unique experiences.
Sometimes quiet and relaxing and sometimes turbulent and dramatic, but always interesting and so aesthetic. 
Of course, there are many more and these are just a few examples, truthfully most of my inspiration comes from the natural world."
You recently presented Neo Fruit, the artificially designed 4D printed edible fruits. Can you tell us how this project came to be and the inspiration behind it?
Meydan Levy: "The NeoFruit project is a reflection of my opinion, my desire, and my personal perception of current and future life realities.
I see an industrial and technological developing world at an accelerated pace and with interesting and fascinating abilities. But under its influence, we as a society and human culture become industrialized.
The loss of the connection between man and the environment and between man and his friend makes us cold and alienated and our future with the exception of emotion and character.
I love nature and I believe in taking responsibility and changing the perception of our actions as a human society.
Food is an unquestioning need, beyond our need to survive, it brings people together, creates cultural diversity, and is full of exciting experiences and physical stimuli with infinite wealth.
Fruits are known to man from a very early stage and incorporate a variety of nutritional values needed for the human body as well as emotional values.
The packed package called fruit is desirable for its unique color and shape, its smell, it has a sweet taste, for every different texture fruit, and they interact with those who eat them thanks to gestures such as peeling, internal division, holding them while eating and more.
My project offers a future optimistic way that combines technology with the emotional needs of human beings while taking responsibility for the environment in which we live.
My fruit is a tool for perception changing and emphasizing the values that disappear from our lives that ultimately are responsible for our happiness and leave the "obvious" to wonder."
Neo Fruit uses printed cellulose skins filled with a cocktail of vitamins and minerals. Can you tell us more about the manufacturing process and the final product? Why 4D Printing?
Meydan Levy: "The technology that I was relying on is currently being developed and is intended for the production of pharmaceuticals/laboratory meat and more.
According to the current production plan, the product is designed in 3D software and is fed with parametric data that gives it the ability to transform and integrate axes that will be used as the fourth dimension, which also functions as the "time" dimension, since it produces the fruit's transformation.
Ideally, the product is printed as clusters, which can be broken down into individual fruits.
The fruits are printed from organic matter which is mostly cellulose and contains essential minerals for the human body. The manner of printing determines the texture of each of the fruit parts: elasticity, texture, peel, and content. 
After printing, the product is dry and flat and can stay for a long time. At the right time for ripening, according to when the fruit is supposed to be marketed, vitamin-enriched water is injected into it through its built-in arteries.
The liquid brings the fruit to life: it activates the pre-set integral axes and revives the dry, flat skeleton and turns it into an entire volume body."
Rather than mimicking the taste of real fruit, each Neo Fruit has a unique flavor. How was this achieved?
Meydan Levy: "Fruit in careful observation is a perfect thing, its perfection stems from the multiplicity of details in it and that every part of the structure of form and color has meaning and reason.
I tried to explore as many aspects of fruit as possible to create a sufficiently complex object that would be thought of as similar to fruit as possible.
Being the new fruits in the world in terms of design and user experience, it was important to give each of them a unique flavor that does not mimic the taste of familiar fruit, but rather combining and assembling the base flavors and creating new surprising flavors.
I created a device that allows me to extract oils, flavors, and smells from almost any existing substance and it allows me to experiment with a diverse and interesting taste and smell combinations.
As a product designer, fruit visibility is the main part I dealt with and texture is an integral part of the design.
It illustrates the qualities of the fruit since the fruit content affects the external visibility long before it affects the diner, it creates feelings and inspires feelings and expectations of it, things that affect its perception and eating experience.
Texture (flexible, sticky, or crunchy) begins its function earlier, in the visibility stage, it gives the fruit its character.
The nature of the textures is chosen according to the user's experience, the use scenario of the fruit, and how the material functions.
In addition, I was concerned with the big question: what do we see and perceive to be edible? What is the limit and does it still exist today?"
Meydan Levy: "I also researched the range of textures that most people connect with and avoided as many textures as possible.
I developed the textures with the help of expert chefs in molecular cooking and learned to research for myself the edible raw materials available to produce the appropriate color and texture for each fruit.
In addition to color and texture, nutritional values ​​formed a large part of the study.
To understand what the common needs are today, I did field research with vitamin consumers and talked to nutritionists to try to develop compositions that simulate what is going on in nature – a combination of nutrients that support each other and a wide enough variety between fruit and fruit to ensure the richness your body needs."
What is next for Meydan Levy?
Meydan Levy: "I am currently working on a new product as it is also a food product or rather a series of products.
This is a project that preceded the Neo fruit project and was done in collaboration with Esti Baranets.
The product is a series of fast-food meals, very healthy and very different in their approach to almost all consumer food products.
The products were born with understanding and research into both human and environmental needs. It is quite a unique product.
The products are trying to produce a new and different consumer and industrial concept. We are by rolling down the rollers and entering the arena and introducing an alternative based on our beliefs.
Things are still in development so I can't really say much more, but I can say that we start intense development June 2020 in the food tech incubator 'The Kitchen Hub' and in collaboration with a major food company 'Strauss'.  We received the development budget from the Israel Innovation Authority (IIA).
Development is expected to continue for about a year and a half or two years to reach the consumers' shelf.
With Anat Natan as CEO of the company joining Esti and me as a founding partner.
We all are feeling wonderful, and are full of excitement and anticipation looking forwards to the awesome things coming our way."
If you want to know more about the innovative ways 3D printing is being used, don't miss Making Data Matter: MIT Media Lab creates data-sculptures with multi-layered 3D printing.