Design events
EDIT Napoli 2021 showcased original furniture with original function
Here, we present four of our favourite brands from the annual design fair combining design and engineering to create innovative homewares
Challenging conditions often make way for innovative design ideas, which is exactly what we saw at this year's EDIT Napoli. At the third edition of the fair, founded by Emilia Petruccelli and curated by Domitilla Dardi, which took place October 29-31, environmental awareness paired with the current shift in working habits inspired a range of multi-purpose original furniture and other homewares with innovative functionality and fresh features. 
Here's our pick of the best projects that were on show during the event, all featuring new and imaginative ideas:
Home Office by Manufatto Design Studio
Working with a group of Italian artisans ranging from ceramicists to carpenters, Manufatto Design Studio investigates the newly blended concept of work and home life with an all-in-one piece of furniture that doubles as an office space. It includes a standup desk that doubles as a console table with an underlying shelf for storing computers, books or other useful equipment.
The desk features 97 wooden rods defining the perimeter of the table that create an interplay of light and shadow while accommodating the use of cables for electronic devices. Manufatto Design Studio has also designed a parasol for blocking out unwanted sunlight, which features an adjustable wicker screen.
Xilo Edizioni by Xilografia
Italian brand Xilografia unveiled Xilo Edizioni including a collection of innovative furniture serving multiple functions. Each project has been developed together with a range of Italian designers and industrialized for mass production while maintaining a high degree of customization in dimensions and finishes.
Milanese designer Paolo Stefano Gentile has created Pole, a storage system that uses the fixing system between the floor and the ceiling to create a useful piece of furniture. It features a central supporting pole with a coat hanger and a raised volume with a large storage space.
Meanwhile, Matteo Ragni has created the Xilo Station, a hybrid workspace that conceals itself as a wall painting comprising a frame and a folding panel with customisable graphics. When not in use, it acts as a useful container for business documents, and while open it offers a comfortable support surface for a PC.
Finally, design studio ZUMMAUT unveiled New Habits combining the function of a wardrobe with space to relax and unwind. Seemingly inspired by vintage climbing frames, the design features lacquered MDF panels and a mounted ladder that leads to a sling-style leather seat.
Jellyfish by DRAUFT
Traditionally, nested tables group multiple tables at different heights so each tier can sit under the previous one. In this case, however, Italian architecture studio DRAUFT has cut a section away from the larger table so a smaller design can be placed inside.
The collection, called Jellyfish, features three different designs combining a caged metal base that supports a marble slate. "Based on the three typologies of jellyfish, we began our research, which led us to create modern coffee tables in the interaction of two materials: marble and metal," the studio explains.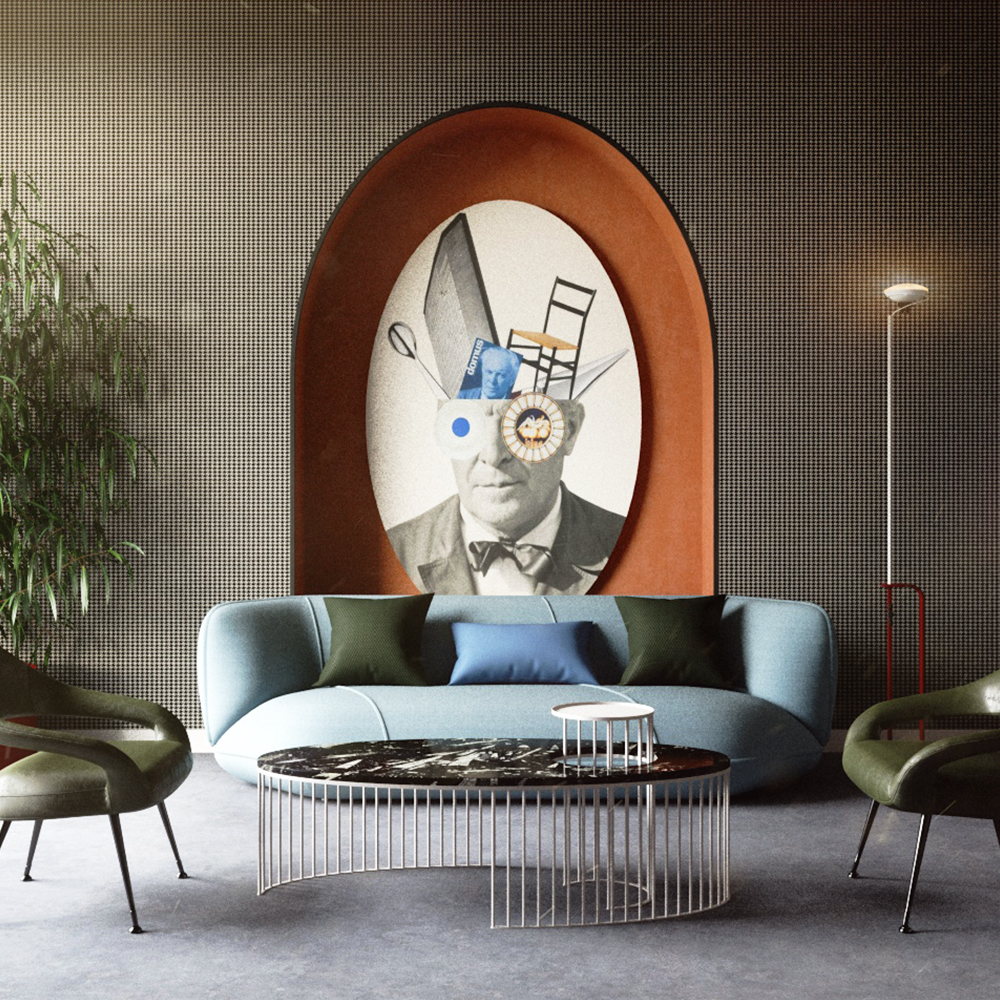 The form follows the rest by Atelier Ferraro
Finally, Munich-based studio Atelier Ferraro has created a new collection of wall-hung and tabletop accessories made from recycled materials. It includes Piazzetta, a minimalist shelving system made up of fragments of waste metal that serve different purposes. They include the wall bracket and a "tower", which creates space between the wall and the shelf for storing letters or small books.