Orografie's debut collection is designed for a device-driven world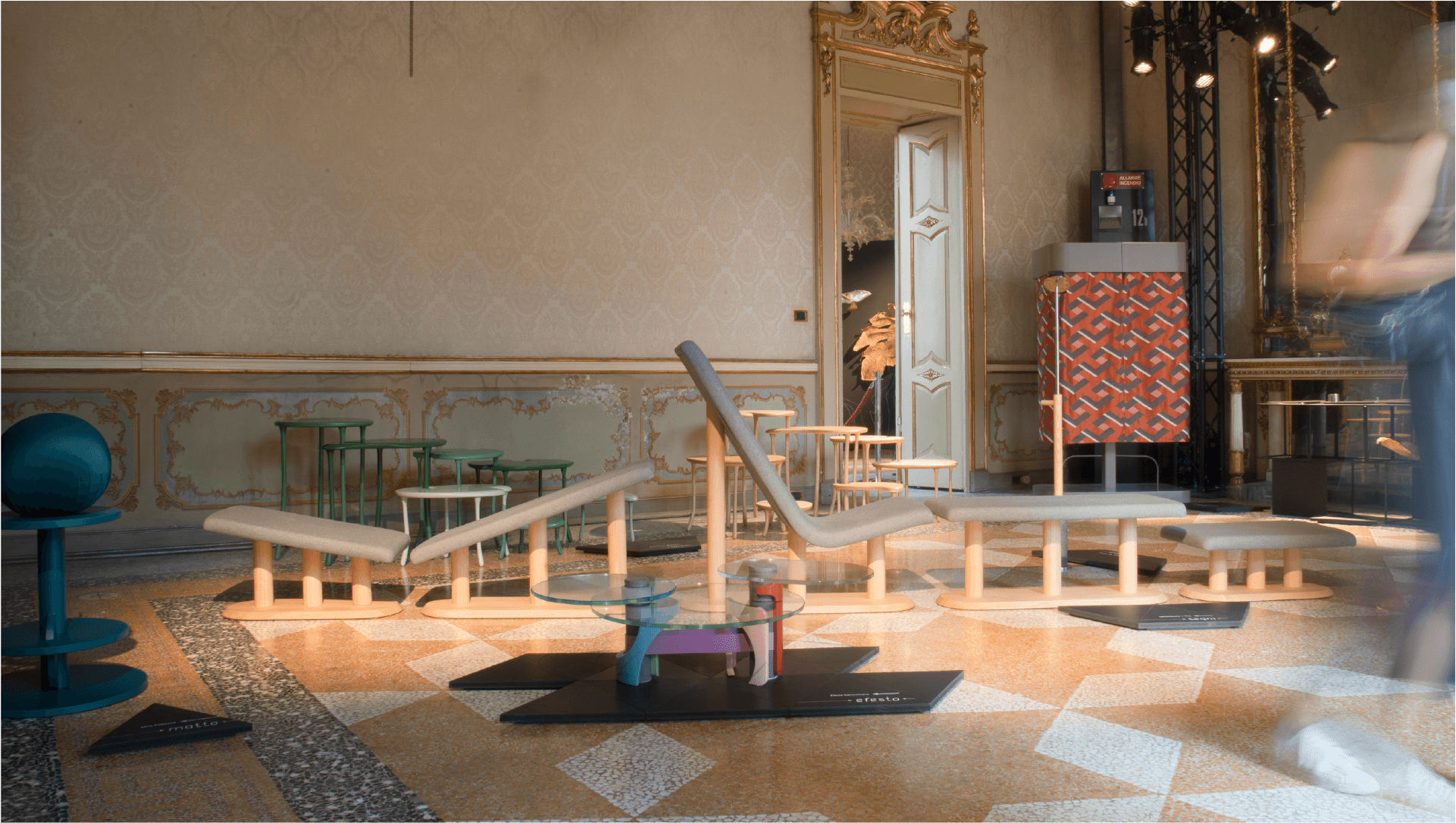 The Sicily-based company reveals its first collection featuring seats to accommodate tablets, magnetic pedestals for mobile phones, and outdoor tables with built-in privacy components for video calls.
Orografie is based on the craftsmanship of selected Sicilian designers, in a collection that looks to the future and to the functionality of products.
The brand Orografie was founded by Giorgia Bartolini, who wanted by his side Vincenzo Castellana as Art Director. Ko Sliggers for graphics and Domitilla Dardi complete the team. 15 designers for 15 projects.
The four prominent designers are joined by others in addition to the three winners of the workshop held on the occasion and in collaboration with EDIT Napoli 2020. Unchanged and unchanging, open to accommodating multiple functions while remaining "whole" and proud.
The investigation focused more on symbols and the story than on rituals and functions, choosing to tell the story about Sicily, and in particular Catania, is the epicenter of this adventure. And how to showcase the city without considering Etna: the largest active volcano in Europe, the volcano that stammers, smokes, and sometimes gets irritated, the one where the forge of Hephaestus is housed in the myth.
Elena Salmistraro – 'Hephaestus'
It is the love for the work that stands in contrast to a deceptive and illusory world, made up of ephemeral pleasures and vices, Olympus. Hephaestus chooses his laboratory, his studio, his work.
If Efesto today designed low tables, he would certainly do it in his own way, celebrating matter, highlighting its volumes, probably with the help of software and modern technologies, combining digital and analog under a single company. But always with an austere language, made up of machines and work, of strength and energy, using forms and structures with a brutalist, constructivist taste.
The product – a coffee table for the different living areas – is made by artisans from Modica specialized in the cold bending of wooden compounds. In particular, the components that make up the articulated but calibrated shape are associated with the different functions. The two bush-hammered lava stone uprights are connected by a painted steel strip which is combined, in turn, with curved wooden elements painted in a flat color.
The two vertical elements are then linked to the tempered glass top through two steel plates with UV bonding. Finally, from the two tubular lava stones, two other glass tops unfold that can rotate cantilevered.
Lanzavecchia + Wai – 'Segni'
"We lean, we perch, we sit, we lie down and we sink into our furniture with our digital extensions. Emancipated from the safe haven of desk work, we tirelessly try to find comfort in increasingly fluid environments." Say the designers.
In response to this new need, the media offered hyper-functional products more similar to medical devices than to welcoming furniture or domestic companions. With the 'Segni' project the designers traced essential lines and angles to support and welcome the choreographies drawn by our bodies.
'Segni' wants to be a hymn to individual comfort, freeing the user from predetermined spaces and postures, supporting new ergonomic needs for work, study, relaxation, physical activity, and leisure.
They are essential furniture, five features in space that suggest gestures and positions without imposing them, ready to welcome the future animal in which we will evolve.
The product, a seating system for old and new possible postures, is made by a company in Catania that usually produces classic style upholstery. All the parts are composed of a chestnut base from which cylinders of the same wooden essence rise. The dashboard with differentiated foam padding is attached to these elements. The elements, which together determine a domestic skyline – in their possible combination intercept new actions, behaviors, and rituals of everyday life.
Find out more about Milan Design Week, don't miss Five designs to see at "Masterly — The Dutch" as it returns to Fuorisalone 2021.
Francesco Faccin – 'Skylark'
'Lark' is a new object that could not have existed ten years ago. New home rituals are transforming our habits and almost always the telephone is part of them: reading the news, making a call from the sofa, watching a recipe in the kitchen, watching a movie in bed, listening to music in the shower … everything goes through our cell phones.
The telephone concentrates functions and expands our homes, transforming them and transporting them elsewhere, becoming an extension of our brain, a prosthesis, a contemporary fetish that has profoundly and silently changed our lives.
'Skylark' is a tool that enters into a relationship with this object made up of virtual functions, trying to make it physical. It is a presence that gives body through ancient materials to a brain made with the most sophisticated technologies of our present.
The product, a typological variation in the domestic scenario, is a support for your mobile device that can be dragged and used in different circumstances, to read a recipe while cooking or watch a movie sitting in an armchair. A chestnut rod is grafted onto the cylindrical lava stone base, inside which a circular element of variable height slides. Upstream, a mirror to which you can – with a system of magnets – weld your device.
Martinelli Venice – 'T1 and T2'
The designer has always been fascinated by wooden foundry molds: such sophisticated artifacts, rich in hollows, holes of various diameters, bevels, protuberances or other singular details that arouse our imagination on the countless shapes that can be created with them.
The designer broke down and ordered these signs into a sort of list of processes that we then redesigned and used as a declinable language. Thus the T1 and T2 were born, two enigmatic and sculptural pieces of furniture that we could define as gods standardographs of the domestic space and that we have designed with the intention of exercising a desire for affection in those who possess them: objects to be preserved and handed down from generation to generation.
They are two tables with possible and multiple functions, made by a company in the province of Catania. In wood pulp with CNC molding, it finds its singularity in the complex painting process that leads to a shiny metallic finish.
Andrea Branciforti – 'Triplex'
…"In ceramics, there is the whole truth. The rooms where people live, where they eat, where they look at their wife and argue… You look at the ceramics and everything is there, as in poems and songs. There is everything and that's it…" The words of Ettore Sottsass written in 1963 are the basis of Andrea Branciforti's project.
A centerpiece that hides its double versatility. Made of ceramic with a triple function: fruit holder, flower holder and iPhone holder. Today our smartphone is the most important and, at times, the most desired object. It is at the center of our days from which it is almost impossible to separate.
Against the rules of etiquette that banish it from the table, it is instead enhanced and placed at the base of the centerpiece. The 'Triplex' centerpiece will also have the function of containing an object of desire: with which we eat, fight, live …
It is a centerpiece that unfolds three possible functions: a fruit holder, a flower holder, and support for the mobile phone at the table. The product is made by one of the best-known artistic handicraft companies in the Caltagirone area, an important Italian ceramic district. The material is white stoneware that can be molded by casting or turning and is in second firing, treated with an opaque coral-colored glaze.
Antonio Iraci – 'Giano'
Like the two-faced Janus of the mythological narrative, this table object has two faces that reveal just as many possibilities of use.
Like a sheet that takes shape according to the hands that fold it, Giano exploits small support elements that reveal possibilities of containment and support for food, suitable for our contemporary way of eating, increasingly open to gastronomic solicitations and tools of other cuisines, without forgetting our Mediterranean tradition.
It is a tray/plate made by artisans from Comiso, a town that falls in the heart of one of the largest marble and stone districts in Italy. The native materials used are stone lava and pitchstone, a unique and typical material of some quarries in this area. Ancient materials that are grafted into the mechanics of use in brushed stainless steel.
Standa – 'Trab'
The "scaffolding" is a mobile scaffolding usually used to facilitate construction work. 'Trab' takes its cue from this because it is a piece of furniture that performs several services. It was originally intended for the bathroom because it now performs many functions in this room of the house.
'Trab' supports you when you're drying your hair and need a prop; holds a cell phone or book while showering or in the bathtub; it is a support point for the clothes you will put on or those you will take off. Helps everyone: children who need a step to get to the sink, seniors who want to feel safer while brushing their teeth.
And it often loves to take a ride in other rooms: in the bedroom as a valet/bedside table; in the living room as a multi-support next to the sofas; in the kitchen to support books and devices while we carry out the recipe of the day. Small in size, big in functional empathy.
A new functional type that crosses recognizable iconic visions into new uses for the ritual actions of everyday life. Made by cabinetmakers working between Piazza Armerina and Gela, it is made of lacquered birch plywood with parts in solid bubinga, a very hard, bright mahogany wood.
Davide Frattini Frilli – 'Tramè'
'Tramè' is support for mobile devices, easy to handle and simple in shape, with solid wood structure and sheet metal support. Its peculiarity is to have a mirror surface embedded in the structure which makes it both support for electronic devices and a table mirror. The calibrated inclination of the upper portion allows the simultaneous vision of the device in use and of one's own image, of one's eyes in particular.
This is because, if at times the gaze of others conditions us too much, at other times it is the thermometer of the adequacy and correctness of our doing.
Behind a screen, we are instead alone and nothing more than our own gaze can keep the human being present to itself and consciously accompany it within the overflowing flow of data, information, and images in which more and more real and virtual, true and false they go smoothly mixing.
A new functional object which, in its simple volumetric conformation, is intended to break the reflection and support the images of a mobile device. Made by workers from the province of Catania, it is made up of parts in solid chestnut and the foot is in sheet metal painted with laser cutting and then folded.
Gaetano Di Gregorio – 'Trisola'
After decades in which the home has often been a place lived for the bare necessities, sometimes almost only for sleeping, today the domestic space returns to the foreground in an attempt to find a new balance between intimate dimension and new sociality at a distance, between virtuality and tangible reality.
The design of this garden table revolves around the idea of the curtain that separates the external space from the more intimate one of the individual dimension.
When the curtains are open, the table can accommodate seats or turn into a small buffet gazebo; when the top is folded, it transforms into a desk that can be partially or completely screened by the curtains, offering a neutral backdrop for video calls, guaranteeing privacy, protecting from sunlight.
The curtain becomes an analog screen, onto which the gaze of those who are wrapped in it is projected; but also a veil that protects, embodying the two sides of a technology that at the same time isolates and opens towards an almost borderless dimension.
Public and private thus meet in a device that is as much a refuge as a window. Iconic product of new post-pandemic rituals, it was created by workers from Catania.
The calendered iron tubular structure rests on large feet made with the technique of Sicilian cement tiles. A circular table, now articulated half-moon, makes it possible for different uses in individual or group circumstances. In individual use, a curtain makes partial screening possible.
Giuliano Fukuda – 'Tavo'
"A house is a garden to be lived in": this is the designer's motto for designing an interior space. Thus a series of elements creates a domestic landscape; each is thought of as if it were a garden plant.
There are modules that can be freely combined thanks to the organic forms that generate an ever-new harmony and that can be composed by choosing the most appropriate scale for the uses and activities of the space that will host them. The inspiration for this project was born from the observation of the leaves: their shapes, the way they occupy the space on the plant, but also how they appear to us when they fall on the ground, there being unity and together at the same time.
Thus was born the idea of a family of elements, each with its own individual value and its own formal identity, but with a tendency to aggregate in various and different ways, to generate a dynamic whole to which to give the desired function.
The result is a system, indeed a phytomorphic landscape that can be combined at different scales. The tables, with different heights and finishes, are produced by an artisan company in the Catania area that produces classic-style furniture.
A set of seven coffee tables is made of wood and lacquered composites with matt green scales. Another set, also of seven tables, is made of solid wood which, through the flared workings of the side ribs, enhances the interpretation of the technique and the blocks themselves.
Luigi Patitucci – 'Voyeur'
There are stories, all written in body language. In order to be understood, they need effective environmental integration. Design should question how space challenges the user, how it provokes or resists him. Only in this way will we be able to have an amplification of the concept of the body capable of producing greater consistency in the imagination.
Thus was born 'Voyeur', the Shameless Wardrobe, with the aim of being able to produce, and therefore envision, objects capable of generating an existential scenario that can become a seductive Resonant Landscape.
Individuals who marvelously collide with the scene determined by the 'Voyeur' wardrobe, an element with a strong personality, overbearing, bulky, subtly disturbing, and pervasive, will receive an alienating and exalting investiture, in an atmosphere of unequivocal and rarefied osmosis between the Sacred and the Sensual.
An unusual product made by a cabinetmaker craftsman from the province of Catania. Solid wood parts: the rod base and the lacquered solid wood top drop a fabric screen. The top hat winds through two arms that open to accommodate use.
Anna Polisano – 'Matto'
An impactful object, designed to capture the fleeting attention of our current hybrid condition. 'Matto' is a hyper symbolic object, like a pawn that transforms the home environment into a game: a chessboard that becomes a witness of our new moves, of new rituals.
In a single wood essence, the product is made by an artisan from Catania. The unique lacquering of the same color as the upholstery gives a homogeneous reading to the complex shape of the rotations.
Barbi / Brunone – M'AMA
'M'AMA Collection' is a family of products for home furnishings, created with the aim of restoring harmony between the new daily needs and the well-being of one's body.
The idea is the result of the design approach, mainly focused on the desire to create new empathies between person and object. The collection consists of a pouf and a wall mirror, whose main feature lies in the formal power, behind which there is a specific function.
'M'AMA Pouf', in fact, is composed of a container shell in which to store the pilates hemisphere, while 'M'AMAMirror' is a playful object, a mirror whose circular components are actually hula hops of various sizes.
The project is carried out by various workers from Catania: the blacksmith, the carpenter, and the upholsterer are the craftsmen involved in this object with unusual functions for the domestic area, in the sense of furnishings.
The skeleton in metallic carpentry supports the hemisphere in a faired structure and upholstered in smooth velvet. This cup will contain the half ball for pilates. An oak wood mirror, through its own support tensor, houses the nodes to house three painted solid wood hula hops.
Linda Salvatori – 'Amoni'
It arises from the reflection on the home environment and on the relationship we have with space and with the objects that inhabit it. The house is a fluid space, the environments no longer respond to a single function and their boundaries are blurred; even the furnishings and objects follow these changes, adapting to new needs.
The mute servo designed fits into different rooms of the house, offering multiple ways of use. It is made up of several vertical and horizontal elements for hanging clothes or accessories, a small shelf and a larger surface to accommodate our objects.
This piece of furniture has always been intended for the bedroom, but in this project it frees itself from this constraint by moving freely, thus living the space in a dynamic way, as if it were an inhabitant of the house.
The product, made by a metal carpentry craftsman from Catania, is in tubular iron which – between folds, welds and paints – takes on the appearance of a micro animal for the home. Inside the circular horizontal plane there is a ceramic-coated lava stone slab.
Livia Stacchini – 'Minutes'
After four years in the Netherlands, many personal relationships, and different experiences, the move begins to return to Italy making a selection of objects, having to decide what to throw away and what to keep. In doing so, the designer realizes that many found objects represented memories and they were, for the most part, of no real value, but with a strong emotional meaning.
The 'Minuti' project is therefore a container of memories, a place to put all those small objects that lead us back to countless past moments not to be forgotten, worthy of being kept in a 'Wunderkammer', a personal room of wonders.
Small or large trinkets, paperwork, and trinkets, usually set aside at the bottom of the drawers until they are forgotten, are placed in the center to make the emotions and memories connected to them re-emerge. Through the creation of a sculptural piece of furniture, the desire to make their presence echo in the spaces and give them new attention within our lives and our homes is present. The product, entrusted to a craftsman from the province of Enna, is made entirely in wooden composite floors.
Curious to know more about what was presented this year at Milan Design Week? Don't miss Alcova presents a design evolution in Milan.