Lumio's founder Max Gunawan on how to build a brand: one product at the time
KEY TAKEAWAY:
When you start a company from a product you designed, figuring out why it resonates with people (and not just with designers) will give you the essence of the brand you need to build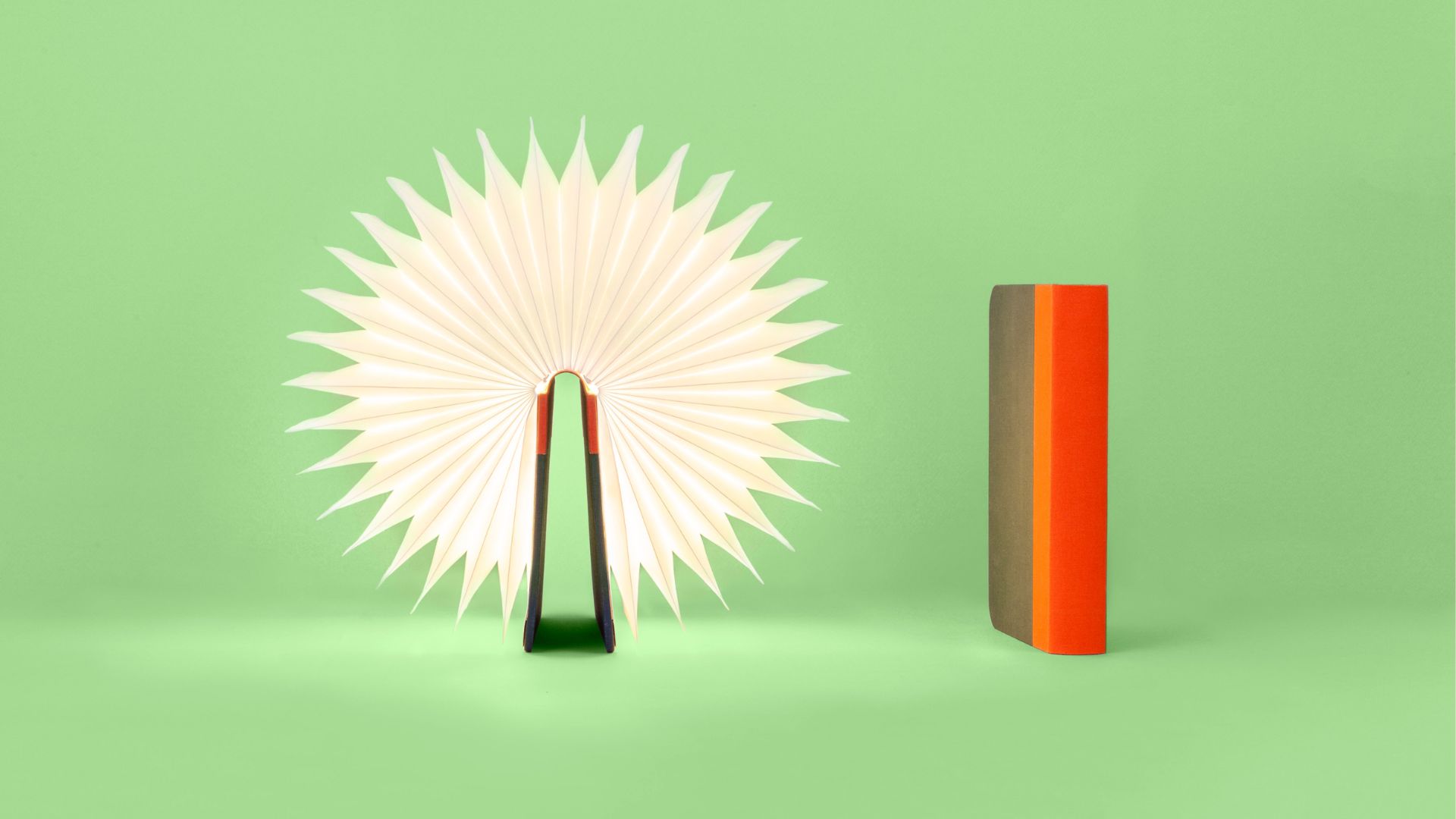 American based and Indonesian born Lumio founder, designer Max Gunawan, is a smiley and thoughtful man.
We met him during the Milan Design Week 2022, where he came to present Lumio's latest product Teno.
It is a light and a bluetooth speaker.
After the bestseller lamp Lito (shaped as a book), the speaker is another emotionally engaging and sensorial object that changes your perspective about technology. And about how it can enter daily life bringing poetry along with functions.
Max Gunawan and Lumio present us with an interesting opportunity: understanding how to build a successful company starting from a single product. And how to move forward when you design the second one and the ones after that.
We reached Max Gunawan to ask him exactly this: how did he do it?
Lumio was born in 2013 from a Kickstarter campaign searching supporters for Lito, the book-shaped lamp that became a bestseller in a few months.
Before that, Max Gunawan was an architect looking for a calmer and more human centered lifestyle.
And his story as a businessman, funnily enough, started in the moment he found it…
With Lito you created an extremely successful product. How did it come to be?
Max Gunawan: "It's funny. I really think that things come out of necessity. I was working in architecture at that time and I missed creating things with my own hands. That void made me start prototyping. At the beginning it was really like a play, like a child game. It responded to questions as: how can I find joy in what I do?
Meanwhile, I was moving to a new house. I spent a lot of time lifting furniture and I realized that a Herman Miller's lamp I owned was very light and easy to move around. And I also realized that light is often fixed, and everything is very technical. That moment was the starting point. It wasn't even an idea for a product.
I just started to show Lito to people, to friends. And they were amazed".
What drove Lumio in its first early beginning?
Max Gunawan: "Looking back at the first year of Lumio, managing success was not an issue. Managing challenges was, on the contrary: I was trying to solve logistics and production problems constantly.
I prototyped Lito, I produced it, I looked for solutions to make enough pieces.
That's the hardest thing: how to have enough financial support to have the right inventory. I tried to figure out everything and I've learned through instincts and mistakes. It's the best thing to do".
What were the steps you followed to create Lumio?
Max Gunawan: "I didn't have a grand vision, like: «Oh I'm going to build a brand, a company».
To be real with you and with readers: when you start a company from a product, and you are a designer, the first challenge was purely on how I can stay above water. It was a pure necessity.
The branding part started probably three years later, when I figured out how to do the practical part and settle in.
So you invented the essence of the brand after the product. How does it work?
Max Gunawan: "Once the product was there, I started thinking about what Lumio was.
I tried to understand why Lito was reasoning with people.
I figured out that the light and the quality of the design were nice, but what touched people was the sensory feeling, the surprise. So I said: this is the brand, this is Lumio.
I've been given the opportunity, I have to figure out how I can take it".
When did you figure out what Lumio was really about after just one product?
Max Gunawan: "After I figured out that Lumio's core are the senses, storytelling became all about creating sensorial experiences.
That's the focus of the brand: exploring the five senses.
There are so many different brands out there, I really need to do things differently. That's how I started the company, and that's how I design.
I think about what I want people to feel when using an object. What is the emotion: that's my approach.
If I were a smart business person, I would stick to the product and make variations of it. But that's not me. The second product I made is about sound. The third one is about touch and there's no technology in it.
Because technology is not just electronics but a way of thinking".
Did you get help from financial or management professionals in the process?
Max Gunawan: "When you are a designer and you start a company from a product, you need other people, whether a mentor or a friend.
That's necessary, for most people really, because we cannot work alone. While I try to get the best support, though, I always try to listen to myself: ultimately, I want to do what I feel is right. Because if I'm wrong, I can learn.
We need to have calm moments, to give some room to make decisions. It's a step at a time".
How did you convey the values expressed by Lito into the values of the brand?
Max Gunawan: "That's not a linear process. Everything is normally designed by market consensus but I challenge this way of doing things. I ask myself how I can do a totally different object.
Design at the end of the day is a problem solving tool, and I use it in this sense: to figure out how to capture emotion in a different, non obvious, way"
How was the second product born? How long did it take?
Max Gunawan: "The short answer is: too long! It took me years to build the company, the process and the team. I was preoccupied in creating the business rather than inventing.
It took seven years to start prototyping again.
But after Teno was out, I immediately moved to the third.
Because, to be quite honest there was also a fear factor: the first product was well received, what if the second product wasn't?
It's so easy to repeat the same formula, but it takes a while to break it while maintaining the same feeling".
How did you finance the development of the second product?
Max Gunawan: "I self financed it. Then I started another Kickstarter campaign for marketing purposes: I wanted to see how people reacted. We were happy with the feedback.
The interesting part is that for the first product it was easier because the media were covering Kickstarter a lot.
The second campaign was more difficult from a brand perspective just because of the media's diminished interest in fundraising".
What is your roadmap for the next products?
Max Gunawan: "That's very clear to me. I can share that I definitely want to introduce the third product by spring next year and I would like to also focus on reaching consumers directly.
I want to be able to talk to people.
People respond very well when they understand the storytelling.
But in the end there will be five categories I will touch with Lumio's products: I have to figure out how to make people see the whole vision.
First of all I want to build this frame and then work on variations".
What's the role of design in creating a brand like yours?
Max Gunawan: "Design is a foundational layer that guides me to problem solving. By that I mean that I want to go deeper so as not to stop on the first layer.
Ninety percent of design is about aesthetics. But you have to go behind, under the skin.
I want to go beyond that, into interaction".
Do you feel more design or technology-driven?
Max Gunawan: "Before answering this question I want to make clear that I use the word "technology" in the broadest sense.
The proportion of design/technology is not that important to me: it is more about inventiveness.
And about being able to question the meaning of objects.
I use design and technology to support that".
Is design important for people?
Max Gunawan: "I think that's obvious. To me it's super important and in this design bubble we live in it's super important too.
Believe it or not it does change the wellbeing, how I feel in space.
I really believe that it can affect our life. Design really matters".
If you were 10 years younger and had a strong idea for a product today, what would you do to launch it?
Max Gunawan: "I think I would do the same things. I cannot see anything differently. I'm self sufficient and that's how I built Lumio.
It's not the easiest way to do it. But it's the way I do things".
See more on Lumio official website.