Design events
Mastering the artisanal transformation of volcanic rock into contemporary design
Enhancing the natural essence of lava with an aesthetic that breaks from tradition, Ranieri discovers the unexpressed potential of its unique material composition
Ranieri – a Campania-based company mastering the artisanal transformation of volcanic rock into the highest contemporary expressions of art, architecture and interior design – attended EDIT Napoli 2023 with A Matter Of Perspectives.
Its new creative directors Francesco Meda and David Lopez Quincoces beautifully put together a striking site-specific installation for this renowned international design fair, as part of the CULT program.
Open to the public from 6th to 8th October, it was showcased at Santa Maria La Nova – a Roman Catholic Renaissance-style church and monastery, now deconsecrated, in the beating heart of Naples.
Sitting right at the bottom of the Vesuvius and led by Giovanni Ranieri, this company's products innovatively vary from coverings for both outdoor and indoor environments to collaborations with companies and realities in the luxury sector, resulting in custom-made projects.
It all began with a depth of knowledge acquired from a century-old family history in the treatment of volcanic rock and from the dexterous craftsmanship of Campania that Ranieri coined an ideal union between the hand of man and industrial production, allowing it to work on large-scale projects while maintaining a sartorial approach.
Their chef d'œuvre may be conceived as a symbolic invitation to conviviality, entirely crafted of lava stone – this precious material formed by the rapid cooling of volcanic magma emerging on the earth's surface shows off a new face thanks to a novel treatment, it praises its inimitable natural composition instead of hiding it.
At first driven by a desire to celebrate local belonging, the creative directors were inspired by Ranieri's home, the Campania region and Santa Maria La Nova was chosen as a hidden historic Neapolitan gem, unknown to most.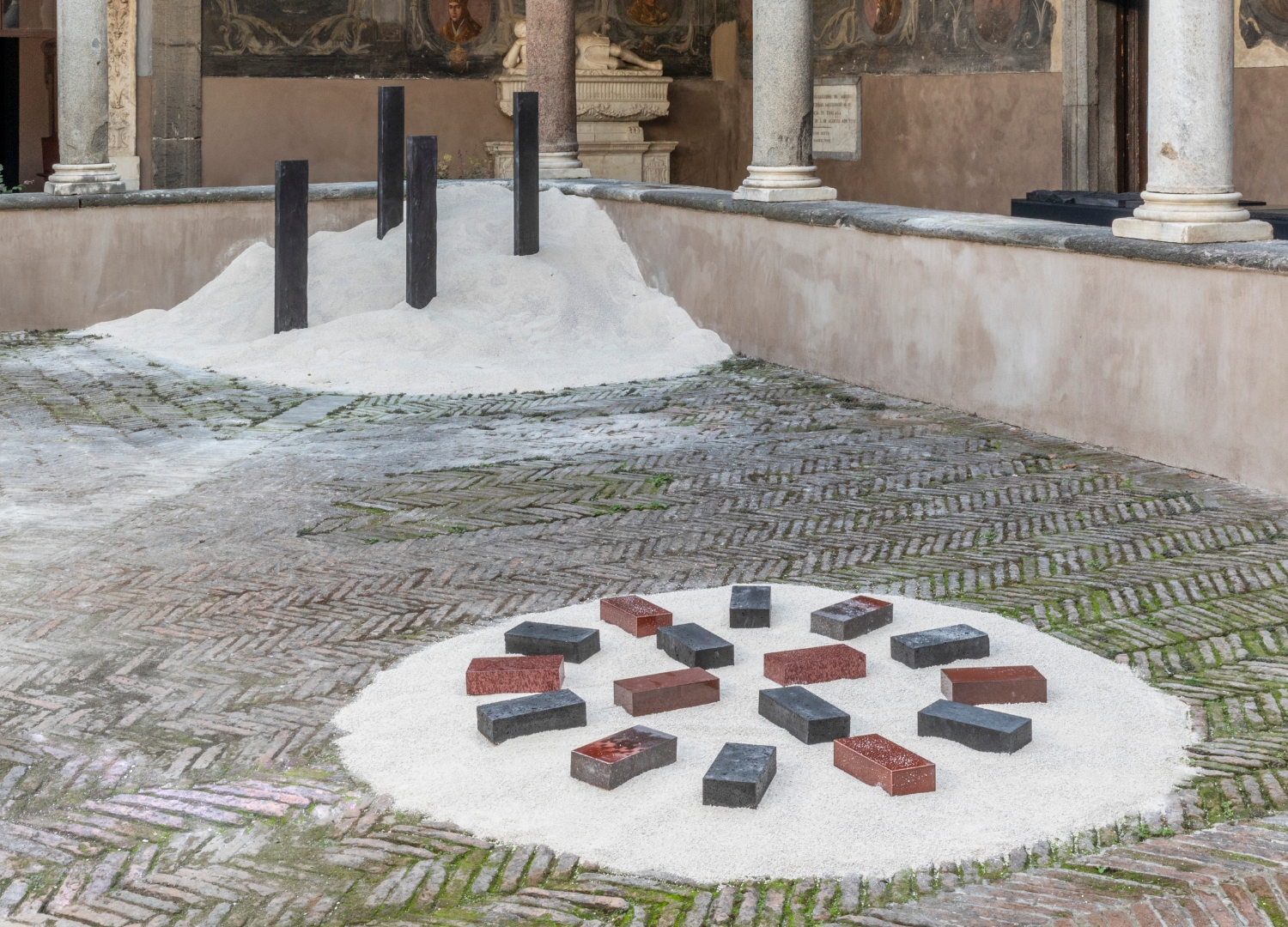 Here, in its cloister and refectory, the tale of lava stone was revealed.
"Ranieri steps into a new chapter, aimed at ennobling the natural essence of lava stone and we propose a bold, experimental interpretation, treating the stone as no one has ever done before. Attending EDIT Napoli 2023 with A Matter Of Perspectives as part of the CULT program, gave us the opportunity to celebrate our close relationship with the Campania region. The story of our new lava is now told in a context where design is appreciated as a cultural element!" shares Giovanni Ranieri.
At Santa Maria La Nova's cloister one was welcomed by A Matter Of Perspectives – an installation referring to Ranieri's imagery of lava rock, decrypted in Stefano Galuzzi's photoshoot.
In the inner courtyard, two mountains of crushed lava rock dust are accompanied by compositions of volcanic stone slabs displayed as sculptural elements, with imperfect finishes.
An invitation to discover the rich world of lava stone up close, by entering the courtyard and approaching the installation, or from afar, by observing it from the portico.
The portico's perimeter houses a 10-meter volume material library displaying Ranieri's singular finishes, including Odissea – the new 2D and 3D collection of elements, also signed by the new creative directors.
From dust to product, from raw material to final processing, from the encounter of nature with the hand of man, the whole project effortlessly enhances the beauty of imperfection.
Additionally, the second part of the exhibition was located in Santa Maria La Nova's refectory, adorned with an impressive 16th-century fresco painting – here, Meda and Lopez Quincoces played with light to seamlessly set up a theatrical performance. The only character and master of the room was an eclectic but one-of-a-kind 17-meter table made of volcanic stone, fully expressing the potential of lava.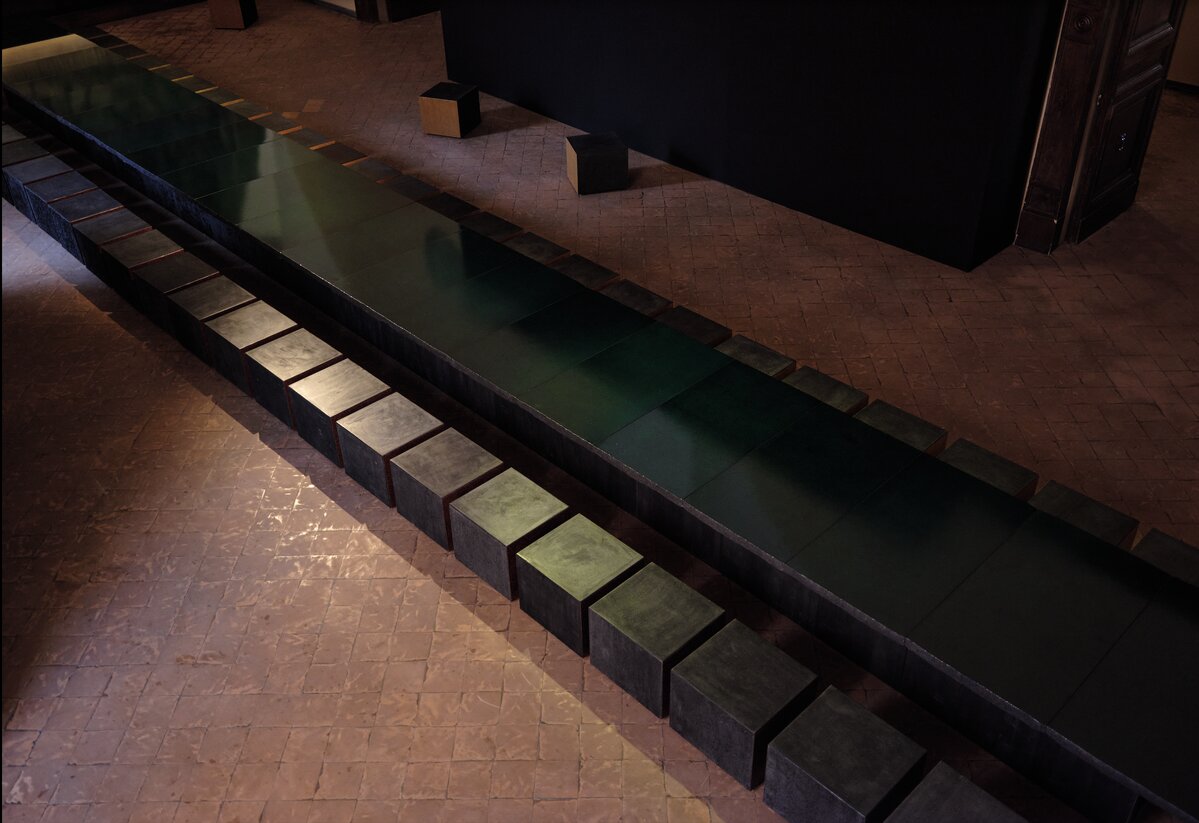 A solid base held a top with overhanging ends, giving the composition an atmospheric allure and they further chose a crystalline green finish – an unusual hue and Ranieri's most representative shade.
Around the table, a series of stools entirely created of lava stone completed the composition and when placed next to each other, they looked like a single black block with a lacquer finish.
When separated, however, they revealed sides with apparent movement and fluidity thanks to Zest Lava – one of Ranieri's most interesting finishes in burgundy and golden brown shades.
"We wanted to embody a moment of conviviality, to narrate a project with both aesthetic and functional characteristics. The public was invited to discover the natural material and to interact with it.
We conceived the installation with the idea that it could be repeated in other places and contexts, giving it a longer and more multifaceted life. That is why we chose an elementary, almost primitive, neutral and universal language – we talk less about design and more about material.
We decided to create in respect of the material without prevailing, just as Ranieri conceived its own treatment of lava stone!" Meda and Lopez Quincoces conclude.