Design events
Dive deep into our selection of one-of-a-kind projects presented at Design Month Graz 2022
Focusing on 'Green Transition' – Design Month Graz 2022 offers a platform for contributions and solutions from the creative sector leading towards a sustainable future.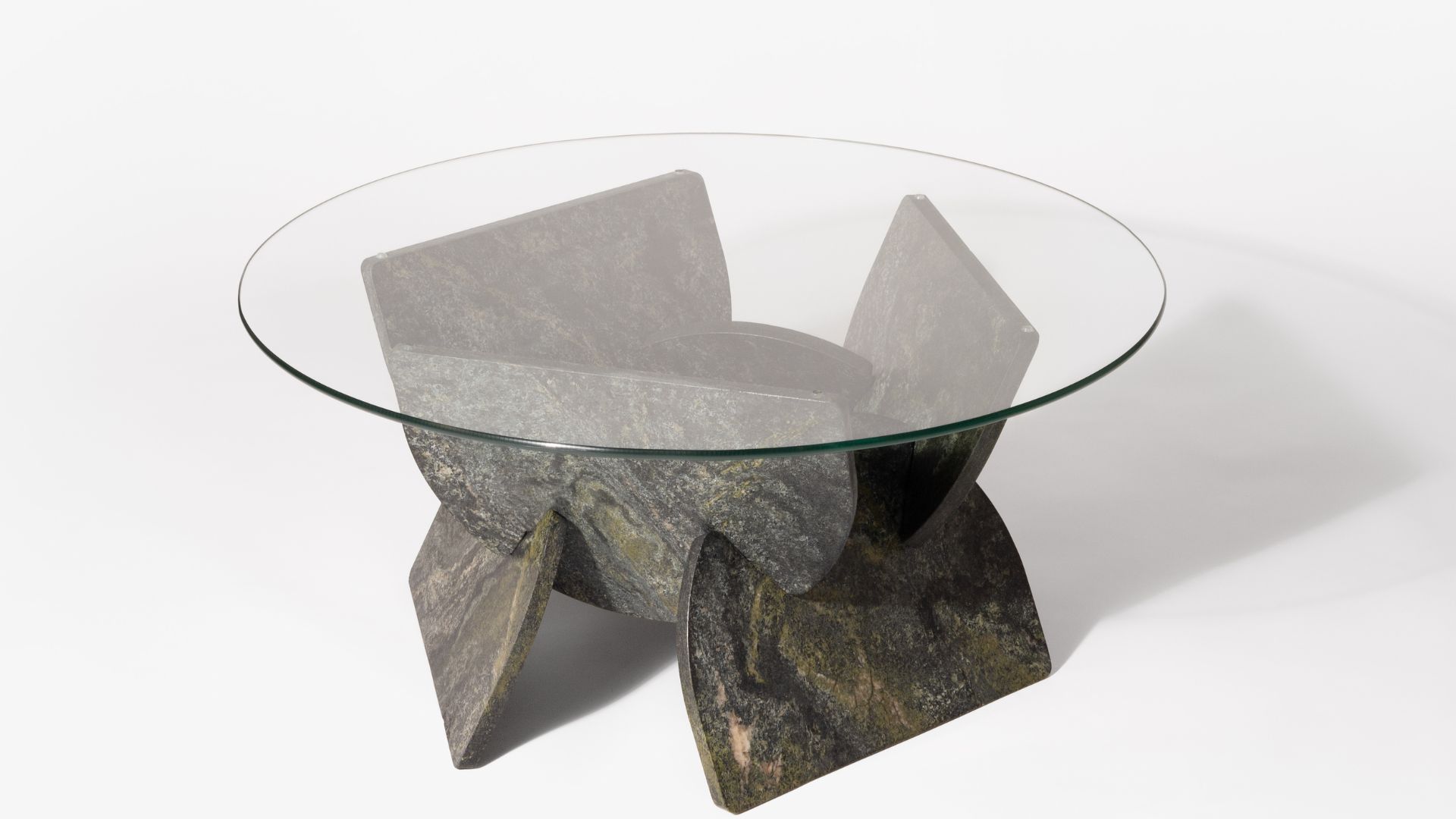 Providing space and shedding light on innovative projects, be it experimental or commercial – Design Month Graz 2022 hosted by UNESCO City of Design Graz, bundles and condenses the energy of the local creative industries.
Coordinated and organised by the Creative Industries Styria – this event heightens the perception of the meaning of design and spans a substantive and programmatic range from a variety of individual initiatives from designers to the large local design training institutions, thereby enabling synergies and cooperation between the creative industries and the classic companies.
With DesignWanted being a media partner and present at the opening weekend – meet our selection of extraordinary projects showcased, revolving around 'Green Transition', a Europe-wide transformation process in which the creative sector plays a key role:
1. TOMB Table by ​​Ante Up
A studio for circular product and furniture design based in Vienna, Austria – Ante Up founded in 2020 by Benedikt Stonawski and Hauke Unterburg brilliantly crafts recyclable objects.
"We believe in a world in which everything stays in circulation and nothing loses its meaning. Based on this vision – we provide all product design services from eco-design principles to sustainable materials and production methods. We develop sophisticated concepts, put them to the test in our workshop and create unique objects" says the duo.
With this holistic approach, the studio narrates stories in a transparent way – from the origin to processing of the materials, care, repairability of the products as well as their return into the cycle fabricating durable objects that never lose their meaning.
Featuring a timeless aesthetic, smart construction and sustainable materials – the 'TOMB table' combines a sculptural and minimalistic structure.
Skillfully made to be repairable and recyclable – six identical natural stone plates are inserted into one another without any tools and carry the round glass plate on top.
Its stone slabs and glass tops can be reordered individually and all materials are free of problematic substances.
In order to save as many resources as possible during transport, the table comes disassembled as a flat pack in a reusable shipping box.
The stone slabs are currently available in three versions and additionally, each plate has its own stone grain – making each eclectic TOMB table one-of-a-kind.
All tables were displayed at Barbara Sieber-Vandall's Ox&Bear at Leonhardstraße 10, where used furniture and historical treasures are given a new lease of life.
2. WUUX Surfboards & Fins
The presentation of handmade surfboards by WUUX Surfboards & Fins combined craftsmanship with technology at – Digitalis, the Apple Competence Centre.
Solid yet lighter than those of other producers – Willi Margreiter skillfully manufactures surfboards and balance boards in his workshop WUUX based in Salzburg using a technique he developed himself.
He utilises hand-picked veneers from around 40 types of wood, attaching great importance to sustainable production processes – from resource conservation during cutting to production as well as delivery methods.
Beautifully comprising the purest form of wood and nature – his motto is seamlessly reflected in his timeless designs.
Strongly influenced by the surfing community, he's developed durable, rugged and super light surfboards with a distinctive look as well as touch of wood.
3. A Bunch of Holes by Martin Mostböck
Renowned architect and designer Martin Mostböck beautifully designs houses, interiors, furniture as well as everyday objects, and is a border crosser between disciplines.
"For me – architecture is a joint journey at the end of which everyone is simply happy with the end result!" says Mostböck.
In the exhibition "The Chairman" presented at the Designforum Steiermark, Mostböck showcased fascinating products that were created in the last two decades.
On display were armchairs and pieces of furniture that stand in the field of tension between art and serial products.
Tracing the wide world between the craft industry and sustainable design, the exhibition shows how connections between different areas are entangled and flow into the fabrication process.
Mostböck thereby effortlessly attempts to make these invisible connections visible.
He further emphasises the importance of the personal relationship with the producers of his pieces, from the craftsman to the executive, as well as on the regional and sustainable aspect of his work.
Looking to expand his catalogue and develop new product ideas over the space of a year – Martin Mostböck's outdoor furniture 'A Bunch of Holes' is a result of a cooperation with H+S Zauntechnik, a company specialising in fences.
This expressive, colourful and weatherproof table comprising three stools is a feast to the eyes.
The featured holes brilliantly allow water to drain off quickly and enable fuss-free stacking.
As an alluring design element – it represents extraordinary craftsmanship, as well as added value through robustness, reduction and refinement.
4. "Symbols of Light" by Karin Binder
Founded by Karin Binder – Studio Ka.ma interior design deals with the creation of interior architecture and innovative, functional product design.
Utilising space as a malleable playground – "dealing with creative ideas and the design of objects as well as spaces have accompanied me all my life and are a constant process for me. My work is inspired by colours, the facets of life, beauty and diversity of nature as well as the experiences of my travels around the world" says Karin Binder.
Featuring graphic and curved glass symbols with luminous aesthetics that came about through musical inspiration – the design of her playful lamp "Symbols of Light" for Dotzauer lighting is based on the simplicity of the triangle.
With its minimalistic simplicity – this lighting fixture can be combined and arranged in countless ways and sizes, even to form a chandelier.
Made from recyclable borosilicate glass tubing housing a 360-degree LED strip, it's available in a wide range of stunning colours that can be chosen from countless options as well as sandblasted glass.
Its endless shapes, colours and arrangement options make these luminaires an all-rounder and enable an individual combination of lighting moods.
The interior light band can be renewed after the total lighting time and its glass is a recyclable material.
The creation was on display at the studio by SEIDL – a sustainable-fashion branch store of the traditional costume specialist.
5. Space 74 Loudspeaker by Tischlerei Lenz
Years ago, while still an apprentice, Bernhard Lenz turned his attention to optimising loudspeakers.
He seamlessly incorporated them into furniture that not only looks good but provides listening pleasure – all designed and made in Vulkanland Styria.
In cooperation with high-end specialists like Trenner & Friedl, Lenz creates extraordinary loudspeakers and phono furniture that bring sound to life.
"Our love for wood and craftsmanship has determined the successful existence of our company since 1934. Since 2002 we have been living this philosophy in the third generation and produce with our qualified team carpentry work of the highest quality and consistency" they say.
Their strengths are the realisation of the most diverse customer wishes.
They find the optimal solution for one in a desired price range fusing extraordinary ideas.
With Individual consultation and personal furnishing planning on site, they turn living dreams into reality.
With careful selection of materials, proven working methods, conscientious processing and a highly motivated team of employees – their work features lasting value and perfection in craftsmanship.
In addition to wood, they work with a variety of materials and have mastered the combination of other materials such as stone, glass, resin or metal.
During the Design Month, the Space 74 Loudspeaker was showcased at Number One Fashion in Graz's Färbergasse.
This trendy piece of furniture comprises 'Air Play' – where one can stream music to the speakers, regardless of brand.
Despite the small speaker distance, they have brilliantly managed to achieve an optimal effect of the sound.
Featuring around 100 eclectic items on the program along with deep insights into a broad range of design disciplines – Design Month Graz 2022 offers a platform for contributions and solutions from the creative sector while addressing the revolutionary processes that will lead towards a sustainable future.