From luxury to dead-hippy interiors and everything in between – Interview with Shed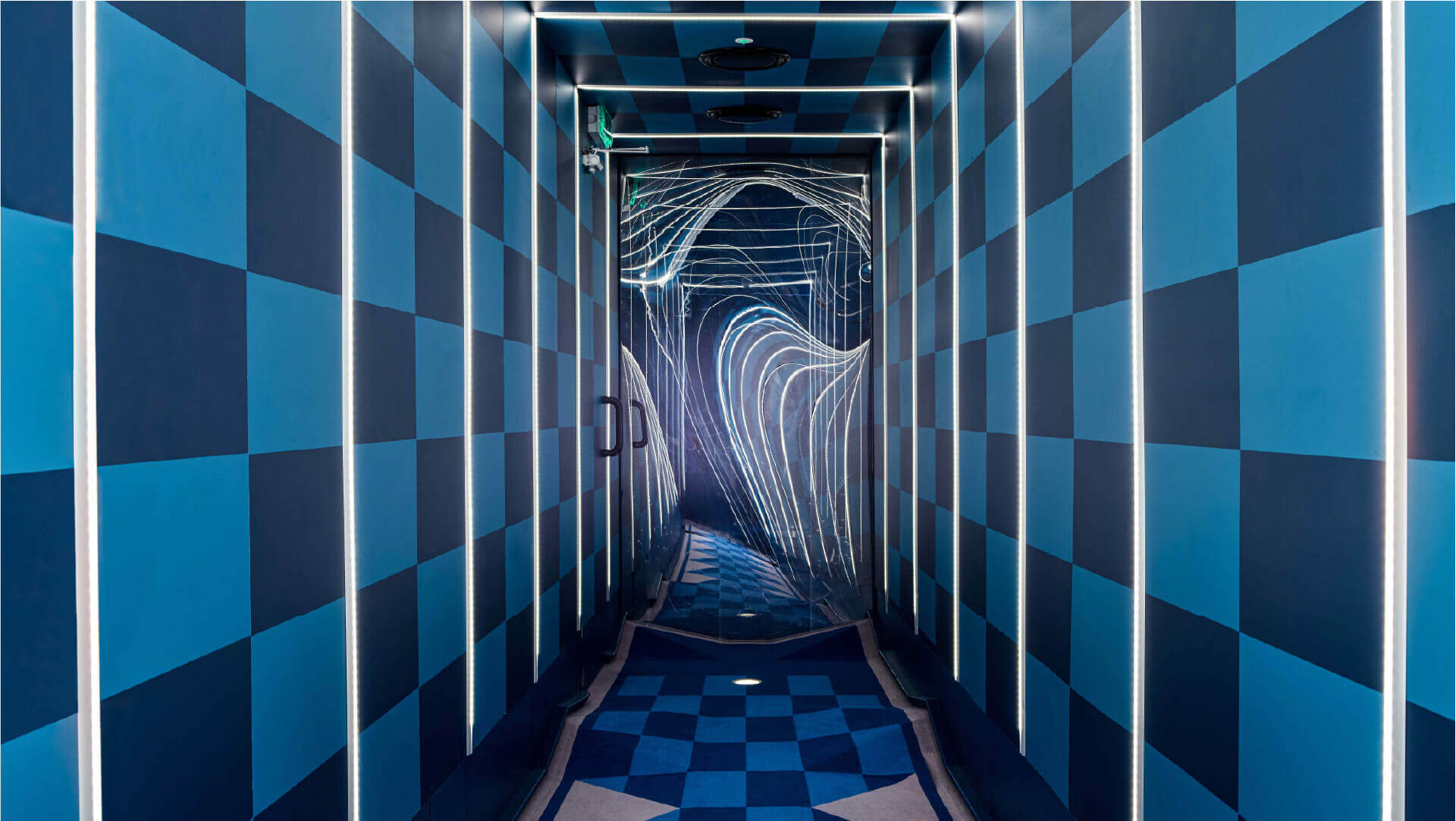 London-based interior design practice Shed delivers original environments that continuously surprise and shape the way we experience a space.
Interior design is used to define the personality of an environment. It is a field that has the power to shape the overall experience and perception within a space, therefore it has to be beautiful, innovative, and most importantly, original. We see the importance interior design has in our surroundings, especially now that we seem to be spending more time indoors, but it is particularly important when it comes to the retail, workplace, and hospitality sectors. While there are many studios focusing on producing breathtaking interiors, there are very few that manage to conceive diverse, relevant, and original spaces that successfully tell a story, and Shed is among those few.
Conceived in 2000 by founders Nick Stringer and Mat Smith, Shed is a London-based interior design studio focusing on retail, hospitality, and workplace design. Their approach centers on producing branded environments that are conceptualized, designed, developed, and built while successfully telling a story. Originality and innovation are what make Shed truly unique. They don't provide off-the-shelf solutions but instead approach every project with individuality, offering their clients the best-suited solutions. From striking psychedelic designs to clean and modern interiors, Shed's diverse repertoire offers something completely different, proving that they are more than just the archetypal interior design practice.
Having designed, developed, and managed highly successful projects in over 30 countries, DesignWanted interviewed Shed to find out more about their design approach, their work, and what makes an interior successful.
Who are Shed? How did the journey for Shed begin?
Shed: "Shed was conceived in 2000 by original founders Nick Stringer and Mat Smith. Both who met whilst studying Interior Architecture at Nottingham Trent University in the mid-90s.
They spent a few years plying their respective trades after graduating, Nick in the role of Director of Projects for Prada in Hong Kong and managing the luxury labels retail builds throughout Asia. Matt worked closer to home working prominent brand consultants Fitch and then later Wolf Ollins. Soon after this, they realized the opportunity to combine their strengths and experiences to form an agency of their own, with this the inception of Shed was born.
A big break came with luxury telecoms brand Vertu when Shed was only a team of three. This led to international retail roll-out for the brand and the growth of the company along with its reputation. Despite only being small in size, it showed Shed's ability to compete with the bigger agencies, proving success wasn't just due to the size of the workforce but about the strength of its design.
Dave Dalziel joined Shed in 2006 having studied Architecture in Sheffield (coincidently both Nick and Matt's hometown), with previous experience working in Australia at a big scale architecture practice followed by branding design for hospitality interiors.
Rebecca Wynne became part of Shed after moving back to the UK from Amsterdam in 2012, having worked within global retail design and strategy for some of Europe's top design agencies on international brands.
This core team of Shed Directors has been working closely together since forming a solid leadership team within the company. They all bring something different to the table and with this, they continue to drive forward a collective vision for the business with originality in design at its core."
Why Shed, what inspired you to focus on interior design and work across retail, hospitality, and workplace design?
Shed: "Shed is a metaphor for a small workplace. One you can retreat to and tinker around in. House your tools and make things, fix things. In that spirit, the name Shed is suitably apt.
Their complementary strengths and experience of the founding directors meant that Shed was able to offer something different, more than just the archetypal interior design practice. We produce branded environments that are conceptualized, designed, developed and built, whilst also successfully telling a story. This has become a continued ethos and approach to our work.
We do what we do because we love it. It may sound a cliché but it's born from our shared passion to influence and shape a bit of the world and if we can do that through design-led thinking and enjoy it in the process then it's certainly a win. Our ultimate goal is to carry on enjoying what we do with purpose and spirit, continuing to work for more great clients who are open to big ideas and want to create something memorable."
Curious about fashion retail stores? Don't miss The deepest darkest soul in Seoul – Retail design by WGNB
With a wide variety of design projects for some of the world's leading companies, which are the main values, core concepts, or style inclinations that, above all, will always represent the studio and yourselves?
Shed: "Purposely, we don't have a house style. Our projects you could say all have a strong individuality allowing us to design what is right for the client, and in turn means we don't get pigeonholed too into a particular industry sector or style. We certainly enjoy the diversity of the work as a result that's for sure.
Whilst historically a large proportion of work has been in retail we have strategically sought out opportunities in the F&B hospitality worlds, in order to expand our reputation and project portfolio. Meat Liquor being one of our first clients in 2010. We are 25 sites along with them now and each one tells a different design story from the last, always relevant.
Relevance is actually something that is important to us and we work hard at. The design has to always be relevant for the end user. If you look at any of our Meat Liquors each is born from an idea and concept relevant to its location and executed in the MEAT way.
We always ask "Why?": it's this questioning that enables us to dig deeper to find and get the best out of opportunities and outcomes. This and collaboration within the team. Everyone has a voice and all ideas are valid.
Continual learning and growing. Again, maybe a cliché but it's true. It's the best way to keep moving forward and to challenge ourselves collectively. Our hope is that we have a positive impact from our work process on our projects and the people that engage with them."
Shed has designed, developed, and managed highly successful projects in over 30 countries, how do you choose the type of project to work on, and what is your creative process?
Shed: "We have been and are lucky enough to be presented with opportunities off the back of previous projects. We like to let our design do the talking and certainly never have an ego about it. This has led to Shed becoming recognized for its work and from that more great opportunities came about both in the UK and internationally.
If we feel like we can make something relevant and have a positive impact or we can see it aligns with our values we get excited about potential of a project. You could ask our clients why exactly but it seems our approach is respected and valued even when it might be not what they may first expect. That and knowing the value of good design on a commercial level.
Our creative process always starts with a strong idea and as mentioned before being of relevance. Then it's a collective creative process and we encourage that. There's definitely no hierarchy when comes to ideas or the questioning of them also."
The "Pass on Plastic" pop-up store highlighted the plastic environmental issue using an impactful but provocative approach. What are the main trends & future directions within interior design and what do you think of them?
Shed: "POP was a great insight into the severity of the global situation. I don't think there's anyone in Shed who thinks differently about single use plastic and the importance of sustainability now. With this, the intent was always to create something shocking but beautiful at the same time.
Sustainability isn't just a trend or buzz word, it's a movement we all need to be behind, in the design world especially. Not just in material selection but at the early idea generation and strategy stages.
From early consideration right through to production and end installation. One needs to look at smarter ways to re-use, re-condition or specify sustainably better materials. There's a lot of really interesting products and reinterpretations of materials. Smile plastics, for example, are made from reused and recycled yogurt pots into sheet material, which we then cut to size and used as tabletops at The Counter House, Manchester. We also used it for the order counter and shopfront fascia at Kiss My Grass, a vegan café in West London. Something the end-user often learns when informed as part of the dining experience."
Shed: "A common trend we've been fortunate to work on are spaces that are more than a singular venue. Take MEAT Queensway. It is a Meat Liquor restaurant but also much more. Full VIP, sports bar and bowling lanes in MEAT'S own style (The Liquor Lanes). Another example is MEAT W1, their most recent site in the West End of London is a 300 person capacity restaurant bar and live music venue with a performance stage.
If we look at Birdies, it's a 9 hole crazy golf and cocktail bar situated in a disused railway arch. This is more than just crazy golf course but a social sports hybrid and hospitality offer. Clients are seeing the benefits of sites that offer an originality of experiences and in some interesting venues.
There will be an interesting and potentially exciting period for environmental design ahead as new challenges and opportunities come about from changes in behavioral patterns post Covid. Expect to see a shift in the typical workplace that once was. Not for all but certainly for many places of work. One may predict that they become more focus spaces for scheduled work streams and with more remote or alternating staff days. Companies may not wish to be restricted to long contracts or leases so there may be short term space occupancies or more pay as you use systems? Who knows but it'll be interesting to see what creative opportunities and challenges present themselves and how interior design will respond. It's the same for retail no doubt it'll throw up behavioral questions and challenges which will need to be met with conscious and considered design."
One of the most vibrant and visually interesting spaces is definitely the Birdies Battersea crazy golf. What kind of reactions do you receive when people interact with it and the rest of your work?
Shed: "One of the most rewarding aspects of our job is creating something memorable and seeing the end-user experiencing spaces the way it was intended. Birdies is as crazy as it gets and that was always the intention: to make an impact for both the client and the user. Being witness to it in full flow we know we've done something right.
There's great satisfaction when we fully see a project come to life after having imagined and visualized the project as part of the creative process. That's when you know it's successful on a variety of levels, knowing the client is happy certainly helps too. We do the occasional residential project too as well as office space design. It is satisfying to know we are shaping home/work life for the better for people. Shaping the use of spaces and engagement of it or its brand."
You are constantly innovating and delivering original environments, what is the next step for Shed?
Shed: "We have a number of projects within the studio right now including a 15,000 sq/m international retail project. Nearer to home, a new vegan fast food restaurant with the first London location to complete on site next month. We have an ongoing branding direction and packaging design for ethical cosmetic client BYBI, so we certainly a variety of healthy and interesting projects. Hopefully, there is a further Birdies site in the pipeline for later this year where we will get the change to create new hole designs even more crazy than the last….if that's possible!
We've also found ourselves providing consultancy early on for some of our clients and respective projects, so we're not just 3D design but support bigger picture strategy and brand positioning establishment. It's a valuable process and involvement which is in growing demand. This all makes for a better cohesive design later on in the process.
Ultimately, we want to continue to innovate and be involved in interesting projects and opportunities wherever in the world that may be."
If you want to know more about Shed's work, don't miss their surreal golf bar BIRDIES.