Evoking emotion through timeless design – Interview with SOKOLOVA Design Studio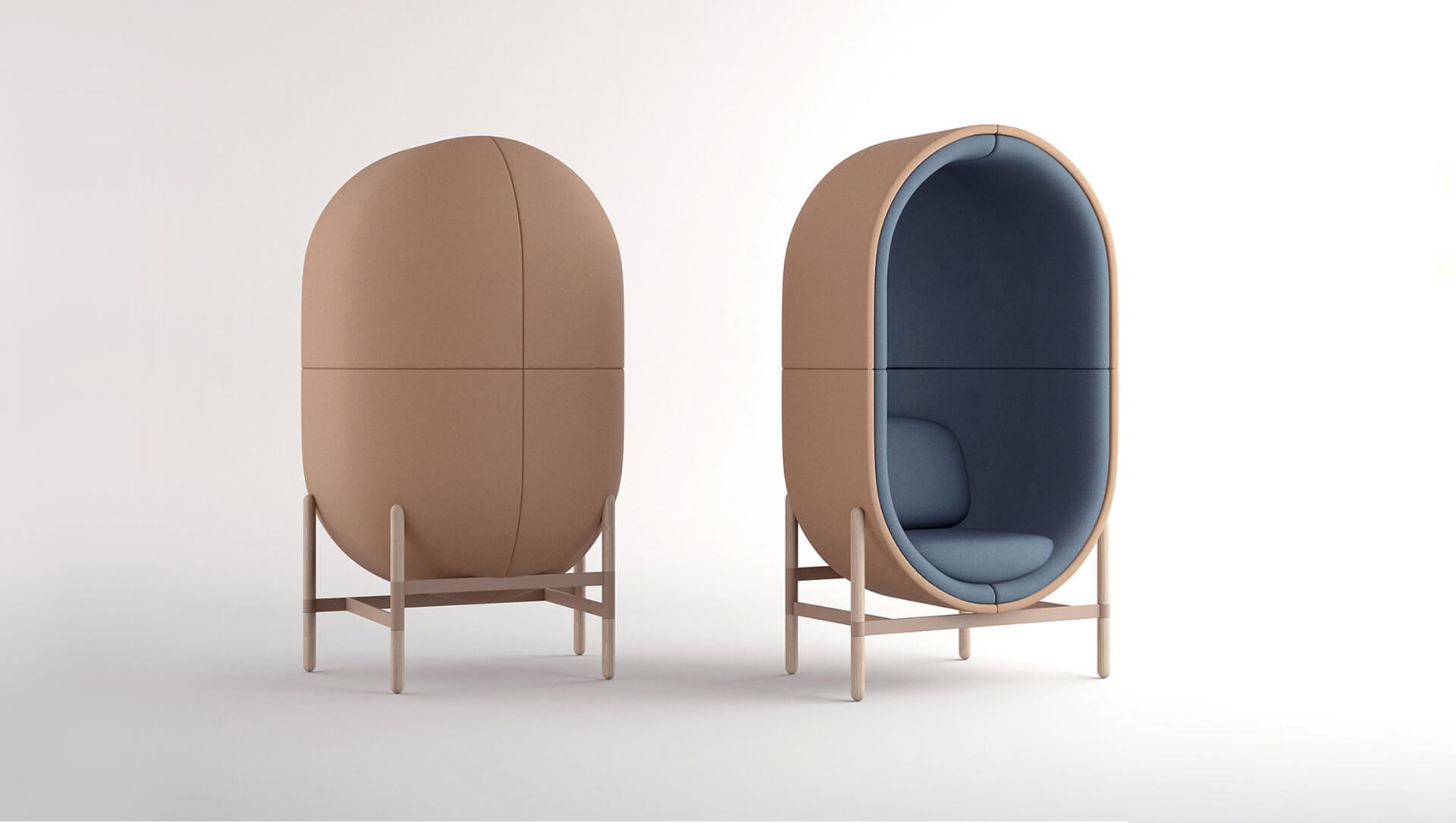 Based in Ukraine and founded by Kateryna Sokolova, SOKOLOVA Design studio creates timeless products that evoke emotion through their thoughtful design.
Founded by industrial designer Kateryna Sokolova, Ukrainian-based studio, SOKOLOVA Design, creates elegant and thoughtfully designed products ranging from furniture and lighting to electronics and environments. With a desire to create objects that could serve people for a longer time, Kateryna shifted from the tech sector to focus more on furniture, lighting design, and home accessories. For her, ergonomics and functionality are crucial when it comes to designing a product, and although important, Kateryna believes every product should have something more: it should provoke emotion.
Her ability to emote through timeless products not only showcase her talent as a designer but has led her to collaborate with world-famous brands such as Ligne Roset, Jarre Technologies, Bolia, and Forestier. Having worked and gained experience in a variety of sectors, it is no surprise that Kateryna's talent has been awarded with numerous accolades for her beautiful products, including the Red Dot Design Award in 2015.
Curious about her successful career, DesignWanted interviewed Kateryna Sokolova and found out more about both of her studios, NOOM and SOKOLOVA Design, her creative process, and what is next for the talented designer.
Who is Kateryna Sokolova? How did the journey for Sokolova Design Studio begin?
Kateryna Sokolova: "I'm a product designer who started from collaborations with different companies and eventually ran the brand NOOM as Co-Founder and Creative Director.
I was brought up in the artistic family so I never hesitated which direction I should go. My dad is an artist and designer. Together with my mom, they ran a small workshop of craft leather production. They inspired me to get a designer's degree at Kharkiv State Academy of Design and Arts.
After 7 years of collaboration with French company Jarre Technologies where I had been working on musical hi-tech products, such as speakers and headphones, I launched Sokolova Design Studio to collaborate with different manufacturers all over the world."
Why Sokolova Design Studio, why focusing on furniture, lighting, hardware, electronics, and environments?
Kateryna Sokolova: "At the beginning of my design career, I had worked in the tech sector. It was fascinating but at the same time, I felt that I could do more. I wanted to create some objects that could serve people for a longer time, like furniture, and lighting. The issue of the tech sector is that technologies and tech trends evolve and change very quickly so a lifetime of such products is not so long. Furniture has more chances to be with its owner for a longer period and remain actual.
I want to create timeless products that have recognizable designs and provoke emotions. I strongly believe that ergonomics and functionality are crucial, but the product should have something more. For example, hidden emotion and even passion which you can feel in contact with this object. Also, sustainability is important to me. We try to pack all NOOM products in eco-friendly packing materials. I always aim to create objects with minimal impact on nature."
Curious to find out more about Ukrainian designers? Don't miss Victoriya Yakusha explains how Ukrainian culture infuses her designs and brand FAINA.
The 'Gropius Chair' project is dedicated to the 100th anniversary of the Bauhaus School in Germany. Which designers are you inspired or influenced by?
Kateryna Sokolova: "We launched the first furniture collection by NOOM at the end of last year and dedicated every piece of furniture to some person from Bauhaus School. There are 'Gropius Chair', 'Coffee Table Brandt', and 'Sideboard Gerrit'. It is our tribute to remarkable thinkers and designers. As a brand NOOM, we have been inspired by some avant-garde design from the beginning.
I live in Kyiv where Malevich and other talented artists of avant-garde movement worked. Their legacy has a strong impact on me. We studied their creations in the Academy, but I understood their ideas and their darings, even more, when I became a designer. Our first collection was dedicated to the Suprematism movement. Lamp and vases in it were named after remarkable artists of modernists wave – Malevich, Yermilov, Ekster, etc.
Apart from the cultural legacy, I'm inspired by traveling and exploring different cultures. I have visited about 50 countries and hope to continue after the quarantine."
Your list of clients includes Ligne roset, Forestier, Bolia, and noom, a co-founded brand. How do you choose the type of project to work on?
Kateryna Sokolova: "I start by developing some ideas and sending my concepts to manufacturers that I like. I pick a brand that could be interested in my concepts due to stylistics, materials, and a general idea and offer them to produce it. After the first experience of cooperation, we usually continue working on projects they need for the collection."
The Capsule Soft Seating Collection for Pallau received the German Design Award 2020. Can you explain to us the inspiration and process behind it?
Kateryna Sokolova: "The idea was based on my personal experience. I work in a roomy and noisy office, which we share with several other design studios. Sometimes it is difficult to concentrate because there are many distractive sounds and colleagues' activities. You have other issues working at home. The atmosphere is too relaxing and it is difficult to keep yourself together and just start working. We are struggling for a universal working place, where you can leave all your bothers behind. Such a capsule can be located in the middle of a roomy open-space office or inside your apartment. It is the place to concentrate on working goals and dive into the process.
The Capsule collection was created before the Covid-19 pandemic but it became even more actual right now when keeping social distance became a new norm in offices and a lot of professionals started working remotely from the home office."
If you want to know more about the Capsule collection, don't miss A minimal solution for home-working – Capsule collection by Casala.
With a wide range of projects created with very different materials, which are the main values, core concepts, or style inclinations that, above all, will always represent Sokolova Design Studio?
Kateryna Sokolova: "The main values reflected in my projects are functionality, ergonomics, and some emotional sense. It's hard to explain, but it should be some exclusiveness which makes your object special. Also, I want to make all my products eco-friendly and care about the impact they make in every stage of production and use. It is difficult to reach, but I always keep it in my mind."
Constantly innovating in different design areas and collaborating with different companies, what is the next step for Sokolova Design Studio?
Kateryna Sokolova: "I work on several products for brands Bolia and Casala for which I have created some objects before. Also, we are enlarging the furniture collection for our brand NOOM.
I aim to create some objects from recycled plastic. I found an appropriate supplier of this material in Ukraine, so I am going to explore it's possibilities and work on a few new interesting products."