Architecture
Superstudio doubles at Milan Design Week 2021 with Superdesign Show and Superstudio Maxi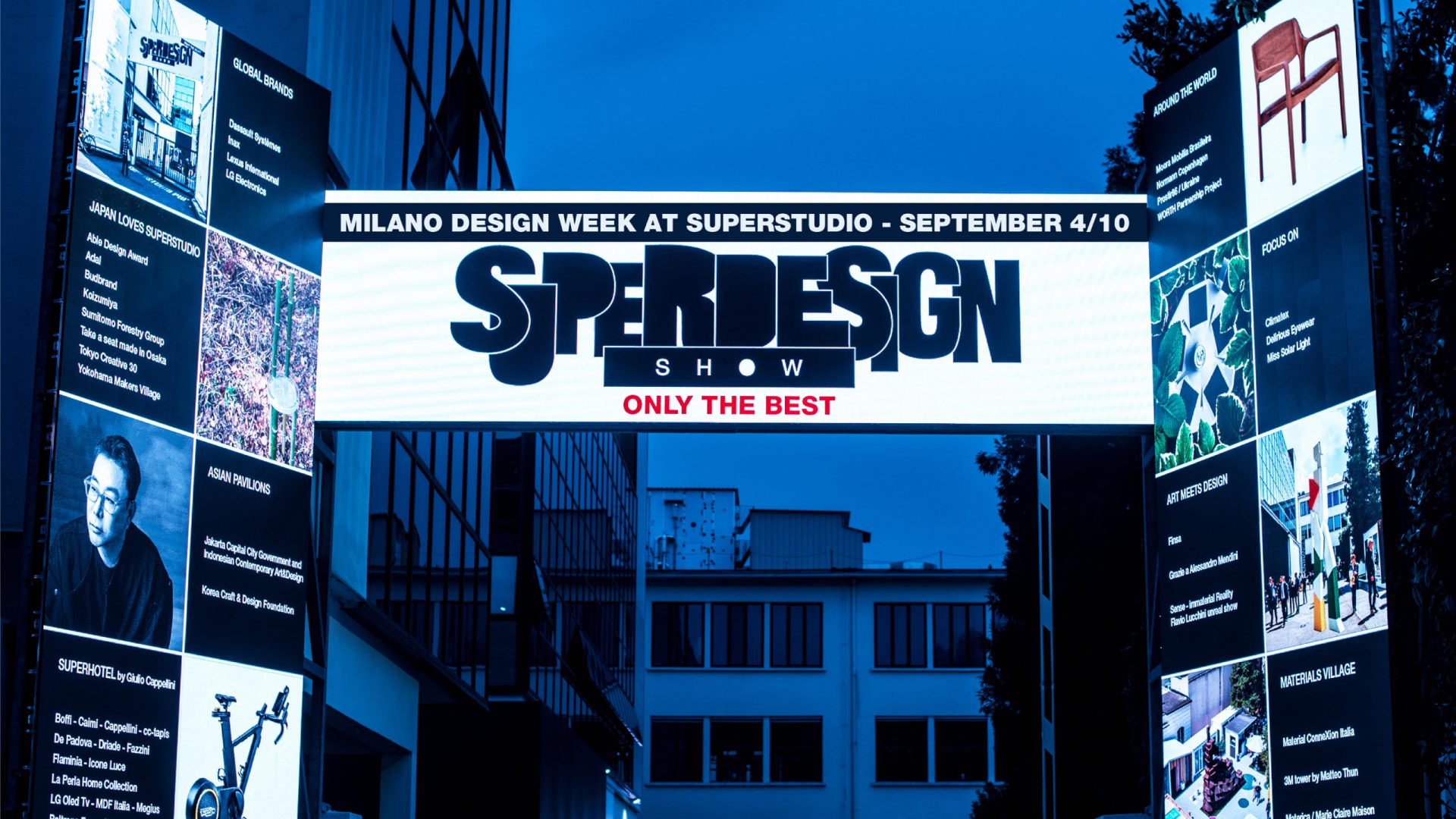 Superstudio of Milan to participate at Milan Design Week 2021 with two major events in two different locations.
The first one will be R/EVOLUTION, a new exhibition format based on many curatorial exhibitions on current topics and two spectacular interactive pavilions at the well-known Superstudio Più.
The second one is DESIGN BEYOND DESIGN, an event including five inauguration days in the new Superstudio Maxi exhibition center with many multidisciplinary activities, from photo exhibitions to design talks, videos, performance and charity sales.
Superstudio will present an edition of rebirth and change, proposing a new format focussed on several curated themes and a glance on new horizons. Made in Italy, Human Technologies, Women in design, digital and virtual are going to be the main topics.
Superdesign Show 2021 September – Special Edition will take place at Superstudio Più in Via Tortona 27: a great hub for innovation and creativity for 20 years. The need for concreteness, innovation, lightness, sustainability, inclusiveness, interconnection arising in the year after the pandemic will transform the iconic spaces of Superstudio Più thanks to the work of the exhibitors and the interest of visitors. 12 curatorial exhibitions deal with current topics such as the icons of the new millennium, female creativity, the house guided by Artificial Intelligence, new production techniques, living and working open-air and others.
Superdesign Show 2021 – Extension, with Design Beyond Design, composite multimedia and multicultural event part of Superdesign Show where design will be seen in its different communicative expressions (art, video, photography, performance, architecture, publishing, workshop…) is the occasion to discover the just finished venue Superstudio Maxi in via Moncucco, a large, elegant, technological exhibition space that fits in the district of Barona, an area that is increasingly renewing and that is also the scenery of urban regeneration projects.
Interested in Milan Design Week? Let's foresee Milan Design Week 2021 with Giulia Cugnasca of BASE Milano!
R/EVOLUTION
Superstudio's new project for the Milan Design Week is a true r/evolution for our usual format made by theatrical installations. It is more like an art exhibition, rather than a fair.
"We will use the rigour, the harmony and the same museum-like care that has always characterized Superdesign Show, to present a series of collective and individual thematic areas with independent and competent curators." States the organization. "Prestigious brands, famous architects, successful designers and young talents will be there with us, to make the event special and unique."
Superdesign Show – Special Edition projects
Cult&Must 2000/2020 – The most recent and iconic pieces signed by prestigious Italian design and lifestyle brands. To mark the history of contemporary design. A contemporary "museum" that recognizes and historicizes essential and unforgettable pieces that have influenced our life. Curated by Giulio Cappellini.
Donne & Design – An extraordinary event aligned with the recognition of women's creativity value in many fields and, in particular, in design, architecture. Women architects and designers of great depth present their latest projects in a dedicated pavilion. With the participation of Alessi and her 16 designers and the imaginative installation by Paola Navone. Curated by Silvana Annicchiarico.
Outdoor Generation – A collective exhibition that invites visitors to relax proposing solutions to live open air in a scenery designed by Basaglia Rota Nodari studio in Superstudio's art garden. Curated by Donatella Bollani.
SUPERCAMPUS – Study and work in total freedom Rethink daily activities' places, times and ways of studying, work and free time now without borders, leads to redesigning necessary spaces and tools and perhaps our own mindset. Flexible spaces, interchangeable functions: studying and work after the pandemic. Curated by Giulio Cappellini.
DISCOVERING – Experiments and new technologies A section dedicated to the wise, contemporary, thoughtful and forward-looking design. A selection of products and installations where co-design, the meeting between designers and manufacturing companies, engineers and companies, architects and digital craftsmen, students and professors, cultural institutions and creatives generate and regenerate lively, respectful and forward- looking solutions. Curated by Fulvia Ramogida. 
MATERIALLY – Increasingly more sustainable and performing Environmentally friendly materials (now a duty), healthy and intelligent (a necessity), technologically advanced and aesthetically pleasing as always. Designers, scientists, technicians and universities amaze us every day with futuristic proposals. Curated by Materially, Coordination Chiara Rodriquez and Federica Pastonesi. 
1000 VASES – A thousand faces of the same idea After Paris and after Dubai, the collection of unique pieces created by hundreds of young international designers arrives in Milan, with a dedicated book. Curated by Francesco Pirrello, art-direction Pierpaolo Pitacco.
SMART HOME – The house driven by artificial intelligence is not science fiction, it's reality. In two independent pavilions interactive installations to discover home automation with three great international brand Haier, Hoover e Candy.
DREAM CARS – The iconic automotive brand Lamborghini presents its latest car, a masterpiece of technology, innovation and elegance, in an interactive installation designed by Carlo Ratti, the great architect co-author of the Italian pavilion at ExpoDubai.
ART CHALLENGES – The presentation in Milan of Oblong Contemporary Art Gallery, newly born and already a "chain" of homonymous galleries recently opened: one in Forte dei Marmi and a great one in Dubai with its international artists. It presents two exhibitions at Superstudio: the solo exhibition "Surprise! Art tells" with two works by Stefano Bombardieri, including the sculpture of a life-size elephant that flies held by a little girl and talking to visitors. In addition, there will also be the group exhibition "Shapes and Freedom", both curated by Ettore Mocchetti. In the showcase on the street, the installation "Visions" by Nava + Arosio.
A PERMANENT PERSONAL MUSEUM – Another surprise in preview is the opening of Flavio Lucchini's "personal museum" in his atelier and in the space below. 1,500 square meters with the archive of hundreds works created over the years and a cultural program and non-profit initiatives to bring a group of sensitive children and categories closer to art and beauty. In the atelier the exhibition "Dialoghi di Moda e Arte", completed by images by Luca Gilli. In the museum the permanent collection. Curated by Gisella Borioli. 
DIG/ITALY – All solutions to live or relive the event online starting from Italy, from Milan. Talks with the protagonists in live web, virtual theatre, private-room for Btob meetings by appointment or in streaming, broadband for all, digital presentation of the book DESIGN SUPER SHOW, online press conference and presentation, at-superstudiomagazine.com digital updated in real time, etc. Coordination by Superstudio Events.
DESIGN BEYOND DESIGN
The most visionary people feel that fairs and thematic salons should evolve towards hybrid, physical and more immersive forms, able to keep high attention and emotion in response to the pulverization of messages. Once again, Superstudio launches the challenge for Milan Design Week 2021 in September, proposing a new revolutionary format.
DESIGN BEYOND DESIGN is the project that allows a "design fair" in real motion in the immense hall of via Moncucco among video workstations, art installations, scouting of unpublished products, performers, workshops, short films, contests, video visits of the most important Italian architecture studios, photo exhibitions, contemporary food, thoughts of great architects and also gestures of love such as the sales for charity purposes and the presentation of the next project of the non-profit association Itaca, dedicated to young people.
Superdesign Show – Extension Projects
EXHIBITIONS and INSTALLATIONS
Neodesign – by Leonardo Talarico – A promising debut. Pure lines, rigorous aesthetics.
Antidesign – by Gianni Arnaudo. Innovative Mee-Thing cartoon-style sofas. By Gugliermetto-Experience.
Popdesign – by Diego and Guido Gugliermetto and Franco Mello. Irreverent and surreal sessions.
Pandemicdesign – by Luca Gnizio. Symbolic furniture created with the recycling of industrial waste.
Rays of Light – by Adriana Lohmann and Giò Colonna Romano. Immersive luminous waterfall. By Slide For Life.
Paperthinks – by Daniele Papuli. Paper sculptures or design objects? Exclusive installation and video.
Luca Gilli – Passaggi di Stato – Superstudio Maxi, the site of ideas. Photo exhibition.
Flavio Lucchini – Sculptures in Barona. Works by the artist, entrepreneur and founder of Superstudio.
Aphorisms – The thoughts of great architects who help build a better world.
An Italian (Architect) in… – Architect tours around the world conducted by Laura Ragazzola for Matrix4Design. 4 one-hour films to learn about the Lot-Ek, Big, GG-loop and Snøhetta studios.
Storie di Cose – Project by IULM University. Contest among design students to describe common objects and icons in an original way with a short film.
A.I. (Artificial Intelligent) Workshop – By Prof. Guido Di Fraia. How can artificial intelligence interact with design? In collaboration with IULM.
Giovanni Gastel – Unexpected works 1982/2020. Editing Giuseppe Biancofiore. Videophotographic exhibition in tribute to the great photographer who recently passed away.
La Moda in Altro Modo – Directed by Giovanni Gastel. Videostory on the evolution and representation of fashion with the contribution of Flavio Lucchini and many other protagonists, from the 1960s until today.
Zone 6 Change with Us – Curated by Superstudio in collaboration with MuseoLab6. Photostory from the early 1900s to 2020. "Zona Tortona" is transformed from an industrial district to a creative district.
Divine – art in Barona. A large golden sculpture becomes a symbol of Superstudio Maxi and the regeneration of the area. Video of the work-in-progress installation.
Superpoesia – By Ivan, street poet. The multifaceted artist who has his ArtAkademy in Barona, dedicated a poem to the birth of Superstudio Maxi. To read and to listen to.
Design Super Show 2000/2020 – by Gisella Borioli. Presentation of the book that tells the evolution and mise-en-scene of Design over the last twenty years.
Bodyinsign – DanceHaus Academy and Hip Hop Department. Susanna Beltrami project. Site-specific and long durational performance, video dance and talk by 40 performers.
Find out more about Milan Design Week through the lens of design blogger and storyteller Gucki.
Lounge Areas. 5 lounges designed by Paola Navone, Marcel Wanders, Karim Rashid, Marc Sadler, Lorenza Bozzoli and Ambrogio coffee tables by Francesco Favaretto. By Slide Design. NC Design group dividers.
Supershopping in Love – Special charity sale – Design objects that speak of love and friendship. In favor of the non-profit association Itaca.
Food & Beverage – by Temakinho. Contemporary food and bar service from the truck of the famous restaurant chain.