Sustainable Furniture Week – Innovative materials, circular economy, conscious consumption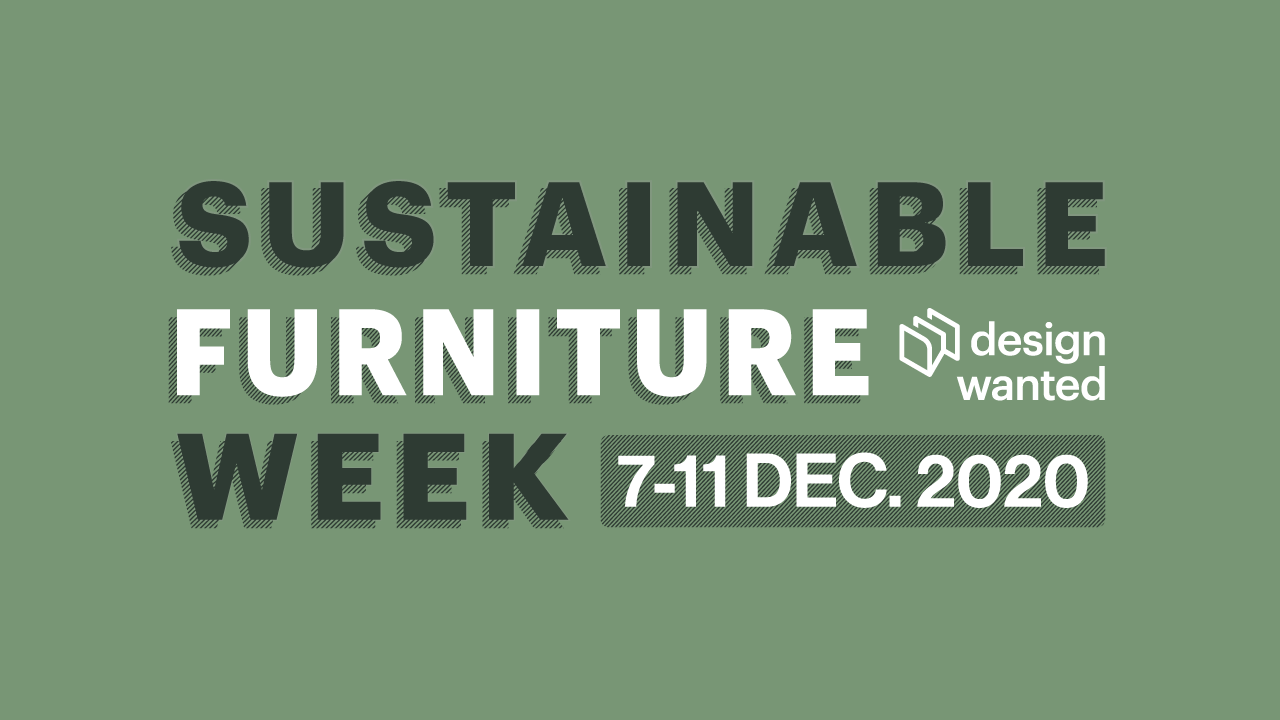 How sustainable can the furniture industry become? There is a promising road towards a circular economy, but the transition requires significant changes in design philosophy, consumer behavior, and further innovative production.
With the concern of the critical state of our environment and societies today, the necessity for an eco-conscience has taken hold, pushing us to pay more and more attention to everything around us. This concern for the environment is not only expressed in our homes and spaces but also in the products we choose to place inside them, creating a demand for sustainable products, especially sustainable furniture.
With this increasing demand for sustainability, today's furniture industry is facing a variety of challenges. The high demand for low-cost items, high cost of raw materials, labor, and energy spent calls for companies to think outside the box, innovate, and make the sector more sustainable. While exploring recycled and repurposed materials bring us one step closer towards a necessary change, many designers, studios, and companies are creating innovative solutions that are not only beautiful but also care for and preserve our planet.
On a quest for a better understanding of the sustainable furniture industry, we will embark on a deep search for new solutions to the environmental impact of unsustainable products, the development of innovative materials, and how designers and experts are disrupting the furniture industry to visualize and create the furniture of the future.
Join us and sign up for our Sustainable Furniture Week, it's FREE!
What will be discussed?
From December the 7th through the 11th, DesignWanted will launch a deep investigation of the current and future state of the sustainable furniture industry from innovative solutions to the development of new materials and processes, gaining a better understanding of how this important design sector is working towards a more sustainable future.
During these 5 days, we will involve a number of professionals and experts to understand how designers and manufacturers are developing a more sustainable practice that takes us closer to a circular economy and a better future.
Sign up to Sustainable Furniture Week, it's FREE!
Who is involved?
Through a series of webinars, articles, interviews, and case studies featuring prominent designers, companies, and studios focused on a sustainable approach and practice to furniture design, DesignWanted will provide a range of insights to study new and exciting ideas for the future of our planet.
From recycled materials to new 3D printing technologies, innovative design studios, institutions, and international sustainability initiatives, we conversate with global brands and designers to gain insights on the future of sustainable furniture.
Some of our guests include renowned furniture companies such as Emeco and Mater, who embrace and follow a conscious and ethical approach to furniture design. Incredible furniture brands that display innovative and sustainable practices and processes like Holy Space, Made Trade, Kalon Studio, Sancal, Model No., Arper, and Green Furniture Concept.
Studios such as Loll Designs, ecoBirdy, Plasticiet, and Noho dedicated to creating sustainable products and new materials through recycled plastic. Wehlers, a design brand focused on sustainability and circular economy; Instead Furniture, the studio creating astonishing products from brewery waste; Nikari, a studio working with wood in a sustainable manner, as well as Caracol and The New Raw, design studios who utilize 3D printing and recycled materials to create beautiful furniture. And finally, Next Atlas, the research platform, will bring unique and interesting insights about the current and future state of the sustainable furniture industry.
With participation from organizations such as FURN360 and Sustainable Furnishings Council to get their expert views on the global situation of the furniture industry.
Sign up for Sustainable Furniture Week, it's FREE!