An alternative model for sustainably furnishing large-scale projects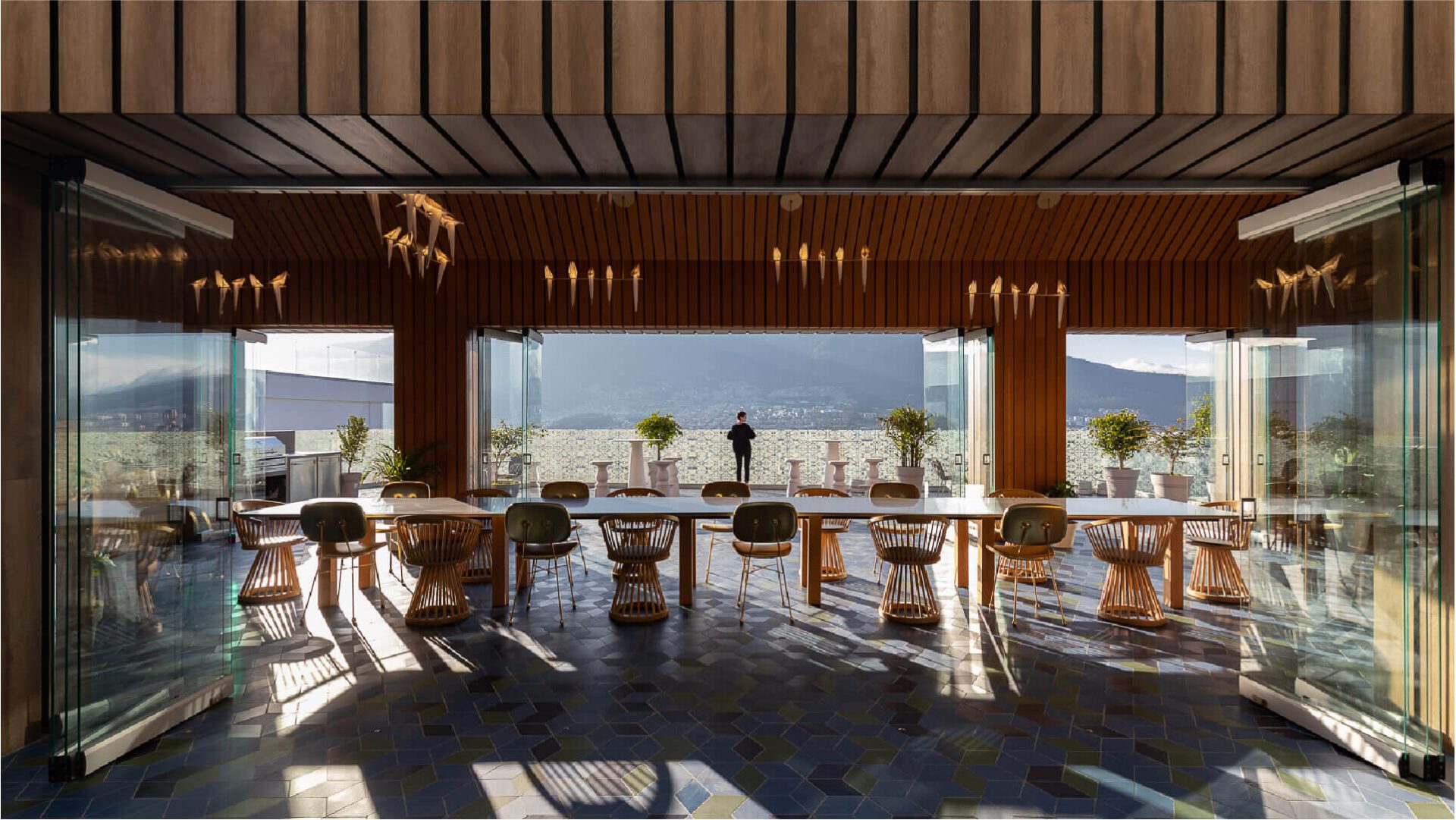 Working with local artisans enables the firm to promote a sense of belonging, contribute to the strengthening of the local economy, and generate opportunities for innovation in design.
One of the most exciting aspects of developing residential projects in Ecuador, where the team at Uribe Schwarzkopf is based, is that we have incredible access to local artisans who are able to produce incredible, custom made furnishings for communal areas.
As the leading developer in Quito, Ecuador's capital city, there are two principles of design that are incredibly important to us – world-class quality, and sustainable practices. We work with the world's leading architects, like Moshe Safdie, Tataina Bilbao, Carlos Zapata, and Bjarke Ingles, to design our buildings, and we work closely with the local government to set and surpass sustainability guidelines in the construction of our projects.
So when we look at the interiors and furnishings, it is important to us to not rely on sourcing from abroad but to work with local craftsmen to build high-quality furnishing that is produced sustainably and with a deep respect for local materials and traditions.
This means that every part of the process, from sourcing materials to manufacturing to shipping, is hyper-local, and, by that very nature, significantly more sustainable. We've also been inspired by fostering local businesses that can manufacture sustainably and open up a world of possibilities for the region in building and decorating with sustainability in mind.
Incorporating pieces and finishes made by artisans in our projects is a critical throughline in our work and, in addition to providing beautiful, bespoke furnishings for our projects and their residents, it helps us to support small artisan businesses and bolster local industry, while prioritizing the environment and honoring local identity.
Preserving traditions and local identity
In Quito, artisan work is often a family tradition, with skills and knowledge that are passed from generation to generation. Many of these trades were professionalized in the colonial era when the steady work of artisans was required to build and adorn the churches in the Historic Center of Quito, which were so beautifully crafted and preserved that the entire neighborhood was one of the first areas to be named by UNESCO as a World Heritage Site in 1976. Building on this long tradition, many of the artisans of today have been educated in centuries-old techniques as well as contemporary practices and bled the traditional with the cutting edge to create elegant designs with a deep sense of history.
Rather than sourcing furniture from abroad, commissioning new work from local artisans provides a financial grounding for this work, encouraging that these artisan traditions, which are an important part of the country's cultural identity, continue into the future.
One example of how we do this is the design of the lobby of Oh!, a residential building designed in by Arquitectonica in collaboration with Wanders & YOO. The central focus of the lobby is a large rug, hand-woven on looms by artisans from Guano, a community in the Central Sierra of Ecuador. The work was carried out with the support and supervision of Olga Fisch, a local brand committed to preserving culture, traditions and identity through its designs in fashion and home products.
Each square meter of this rug has around 40,000 knots and different reliefs, with more than 18 colors to mimic the moss texture required by the design created by Marcel Wanders. Due to its size and shape, the rug was assembled and finished on-site in the lobby. Metropolitan, another one of our buildings located near Parque La Carolina, also houses another of these hand-woven rugs by local artisans, which hangs on the lobby wall as a decorative element.
Artisan work is also visible on the intricate façade of Aquarela, a project designed by Jean Nouvel in the warm Cumbayá valley, surrounded by the mountainous landscape of Quito. The local stoneworkers developed new techniques to affix the stone that covers the facade, which is a local Andean natural stone chosen exclusively for the project.
Due to the irregular characteristics of the stone itself, each piece needs to be fit and placed by hand – a meticulous and labour-intensive process which is rare in a project so large: one person is able to install stone to 2 m2 per day, across a surface that totals 16,000 m2.
Uribe Schwarzkopf buildings are known both locally and internationally for extensive and creative amenities offered to their residents, often with custom and site-specific furnishings. This is especially evident in our game rooms, which often have bespoke pieces handmade by local celebrity Efraín Cepeda, a Quiteno craftsman who has produced this type of furniture since 1942 in his family business. At 91, Efraín is also known in the city as the last piropero of Quito, or the King of the Piropo. The piropo were compliments that men in Quito gave to women after serenades, a popular tradition that is remembered every December during celebrations of the founding of the city.
Find out more about sustainable furniture used in hotels, residences, and restaurant interiors, don't miss Turning what's left over into what will last with Emeco.
Supporting the economy, creativity and local businesses
Integrating artisan work into the finishings and furnishing of landmark projects stimulates the activity of small businesses and the development of local labor. In Quito and Ecuador, there is the capacity and local creativity to develop furniture and finishes with international standards, and working with these artisans to refine practices to meet these standards has allowed us to spur on and support a local community of high-end craftsmen, producing extremely high-quality local goods that can be seamlessly integrated into large-scale real estate projects, giving rise to unique sites, experiences and pieces.
Working with international designers presents challenges, as often in their designs, they spec pieces of furniture or finishes that do not exist in the local market. We have been incredibly lucky in that the architects and designers who we have partnered with have been thrilled to have these initial ideas translated and transferred to solutions that exist or could be created in the local market here.
To respond to this challenge, at Uribe Schwarzkopf, we have worked hand in hand with small businesses and artisans, who in turn have innovated in their production techniques and in the use of materials in order to meet design expectations and also the standards of eco-efficiency established by Uribe Schwarzkopf.
Another example of this includes the woven facade of the columns of the Oh! Lobby, which were woven locally with fibers made of polyaluminum (polyethylene + aluminum), produced locally and 100% composed of recycled tetra pack packaging.
The work was carried out by a small local company, Dream Home Ecuador, whose mission is to create quality furniture woven locally by small artisans, mostly from Manabí; a province on the coast of Ecuador, famous for its hand-woven straw products, including the famous Montecristi hat, which became popular around the world as the Panama Hat.
Further, the moth-patterned wallpaper of Oh!, designed by Wanders & YOO, was developed with Insolito, a small local interior design and textile company led by two sisters, who incorporate recycled plastics and textiles into most of its products. Even on Oh!'s rooftop, we worked with Pella, a local producer of ceramics, to custom design a scheme for the tile that imitates the color palette of sunrise and sunset, creating a color gradient on the terrace and achieving the concept developed by Wanders & YOO.
Another prominent example of this type of collaboration is visible in YOO Quito, a residential tower by Arquitectonica with YOO inspired by Starck, which is located in one of the most chic neighborhoods in Quito. The tower has a large aluminum cloud on its rooftop encasing building infrastructure, which is part of the design meant to reference the closeness of the building to Quito's sky. This cloud, conceived by YOO inspired by Starck, was created by Faiquito, a local company specialized in facades.
Further, in the lobby of ONE, a building designed with the local firm Leppanen + Anker, there is a striking 11-meter long armchair, created by Mathieu de Genot, an architect and designer of French origin, who grew up and lives in Quito. An accomplished craftsman who weaves traditional elements into contemporary designs, de Genot's locally designed and produced furnishings appear across many of our buildings and projects.
This use of work by local makers can be seen in many facets of these hyper-contemporary spaces. In the recently opened Unique lobby, a project designed by Carlos Zapata with one of the best views of Quito, there is a wooden counter covered in bronze, created by Paola Cañón, who owns Creare, a furniture producer; a few meters away, in the corner of the lobby is the sculpture made by local artists José Ayala and Daniel Espinosa Ponce, creating a representation of iconic actress Ava Gardner.
Reduce our environmental footprint
Working with local labor and industries, as well as local materials, helps to significantly reduce our environmental footprint and that of the buildings. By encouraging local production, we avoid the emissions that would be generated by importing finishes or furniture from other countries. We try to give priority to local products and what the city and its surroundings offer us, and we seek to promote more sustainable purchasing practices.
Using local materials is essential, both in with artisans and in the construction process itself. When you enter one of Aquarela's lobbies, the counter is striking, a spectacular 3.70m long and 1m wide tree trunk, salvaged after the tree was felled by a lightning bolt during a thunderstorm in nearby the Antisanilla Reserve. In another building, ONE, the prominent lobby desk was created by a local stonemason who shaped the massive Andesite rock, an Andean stone brought from Lloa, a rural parish located in the southwestern part of Quito. In the YOO Quito rooftop and lobby, a local stone similar to marmol, marmetón, was used to cover part of the wall and the surface of the welcome desk.
We are optimistic that the local artisans and producers we work with also are becoming increasingly aware of their power to innovate their production techniques through their work with us, and continue to reduce their environmental impact. For example, the use of recycled materials in the 4,900 meters of fiber used in the covering of the Oh! columns prevented 16.21 trees from being felled, 257,580.00 liters of water were not consumed and 3,339.00 kg of carbon emissions were avoided. The floor of the Oh! Kids Room is made from 103 recycled tires – designed and produced by another local company, Escade, which works on the final disposal of end-of-life tires, which in turn allows a proactive solution to be provided to a major environmental problem.
Our work in promoting sustainability through our local partnerships for the furniture and finishings of these projects has been incredibly revealing, fruitful, and rewarding. Working with local artisans and small local companies instead of major international brands, we are able to promote a sense of belonging, contribute to the strengthening of the local economy, and generate opportunities for innovation in design and production techniques, which increasingly incorporate environmentally friendly practices.
Check out how big companies are doing their part to create a more sustainable future, don't miss Sustainable Furnishings Council – "Our mission: helping companies reduce their environmental footprints"