Design events
A thought-provoking showcase to embark on a journey exploring the power of scale
Invited to curate the first exhibition dedicated to Isola's design community – Isola introduces Routes to Roots, part of the official program of Tanween 2023.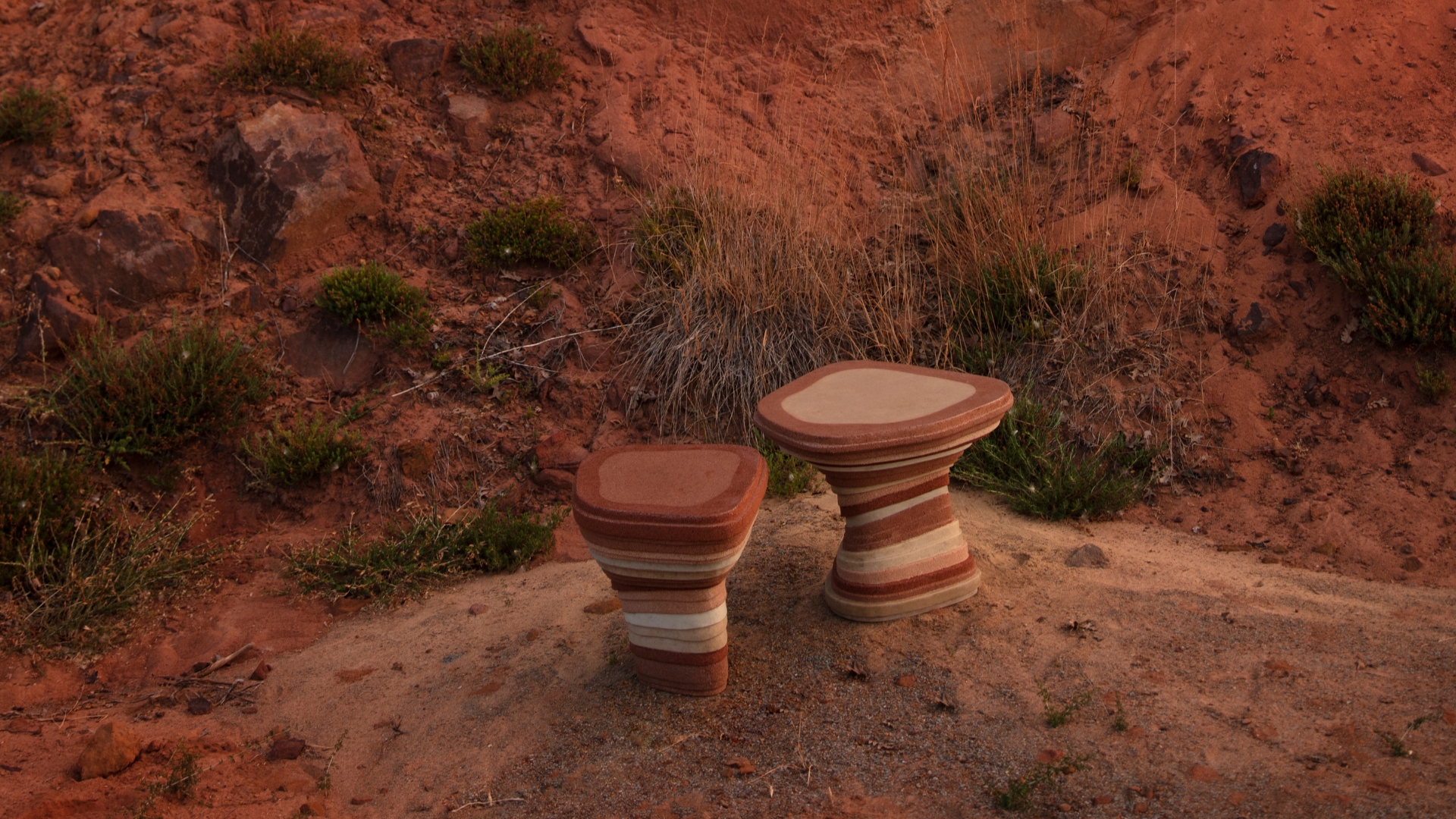 This 6th edition of the annual Creativity Conference conceived and created by The King Abdulaziz Center for World Culture – Ithra – is being held from 1st to 4th November 2023 at Ithra in Saudi Arabia (Dhahran) and explores the creative process through the theme of Scale. Here, our 5 picks from Isola's Routes to Roots exhibition for Tanween 2023.
The exhibition is a journey through the power of scaling in the realm of design and displays how the physical size of an entity does not necessarily dictate its impact on our planet – the projects are functional objects that highlight an eco-conscious approach to design, integrating biomaterials, natural resources, household and industrial waste and seamlessly blend traditional methods with innovation to craft modern design pieces.
"By doing so on a larger scale – we have the potential to pave the way for a more responsible and eco-conscious approach to the design industry, ultimately revolutionizing the furniture market!" Cavallaro and Resitoglu, Cofounders of Isola, proudly share. 
As the exhibition landscape, Resitoglu envisioned an open space embodying abstract shapes reminiscent of trees that effortlessly symbolize the relationship between individuals and their roots.
By drawing inspiration from the accumulated wisdom of our ancestors and pairing it with cutting-edge craftsmanship – a selection of designers, design studios and manufacturers part of Isola's platform dialogue with the Saudi Arabian community and demonstrate how emerging talents can breathe fresh life into the design landscape, bridging the gap between tradition and innovation.
Today endless things can be an intriguing starting point for a new design – from a leftover material to a production technique or a traditional process that fascinates us. Right?
Inviting one to Tanween 2023 to embrace the beauty of each eclectic piece displayed, Routes to Roots celebrates those who preserve our heritage and the Earth – come explore our favourites!
Tanween 2023 – Routes to Roots highlights:
Strata Table Series by Roula Salamoun
Furthering a previous exploration into a series of three-dimensional objects – the Strata table Series by Roula Salamoun has its roots in topographical studies. Looking at the tectonic landscape of cliffs and sea stacks; it investigates the ever-present richness of textures and colors revealed in the stratification of dissimilar topographical layers. Shaped by earth, water and wind but also man-made actions, the topographies bear witness of time, inviting the user to imagine how they came to be.
Each and every piece is hand casted utilizing resin and natural marble, applied using an intuitive molding application. To translate the rich hues of the natural realm while respecting the environment, Salamoun meticulously selected natural stones, unconsumed by the construction industry. Each product is unique as natural color and texture variation may occur from one edition to the next.
Ova by Yellowdot
Yellowdot by Bodin Hon & Dilara Kan present Ova – a cabinet collection inspired by the alluring vivid hues and repetitive patterns of seeds and egg clusters found in nature. Three unique edition cabinets – pink, red and orange – celebrate life through vitality, fertility and creativity.Each object comprises hundreds of soft shapes handsewn by artisans with a hand-woven fabric named 'Kutnu' woven from Dilara's hometown of Gaziantep, Turkey.
Additionally, they are then carefully upholstered to completely cover the steam-bended cylindrical cabinet's walls. A secret compartment in contrasting maple plywood further awaits inside when opened.
Each handsewn shape is one-of-a-kind and imperfect but arranged repetitively to help tie a piece together by bridging disparate elements to create a sense of unity.
Daricha Lamp by Shailesh Rajput Studio
A glimpse of the captivating undersea world, Shailesh Rajput Studio introduces the Daricha Lamp. A stunning luminary influenced by the enchanting beauty of coral reeds, this unique design features delicate, undulating curves creating a mesmerizing interplay of light and shadow.
Handcrafted with precision and creativity from reinforced hard clay and blown glass, the lighting serves as a stunning homage to the wonders of the ocean, bringing a touch of nature's brilliance into any space.
Re-Editions by Studio Mo Man Tai
Re-Editions – a collection of large sustainable wall lamps – brings together six Dutch design studios. These lamps are collectible design items harmoniously weaving together art and design as well as showcasing the signature design style of each designer. Besides their dimensions, they have another thing in common – they consist of reclaimed or waste materials.
Dutch designer and design scout Wisse Trooster commissioned the works based on the same framework and idea. Each designer equipped an aluminum base structure with their custom-designed front panel. All editions of the collection are fabricated with re-used, re-cycled, or re-purposed materials and are equipped with a full-color LED light source.
For instance, the wall lamp designed by Ulrike Jurklies and Paul Bas of Studio Mo Man Tai is 100% made from leftover acrylic mirror material collected from their latest interior projects. The designers selected and collated the material with great care for the visual appeal. Instead of throwing away a part because of a tiny scratch or a minor discoloration, they consciously choose to utilize it.
Landmark Series by OODD Studio
An exploration of the potential of textile craftsmanship through reinterpretation of traditional techniques in a contemporary context – the Landmark Series by OODD Studio is a new development of three-dimensional textile objects that can, but do not have to, fulfill the functional aspects of a vessel.
Inspired by milestones of modern architecture, they take up formal elements of significant architectural works and translate them into filigree art pieces in exquisite material and color combinations.
The products, created from transparent silk organza, are then perforated, chiseled and decorated by hand using a variety of techniques, resulting in a multitude of textures and surfaces. The objects appear in a kaleidoscopic spectrum of colors – from delicate tones to vibrant hues in bold combinations. 
Head to the official website to know more about Tanween 2023.