A unique take on Earth-inspired interiors – Tecnografica's Decorative Wall Panels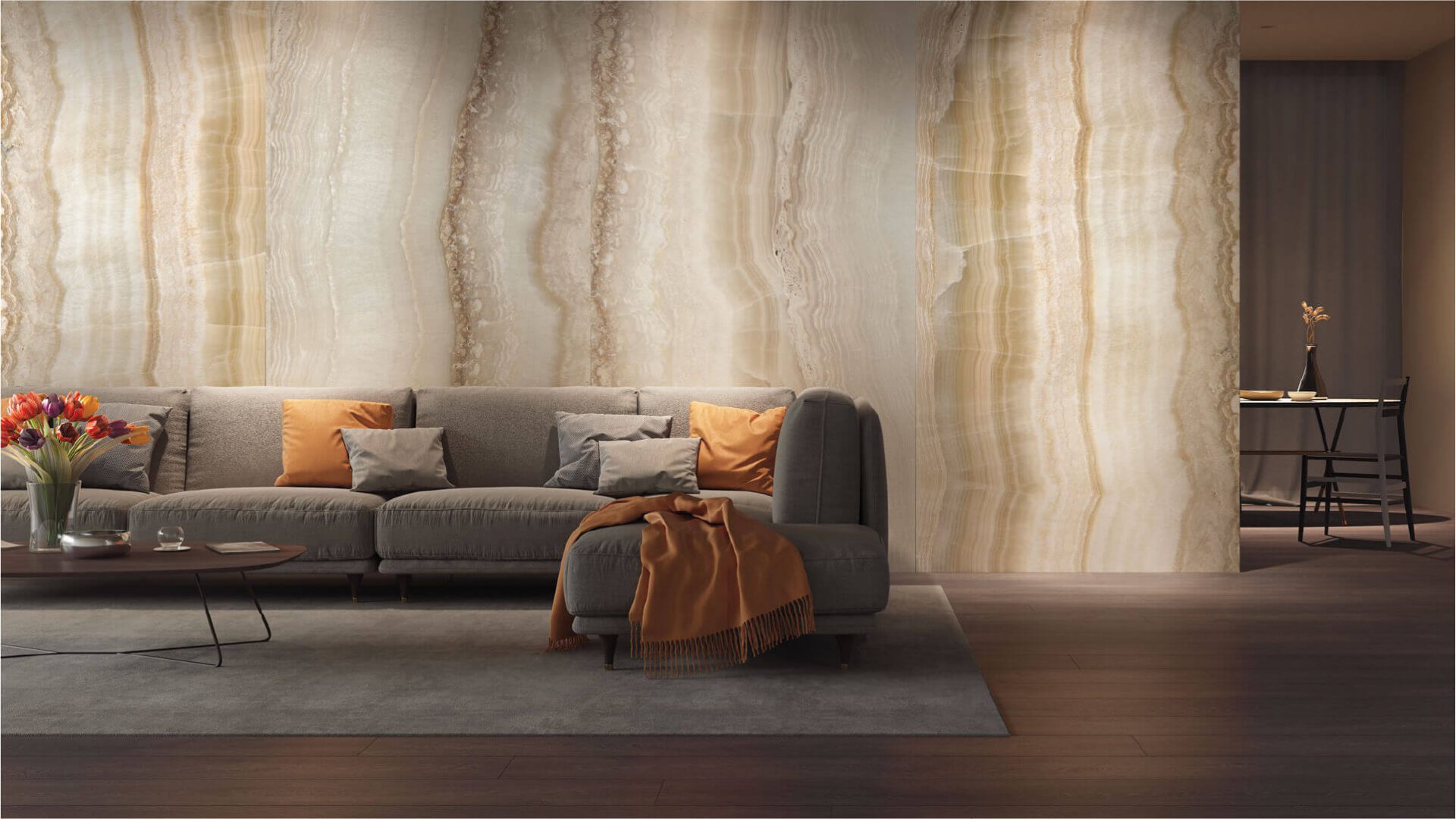 Granite, quartz, marble, and much more, the decorative wall panels by Tecnografica present an innovative offering in the world of wall murals.
The desired look and feel of Earth-inspired interiors and their positive impact on our mental wellbeing have seen a resurgence in natural materials. Their vast array of colour variations and unique characteristics make them an obvious go-to when adding warmth inside a home, luxury to a spa and style to a hotel.
For years, interior designers have experimented with granite, quartz, and marble, employing the expertise of skilled stoneworkers to create masterpieces from nature's palette. Luckily nowadays, it's a lot easier to achieve, thanks to an evolution in decorative wall panels, a clever way of replicating the look and feel of stone surfaces without setting foot near a quarry.
Leading the market in this particular area is Tecnografica, which since 1992 has been on a mission to offer its customers the best in terms of design and technology. Leveraging on its extensive know-how in graphic production and surface design, the Italian company has developed a way of simulating the appearance of whichever material you like.
Customers have the option of choosing from Tecnografica's library of patterns or selecting their own image to be printed at any scale they desire. Where there are any imperfections, or if the client wants to decorate a surface larger than the graphic submitted, a team of Digital Editors can work their magic, resulting in an ultra-realistic product no matter the starting point.
The high-resolution image is achieved using a Superscan HD, which creates aesthetic results that are remarkably true to life. What's particularly interesting about this technology is the ability to zoom in on a small detail within nature – like the veining of a stone or a part of a flower you'd only be able to see using a microscopic lens. This enables you to appreciate nature in a way that is impossible to do without technology. From a small stone, approximately 10cm in size, it is possible to create a panel up to 1.5 meters by 3 meters.
Curious to know more about Tecnografica's incredible products? Don't miss Fine lines, tiny dots: geometric wallpapers for minimal decor.
Tecnografica's decorative wall panels provide a huge amount of advantages beyond just visual appearance. Those concerned with installation will be pleased to know that Tecnografica's decorative panels offer maximum impact with minimum effort. Designed with ease in mind, surfaces can be easily worked on using everyday carpenter's tools. And while the front is characterised by high resistance, the back is designed to allow fixing using common adhesives like cement glues. There's also the convenience of faster production and the benefit of huge cost savings.
Tecnografica is unique in its offering thanks to its new Smart Panel. Made from a flexible polycarbonate, it is able to produce graphics onto large size surfaces (up to 150×300 cm), creating panels that are both ultra-light (3 kg/SQM) and ultra-thin (only 2.2 mm thick). While its flexibility makes the Smart Panel suitable for curved walls and columns, its polycarbonate composition gives the panel a perfect resistance to wet environments, such as bathrooms and showers or spas and resorts.
Tecnografica's collection of decorative wall panels features five different types including matt and glossy finishes as well as a panel with double sides (perfect for room separators or doors). It's most striking support, however, are the Dècora LUX and Dècora LED panels. Dècora LUX employs backlight technology, allowing the client the option to create a lightbox of 10 cm depth.
Meanwhile, Dècora LED, Tecnografica's Light-integrated Decorative Panel System, utilises the space afforded by the ultra-thin panels by creating spectacular plays of light and colour variation with LED strips. What's more, the technology used is totally programmable and manageable through a controller or a mobile app, allowing the user to highlight this cutting-edge product in whichever way they want to.
Customised according to taste and needs, Tecnografica's decorative panels can assist in the creation of captivating interiors owing to the individual character of their colour, pattern and form, whether you want to create a lounge with stone panels that match the fireplace or have designs in mind for your own personal spa complete with amethyst details. Here are a few examples of how Tecnografica's decorative wall panels have been used to create one-of-a-kind projects…
Maui Blue – Livingroom design by Christian Schuster
Using three Dècora LED decorative panels, interior designer Christian Schuster has created a scenographic feature that lights up the entire room. Plays of rich blue light contrast the lush green of the outdoor garden. The selected graphic for the Dècora LED panels is 'Maui Blue' from the Super Preziosi collection.
Stardust – CEO Shower by 33BY Architecture
By using Tecnografica's Smart Panels, Kyiv-based studio 33BY Architecture enhances the shower space, creating a striking feature in this office project. Choosing 'Stardust' panels from Tecnografica's Precious Stones collection elevates an everyday feature and turns it into a moment of escape. The selected finish is Smart Panel, a light but strong and shiny decorative panel that is suitable for installation in wet environments, such as bathrooms and shower walls.
Topkaki – Pialorsi Interior Workshop
Inside Pialorsi's Interior Workshop, Tecnografica's 'Topkaki' decorative panels create a unique play of light and chromatic variation. The finish chosen is Dècora LED, the special support with integrated lighting that combines decoration with technological LED lighting.
New Travertino
A striking example of Tecnografica's ability to mimic the natural surface of marble, here its decorative wall panels wrap an undulating column that serves as the backdrop to the reception desk in this spa project.
Find out more about how designers are using Tecnografica's products to create incredible interiors, don't miss Home interiors come to life through wallpapers.
Statuario
Adding character to any space, here Tecnografica's 'Statuario' panels serve as room dividers. Combining beauty with functionality, glossy double-faced surfaces play with the light-filled interiors, transforming a mundane office into a magnificent interior concept.