Furniture design
A Very Simple Kitchen to take with you from lease to lease
A flexible system of modular units is the transitory solution for today's dynamic dweller, designed and locally produced by the Italian company Very Simple Kitchen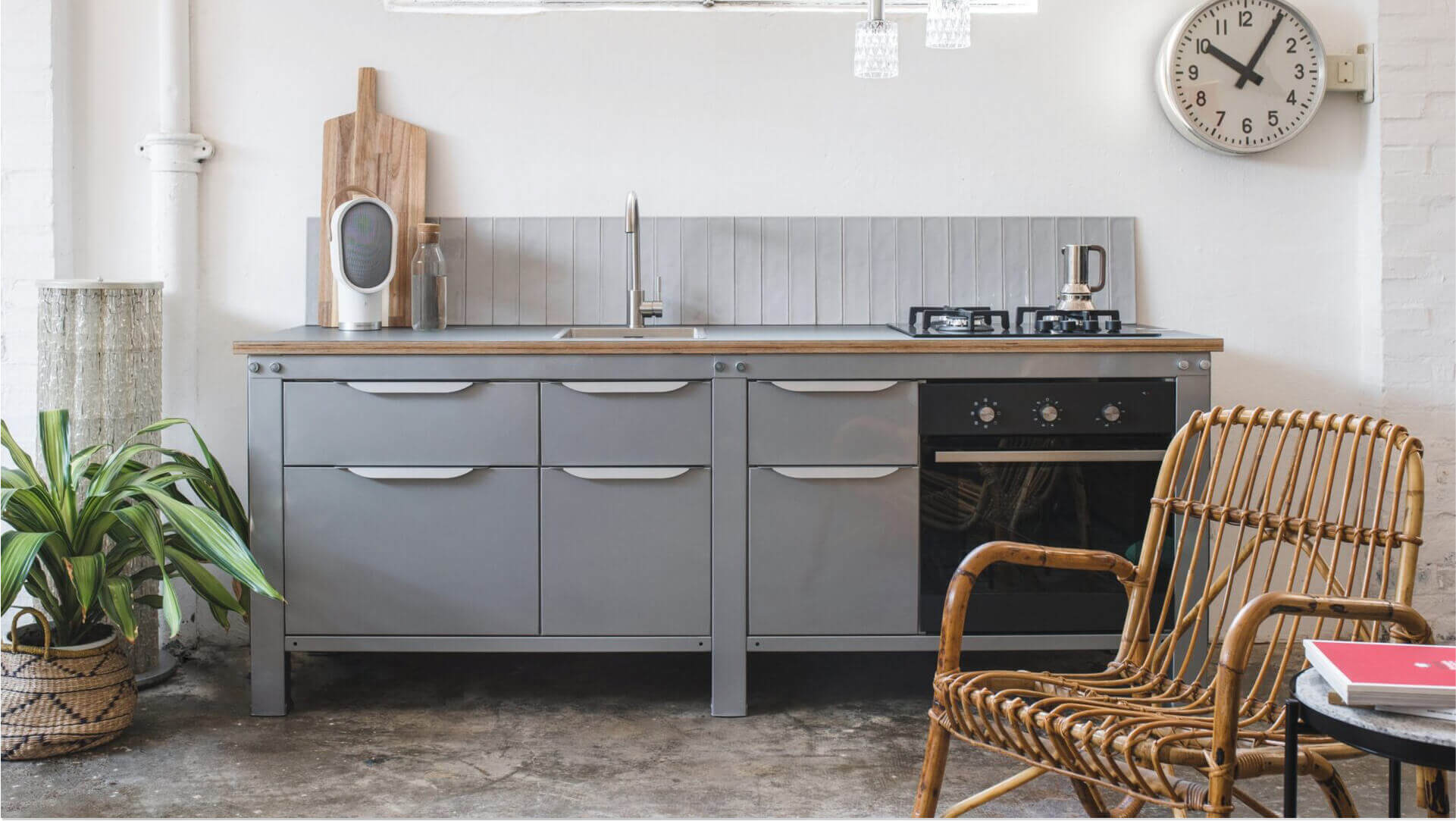 Very Simple Kitchen reinvents kitchen spaces by creating infinite possibilities that can be taken anywhere.
Most people think splashing out for a kitchen is outside the realm of possibility and what's the point anyway when most of us live from one lease to the next.
Supposedly the heart of the home, when the home keeps moving a kitchen can feel more like an appendix. 
Often complicated and expensive, the idea of it mismatches a tendency among younger generations to lead a nomadic lifestyle.
That is unless of course, you are aware of the Italian start-up that has developed a flexible approach to kitchens, which is as transitory as it is stylish.
It's not a cliche to say that Very Simple Kitchen does exactly what it says on the tin.
Designed to suit any home or space, a system of easy to assemble and disassemble modules can be added to over time, taken away, and moved easily from place to place.
Very Simple Kitchen allows for infinite configurations.
[ Read also: Refreshing innovative alternatives in kitchen design ]
It's possible to create a free-standing kitchen by placing a handful of modules together or create a linear system made up of several modules on which a single top can be added.
The size of the various modules is classified in a similar way to clothing, starting from S (60cm wide) and up to XXL (140cm). The depth of the top is 65cm.
The team also has appropriate solutions for waste systems and drawer divisions, offering mobile modules that can be used as trolleys or flexible worktops. 
The minds behind Very Simple Kitchen – Riccardo Randi
Founded by Bologna-based designer Riccardo Randi, he started the company after studying at IED Milano and working on an outdoor kitchen prototype as part of his degree in product design.
Inspired by this experience, he continued to experiment at home, encouraged by the fact that the place he had moved into and then called home actually didn't have a kitchen. 
Randi wanted to create a very simple, modular, and flexible kitchen, his starting point being a workbench that could be adapted to suit various requirements.
In 2016, he made his first prototype that would later become the Very Simple Kitchen, which a year later he began manufacturing in Italy and selling to the public.
Today, the team consists of three people: himself, Federico Poluzzi, and Maria Lubinu.
Federico is a freelance interior designer who has collaborated with various architecture studios in Bologna and specializes in historical interior restoration.
Meanwhile, Maria studies Civil Engineering and is a freelance photographer. In addition to these three, the company relies on a network of local artisans and specialists in sheet metal, a key component in their stainless steel kitchen designs. 
Looking for minimal, modern and modular kitchen and furniture for your home? Don't miss Cook it as you'd cook in it – These fully customizable kitchens are modular, minimal and timeless.
Materials & Techniques – Stainless steel, natural stone, plywood, quartz and colour
Collaborating with local craftsmen allows Very Simple Kitchen to keep welding down to a minimum, combining lightweight 100% stainless steel modules obtained using laser cutting and sheet bending technologies.
The profiles are then joined with stainless steel bolts.
Manufactured in Italy, these modules can be personalized with worktops, available in treated birch plywood, quartz, and stainless steel as well as porcelain stoneware, 'Venetian', Fenix and concrete.
There are various types of Very Simple Kitchen units, from door and drawer boxes to sinks and appliances.
These are all available in a choice of chromatic pigments, tailor-made, thanks to research carried out over the years, guaranteeing an unlimited colour palette.
These colours are applied using an industrial powder coating process, which makes the most hardwearing result possible on metal components.
Style & Aesthetics – Minimalism, straight lights and Italian industrialism
The project is inspired by the classic industrial workbench from which it borrows stylistic direction.
The aesthetic result is sharp and precise, characterised by the minimalist straight lines of Italy's industrial heritage.
Simple forms with careful attention are the canvas to materials, finishings and above all, colour. 
Online Configurator
As well as developing a simple process of putting the product together, Very Simple Kitchen wanted to create an easy shopping experience.
In addition to the product, it has created an online configurator where customers can simply navigate the world of kitchens, piecing together the units they want from home and requesting a quote.
Just this year, an improved version of the online configurator launched making it easier to envision the final product by combining the desired colour and worktop.
Design memento – A new, nomadic generation of dwellers
The younger, more nomadic generation of today are willing to move from one city to another in search of new opportunities rather than the perfect home.
Where they are also design lovers, interested in culture, and very often passionate about food, modular solutions to essential elements of domestic living are perfectly targeted, especially when they are easy to take apart and take with you wherever you go.
Very Simple Kitchen is interesting in the way it shines a light both on new living habits and consumer values.
The writer's comment – A kitchen revival is right up my street
In recent years there has been a minimizing of space dedicated to our culinary passions, which might explain the increase we've seen when it comes to our ordering-in proclivities.
The fact is, where people have prioritised work and social activity outside of the home, our relationship with domestic spaces like the kitchen have suffered.
Yet in recent months, the room we have to use to cook, bake or just be with our loved ones has been given more importance, as a result of a global pandemic and the social restrictions that have ensued.
Let's just say this – I was a believer in beautiful and functional kitchens long before I was forced to pretty much live in one for 6 entire months.
Therefore, I truly believe in a nomadic approach that allows me to take my kitchen with me anywhere when it's finally possible to actually go somewhere else…
If you are curious to know more about modular designs for the home, don't miss Voxel sofa by BIG is DIY: Design It Yourself.