Design events
Israel & Design by Vibe Israel: the best projects seen at Jerusalem Design Week
Design, on its side, is pushing my boundaries everyday – it makes me discover new worlds and share my experience here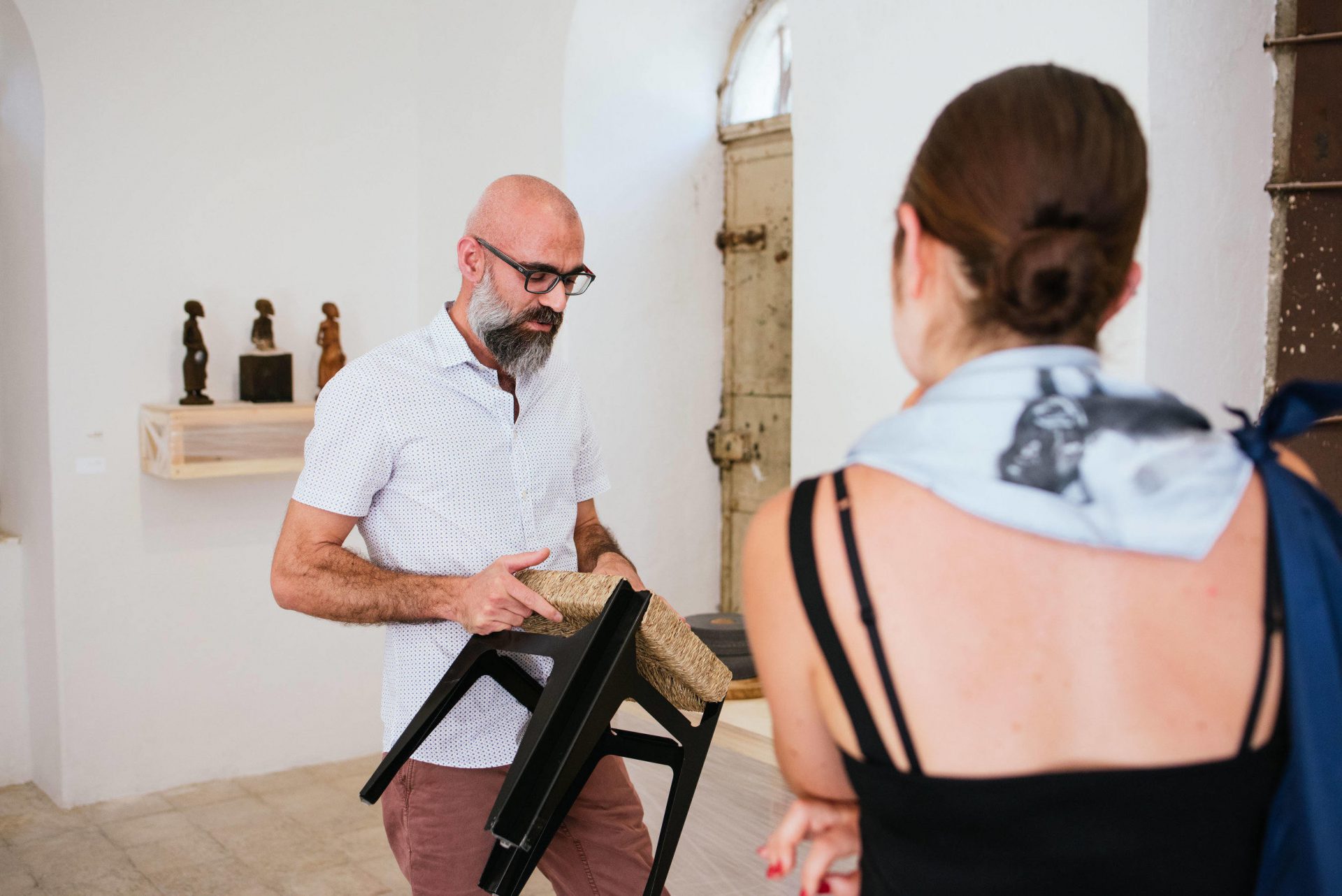 Travel is the only way I know to truly meet other cultures. I am now back from Israel, after an intense week full of emotions, meetings, and incitements. Vibe Israel, a non-profit association founded by Joanna Landau and committed to the digital promotion of Israel history and local territory, invited me there.
At first, I discovered Jerusalem through the elegant lens of Mamilla Hotel, during the three days of my stay: a hospitality design gem by Piero Lissoni featuring a perfect balance between heritage and innovation, bringing world-class superior lifestyle and service, with a panoramic rooftop overlooking the evocative Old City walls.
My first time in the world-famous Holy City was touching: sanctified by history and tradition, by religion and theology, Jerusalem is revered by Jews, Christians, Armenian and Muslims in the same few square kilometers, with deep smells and vibrant colours taking my soul back in centuries.
With me, the best tour guide I could ask for, Andre Ceresnjes, showing me around the narrow streets of the most sacred sites on earth.
During my journey I had the chance to meet Daniel Nahmias, the curator of a very interesting project, The Matchmaker, who guided us through the discovery of local artisanal workshops that, thanks to his intervention, are now joining forces with local designers to realize beautiful pieces of design.
Among the others, I was really impressed by the fact that the Arab Blind Association is taking part in the initiative: design really can be a life-changing aspect in the life of blind people, a form of redemption injecting new passion and serenity.
I couldn't leave Jerusalem without visiting the Design Week, of course. Settled inside the Hansen House and providing a platform for leading creative and research activities, JDW is a non-commercial design event led by artistic director Anat Safran and chief curator Tal Erez.
The director works to strengthen the city of Jerusalem and its artistic community, while showing respect to all the existing local organizations.
The main theme of the event was 'Conserve' – a selection of exhibitors and artists looking for new ways to preserve natural resources, society and cultures.
I had the chance to know better The Matchmaker exhibitions as well as The Granary by Guy Mishaly and architect Nati Tunkelrot, an emblematic encounter with the traditional varieties of wheat that were buried among the grains of industrial ones.
The creations of industrial designer Rami Tareef and I could even literally taste the live performance of Salt Repast, by Michal Evyatar and Carmel Bar on opening night, where the fish pressed and preserved in salt was extracted, brought back to life and offered to visitors – a unique sensorial experience.
The event encompassed the most significant Israeli designers and some foreigners as well. My curiosity about Israeli design and my will to delineate it were satisfied step by step by the encounters of thosedays.
In a first place, Yuval Saar, curator, designer and chief editor of Portfolio Magazine was extremely enlightening.
I was then invited for a traditional Shabbat dinner at artist Andi Arnovitz's beautiful place and ended my culinary trip the following day, with a lunch before leaving at Mona, with Anat Safran and Tal Erez.
Convivial rituals, traditional food and the chemistry of being together around a table celebrating life are some of the reasons why I felt in love with the incredible mix of colours and taste of Israeli food.
On the forth day I moved to Tel Aviv, where my home was The Vera Hotel, a beautiful boutique property in the heart of the city offering an hyperlocal concierge and a rooftop sundeck – I've got this thing with rooftops!
I met the charismatic Gal Gaon at the Imperial Craft Cocktail Bar, a temple of the lost art of the cocktail created by veteran bartenders of the city, and two days later I was visiting his gallery, a tasteful collection of rare and unique pieces – I kept on taking notes.
The following morning I had three important meetings:
with Tal Zur from IOTA, a small handmade furniture and accessory luxury brand with big aspirations
with multidisciplinary designer and artist Alon Bitton
with Studio Vayehi, a product design reality run by the designers Tzuri Gottlieb and Katharina Brand
What caught my attention, once again, was the strict connection between product and craftsmanship: I was visiting workshops, not factories, and the finishing was of such a high level – fresh ideas, complex processes and such a final quality, ready for an international market.
It was not easy to understand what Israeli Design is. Still, I think it is difficult to find an univocal definition for such a multifaceted element, still in an experimental phase and contaminated by different experiences, adulterations, points of view.
Every designer met so far has a specific expertise and what they all have in common is the will to be different, to find a own path, to innovate. I recognize Israeli design in its ability to express itself with what is available both in terms of materials and skills.
I had lunch at Basta and most of all, a lovely tea time with Avi Ben Shushan, whose collection of experimental ceramic eating utensils encouraged us to slow down and really consider each of our bites – a real spoon choreography on the table.
On the same day, we had dinner with well known architects Alon Baranowitz and Irene Kronenberg at Pastel, the modern, stylish brasserie they designed togheter: a Mediterranean meal full of personal anecdotes and inspiring tales, a deep immersion in Israeli design culture.
My last day couldn't have started better: guided by local designer Alon Razgour we could visit an extraordinary location, an immense, abandoned bus station that now hosts shops and venues, almost entirely covered with splendid graffiti.
16 designers in a unique exhibition with two minutes to tell us their story, and enough it was: their creations speak the clear language of their projects and of Israeli design, looking for innovation, with a savvy use of materials.
Among them:
Ardoma Design
Lucida Lights
Glyphs by Meirav Ringel
Hagai Vered
Nuki Sigora Eldea
PULP by Ziv Yaakobi & Hagit Kaspi
SIND Studio by Dima & Nadya Gurevich
SORRY by Danielle Weinberg
SO SHERMAN by Orit Sherman
Umasqu by Tzachi Nevo
In the afternoon we took a walk with Ohad Benit. Hard to define, a polyhedric, wide artist and designer, imprinting emotions in products and installations completely different from one another.
Starting from The Vera Hotel, where he joined forces with architect Yaron Tal for some of the installations that the hotel itself presents to his guests.
Ohad then took us to admire his wall decoration realized for the offices of Aleph VC, one of the most important venture capital funds in Israel, it says 'Different is better than better', realized with hundreds of miniatures representing different people coming together to form an excellence.
The final stop was in Ohad's very studio, an unexpected totally industrial location where he can create without any pressure or limit, a place telling is history and collecting his creations.
The final toast to this incredible week was held at Saga, a local design shop and gallery, together with everyone I met along this path. The last occasion we had to thank once again Vibe Israel (visit their website) for the perfect organization and the designers, for their passion and commitment.
I didn't want to tell you the story of Israeli design, I just wanted to share the memories of an intense, exciting, unforgettable week. I visited a country that still lies hidden for many aspects and I am very grateful to those who invited me to discover more about it.
I lived as one of the locals, I have been to unexpected places and met extraordinary people, driven and confident about their goals. I value attitudes more than competences and for what I can say of Israeli designer, they have a winning soul.
Design in Israel has some clear traits, even if most locals do not find them as obvious as I did, with an external point of view on many subjects:
It is extremely innovative, as it always challenges conventions and competitors
It makes an intelligent use of materials, resorting to what is available
it is pragmatic, as it always finds a solution for every problem
It has a story to tell, beyond creativity per se
What is missing?
The ability to recognize itself and the desire to tell more about his own identity. From a technical point of view, the ongoing experimentation on materials and processes will lead local designers to the definition of a univocal, recognizable language.
It is my opinion that the presence of a creative community such as the one I could meet will stimulate those aspects till a complete affirmation.