Visionnaire to launch nature-infused collections at Milan Design Week 2021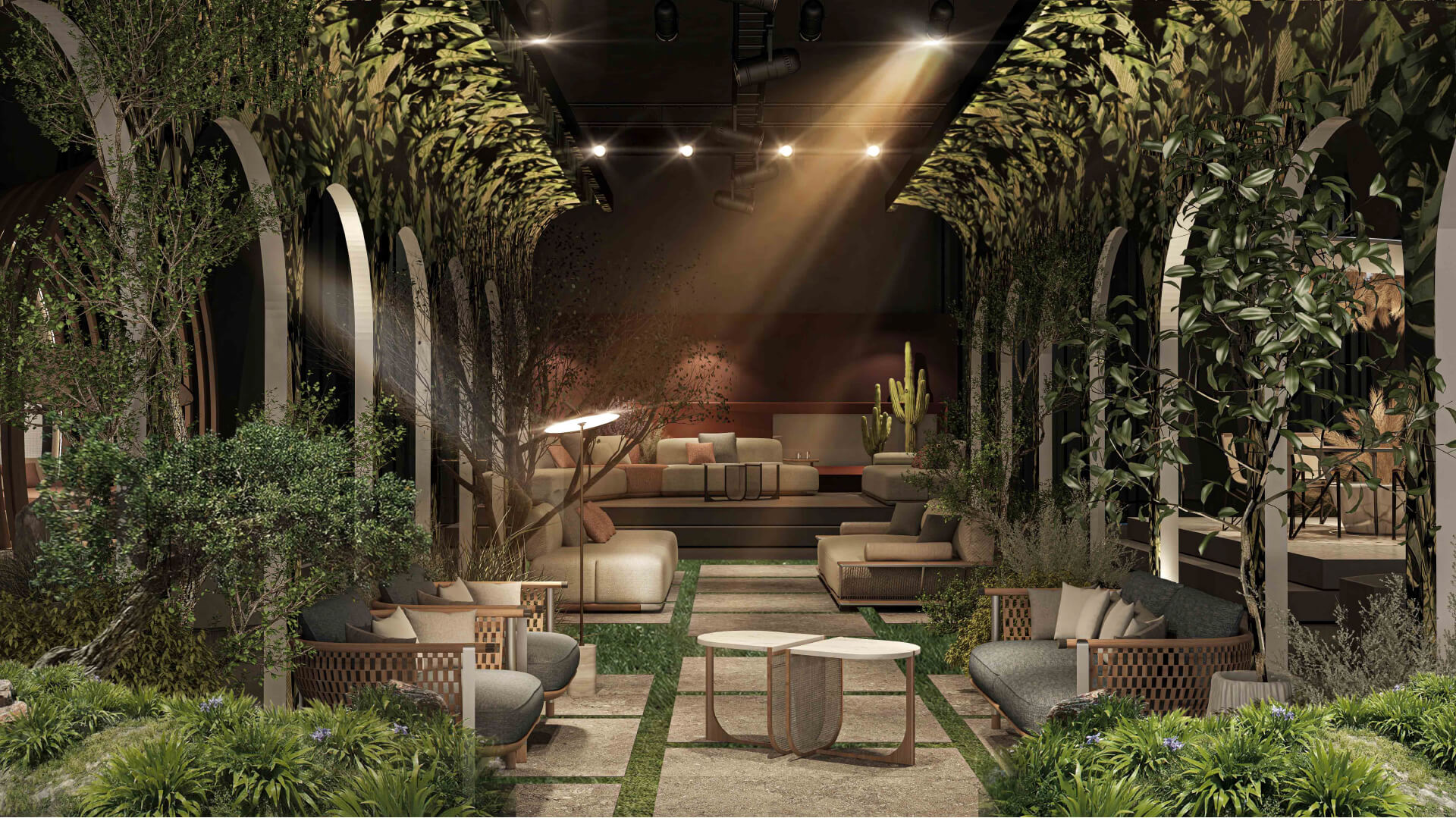 Uniquely Italian, meta-luxury brand Visionnaire unveils both indoor and outdoor collections ahead of a "leafy" lighting installation at Milan Design Week's Alcova exhibition.
For Visionnaire, nature is not only a source of inspiration but intertwined with today's concept of luxury. Over several years, the brand has been dedicated to the relationship between domestic environments and green spaces, paying particular attention to the environmental impact.
Building on over half a century of innovation, Visionnaire's "meta-luxury" design language has found new life in sustainable and responsibly sourced materials. Meanwhile, artisans and designers have turned towards biophilic design principles in a bid to capture nature's beauty within man-made design.
Ahead of this year's eagerly anticipated Milan Design Week, the Italian Furniture brand has unveiled an indoor and outdoor collection featuring unique objects that incorporate nature within their design.
Spanning 16 new product families, including seating, tables, and lamps, the collection sees designers play around with materials to create unique objects that promote wellbeing and recognising the impact nature has had on the world of design.
Visionnaire has also announced news of its participation in Supersalone with an installation made in collaboration with Los Angeles based Franco-Italian artist and designer Marc Ange, as well as a preview of its "De Rerum Natura" installation, which will take place as part of the exhibition hub Alcova.
Every year, the Alcova uncovers a forgotten location of historical significance within the city of Milan. This year, the annual platform will take place in a former military area inside a cluster of buildings including a nunnery and a laundry.
Caprice
All pieces in the Caprice collection reflect what Visionnaire describes as its "idea of global design for psycho-physical wellbeing". This includes a focus on the sartorial quality of furnishings and finishes, with the collection showcasing a variety of flexible pieces.
The Ilario sofa, for example, is designed around a central circular element, offering modular freedom and circular forms. Suited to both indoor and outdoor settings, its many configurations include right and obtuse angles thanks to the orientation of various sections.
"We firmly believe that life inside and outside the home can mingle in a fluid, seamless way, with continuity between domestic interiors and gardens," says Marijana Radovic and Marco Bonelli of M2 Atelier.
The base is made from iroko wood with details in brushed aluminium, while the rear portion features backrests covered in leather to support the back. A rectangular table and a padded armrest complete the composition.
The Basket sofa and armchair take their conceptual cue from handcrafted baskets with an enveloping design developed on an aluminium structure. Elegant iroko wood is held together to create a finely crafted necklace effect.
Curved lines and ample shapes make up the gullwing form of the Wing sofa, which wraps the upholstered portion in an iroko wooden console. The Wing series also includes a disc-shaped dining table with a large marble base that doubles as a pot for plants and flowers.
"We have relied in particular on three inspiring and guiding concepts," M2 Atelier explain. "Nature, for the choices of colors and materials with a constant accent on ecological aspects; design for the formal choices…; and contamination, in the sense of a dialogue between different worlds, languages and functions."
The collection also includes the Foil chaise longue, defined by its slender silhouette; the Vienna low table, which combines marble and wood with a Vienna straw for the screening; and the Apple floor lamp, a contemporary floor lamp comprising a slender metal structure and an adjustable luminous disk.
Babylon Rack
To accompany Caprice, Visionnaire has also created an indoor collection called Babylon Rack, a nine-piece collection the brand describes as "functional flexibility through emotions". Created for Visionnaire by Alessandra La Spada, the designer focuses on architectural details and functional versatility.
The collection's namesake is a modular sofa with various function features suitable for studying, working, and relaxing. Thanks to the accessorized compartments obtained by recessing the padded back to create shelves and object caddies, with built-in LED lighting.
The Babylon Rack sofa features an innovative wireless system – inserted in the armrests – that permits the recharging of lamps and smartphones. Other components include the Pray upholstery, a special new leather with antibacterial properties, effective up to 99%.
The Egoiste chaise longue features a rigid chassis suggesting the form of a seashell, with enveloping, organic, and extremely ergonomic lines. A light steel structure supports a "rounded X" form, to create a levitating effect.
Elsewhere in the collection is Button, a set of tables featuring a top and base in Patagonia marble. Mounted at different levels their design is understored by a metal structure with rounded corners that join the two marble elements.
De Rerum Natura
As part of Alcova, which takes place this year across several buildings slowly being taken over by nature, Visionnaire will also shine a light on its Aracea lamp. Designed by Italian studio Gupica, the Aracea series draws inspiration from lianas, a long-stemmed, woody vine that climbs around other plants.
The collection features LED lights embedded inside the rib of large oval and heart-shaped leaves, which decorate the stems of lamps available in floor, ceiling, wall, and table models. The installation has been designed by Gunilla Zamboni who has also created a series of velvet curtains and carpets from recycled leathers featuring laser-cut leaves.
Pavone
To mark its 59th year of participation at the Salone del Mobile in Milan, Visionnaire is celebrating an evolution of one of its most recent collaborations. Taking part in the Supersalone at Rho, it will unveil a new "Pavone" installation by Marc Ange, which it describes as a manifesto of art-design on the theme of "diversity & inclusion".
The project will be an ode to the romantic, seductive beauty of the peacock and will run along a wall of 24 meters, featuring two large green areas at the sides, from which visitors can glimpse two LED screens. In its central portion, Visionnaire will unveil a new velvet-covered version of Marc Ange's famous peacock-inspired Il Pavone Throne. For this version the choice goes to the Ilario velvet, utilized in three chromatic variants.
Visionnaire celebrates the launch of its new London Embassy
As well as the brand's latest launches during Milan Design Week, this month Visionnaire has launched a new flagship showroom inside London's Chelsea Harbour Design Center. Organised by room, the new space is a chance to discover the brand's historic pieces alongside its latest collections mentioned above.
Milan Design Week takes place on Sunday, 5 September 2021 until Friday, 10 September 2021. Visionnaire's 'De Rerum Natura' exhibition is open to the public from 11 am to 7 pm at Via Simone Saint Bon 1, 20147.