Design events
Meet the winners of Taiwanese Golden Pin Design Award 2021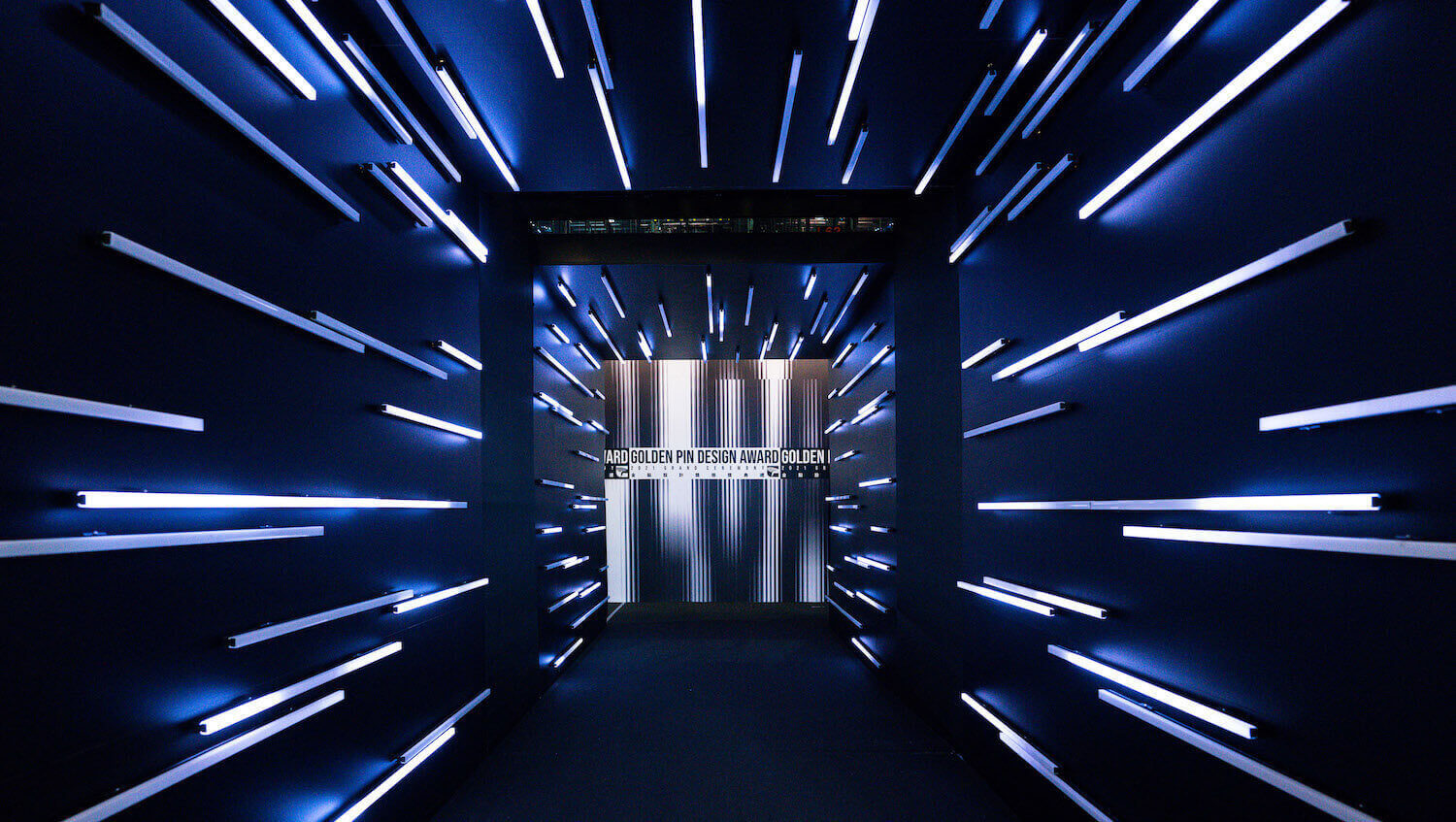 This year, the Golden Pin Design Award and Golden Pin Concept Design Award received nearly 8,000 entries in total from 28 countries around the globe, with many categories of designs in contention.
The Golden Pin Design Award Ceremony has been held on December 4th in Taipei. The winners of the highest honors have been revealed at the ceremony. After a three-stage process of preliminary, secondary, and final selections, the two judging panels ultimately selected 31 Best Design winners and two Special Annual Award winners of Golden Pin Design Award, and three Best Design winners of Golden Pin Concept Design Award, along with one winner of the Special Annual Award – The Farglory Award. The winners include designs hailing from Taiwan, China, Hong Kong, the United States, Japan, Thailand and Singapore.
Due to the ongoing pandemic, this year's secondary and final selections were both conducted online. Judges from Taiwan and abroad overcame time zone differences to come together to select this year's winning designs. The judging panels for the two awards were comprised of 98 design experts hailing from 14 countries and regions.
This was the largest panel of judges to date, and included an impressive lineup of professionals in several design, media, and academic fields, such as British design genius Tom Dixon, renowned Japanese graphic designer Taku Satoh, founding partner of Dutch architectural firm Mecanoo Francine Houben, famous Thai graphic designer Tnop Wangsillapakun, editor in chief of benchmark Japanese design magazine "AXIS" Katsutoshi Ishibashi, the CEO of Danish design promotion organization The Index Project Liza Chong, and well-known Taiwanese designers like the chairman of GIXIA Group Co. Hsieh Jung-Ya, the founder of JL DESIGN Johnason Lo, and AGI member Lin Xiao-Yi.
2021 Golden Pin Design Award
After the judging of the final selection, this year's Golden Pin Design Award saw 115 entries from all participating categories nominated for the Best Design. In the end, only 31 designs emerged victorious from the fierce competition, including eight in the Product Design category, nine in Communication Design, nine in Spatial Design, and five in Integration Design. Finally, two designs were selected to receive the Special Annual Award, which commends outstanding entries in the fields of social design and circular design which can serve as exemplars for their respective industries.
A number of well-known manufacturers submitted entries in this year's Product Design category, including brands such as ASUS, BenQ, HP, Casio, and Roland Corporation, who won due to their timely and innovative designs in response to current trends, showcasing their design prowess. Winning designs in the Communication Design category represented the fields of business, education, and public interests, and included works such as the COVID-19 prevention info website "PANDAID," created by Japanese designer Eisuke Tachikawa and his design firm NOSIGNER, and Hebe Tien's music video for "One, after Another," shot by Grass Jelly Studio.
Another winner in this category, Hong Kong design studio Toby Ng Design, has now received the Best Design trophies three years in a row. The studio struck gold again this year with its winning design "Uth KLUB," a brand identity made for Hong Kong's K11 Art Mall membership program.
The winning designs in the Spatial Design category are varied, with many Taiwanese designs going for the rejuvenation of old spaces, such as J.C. Architecture's "Not Just Library," Forest Wood Archi-Tect's "Maker Space – Popup Taipei," and ChingChing Interior LAB's barbershop "Agreeable Keep No.47," which was converted from the chassis of an MC8 bus.
The winning designs from abroad are also impressive, including works such as Thai architectural design firm Creative Crews' farm homestay project "Ahsa Farmstay" and Singaporean firm Formwerkz Architects' unique courtyard house design "Cloister House." The winners of the Integration Design category were all from Taiwan, and produced works that spanned exhibition planning, school environment improvements, and firefighting equipment redesign. The designs all showcased their ability to integrate concepts from differing fields.
This year's Special Annual Award for Social Design has gone to S.SELECT LAB and ZUO STUDIO's "Public Health Center Re-Design" project. Their optimization and redesign of New Taipei City's Xizhi District and Yingge District public health centers received praise from the panel of judges, with final selection judge Johnason Lo – founder of JL DESIGN – highlighting the manner in which the overall design not only focused on usability, but also considered the running of the centers over the long term and how other health centers could easily replicate their design, thus providing a model for the Taiwanese public health service.
The Special Annual Award for Circular Design has gone to Zen Zhou Social Enterprise Co., Ltd.'s "Zen Zhou Biodegradable Treepot." British industrial design maestro and final selection judge Tom Dixon praised its low cost and low tech design for providing a simple and effective solution for plants growing in harsh conditions, while being eco-friendly.
Read our interview with one of the former judges of the Golden Pin Design Award, meet the renowned interior designer of high-end hotels Tony Chi
2021 Golden Pin Concept Design Award
This year's Golden Pin Concept Design Award saw seven entries nominated for the Best Design, with three designs from Taiwan and Japan emerging victorious in the end; each received a cash prize of 400,000 NTD.
Final selection judge Liza Chong, CEO of Danish design advocacy organization The Index Project, pointed out that she was glad to see the creative solutions the young designers of this year's nominated designs proposed in response to environmental issues, climate change, and medical care in the future. Many of the nominated designs were refreshingly creative and also grounded in solid research, which pleasantly surprised the judges.
The three winning designs are all outstanding design concepts that received high praise from the judging panel. "Black Soldier Fly Educational Cultivation Device," created by Taiwanese designers Liu Sha-Wen and Wu Sheng-Yao, realizes the composting capability of the black soldier fly that has been garnering attention these past few years by designing an easy-to-use cultivation device with intelligently integrated processes that also serves as a tool for life education.
Taiwanese designer Wu Yu-shin's "Inflatable Stretcher" is equipped with all the medical equipment required for first aid rescue while also being able to inflate in under a minute to become a stretcher. With a design that is straightforward and easy to operate, its practical application is something to look forward to. Lastly, "The Mark of Emi" is an animation by Japanese designer Momoka Furukawahara that uses simple pencil-sketching and negative space to conjure up a minimalistic image of a teenage girl and describe the complex emotions of adolescence. Though simple in presentation, the work radiates emotion and is extremely relatable.
The Golden Pin Concept Design Award collaborated with the Farglory Foundation this year to establish the Special Annual Award – The Farglory Award to encourage creative conceptual design in pan-architectural applications. The winner of this award, Taiwanese designer Lai Hanyu, will receive a cash prize of 200,000 NTD for "Stormwater Membrane System," a conceptual design for a water collection and circulation system integrated into the facades of urban buildings.
Final selection judge and Japanese graphic design master Taku Satoh pointed out that the issue of coexisting with water resources is an important one both in the present and for the future. The design left him with a strong impression, as he himself held several water resources exhibition in recent years. Although certain aspects of the design are complex, the concept is creative and quite fascinating.
Satoh hopes that the designer of the project will be able to devote further research to propose solutions to the issue of metropolitan water resources. The award was given out by Farglory Foundation CEO Yang Shunqin at ceremony in recognition of the work of this emerging designer.
"Sound of Blooming" was one of the most striking winners of the Golden Pin Design Awards: 697 mechanical petals dancing on a computational choreography
Renowned Taiwanese Producer Isaac Chen is at the Helm for the First Time, Crafting the Ceremony Based on the Theme UPLOAD
This year's awards ceremony is being crafted for the very first time by renowned Mandarin music industry producer Isaac Chen. Chen is basing the event on the concept of "UPLOAD," a critical step for designers as they present their work to the world and one that signifies that whenever a design is completed or fulfilled, it is done so in the hope of bringing the world an additional piece of beauty.
The concept also signifies that the Golden Pin Design Award is like a portal for outstanding designs, which in turn can be discovered and promoted to a wider audience through this portal. The key visual was drawn up by emerging designer Yang Shi-Ching, who used the concept of "UPLOAD" to construct a rhythmically ascending piece of visual imagery symbolic of a stairway in powerful contrasting black and white.
This year's ceremony is being held at a professional television studio, with Isaac Chen helming a top production team who were the force behind several Taiwan's Golden Melody Awards Ceremonies. The team is working with a number of outstanding Taiwanese designers to produce this year's event. Director Qiu Huan-sheng, who has been involved in the visual design and music video production of multiple megastar concerts is in charge of motion design for the ceremony.
He is working in collaboration with the Serendipity Visual Studio to present a visual feast for the eyes. The live stage is being handled by famous stage designer Li Shi-qi, who has extended the concept of the key visual to the stage design, using layers of multi-angled screens and LED light bands to transform the stage into a transmission channel. Li is collaborating with lighting design team Rokerfly Design to suggest the flow and speed of uploading through flexible lighting layouts that allow the designers' work to be displayed and appreciated.
In order to create an immersive experience, a "Tunnel of Light" at the entrance of the venue draws the guests inside. Discontinuous lighting strips to create the illusion of speed, giving guests the feeling that they are bits of digital code about to be transported into a surreal virtual realm.
Now entering its 40th year, the Golden Pin Design Award has continued to attract design talent from across the globe to since its 2014 transition to the international stage. As the scope and scale of the competition continue to increase, many outstanding designers have used the Golden Pin Design Award as a platform to propel their works into the spotlight, as it serves as a benchmark of design excellence that is not to be missed by aspiring designers.
The Golden Pin Design Award will continue to provide high quality design certifications for markets, industries, and society, and through this process help to raise public awareness of the value of design and aesthetics, and bettering the quality of life.