Architecture
Workstation Cabin is a home office pod for your garden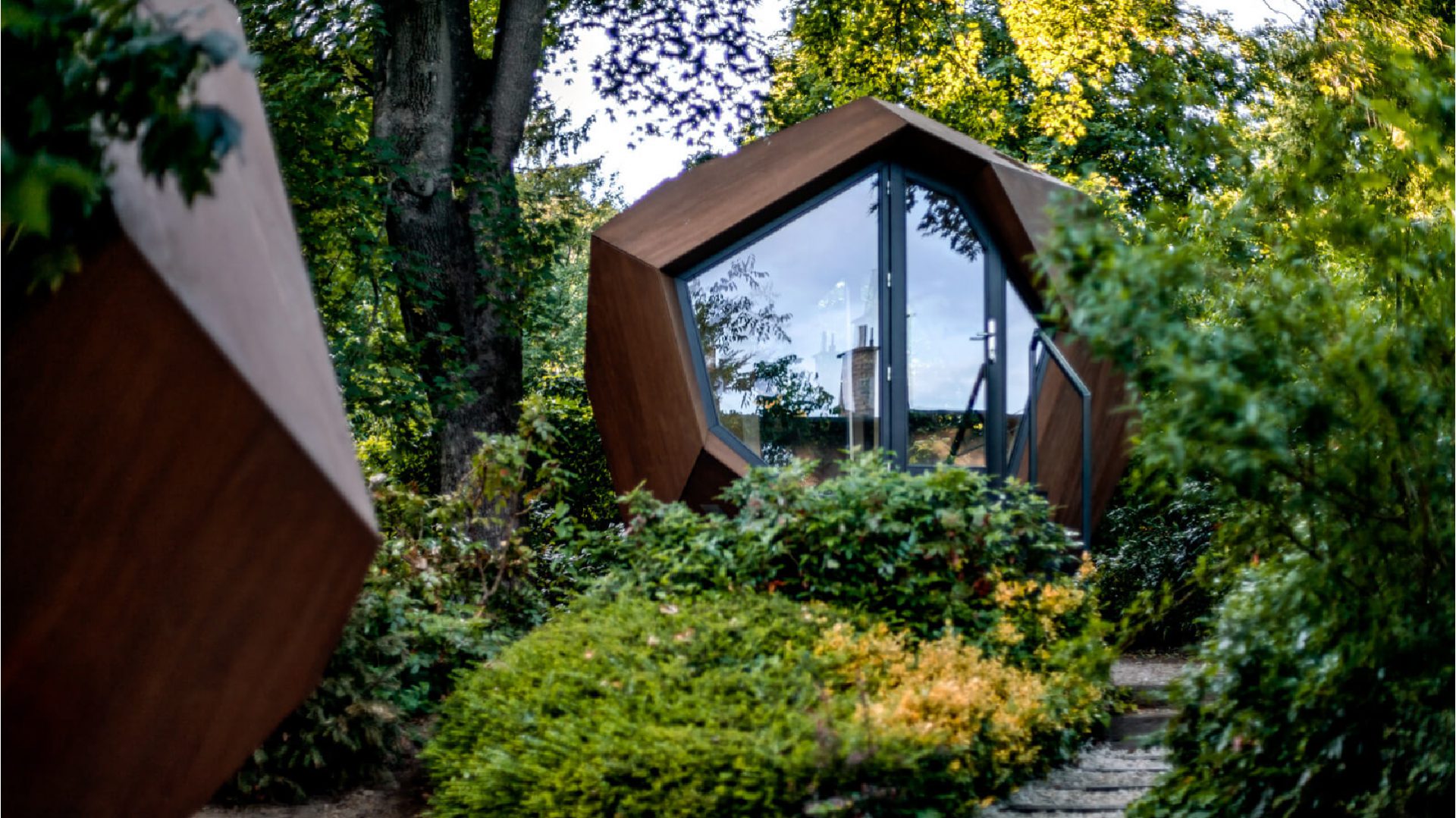 Hello Wood has designed Workstation Cabin as a perfect solution to keep work life and home life apart when you no longer work at the office.
Development of these stylish meeting pods was already underway before the current worldwide upheaval. Now with sudden lockdowns forcing many people to work from home, the need for a home office cabin has become very clear.
Why Workstation Cabin? To create a stylish, complex and functional private space for working from home without the need to expand the house
The timber pod is more than an ideal compact space for meetings. It also makes a great private retreat for reading or creating and works as a simple guesthouse, or a play area for children.
The minds behind Workstation Cabin
Hello Wood is a design studio based in Budapest, Hungary. The studio grew out of what was originally an art camp which started in 2010. It was co-founded by two architects, András Huszár and Péter Pozsár, along with designer Dávid Ráday. Péter Pozsár led the design of Workstation Cabin.
Hello Wood focuses on socially relevant designs using sustainable materials. They specialize in designing custom made temporary installations. Their high quality and unique designs have appeared at festivals, as pop-up spaces and pavilions, and as fit-outs for interiors.
In 2019 Hello Wood created Art Shield, a protective structure for the famous monument at Vörösmarty Square. It takes a new approach to statue conservation, as it protects the statue from the harsh winter whilst allowing it to remain on view. Hello Wood has also designed a number of other cabins, including the large A-framed Grand Cabin, which functions as get-away accommodation for groups.
Materials and techniques – Modular pre-fab pod for six
Workstation Cabin is a small and highly functional cabin which can comfortably host a meeting of up to six people. The form was developed directly out of how six people would use the space. Furniture can be rearranged to suit people's preferences. The interior features Scots pine timber.
The total floor space of the pod is 8.5 square meters. That is large enough to hold a double mattress and use the space for overnight accommodation. Workstation Cabin takes up about 3.4 meters by 4.4 meters of space and stands a total of around 3.6 meters high, including its legs. Inside the ceiling is 2.6 meters high.
There is no need to worry about the heat or cold in Workstation Cabin. It is fully insulated and includes an air-conditioning unit, which is tucked away within the built-in bench seat. The design is also mindful to provide sufficient power outlets and connections for internet access. Heating, a sound system, a TV screen, mood lighting and terrace are among additions which can be included.
The cabin has been designed digitally and the individual components are cut using CNC machines. Installation and construction of the work pod will take only a few days thanks to its modular design. Modules can also easily be replaced, without requiring complex additional work.
What made history in Workspace design? Read the story of The Johnson Wax Headquarters by Frank Lloyd Wright
Style & aesthetics – A compact and whimsical pebble
The design team likens Workstation Cabin to a pebble. A fifteen sided pebble, that is. Made from a series of irregular flat surfaces, the shape is more oval than a square box. It is minimal, cozy and inviting. As well as a little playful. There is no clear distinction between walls and ceiling, and the cabin looks different from every angle.
Workstation Cabin was conceived as a striking sculptural addition to a home garden. The warm timber sits well amongst greenery and the large windows ensure the surroundings can also be enjoyed from within.
Hello Wood is a worldwide educational platform
There is a strong social and educational thread which runs through the Hello Wood team, and it continues to be an educational platform as well as a design studio. With connections to over 60 universities and 38 countries, Hello Wood has run events, workshops and conferences, held exhibitions and published books.
Hello Wood is a vibrant hub of design experimentation and dialogue through construction. Architects, designers and woodworkers collaborate to learn and share knowledge. Together they aim to encourage community building projects and make architecture more accessible to the general public.
Design memento – Respond to changing needs
Previous cabins which Hello Wood have designed were targeted towards the people looking to get away from the city. A haven from the world.
The Workstation Cabin is different. Here the design responds directly to the current changes in the working situation of many people globally. The Cabin considers the very pressing need to find an extra room to be an office. Or, a simple solution to maintain some separation between home and work life.
The design team envisages that working from home will start to become the preferred way of working. Thus, Workstation Cabin points to the future.
The writer's comment – A flexible and stylish garden haven
With its ability to double as a private sanctuary, a children's playroom, or overnight guesthouse, Workstation Cabin multiplies its appeal. The contemporary, sculptural exterior and its beautiful unique interior space, make it a stylish addition to enhance any garden.
Designing the right ambience is crucial to boost productivity and enjoy workspaces: have read about Kelly Robinson's spiritual design approach to workspaces?