Architecture
ZMIK turns boring corridors into modern learning spaces for children
Swiss design studio redesigned three corridors at a primary school in Basel, transforming them into colorful and flexible learning spaces to promote children's wellbeing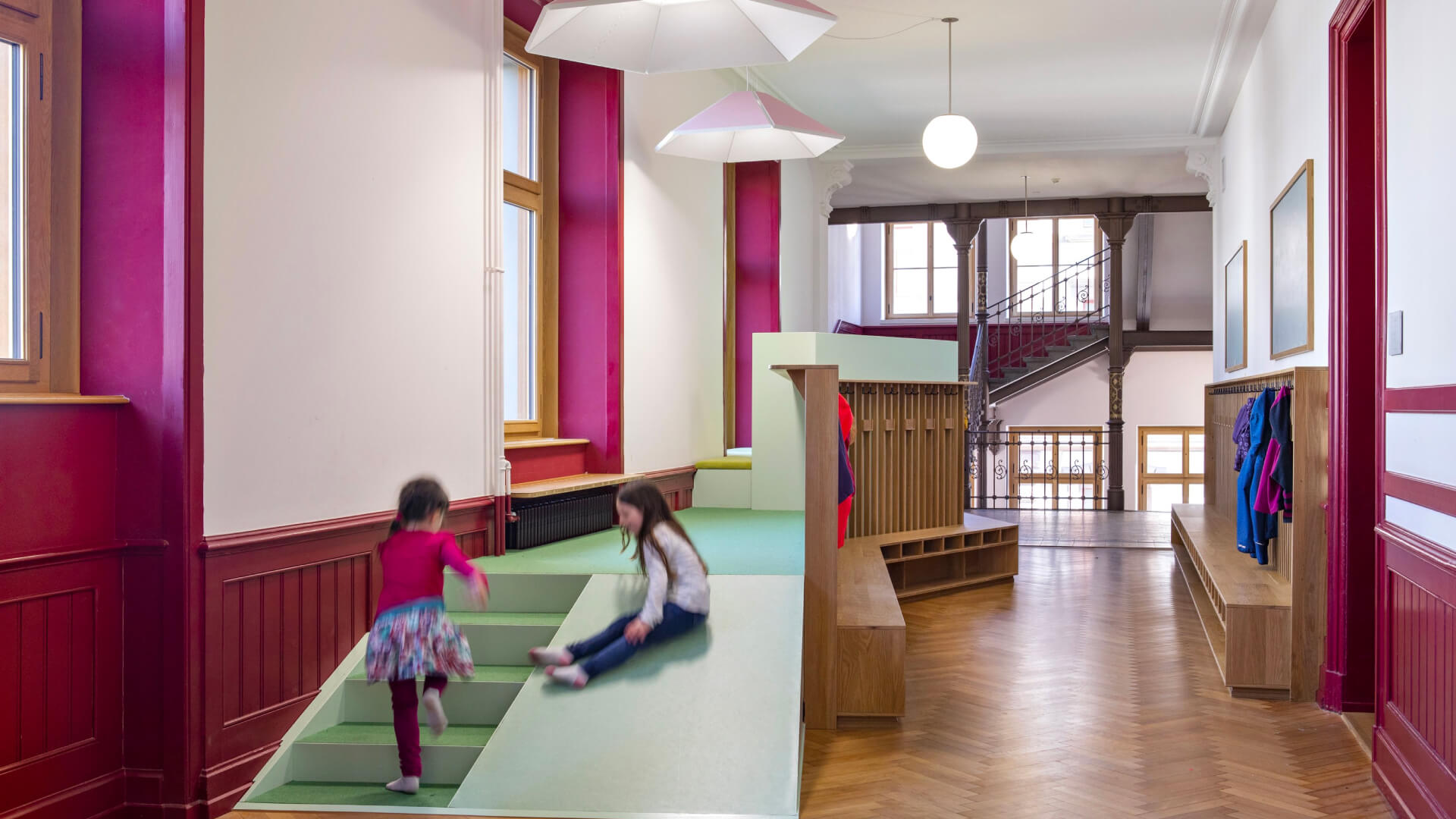 The Swiss design studio ZMIK subverted children's unloved rule "No running in the corridors!" by transforming this school hallway into a playful space, where learning and fun collide.
The project is called Learning Scapes: the multifunctional area is conceived as a modern classroom, where pupils can enjoy more freedom and alternative lessons, different from the ones taking place in traditional frontal classes.
ZMIK worked in a co-operation process with students and teachers, collecting their ideas, suggestions and requirements. The design studio used these tips as a basis for the project, integrating them with the historical structure of the school.
Each corridor is divided into five zones: two coatrooms, two learning spaces and one central recreation area. The learning spaces are filled with interactive, fun and colorful elements such as a bouncing path, tunnels, slides and observation decks. All these components are spread across the school's hallways and connected with various steps and sloping surfaces, creating a cheerful and spontaneous landscape for children.
The two coatrooms are located at either end of the corridor, while terraced learning landscapes are placed along the window side of the hallways, hidden by a slatted structure. These raised observatories provide children with different views of the corridor and outdoors spaces.
The recreational areas are centrally located between the two opposing coatrooms and include imaginative spaces for privacy such as a cave-like compartment with a curtain and a writing desk for group work. The lobby and alcoves served as a meeting and reading spaces, while slides, bouncy balls and balancing pillars were designed to support dynamic lessons.
Many of the elements are multifunctional. For example, the hangers of the cloakroom and the terraced constructions act as absorption panels diminishing noise, or a tilted geometric element is used as a balancing pillar, a backrest or a desk.
ZMIK used bright colors and diverse texture applied on a range of natural materials: while the playground is finished in oak to match existing floors, the playful landscape presents shades of green linoleum, carpet and textile surfaces offering a variety of tactile experiences.
Studying and going to school has never been so pleasant: if you are interested in other school building projects, make sure to read about the stunning Isenberg School of Management in Massachusetts.