Furniture design
17 designers and artists including India Mahdavi, Dimore Studio and Martino Gamper reinterpret Dior's 'Medallion' chair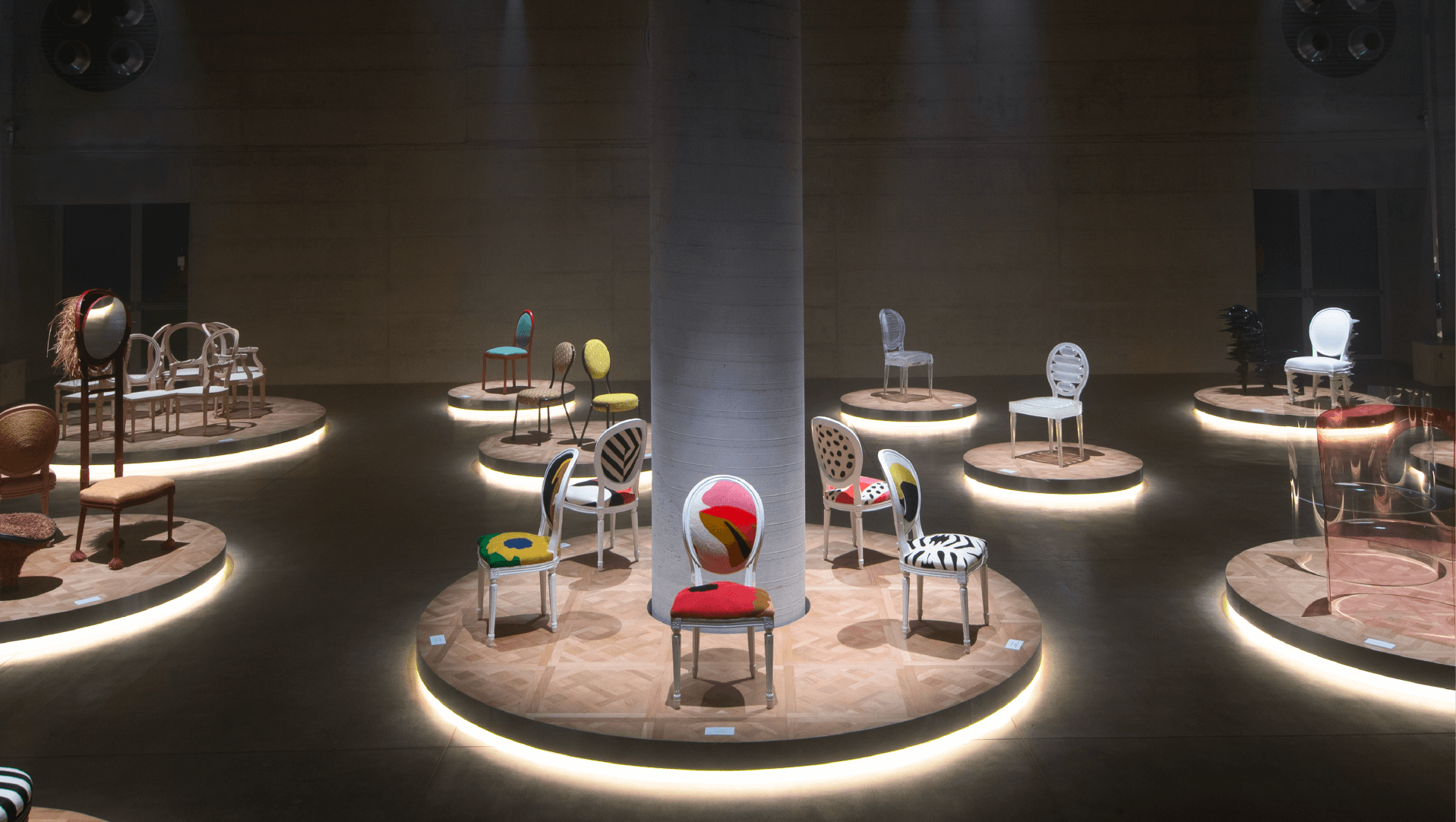 At Milan's Salone Del Mobile, French fashion house Dior has unveiled a series of high-concept chairs by the likes of Nendo, Tokujin Yoshioka and many more.
When French designer Christian Dior selected the Louis XVI–style Medallion chair for his guests to sit at his fashion shows he couldn't have imagined that some 70 years later, 17 artists would reinterpret its signature style. Dior favoured the chair for its "sober, simple and above all classic and Parisian" décor, he recounted in his memoirs, which the likes of Dimore Studio, Pierre Yovanavich and India Mahdavi have shaken up and revised.
The oval-back, streamlined Louis XVI-style piece of furniture was a key feature in the Dior Maison's boutique, which first opened in 1947. It is also recognisable in the French fashion house's 1955 Diorama and the 1958 Miss Dior perfume campaigns by illustrator René Grau.
The brief asked for a reinterpretation of the classical chair using state-of-the-art technology but following the principles Monsieur Dior outlined in his memoirs. India Mahdavi proposes a series of five chairs promoting a contemporary, multicultural dialogue thanks to colourful, hand-embroidered upholstery made with Indian craft techniques from Kashmir. 
Nendo's reinterpretation is a masterclass in minimalism. The Japanese studio has fabricated their design using curved sheets of 3mm thick glass, which has been chemically treated to retain its shape and reinforce its strength. 
Dimore Studio has deconstructed the original, breaking it into several pieces and reassembling it anew. Representative of the studio's signature vision, which strikes the perfect balance between vintage and contemporary, its design is held together by precious bronze and brass clips and decorated with stuccoes in gold leaf.
Khaled El Mays has also deconstructed, reinterpreted and reinvented the original. The Beirut-based designer has extended the back, incorporating a straw-backed mirror and adding leather fringed feet. 
Discover more seating designs exposed at Milan Design Week, don't miss Five designs to see at "Masterly — The Dutch" as it returns to Fuorisalone 2021.
Meanwhile, Pierre Yovanovitch has designed a pair of his and hers chairs. Upholstered with embroidered canvas in Dior's iconic oblique logo pattern first developed by Marc Bohan in 1967, the two chairs feature a sculptural steel frame. 
London-based Italian designer Martino Gamper chose to disassemble the chair and remake it after discovering he could simplify its construction while preserving its elegance. The designer has simplified the Medallion chair's lines and paired it with a contemporary colour palette of teal and burnt orange and a greyish teal.
Other participating designers include Sam Baron, Nacho Carbonell, Pierre Charpin, Martino Gamper, Constance Guisset, Nendo, Joy De Rohan Chabot, Linde Freya Tangelder, Atang Tshikare, Seungjin Yang, Ma Yansong, Jinyeong Yeon, and Tokujin Yoshioka.
Stay updated about Milan Design Week 2021, follow the news & events on Milan Design Week.