Materials & Surfaces
Surfaces: how 3 Tech Project boosts esthetics and creativity
3 Tech Project by Lea Ceramiche is a single aesthetic, multiple thicknesses and infinite possibilities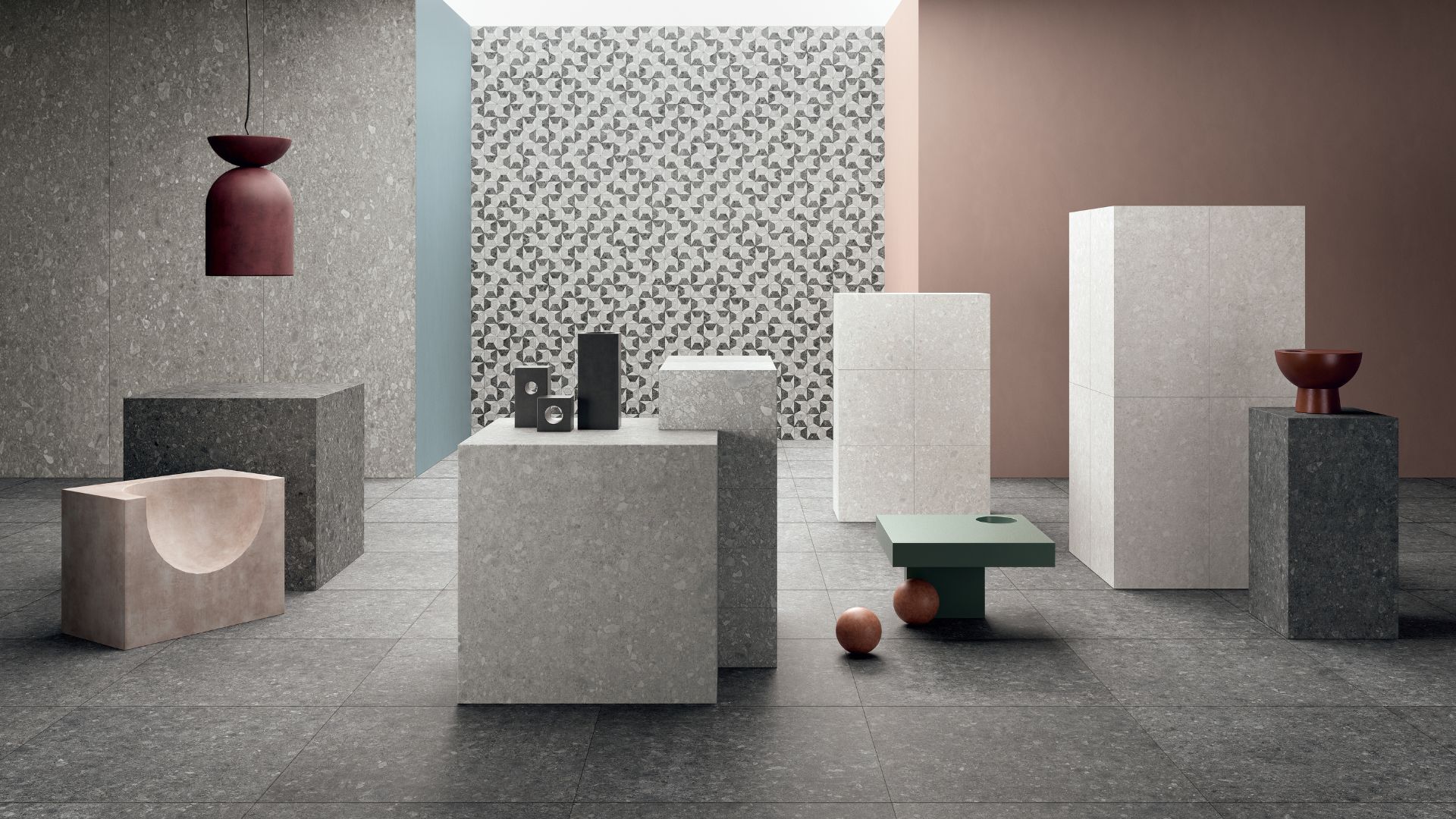 Imagine a flowing space, where outdoor and indoor merge in a chromatic and material continuum. Imagine the serene and peaceful feeling of an uninterrupted surface on floors and walls and, why not, furniture. And now let's envision the same surface becoming an abstract combination of patterns and shades. It is the interior designer's concept of paradise, becoming possible thanks to technology.
This is the idea behind Lea Ceramiche's Project 3 Tech: a series of collections of ceramic surfaces made with the most advanced technologies in the ceramic sector, allowing different technical performances gathered under a single aesthetic to meet the functional needs of any project:
Slimtech, the large thin slabs of superior quality
Full-body porcelain stoneware with traditional thickness
L2, the 20mm thick stoneware designed for outdoor solutions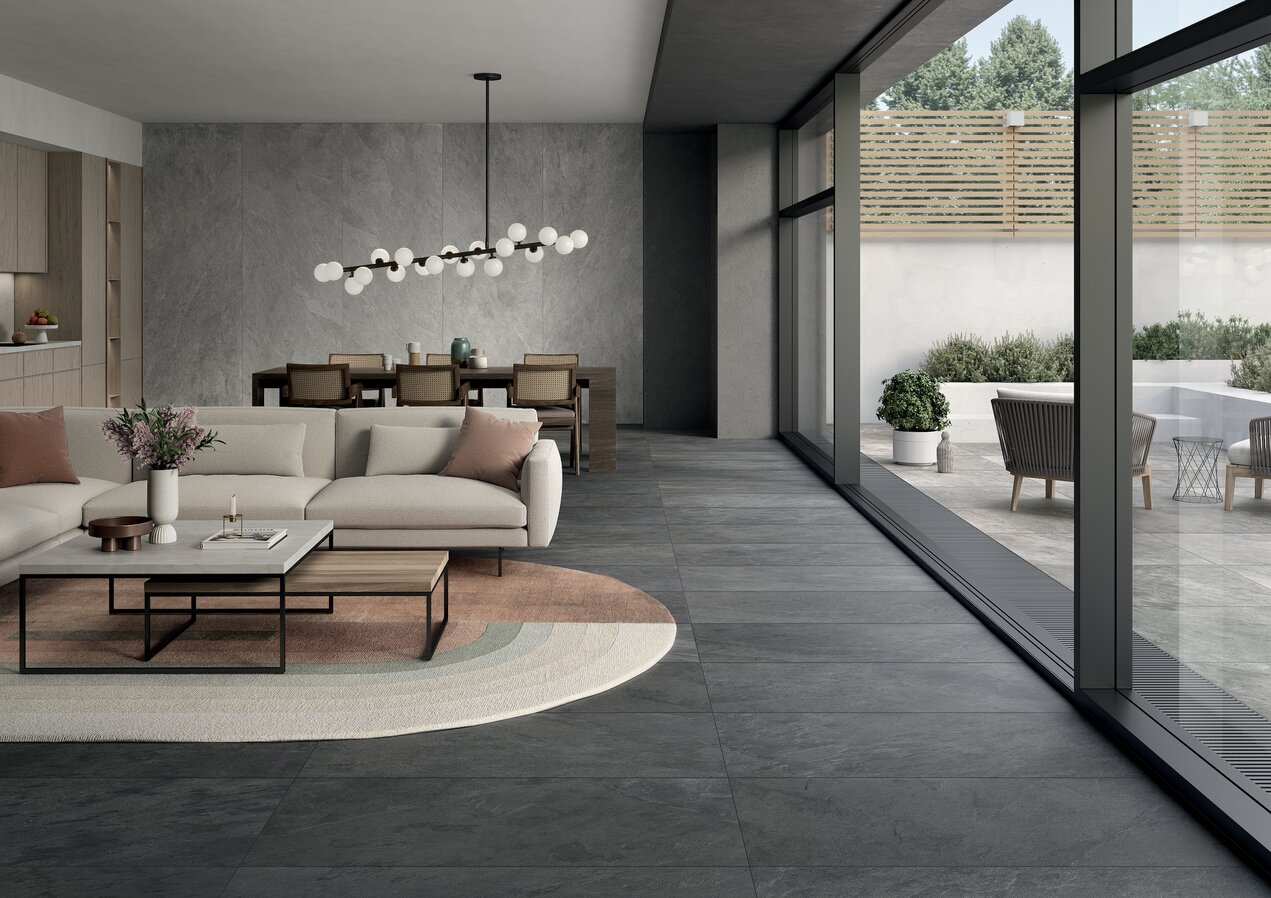 A hi-tech production enhancing creative possibilities
The smart side is to let designers configure the space in a flawless project, so as to develop an extraordinary number of creative options. The different thicknesses of ceramics tiles, the different sizes and décors become clearly organised to let creators figure out environments in full aesthetic continuity: choosing the same collection for internal and external flooring amplifies the impact and the sensation of homogeneity of the spaces; the possibility of opting for the same collection on the wall and on the floor opens the door to environments with a perfect total look.
Finally, it guarantees multiple choices for designers and consumers, who can opt for the collection for any destination. Doing so, Lea Ceramiche offers interior designers and architects its vision of the contemporary surface and the infinite possibilities of its rational and decorative use.
[ Read also The geometrical twist of Pigmenti – interview with Ferruccio Laviani ]
What is 3 Tech Project?
3 Tech Project combines different technologies among the most advanced in the ceramic sector from which different product lines arise: Slimtech, the large thin slabs of superior quality; the stoneware full body porcelain with traditional thickness; L2, the 20mm thick stoneware designed for solutions outdoors.
Let's have a deeper look at the actual slab typologies.
Three thicknesses, infinite possibility of use
Slimtech is the laminated porcelain large slabs stoneware up to 120×278 cm and 3mx1m featuring extraordinary lightness thanks to the thickness of just 3.5mm, 5.5mm and 6mm. A thin, versatile and resistant material that can cover floors, walls, furnishings and external surfaces of ventilated facades and thermal coats.
Full-body 9 mm ceramic tiles are synonymous with resistance, durability and practicality. In this collection, hi-tech digital printing opens a number of decorative choices to meet any designer's idea.
L2 is the 20 mm resistant and durable textured slab for outdoor, enduring any temperature, deep abrasion, water and any load.
The collections included in 3 Tech Project
Lea Ceramiche developed the 3 Tech Project on five different series to cover most of contemporary architecture and interior trends. The choice was to include Waterfall, Nextone, Concreto, Anthology and Side Stone.
They are inspired by natural stone and concrete, mimicking the passing of time, the natural signs of oxidation, the flowing and smoothing effect of flowing water. Digital printing grants an awesome realism, sometimes even inventing combinations and effects not existing in nature, enhancing the aesthetic side of the stone with surprisingly unprecedented combinations of patterns and shades.
Waterfall is the elaboration of slate, a fascinating and rigorous natural stone which records with astonishing beauty the geological transformation of matter. Its range of colors is built on gray chromatic scales, from the lighter Ivory Flow, to the shadowy Dark Flow.
It is the choice for contemporary spaces, where slate's tactile and sensorial peculiarities transform surfaces in a pattern of abstract and natural decoration.
Nextone combines the stones of four different quarries in a new unprecedented material which is totally man made in search of a balanced and natural texture.
Nextone is a real decorative system with a range of sizes, colors and decorations able to complete any architectural project with a flawless aesthetics.
Concreto is the celebration of the iconic modernist architecture material interpreted by Fabio Novembre's eclectic design.
Pure backgrounds and decorative patterns developed on different shades of colors, different finishes and articulated on the three different thicknesses of Lea's 3 Tech Project.
Anthology is a disruptive human reinvention of the natural stone. It is a mineral surface combining marbles and stone in all its patterns and unexpected effects.
It is built out of inspiration and fantasy to imagine the work of nature and the passing of time.
Side Stone is a reinterpretation of an iconic material characterizing the Twentieth century Milanese architecture. The original stone is called Ceppo di Gré and its quarries are near the Iseo Lake, not far from the city.