Architecture
A mesh of materials, spaces, and experiences with RappUnger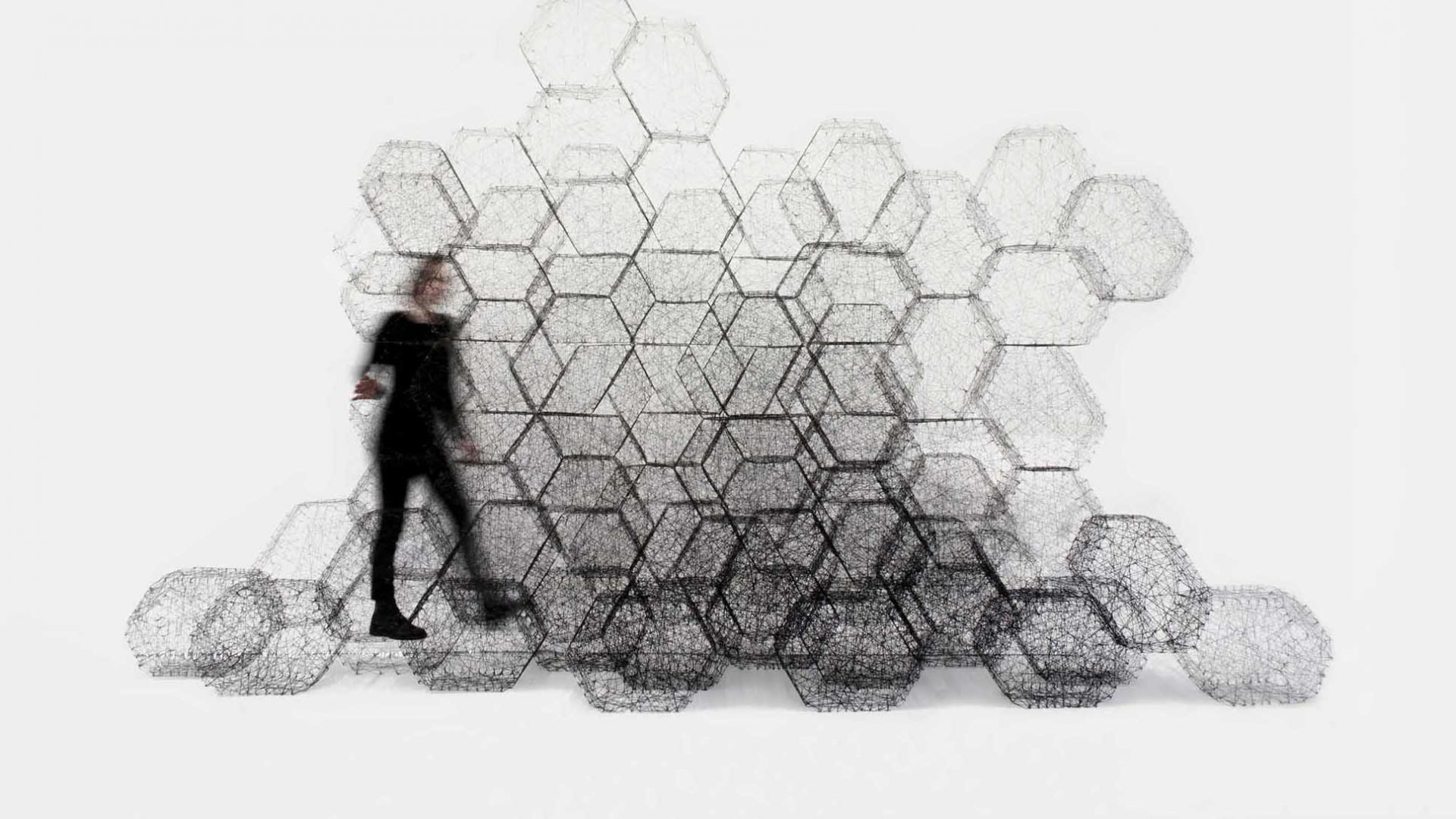 Driven by a fascination for testing and exploring the limits of materials, Berlin-based experimental design duo Idalene Rapp and Natascha Unger take us through their thought-provoking and unexpected design approach.
The duo met at the Berlin Academy of Art, Weißensee, where they both completed their BA and MA in Textile and Surface Design, and merged their creative chemistry through RappUnger creative studio. They aim to balance the interplay of space, light, and elements in their work, creating objects and installations that spark our imagination.
RappUnger's pieces translate into a blend of different disciplines, drawing from traditional craft and textile techniques, as well as emerging architectural and structural innovations. From everyday objects to unconventional installations, the duo's work is defined by three leitmotifs: playing with the observers' perception, transforming materials, and oscillating between function and aesthetic.
The duo strives to break down barriers between fine arts, craft and design in their pieces, walking the line between two and three-dimensional, permanent and temporary, utility and whimsy.
Who are Idalene Rapp and Natascha Unger and how did the journey for RappUnger begin?
RappUnger: "Natascha Unger is a textile designer from Berlin, Germany, who primarily draws inspiration from the interface between design, art and architecture. She likes exploring various materials while merging traditional craftsmanship with modern technology.
Idalene Rapp, on the other hand, is a textile designer born into a German/American family of artists in Munich who has a playful and colorful approach to design. She loves to experiment with different mediums and push boundaries."
RappUnger: "By luck, our paths crossed at the University "Weißensee Academy of Art Berlin" and we had an immediate creative connection. As a school that places great emphasis on collaboration, our university enabled us to pair up early on, melding together our strengths and passions. 
Through our creative partnership, we've been able to merge our approach into one design language. Once we had successfully finished our Master's degree, we decided to continue our artistic journey together, constantly pushing ourselves, as the RappUnger design studio."
From everyday objects to installations, why focus on experimental design?
RappUnger: "As designers, we have always been endlessly curious and incessantly inspired by areas even outside the creative world. By stretching into uncharted territories and experimenting with them, we enjoy uncovering surprising connections between material, technology and product.
By being playful, we have often uncovered the concept through the process, which has led to our very experimental design approach. While working towards our final design we continuously like to be guided by the unexpected, new stimuli and impulses that arise.
Through our work, people can experience and interact with materials, structures and objects in an intriguing, new way. As RappUnger, we want to surprise people with our experimental designs and bring them joy."
From spatial design to materiality, which are the main values, core concepts or style inclinations that, above all, will always represent RappUnger?
RappUnger: "The projects we create are primarily linked on a conceptual level more so than on an aesthetic one. As RappUnger, our recurring leitmotif is the accentuating and linking of material and space.
Within our design practice as a studio, we strive to make our core values visible in our designs which often include an experiential aspect in our works.
Collaboration: we are always curious about cooperating with a diverse range of disciplines and learning as much as we can to expand our horizons and enrich our projects.
Creativity: we strive to keep an open mind and think outside the box by combining unexpected themes with one another in order to break new ground.
Playfulness: we combine seemingly opposing and unusual aspects to challenge people to interact with the concepts.
Impactful: we aim to create surprising and memorable experiences that inspire people's imagination."
RappUnger tests and explores the limits of materials, how do you balance their aesthetic and functional qualities?
RappUnger: "We see a balance between aesthetics and function as a fundamental part of design. In our design process we first explore material from the aesthetic-atmospheric side to find out how we can work with it and put it into a new context.
In experimenting with the material we then work out the constructive-technical and functional possibilities and balance these against the aesthetic ones continuously. The aim is to achieve tension through the interplay of aesthetics and function."
Discover more designers creating immersive installations, head to Spaces that tell a story – Interview with Jotta Studio.
Your work draws from traditional craft and textile techniques. In your opinion, what makes a design idea truly innovative?
RappUnger: "In general, we are excited by design ideas and projects that make us think and allow for layered perspectives. We love things that spark our imagination. In particular, we are passionate about ideas that are aesthetically and experientially accessible to all but still challenge on a conceptual level, inviting many possibilities for interpretation.
Beyond that, we like it when projects have a direct emotional impact on us, even when we can't grasp it right away. No matter if this is a positive or very irritating feeling, we like to be confused.
We try to apply this kind of unexpected and thought-provoking design approach to our work. Whether an object's function is not obvious, the materiality has to first be explored or the spatiality changes the viewer's experience, we like to play with people's expectations and perceptions."
You recently worked on collections of "Abstract Textile". Can you tell us more about this project?
RappUnger: "Although we are trained textile designers, we have ironically rarely made textile typical products like fabrics. But, recently, we have felt like doing just that. So in the collection "Abstract Textiles", we translate the RappUnger approach and values into textiles.
We select materials in which we see unexpected potential to manipulate and bring out a unique look and feel. That means, we take an ordinary material and transform it into an intricate and captivating textile. As a result, we give the original material a new, unconventional design language that highlights different possible applications."
What's next for RappUnger?
RappUnger: "For us as designers, the last year has been challenging due to the pandemic. Many projects were rescheduled or became more difficult to manage. In a positive light, the resulting free time has enabled us to experiment on new projects and revisit postponed ideas with new motivation.
We are continuing the work on "Abstract Textiles". Not only are some textiles being transformed into costumes and fashion, but also, developed into furniture and even used in architectural applications.
Aside from that, we are designing a translucent light sculpture that interacts with the surrounding space through its materiality and colorful lighting effect. We are majorly behind the game but we are also in the process of finally launching our RappUnger Instagram @rapp_unger. We welcome anyone reading to check out our work."
Curious to know more about designers experimenting with textiles? Don't miss The honesty of crafting meets the intellectualism of the design process with Wendy Andreu.