Architecture
Don't you wonder how a bamboo house is made? Interview with Elora Hardy
Elora Hardy, founder of inspiring green architecture firm IBUKU, shares in this interview how she and her team are exploring groundbreaking ways to use bamboo from interiors and furniture solutions to large scale architectural constructions and much more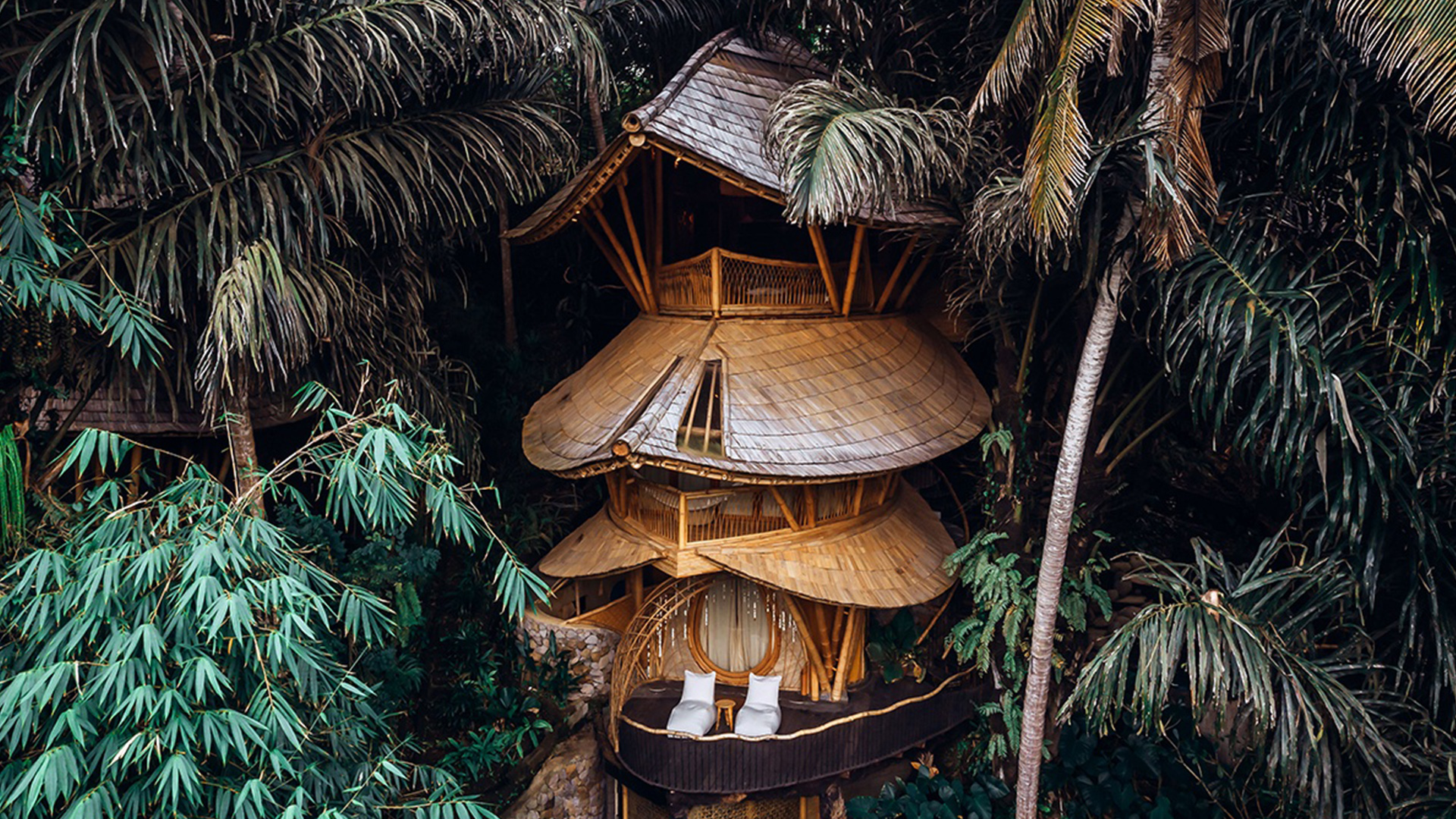 How fascinating is a bamboo house? Imagine your house with a bird's nest TV room, a floor to ceiling woven basket bathroom and a giant leaf flowing above your head as a roof.
Elora Hardy, a Canadian-Indonesian designer, imagined a somewhat similar house when she was 9 years old. It was not long before she founded IBUKU, an architectural and design firm based in Bali, Indonesia with a creative team of designers, artisans, and engineers along with a vision of creating spaces where people can live in an authentic relationship with nature. 
As sustainable materials are talk-of-the-town in the architecture world today, bamboo is definitely gaining popularity amongst contemporary designers. Beyond its early use for bridge construction, the material is now becoming a fine choice for its beauty, cultural connotation, and its environmental benefits. 
IBUKU has brilliantly adapted bamboo as a core material to build extraordinary, magnificent compositions that bring you back to your childhood treehouse fantasies.
Why IBUKU uses bamboo as a core material for its projects?
Elora Hardy:
"IBUKU uses bamboo because of its strength, beauty, and flexibility. Also, its 4-year growth cycle and carbon sequestration capacity make it the most environmentally conscientious building material conceivable.
In a world of retrofitting or re-designing traditional items and materials to be slightly less 'bad', we decided to wipe the slate clean and start fresh. Though bamboo has traditionally been used throughout Asia in short-term structures, new treatment methods have given bamboo the capacity to last longer.
Our engineers, architects, and designers have created a completely new vocabulary out of one material. Not only is bamboo good for the environment, but it also helps the people live more connected to nature which redefines the quality of life."
These fascinating structures start with small scale models: from an engineering standpoint, how do you transform those models into real-scale structures?
Elora Hardy:
"Instead of conventional blueprints, we create to-scale structural models made of hand-whittled bamboo sticks. These models are replicated in 3D lines with computer programs for our engineers to study and confirm that the building adheres to our strict codes.
The design process continues where our architects and engineers follow the project in-depth through completion to ensure structural integrity and longevity. Our designers say sometimes it's difficult to interpret ideas in a 2D drawing or formula"
Considering that bamboo can be damaged by fire, insects and hostile weather conditions, what curing process and protections are needed before and after the construction?
Elora Hardy:
"Everywhere in the world bamboo has had a reputation for being only short term, because it is not properly treated or designed as certain bugs love to eat the sweet sap. All of our bamboos is sourced from across Bali and Java and safely treated to protect against insect attack with a natural salt solution based on the internationally known Boron method in a closed-loop system.
We treat and test our bamboo rigorously to ensure safety and longevity. Similarly to wood, a well-designed and well-maintained structure built from properly treated bamboo can be expected to last for many decades.
We coat our bamboo with a variety of coatings (such as the ones commonly used for wood) to add a layer of protection and shine. Wherever exposed to sunlight, water or impact, the bamboo structure, and surfaces require sanding and re-coating within a few years."
There are more than 1000 species of bamboo, how do you choose types and sizes to work with?
Elora Hardy:
"Bamboo is all around the world, available in over a thousand species, and in the future, we envision being able to source local bamboo for each international project.
To consider it, we must first be sure there is properly harvested and reliably treated bamboo available in each location and study the engineering properties of the local bamboo and design for their unique qualities.
Over the past decade, we have built on the existing skills of traditional Balinese carpenters and evolved a way of communicating, training, and documenting each of our new designs and systems with them.
Overseas collaborations require coming to understand the skill set of local carpenters and creating a new system for how we can design into their capabilities and create design documents that they would be able to interpret.
Our designs to date have been developed and engineered for bamboo types available in Bali and in concert with our craftsmen's capabilities, so it's only relevant when created in concert with them."
Besides Indonesia, what other parts of the world do you think are suitable for bamboo construction?
Elora Hardy:
"There is already a lot being done with bamboo in Southeast Asia with a lot of potential to develop this material in India. Although, building codes around the world will have to be updated to take into account bamboo's special characteristics."
What are the major issues when working with bamboo as a construction material? Which other materials are involved in your creations?
Elora Hardy:
"We design for the bamboo, inspired by its strengths and vulnerabilities. We also look at the forms we find in nature, especially in the landscape of the site. Of course, understanding the family or community who will use the structure is an essential part of the design process.
The structural performance of our structures based on our engineers' calculations is a minimum of 25 years. There are bamboo structures in South America and Europe that are over 100 years old.
If the bamboo is chosen well, treated properly, designed carefully, and maintained, a bamboo house can last a lifetime.
Interior accents are created using natural materials found in local environs, including giant stone slabs, beaten copper in bathrooms, paper walls, and hammered brass details, all handmade by local artisans using traditional techniques."
With each structure being extremely unique, precisely engineered, and completely hand-made, IBUKU is truly shaping the meaning of sustainable luxury in architecture with its bamboo house concepts.
Check out what Elora Hardy explains about her work, team, motivations, and the creative process behind her success in this inspiring TED Talk.