Design
More than just an archetypal doll, Mattel's Barbie is now a little more inclusive.
In the last decade, Mattel has tackled underrepresentation too, rolling out various models in quick succession. It has released a wider variety of body sizes, skin tones, hair textures, and ability status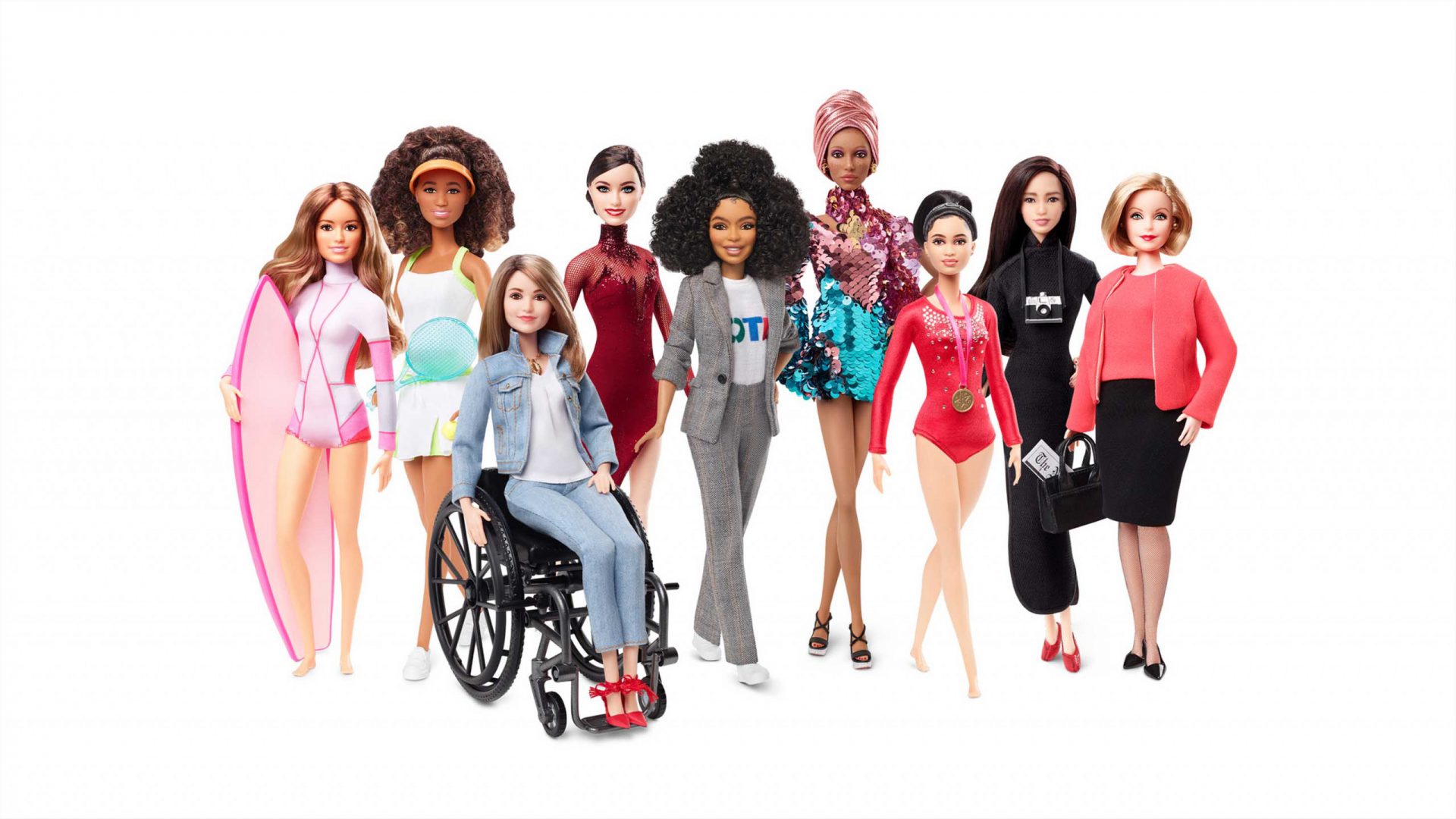 We are continuing a series on iconic design with a quick look at a controversial product when it comes to inclusivity. We're talking about Barbie. Whether you celebrate or protest her, Barbie is an icon.
In the 62 years since Mattel introduced her to the toy market, she has run in several successful presidential campaigns, been painted by Andy Warhol and dressed by Karl Lagerfeld. She has been a vehicle for art, fashion and pop culture, trying out over 200 different careers, including astronaut, equestrian, and computer programmer.
But Barbie's attempts at keeping pace with culture have often seen her suffer countless missteps along the way. Over the years, Mattel's use of "Traditional" clothing when introducing dolls from different cultures has seen Barbie reinforce stereotypes and face criticisms of whitewashing and beauty cleansing. 
The first apparent East Asian Barbie is a prime example, released in 1981 and labelled using the pejorative term "Oriental Barbie". More recently, Mattel came under fire for its Frida Kahlo Barbie, released in 2018 and criticised for lacking the artist's darker skin and framed unibrow.
A Barbie girl in a new world
For these reasons, it's hard to frame Barbie as a reference for inclusivity. Yet some would argue that, despite these cultural wrongdoings, today Mattel has transformed Barbie into a body-positive brand. 
At the very least, many of Barbie's changes in the 2010s have tried to counter some of its old critiques. For example, the launch of Barbie Vlogger in 2015 gave Barbie a voice in animated vlogs that engage in frank discussions and tackle issues like depression and racism. 
In the last decade, Mattel has tackled underrepresentation too, rolling out various models in quick succession. It has released a wider variety of body sizes, skin tones, hair textures, and ability status; it has released new collections featuring dolls based on inspiring women like Ava Durvernay and US Olympic fencer Ibtihaj Muhammad, and more recently it unveiled a line of gender-neutral dolls intending to let younger generations experiment with gender expression. 
That is progress for a doll that is historically white, blonde and slim. 35 different skin tones, 94 hairstyles and 9 different body types make Barbie the most diverse doll on the market. Isn't that symbolic of a brand that has finally caught up to the expectations of the toy world?
Not according to everyone, and a look at the way Barbie's are made is one of the reasons why…
[ Read also Design for autism – A sensory delight ]
Life in Plastic – Making Barbie for a new world
Behind Barbie's various iterations is a team of top fashion designers, makeup artists, and the most elite couturiers. Together, they realise every painstaking detail, from the individual strands of hair, which are sewn on before being cut and styled, to the hand-painted facial expressions. A Barbie can take months to concept and finalise because of the logistical challenges and costs new styles create within the manufacturing process.
In 2016, Mattel introduced a line of diverse Barbie dolls which took two years to perfect because of new moulds, new skin colours and new hair textures. The resulting collection, which saw sales rise for the first time in two years, featured three new body types, seven skin tones, 22 eye colours and 24 hairstyles. A big push in creating a wider range of Barbie's like this makes sense when you measure it up against Mattel's declining sales.
Reporting covering Barbie's evolution often cites these figures as a catalyst for the changes. In 2012, 2013, and 2014, worldwide gross sales for Barbie decreased.
In recent years, Mattel has found ways to make Barbie less problematic for the environment too, including water-based paints and a commitment to using only sustainable alternatives to plastic by 2030. Where it does use virgin plastic, Mattel has said it will ensure that it is recyclable.
These are important strides towards sustainability even though these alternative plastics come with their own set of challenges. For example, plant-based plastics might require less carbon to manufacture than oil-based but they are still not biodegradable – a reality of a material swap some would argue keeps a brand's image in better shape than the environment (short of brands investing in material studies themselves, it's hard to think of a better solution than making adjustments to production).
The Future of Barbie
As the company continues to redefine what it means to be a "Barbie" in both material and aesthetic choices, offering dolls with skin conditions like vitiligo, dolls with prosthetic limbs and dolls that use a wheelchair, are positive steps towards being more inclusive. Offering these models allows kids to play out even more stories they see in the world around them.
But in the years ahead Mattel and Barbie will have to continue in their efforts to become a more realistic model, allowing children of every race, gender and sexuality, to cast themselves in various, powerful roles.
And whilst it's easy to see any major brand's push for inclusivity as a ploy to create, or tap into, new markets, a bid to stay relevant isn't completely without merit. Just ask the millions of kids now playing with a toy that they feel looks like them.
[ Read also The Monobloc Chair: A piece of white plastic for and against the world ]