Furniture design
Extraordinary bathtub designs that take the bathing experience up a notch
Today's tub is an aspirational addition to any home and this curated collection of architectural pieces demonstrates why.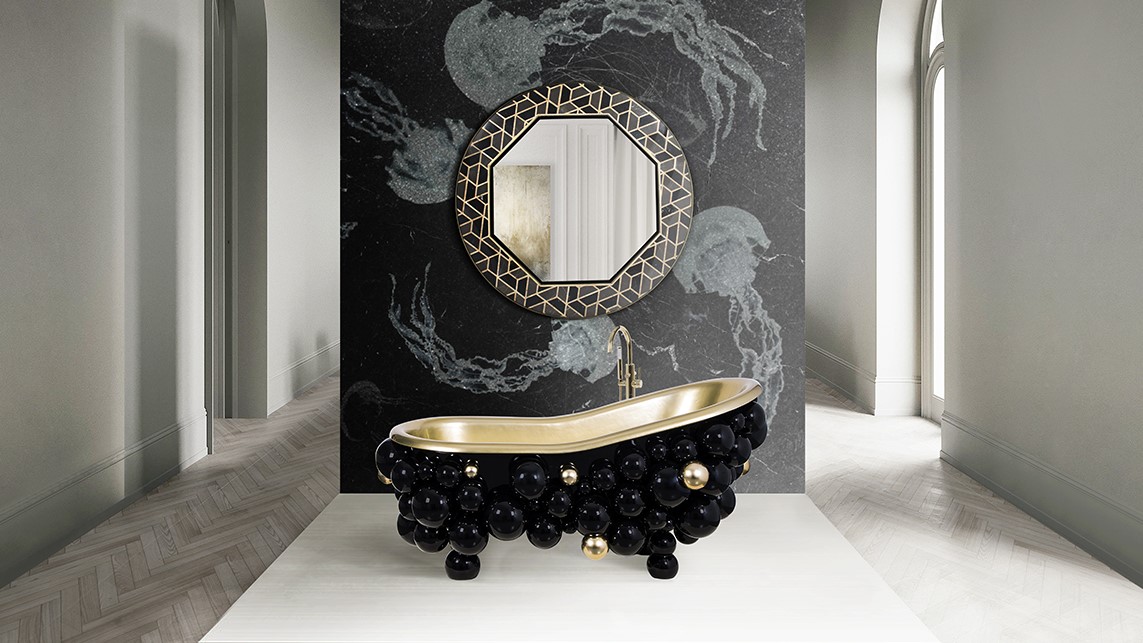 There are many reasons to have a bathtub. The obvious one is to keep clean. But beyond its functional purpose, a bathtub is so much more. With the importance of rest and relaxation stressed now more than ever, bathrooms have become spa-like sanctuaries, at the centre of which are extraordinary bathtub designs.
Not only do bathtubs add value to our physical and mental health but they increase the monetary value of our homes too. It's a luxury to be able to soak and recharge at the end of a long week and it shows in the market price of houses that have them. 
That's because bathtubs are family-friendly. No-one starting a family looks for a one-bedroom flat with a space-saving shower and that makes homes that have them a safe investment.
More importantly however, it's because architects and designers are capitalising on wellness ideals by helping to define the "modern bathtub" – a utilitarian device turned architectural feature. 
Today's tub is an aspirational addition to any contemporary home, and this curated collection of designer bathtubs proves why.
1. Newton Bathtub by Maison Valentina
First up is a designer tub that takes the idea of having a bubble bath to a whole new level. Maison Valentina's Newton collection features a curved lip shape reminiscent of vintage styles coated in three-dimensional spheres, resembling clusters of floating suds.
The collection is inspired by Newton's laws of physics and combines a good cast iron interior with chic lacquered finishes in either black or white.
2. SPA by Nespoli e Novara for Neutra
Shaped after the most stable geometry of them all, the Neutra SPA is as perfectly circular as it is timeless. Designed by Nespoli and Novara, its round shape softens the often harsh angles in bathroom spaces.
The piece is carved from a single block of stone and is available in various kinds including Basaltina and Carerra marble.
[ If you want to find out more about designers working with stone, don't miss When materials shape function – Interview with Paolo Ulian! ]
3. DR bathtub by Marcio Kogan and Studio MK27 for Agape
The DR bathtub has been conceived with "the intention to create a friendly, sensual and charismatic object", hence its fluid shape.
Like a natural pool, its flowing lines and inviting size brings a hint of voluptuous Brazilian modernism to both indoor or outdoor spaces.
4. Le Acque by Toscoquattro
The Le Acque by Tosoquattro is also carved from a simple piece of stone. Designer Claudio Silvestrin took inspiration from water's erosive effects on natural materials.
He defined a shape with the sort of uneven curves you'd expect to find on pebbles at the beach and created an edge that twists and curves freely.
5. Two-seater Balnea by Vaselli
A distinct triangular shape defines this travertine for two, an oversized piece playing up the potential of bold and beautiful bathtubs. Vaselli wanted to create a romantic bath for two without taking up twice as much room.
So, the Balnea Triangolare was born, available in Bianco Rapolano travertine and inviting its users to sit side-by-side or face one another depending on their desire.
6. Vasca by Nic Design
The luxury of the free-standing Vasca by Nic Design bathtub Tub is that it doubles as a shower tray with dimensions that are suitably compact.
Enclosed in an intimate fashion, users can enjoy the pleasure of full immersion without sacrificing on space. This bold choice comes in a variety of colourful Pietra Luce, an antibacterial material that's shiny and water-proof.
7. Kora by Enzo Berti for Kreoo
Kora takes its name from a traditional musical instrument of West Africa, characterized by an elliptical shape. Kreoo's reference to the music is also in reference to the sound of water, with its silent impetuosity.
The tub rests on an iron tripod that supports its volume, giving stability and elegance. Despite the strength of its marble material, the water finds a new lightness in the quietly striking Kora.
8. Corpo by Henry Timi
As if a warm spring were just stumbled upon, the Corpo bathroom collection by Henry Timi mimics the rocky terrain of any beautiful landscape.
Carved from marble with rugged perfection, an oval vessel maintains an appropriate balance between natural and modern elements.
9. Reflex by Antonio Lupi
Characterised by a neat and colourful shape, Reflex is the first transparent bathtub by Antonio Lupi and uses the company's own patented material. Called Cristalmood, it is a colored resin with a glossy finish that gives the bath a transparent finish.
Its effect enhances the soft round shapes of the basin, giving a lightness yet at the same time a solidity to the overall design.
10. Magic Cave by Studio Marco Piva for Citco
The final design on our list creates a truly immersive experience with a winding silhouette that loops over to envelop bathers with water and surround them with natural stone.
Created by Marco Piva for the famous Italian marble brand, Citco, this unique bathtub was inspired by the shapes and limits of the natural caves.
[ Fascinated by stone finishes? Discover the Black Marble look with Florim! ]