BIG's big additions to the skyline of Quito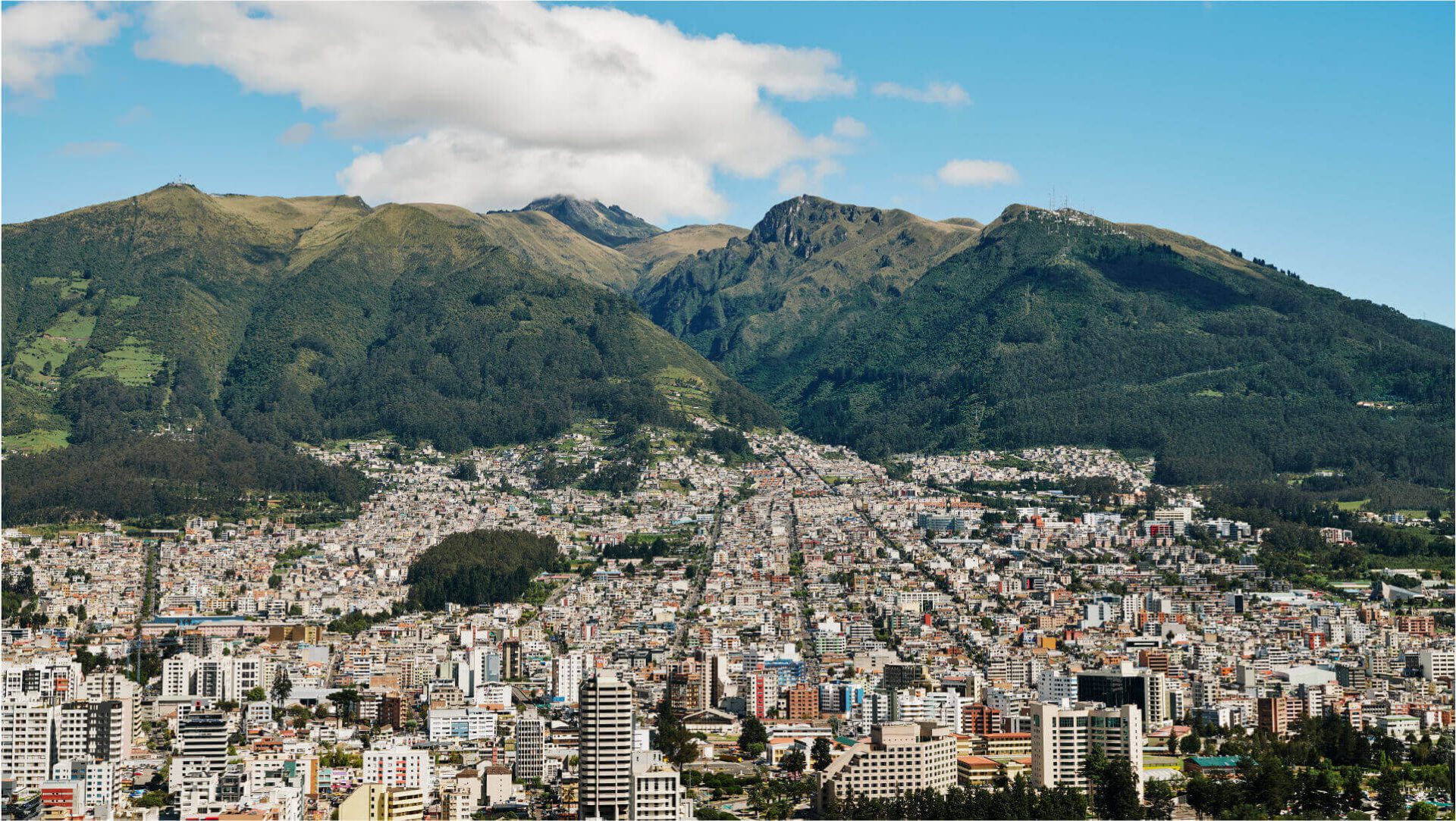 A conversation with Thomas Christofferson from BIG, and Tommy Schwarzkopf form Uribe Schwarzkopf.
The reputation of Bjarke Ingels Group (BIG) looms large in Quito, Ecuador — and the firm is now making a major mark on the city's skyline, with two significant projects underway that will anchor the neighborhood surrounding La Carolina park. In 2018, the team at Uribe Schwarzkopf met Bjarke and his team and were so taken with their concept for the city, that we commissioned two projects from them back-to-back, both currently under construction — IQON and EPIQ.
The firm's approach to considered design that creates community is especially attractive in the quickly-growing South American capital, which is developing new strategies for density and collaboration as new, sustainable urbanism takes hold.
With BIG's first building in South America, IQON, still under construction in Quito, BIG unveiled their concept for a second project in the city. Composed of a single tower in two divided blocks, EPIQ is conceived as a "vertical city" that brings the dramatic natural environment of Quito into its structure, featuring landscaping throughout in synergy with the adjacent park. The varied sizes and configuration of space's mixed-use residential, corporate, and commercial units allow light and landscape to seep through the building, and connect La Carolina park to the surrounding city, rather than separating them.
The design of EPIQ reflects the colors and patterns of Ecuador, taking the inspiration for its façade from the earth tones and herringbone pattern of tiles seen through the streets of Quito's Old City, which is a UNESCO world heritage site. The facade color also echoes the colors of the striking sunsets seen in the city, the Andean flora and fauna, and the weavings of the toquilla straw.
We spoke to Thomas Christofferson, a partner at BIG, recently about our work together, his firm's innovative approach to apartment living, and the unique facets of the buildings:
Joseph Schwarzkopf: "Thomas, thank you so much for joining us to talk about your projects underway in Quito – IQON and EPIQ. Tommy, to start us off, can you give us a little insight into what made you and the team at Uribe Schwarzkopf interested in working with BIG? How did the studio first come on your radar?"
Tommy Schwarzkopf: "When we first met BIG, in New York City, we visited VIA 57 West, and were very impressed with it. The construction style is completely unique and different from what we're accustomed to seeing in Quito. The shape of the building and integration of greenery immediately drew us in and we had to go inside. And once we did… the design and features of the building really resonated with us, and we left that meeting feeling inspired to bring this kind of design to Quito and South America.
IQON, Uribe Schwarzkopf's first collaboration with BIG, is also BIG's first project in South America – which is something we were excited about, to be the first developers in the region to work with such a major icon of contemporary architecture. Our second collaboration has been EPIQ. Both are currently under construction."
Curious to know more about Uribe Schwarzkopf? Don't miss Quito's Uribe Schwarzkopf imagines the future of architecture and mobility.
Joseph Schwarzkopf: "With BIG designing projects all around the world, it must be an exciting challenge to work on a project that is the firm's first in the region. Thomas, we'd love to hear a little bit more about the most exciting part of working on these first two projects in South America. Can you reflect on your personal experience visiting the city, and how it influenced your design choices?"
Thomas Christofferson: "As our first venture of sorts in South America, coming from Northern Europe, there were all sorts of cultural discoveries we were experiencing, working in the region for the first time.
When we started working on IQON, the height of the building immediately captivated us. It's especially interesting for us to design a building of this scale because of Quito's natural landscape and high altitude. Being near the equator was also a novel experience for us. Not to mention, just being in Quito and getting to experience the city and develop an understanding of the local culture and community.
It was our first trip to Ecuador and seeing some of the city's landmarks and taking in all of the different architecture like the UNESCO World Heritage Center was a deeply formative experience as we thought about how we wanted our building to impact the city. The legacy of great Eastern European modern architects is undeniable in Quito, and has been quite exciting to discover that legacy and add our own take."
Joseph Schwarzkopf: "One of the things that we always hear from international partners is the appeal of Quito's location on the equator, which makes the blend of indoor and outdoor space in communal areas a signature feature of Quito's architecture and an exciting thing to experiment with. As an architect, what kind of opportunities does that present as you're thinking about the design and structure of the buildings themselves?"
Thomas Christofferson: "Coming from Northern Europe, Quito has a very warm and temperate climate compared to what I'm used to, that buildings are almost unnecessary. You want to be outdoors all the time. In terms of design and structure, being so close to the equator means you have to consider the north facade of the building as much as the south facade in construction because of the equal treatment of sunlight year-round, which was new for us.
And then, as you say, the climate also means that the way you build things is less constrained, allowing you to create simple structures that are not possible in regions with more extreme weather. Quito's environment has certainly unlocked design opportunities that we wouldn't normally have."
Joseph Schwarzkopf: "And Tommy, as we think more about the architecture across the city that inspired the team at BIG as they're creating these buildings, I wonder how you see the project shaping the future of Quito, both locally and on an international stage."
Tommy Schwarzkopf: "As an architect myself and the principal of an architecture and design firm, I believe that design can be a force for positive change, innovation, and creativity, which is rewarding for property builders as they constantly seek to break free of the established paradigm. Our goal is to create spaces and environments that can improve the quality of life for both our building residents and the city at large.
Both IQON and EPIQ will be milestones in the urban landscape of Quito, both will become new architectural and environmental benchmarks for the city, cementing its place in the lives of our clients and the Quito community. Their locations position them as the new centers of the city.
These projects have already done so much to draw the attention of an international community of creatives, designers, and architects to Quito, making the city a hub for contemporary international design. We've long been known for our architecture – in 1978 Quito became the first city in the world to be named a World Heritage site by UNESCO for our incredibly well preserved colonial center. These new architectural developments have done so much to signal our past, present, and future in this architecture and design sphere.
The strategic location of IQON and EPIQ, close to all sorts of urban facilities and public transport systems, is significant – Quito's new metro line will be fully operational by the beginning of 2022. It's going to put these projects in the hub of the city."
Joseph Schwarzkopf: "These buildings are so centrally located and in the middle of growing city centers. Thomas, one of the things I found so compelling about the buildings as we've been looking at the renderings of the projects, and watching them come together, is how much they drew inspiration from the local environment; they're completely unique.
The influence from Quito's rich architectural and natural history of the city is apparent in your buildings. Can you talk a little bit more about that, and those inspirations?"
Thomas Christofferson: "Yeah, I mean, I think both projects are designed to create and embrace a sort of green oasis within the city. There were so many nice parks in Quito, and not to mention the beautiful skyline of the mountains always in the background. In general, the luscious greenery of Quito compelled us to take the natural landscape and pull it up in the skyline on both projects.
So in IQON, every apartment has its own tree. The amalgamation of individual trees spreads all over the facade creating a beautiful type of forest and fades away as you go further into the city. Negotiating between the green landscape of the park and the urban condition of the street behind.
We applied the same concept to EPIQ, which has more units, providing a very green space for everyone. EPIQ also provides private balconies, which also gives residents some communal green spaces all the way up the tower. The roof deck reinforces the communal aspect.
Then also just in the role that the buildings have in the city, there's always a certain porous quality on the ground floor, making a connection from the park to the neighborhood behind EPIQ. IQON also creates a pedestrian connection to sort of a street at the end of a cul de sac street and connects to the center of the city."
Joseph Schwarzkopf: "That is one of the things I really love about our projects with BIG— Quito is not a city with tons of multi-residence buildings, so we don't have as much of that long-standing culture of mixed-use residential and multi-resident spaces as other cities might. These projects are really bringing that long-term sensibility of how a building can interact with the city, both on the street level and within those communal spaces in a way that's really exciting.
And I think it is going to be a hugely positive cultural shift, especially for the people living there and the surrounding community. Both buildings are mixed-use, so they have all the ingredients to become incorporated into the community with retail shops on the ground, office spaces on the lower levels, and residential units at the top.
Tommy, I know that you've talked a lot about these collaborations with international architects as being a cultural dialogue that has the potential to not only bring a lot to the city in terms of architecture but bring different perspectives to the city itself. What are some of the unique results of the collaboration with BIG?"
Tommy Schwarzkopf: "Both projects have created an opportunity to spotlight contemporary architecture and design in the city, and our hope is that this will inspire new creative benchmarks across our city, which is growing very fast. EPIQ is a 24-story commercial and residential tower facing La Carlina park. La Carolina is one of the biggest parks in Quito. Quito is essentially a long valley. To have a park-like La Carolina in the middle of the city is really astonishing.
And IQON is 35,000 square meters tall, which means it will be the tallest tower in Quito, and maybe in Ecuador the whole country. So through both collaborations, Quito is sharing BIG's point of view, informed by work all around the world. As a result, a door has been opened for innovation in design architecture, principally in sustainable urbanism in the city."
Joseph Schwarzkopf: "Just going back a little bit to how the project draws inspiration from the local environment, taking that international architecture, design, style, and making it something that feels very native to Quito. And feels really natural within the environment of the city.
You use color in EPIQ, which is not common in these kinds of buildings and in the way that you've used it, yet special and really exciting. We'd love to hear a little bit more about that decision – how it came to be and what you think it brings to the project?"
Thomas Christofferson: "We can actually create a building where we show the structure, or bones, of the building, and how that is manifested in the unit. So it's really sort of where we articulate all the different living units in the facade. Just having this concrete finish where you experience the framework and the material.
For EPIQ, we started to look around and see that Quito's buildings are quite colorful. It shows a great use of ceramics, even on the facades. We thought we would do a new take on that and use that as the general material finish of the building. And then, since it is somewhat a building made up of several individual buildings, we wanted to comply with the scale of the neighborhood.
Even though it has a certain size and height, it's broken up into elements that are more to scale with the surrounding neighborhoods. We used different colors or hues of the red as a way to accentuate these different volumes that are seemingly stacked on top of each other."
Joseph Schwarzkopf: "I think that's a great segue into the next question that we had, which is for Tommy, about what you think is going to be most exciting about these projects for people in Quito and how you think they add to the community and placemaking, both at that ground level and for the skyline at large?"
Tommy Schwarzkopf: "Well, I think that that's one of the opportunities we have – for BIG to change the skyline of Quito. The residences of Quito are going to see a whole new architectural approach. And also, these projects are located in strategic positions.
EPIQ is located just across from the La Carolina Metro Station. You'll be able to access any part of the city from there just by crossing the street, which is a very new development in Quito. As I told you before, it's a very long city measuring more than 60 kilometers in length, and then you have the valleys so this will in many ways bring the city closer together and make things more accessible than before. So EPIQ will be an incredibly convenient place to live.
At the same time, the design of these sustainable mixed-use buildings have connected two great public spaces at the ground level. Both bring the elements of the natural environment of Quito and other traditional features of Ecuador, such as the colors. In the synergy with the park, we have the mountains and the landscape of the city. From EPIQ, you'll be able to see the mountains and part of the valley in the park. The residents of La Carolina have a spectacular view of Quito's skyline."
Joseph Schwarzkopf: "As we start to get towards the end of our interview, Thomas, I was just wondering if you could touch on your favorite aspects of these two buildings and how they represent BIG's design philosophy while you're also responding to that local context and opportunities."
Thomas Christofferson: "We always like to think of our projects as an opportunity to give something back to the community, in addition to responding to a brief that we receive from a client or organization, of course. We mostly aim to add to the natural greenery of the park. In the skyline, you will be able to know where this park is because of the tall elevations with the green on top.
It essentially frames the park, which I see as an exciting condition. Then, how the building meets the ground and how the public can engage with it walking by, passing under, and so on is also part of the contribution to the city. It improves the quality of life in the urban environment of Quito.
Also, being able to add to Tommy's portfolio was a pleasure. We're working with many different developers across the world. However, it's just been particularly interesting and eye-opening to see Tommy and his family and what they have achieved in Quito. All the buildings that Tommy has designed himself – seeing the process of how you decide, conceive, market, and build all of these buildings was fascinating. Uribe Schwarzkopf is quite a unique company, and that is also sort of quite inspiring to see firsthand."
Joseph Schwarzkopf: "Thank you, that is really exciting to hear – and it has been so exciting for us to work with you and the team at BIG, especially on projects around La Carolina. It's one of those areas that is quickly developing over recent years, and if you return to the city in 2025, it's going to be essentially like a walk of fame for some of the biggest figures in architecture today.
Thinking of the future, the last thing we wanted to ask about today is how the pandemic has changed the way that you work and collaborate internationally. Also, as you're looking at these big projects that bring communities together and bring people's visions from around the world into the day-to-day lives of people that are thousands of miles away, what is the renewed importance that's taken on during this time?"
Thomas Christofferson: "Particularly with these projects, I think we have been lucky to have conceived, designed, and visited the site on numerous occasions before the pandemic. So, a majority of the work that typically requires a lot of traveling had already been done. Of course, we have missed seeing the construction firsthand. Tommy and his team have been good at sharing the progress and anything that needed to be resolved with our systems. We were well informed about the projects, including the sites and any implications there, especially with IQON.
In general, it's been more difficult to work in areas that you haven't visited before. It's critical to visit and experience a place along with its culture, environment, and landscape, particularly when working abroad. Now, unlike past projects, we had to rely on past experiences with these places or conduct research through a screen from far away. Therefore, we relied more heavily on the partners, clients, and collaborators that are actually on the ground."
Tommy Schwarzkopf: "And on the ground, it's been so critical to keep projects moving — there's no doubt that we can then make a huge impact in the construction industry in Ecuador. Being a developing country, it will take a long time to recover from COVID-19, even though we continue working with the same strength of work before the pandemic. The positive density and mobility were top of mind for us before the pandemic, and are even more so now.
In Latin America's biggest cities and around the world, the pandemic has changed the way we live, work, shop, and move around. Architects and developers need to address the future of residential and mixed-use areas, by designing for the cities of tomorrow. Specifically addressing how they are designed to facilitate mobility and access to public space, service, and amenities.
One thing that is important to note is that during the pandemic, the government of Ecuador gave us a special license to continue to work on IQON. With all the sanitary and health measures, it looked like we were in outer space – the way we work with the mask and the special uniforms for our workers. So, it's important to know that we did it and kept all our workers safe. We had a very, very low percentage of people that got COVID. I've been working for many years, and I think it was one of the hardest experiences that I've had in my work so far."
Joseph Schwarzkopf: "That's great for us to keep in mind, especially as we're thinking about the importance of these projects to the city at large. It was also an important sign of recovery as things were getting back up and running. The building being built responsibly helped the city start to get on its feet in that first phase of everything being shut down.
We're so looking forward to both of these buildings being completed in the coming years — and to continuing our collaboration with you and BIG, Thomas!"
Find out more about Uribe Schwarzkopf's collaborations, don't miss Carlos Zapata and Tommy Schwarzkopf on the Unique new element of Quito's skyline.