Architecture
Biophilic architecture: 11 projects where nature meets concrete
As people become more aware of the current issues in architecture associated with human healthcare, the adaptation of the biophilic design concept is on an influencing run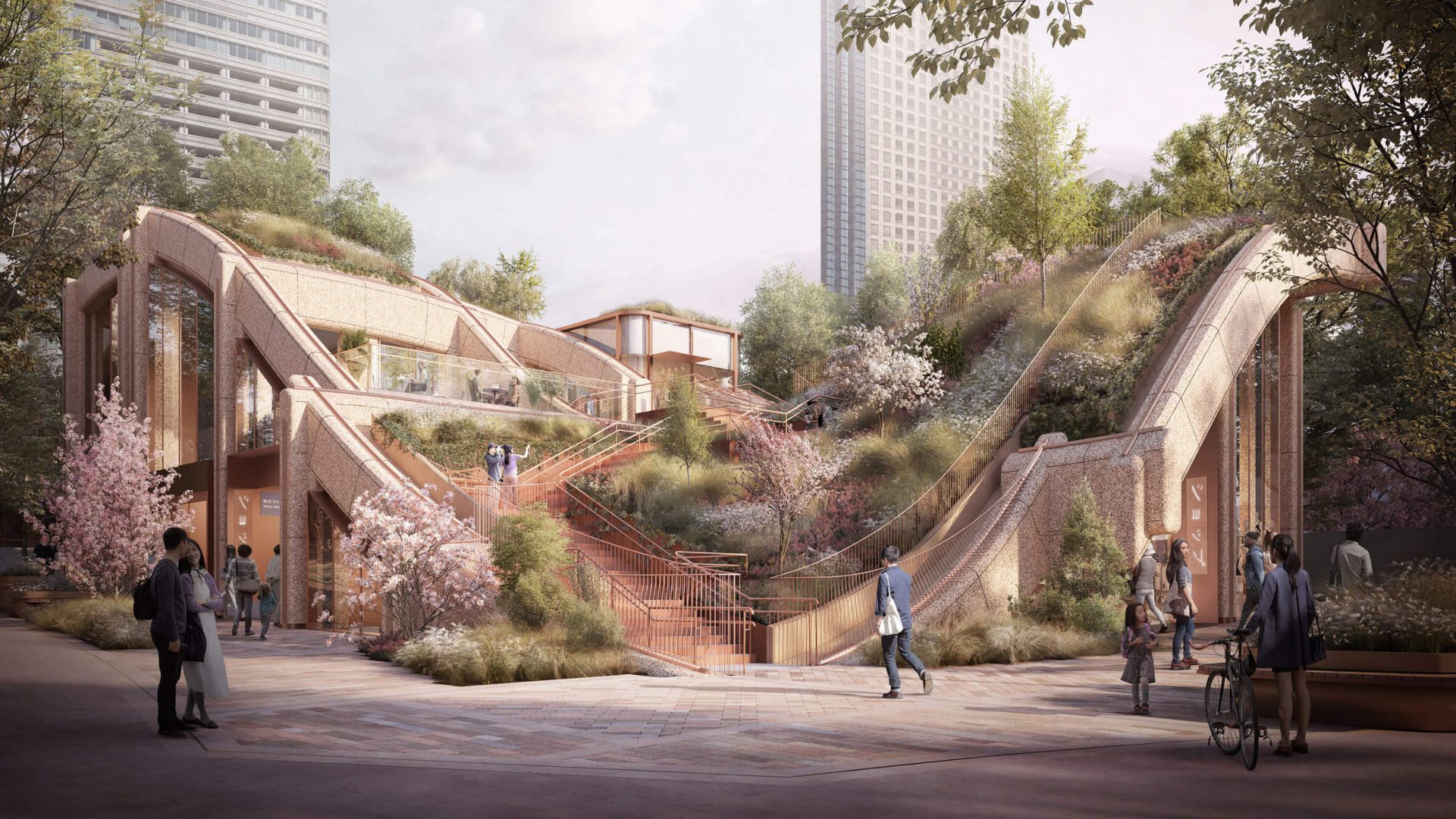 Ever wondered why you enjoy plants and nature so much? The biophilia hypothesis claims that humans have an innate affinity towards nature and that their connection is beneficial, as it does with biophilic architecture.
The integration of greenery, light, water and all sorts of natural elements in interiors positively affects people's perception of space and the time spent on it.
Why are we talking about biophilic design?
Biophilic design is the way to improve the quality of life reconnecting humans with nature.
The concept also applies to architecture and exterior facades, improving the urban landscape from a steel and cement scenario to a greener one, where artifacts seamlessly fuse with natural elements, benefitting our mind, body, and soul.
We also published a guide to Biophilic Design which shows Kellert's principles and the benefits of nature.
Below, we selected some great examples of 'back-to-nature' architectural designs from different corners of the world, challenging old-fashioned buildings for a greener and more nature-oriented future.
Barbican Centre – London, UK
Built in 1982, Barbican Centre is a residential complex and cultural center, situated in an area of London that was damaged during World War II.
Post-war, architecture thrived through a brutalism style with massive chunks of building blocks featuring heavy and impactful lines.
The integration of elements such as plants and water reminiscent of a natural pond due to the lack of barriers and wild vegetation creates a beautiful and soothing juxtaposition with the massive design of the buildings.
One Central Park – Sydney, Australia
One Central Park is one of the largest mixed-use buildings in Australia comprising two residential towers, a shopping center, commercial blocks and a cantilevered heliostat hanging in the sky.
Designed by Ateliers Jean Nouvel and Patrick Blanc, the building features unique elements and complex planning, gaining vital recognition as a biophilic design structure worldwide.
Patrick Blanc's method of using a hydroponic system to create tall vertical gardens, stretching over 50 meters high, is a mind-blowing effort in showcasing the possibilities of biophilic design in architecture.
Second Home – Lisbon, Portugal
Designed by architects Selgas Cano and Estudio Cano Lasso, Second Home co-working spaces are located worldwide and conceived as nature-infused workspaces, enhancing creativity and inspiration.
The Lisbon location looks like an urban jungle, housed above the storied 19th Century Mercado da Ribeira: filled with thousands of plants and natural light, it combines the two functions of co-working and community space.
Presenting a strong contrast between the overwhelming greenery and the industrial nature of the building, Lisbon Second Home is built following hints from evolutionary psychology and biophilia.
It can be considered a biophilic design project showing how "green spaces make people happy".
Bosco Verticale – Milan, Italy
Inaugurated in 2014, these two residential towers instantly became a valuable landmark of the city of Milan and its most forward-thinking mentality.
Stefano Boeri Architetti, the firm behind Bosco Verticale, was inspired by the novel The Baron in the Trees, in which the protagonist decides to leave the ground and live on the trees.
The towers are 111 meters and 76 meters high, entirely covered by approximately 900 trees planted in the terraces surrounding the structures.
The plants are entirely sustained through the use of renewable energy and collecting wastewater.
The Jewel – Singapore, Singapore
When Singapore was being planned, the aim was to make it as green as possible.
The result is an epitome of biophilic design in architecture as we see it today. Amongst numerous great biophilia projects, The Jewel stands out as an icon for public spaces in an urban context.
The Jewel is a nature-themed entertainment and retail complex on the landside of Changi Airport, Singapore.
Linking three of its passenger terminals, the centerpiece is the world's tallest indoor waterfall, named the Rain Vortex, surrounded by decks of forest in the promenade.
Gardenhouse – Beverly Hills, USA
The first project designed by MAD Architects in the USA, the Gardenhouse is a mixed-use building that comprises 18 residential spaces and a ground-floor commercial space.
It is located in Wilshire Boulevard in Beverly Hills, California, and evokes the lush landscape of the city through a "hillside village" scheme.
Residential units are "growing" from the building's living green wall, one of the largest in the USA.
The Gardenhouse makes MAD's aim clear: far from creating another cubic-box living environment, they wanted to provide a calm oasis intrinsically connected with nature.
Gardenhouse shows how architecture can connect with both the built and natural environment to offer a more harmonious living experience.
Garden & House – Tokyo, Japan
Ryue Nishizawa is a Japanese architect and one of the founders of the Pritzker-Prize winning firm SANAA. This four-story home is a result of the clients' desire to live in the city center, among the small urban lot.   
The structure, unlike other typical residences around the area, does not have a facade.
The sandwiched space is divided through floating concrete platforms and floor-to-ceiling glass fronts which are highlighted through the vegetational boundary.
Each floor has its own garden in the periphery along with minimal interiors.
Amazon Sphere Headquarters – Seattle, USA
Amazon Spheres are three domed conservatories located in the Amazon Headquarters campus of Seattle, Washington.
Each dome is covered with pentagonal hexecontahedron panels, varying from nine to twelve meters high.
All three spheres are filled with approximately 40,000 plants along with co-working spaces and lounges, reserved for Amazon employees.
NBBJ, an American Global architecture, and planning firm designed these conservatories inspired by biophilic theories.
Ha Long Villa – Ha Long, Vietnam
To multiply the green area that the property was built on, Ha Long Villa was designed by VTN Architects as part of the "House for Trees" series.
Situated 150km northeast of Hanoi, in the coastal town of Ha Long, Vietnam, the project hinders the destruction of nature and brings together people and the natural environment.
VTN used local and natural material, maintaining the essence of Asian architectural expression.
In their practice, they also explore ways in which light, wind, and water can be used within the architectural design to help connect contemporary architecture with nature.
Naman Pure Spa – Danang, Vietnam
The Spa presents an ultimate wellspring for the 5-star Naman retreat in Danang, Vietnam. The spa consists of fifteen rooms surrounded by the tranquil environment created through vertical and landscape plantations.
The rooms are also encircled with serene lotus ponds, which helps to enhance the meditative state of mind. The facade is an intricate latticework fused with vertical gardens, resulting in a manipulative play of the sunlight.
Vietnam based design studio MIA used local plants to create the Vietnam vernacular.
Planted Pergola – Tokyo, Japan
Founder of the Heatherwick Studio, Thomas Alexander Heatherwick is one of the most significant designers in Britain.
His notable works such as Vessel, UK Pavilion Expo 2010, Bombay Sapphire Distillery and many more are extremely popular landmarks renowned worldwide.
The building was particularly made to provide a new identity into Tokyo's context. This 6,000 square meters structure is a mixed-use building fusing biophilic design and fluid style of architecture.
'Planted Pergola' is a challenging project, shaped in a huge pergola form which seems to be stretched down from a corner, soon to become a distinctive landmark in the redevelopment of Tokyo's Toranomon-Azabudai district.