Architecture
Studio Vural brings hyper-sustainable design to the forefront with off-the-grid Dune House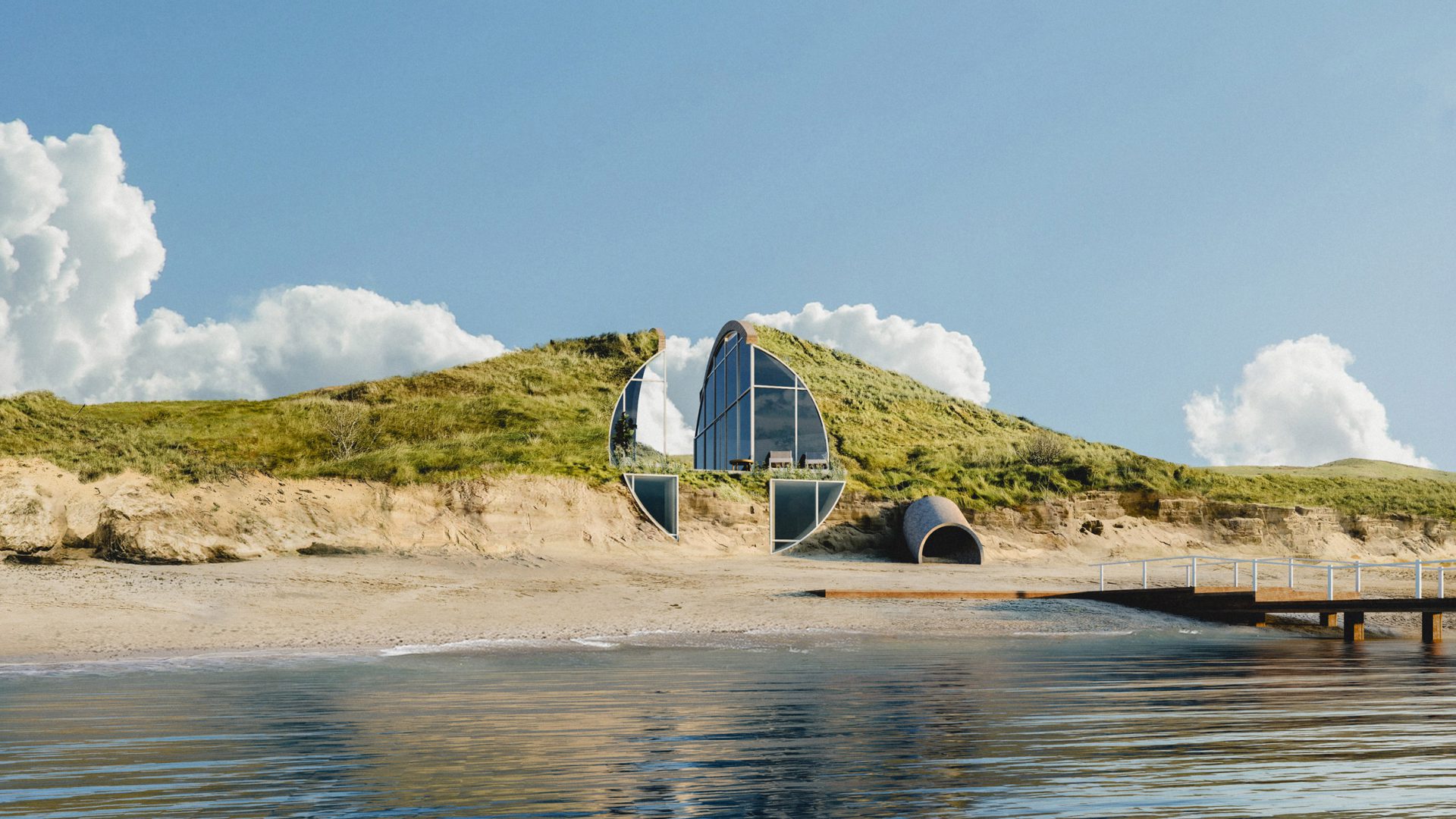 Could the Dune House in Cape Cod be a template for off-grid holiday housing?
As the song says, 'the times they are a changin'. Off-grid living, once seen as the preserve of a few 'hippies', is now an idea that is having to be taken more seriously by architects.
When a New York City real estate developer seeking to build a personal holiday house on the beach commissioned Studio Vural for the project, they saw the opportunity to follow a more radical path, which would produce both an exciting design proposal that embraces alternative methods of construction, building materials, and 'smart' technology.
So evolved The Dune House, a conceptual proposal for a un-plugged, two-storey, autonomous, energy-efficient and self-sufficient dwelling carved into the sand dunes.
Why Dune House? An alternative approach to house design in the battle against climate change.
Located in Cape Cod, Massachusetts, this house has an autonomous power network, it is energized by a solar field and miniature wind turbines, and it is designed to produce more clean energy than it consumes, proving that the technology that brought us to this point will also be our savior.
The minds behind Dune House – Studio Vural
Studio Vural is a boutique architecture firm based in Brooklyn and founded in 2009 by Selim Vural, a Turkish architect with a Bachelor of Architecture degree from Mimar Sinan University in Istanbul and a Master of Architecture degree from Pratt Institute in New York.
Selim Vural who knew the Cape Cod area well from family holidays says the inspiration for the project came to him literally in a flash during a night-time fishing expedition, with the illuminated flash of a squid in the water. If a squid can 'self-illuminate' thought Vural, why not a house?
Materials & Techniques – Super insulation, carbon 'sponge' concrete, and a range of eco power and smart energy systems
The Dune House evolved the concept for a two-storey, self-sufficient dwelling that is carved into sand dunes, which the architect calls "subtractive architecture".
The un-plugged Dune House would be self-sustaining, autonomous dwelling with high capacity power generation; a solar panel array and mini wind turbines are intended to generate electricity for the home.
Extra power would be stored in the "the latest oxidized-zinc batteries designed to be replaced as the technology advances". 'Super insulation' would help conserve energy mainly achieved by anchoring the building in the geothermal temperatures of the sand via deep steel piles and blanketed with earth on all sides.
The Dune House embraces technology through smart heat-recovery systems, and auto-climatic adjustment; for example, the anchoring sand piles also contain conductive fluid piping, which will keep the living spaces cool in the summer and warm in the winter. Theoretically, the house can produce more clean energy than consumed.
The concept also embraces the recent research on absorptive building materials such as walls constructed from fly-ash concrete and native plants for a sponge effect on carbon mass. Wedge-shaped windows designed to bring in daylight and offer views of the water are also designed to be storm-resistant, with large stretches of triple-insulated glass set within metal frames.
Other eco-friendly elements include a rainwater collection and storage system for the supply of fresh drinking water. Sinks and showers would use filtered groundwater, of which there is an abundance in the area.
Style & Aesthetics – Subtractive architecture meets simplicity in plan and interior
In plan, the upper level of the Dune House takes the shape of an octagon. This top floor consists of two wings that are linked by a central breezeway and accommodates public functions, such as the kitchen and dining area.
Stairs lead down to the lower level, and the plan becomes rectangular with a series of bedrooms and a den.
Aesthetically the interior spaces feature white-painted concrete walls, polished concrete floors and blue clay tiles. Bamboo is used for cabinetry and paneling, while the decking of the breezeway is made of porcelain planks.
Construction despite criticism
The design has attracted its fair share of criticism, including some from locals with neighboring properties. Nevertheless, according to Studio Vural, the Dune House is scheduled to begin construction later this year (2020).
Design memento – A house that is part of the landscape
By burrowing the house under the dunes, 80% of the building envelope is covered, and as Studio Vural says "the shoreline silhouette remains unchanged – the house is immersed, not imposed."
The writer's opinion – A bold vision
Dune House brings sustainability talks to the next level, envisioning a solution that is not only 100% self-sufficient but also leaving a positive footprint.
Even if the actual feasibility from both technical and economical standpoints is yet to be seen, the project definitely leads us in the right direction, combining a forward-thinking vision with a captivating and futuristic design.