Design
Biophilic Design Guide – Kellert's principles and the benefits of nature
What is biophilic design? A look at the work of social ecologist Stephen Kellert outlines the theory and practice of incorporating nature in design.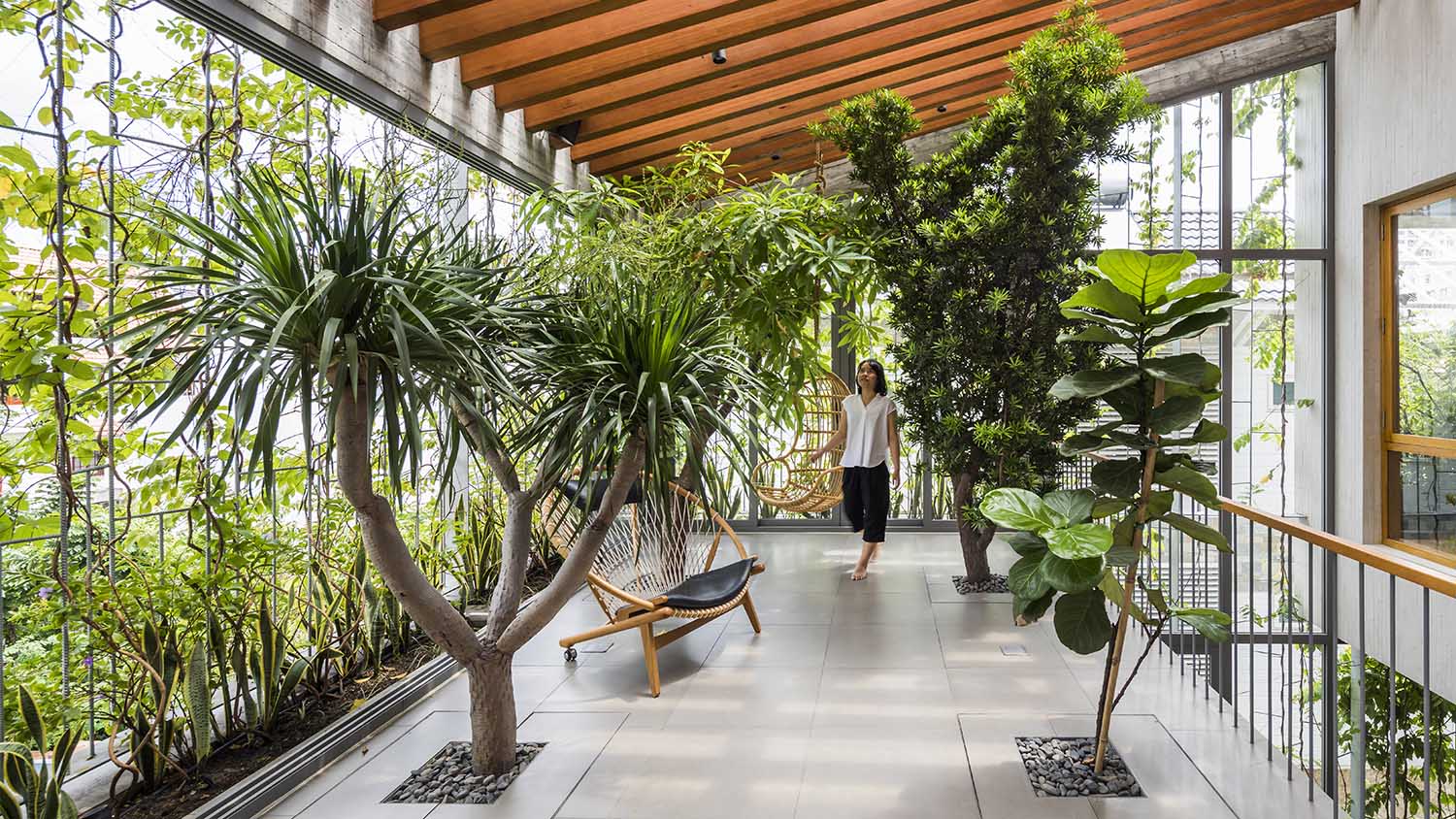 With nature it is possible to improve the built environment – that's the idea behind the biophilic design guide and principles expressed by Kellert. Intended to create a good habitat for human beings, its fundamental goal is to promote physical and mental health, fitness and wellbeing.
It's a concept rooted in human's innate attraction to nature and natural processes, suggesting that this connection is a part of our genetic makeup built up over hundreds of thousands of years living in an agrarian society.
Biophilic design – go to:
What is biophilic design?
Biophilic design is an extension of Biophilia, a term popularized in the eighties by American biologist Edward O. Wilson, who concluded that urbanisation was harming this connection.
It's an idea that has gained traction demonstrating its relevance in our everyday life.
Just look at human's affiliation with animals, the desirability of houses with a view, and the fact that green as just a colour, with no real natural properties, has been proven to have healing effects because of its strong associations with nature.
Wilson's "Biophilia hypothesis", which outlined a tendency in humans to seek connections with nature, inspired many theorists to research this supposed phenomenon in its various guises. One of whom was Stephen Kellert who explored applications within the design world.
Through his research, Kellert found that nature's tranquillity had the power to enrich the urban environment and create a multi-sensorial experience of human-built spaces.
From various elements like water and light to vegetation, organic shapes and even the patina of time, Kellert has studied the different ways that nature can transform space into a harmonious and multi-sensory experience.
They form part of his biophilic design guide, which explain how nature can be used to not only promote wellbeing but also a sense of place. Whilst nature can support mental and physical health Kellert believes it can also enhance our emotional attachment to particular settings.
Biophilia and biophilic design are about our values and ethical responsibility for the care and sustainability of the natural world. It might help to understand Kellert's understanding of biophilic design.
He details three ways of experiencing nature in the built environment. These include:
the direct experience of nature, such as contact with plants or landscapes
the indirect experience of nature, which might include natural materials or motifs
and the experience of space and place
The latter refers to a more abstract experience of nature like a feeling of refuge or a space imbued with cultural or ecological meaning.
Kellert's biophilic design guide
So, what does this look like in practice? How can we learn from our innate relationship with nature and incorporate biophilic design?
Inspired by Kellert's biophilic design guide, we've come up with a set of guidelines to help you bring biophilic design into your next project, starting with two distinct ways of making connections with nature.
1) Visual connections with nature
This could be with an element that's naturally occurring like a view or a body of water, or it might be achieved by simulating nature.
Plants or exposure to natural imagery through wallpaper, art, or even a green painted wall work to promote concentration and reduce stress.
2) Non-visual connections with nature
Biophilic design isn't limited to what can be seen or even touched.
Sound, smell, taste and movement are all senses to consider.
Hearing water, smelling flowers and sensing the movement of air within a space are great ways of promoting a perception of the natural world.
The qualities and attributes of biophilic design
The practice of biophilic design involves the application of varying strategies including:
interior design
architecture
sustainability
product design
What follows is a brief set of rules and tips to inspire a biophilic approach to these different areas:
1) Consider air, water and fire
Whilst not all readily available, these elements are crucial to human comfort and productivity.
Air, through access to the outside, operable windows and often more complex engineering
Water, experienced through multiple senses to relieve stress
and fire, a less common feature reserved for rooms designed with the appropriate facilities to contain its light, color and movement, all potential sources of comfort
2) Invite the light in
Windows, glass walls and clerestories bring light into interior spaces, which not only promotes physical health but an understanding of movement and wayfinding.
If these options aren't available, even simulated light has a positive impact, interacting with elements in a room to create an interplay of light and shadow.
3) Think plants and animals
The presence of plants and other living things are two of the most successful strategies for creating a direct experience of nature. This includes isolated plants or an abundance of vegetation that lives and breathes throughout a space.
Meanwhile, feeders, gardens and aquariums promote positive contact with animal life, especially when promoting natural landscapes and ecosystems. Choose local species of both plants and animals to add ecological value that is relevant and meaningful.
4) Nature comes in all shapes and guises
The image and representation of nature can be just as powerful as the real thing. Organic shapes in furniture design or leaf-like patterns in architecture are both examples of this.
Photographs, paintings and other mediums of artistic expression can also help to simulate nature, as well as materials like wood, stone and leather, and colours such as earthy tones.
It's possible to simulate nature down to natural light and air thanks to advances in technology.
5) The qualities of nature go beyond the physical
As well as visual elements, Kellert perceives nature as something rich in information and characterised by age, change and the patina of time.
In practice, these more obscure qualities might translate into spatial design that is complex and diverse, incorporating naturally ageing materials that reveal the passage of time.
[ Read also Nature-inspired wallpapers bringing happiness and wellbeing indoor ]
6) Create a space for refuge
The relationship between humans and nature is mostly defined by a need for shelter. A space that feels safe and provides a sense of retreat or withdrawal is satisfying in the built environment.
This could be a window bay that serves as a reading nook, a set of high-back chairs that create a sense of security or a room decorated with an abundance of soft cushions and tactile materials.
7) Consider the spaces within spaces
Other important elements Kellert draws attention to are transitional spaces and the pathways that help users navigate and understand environments. People's comfort and wellbeing relies on a freedom of movement without complication.
[ Read also Besides plants, what do you know about biophilic design? ]