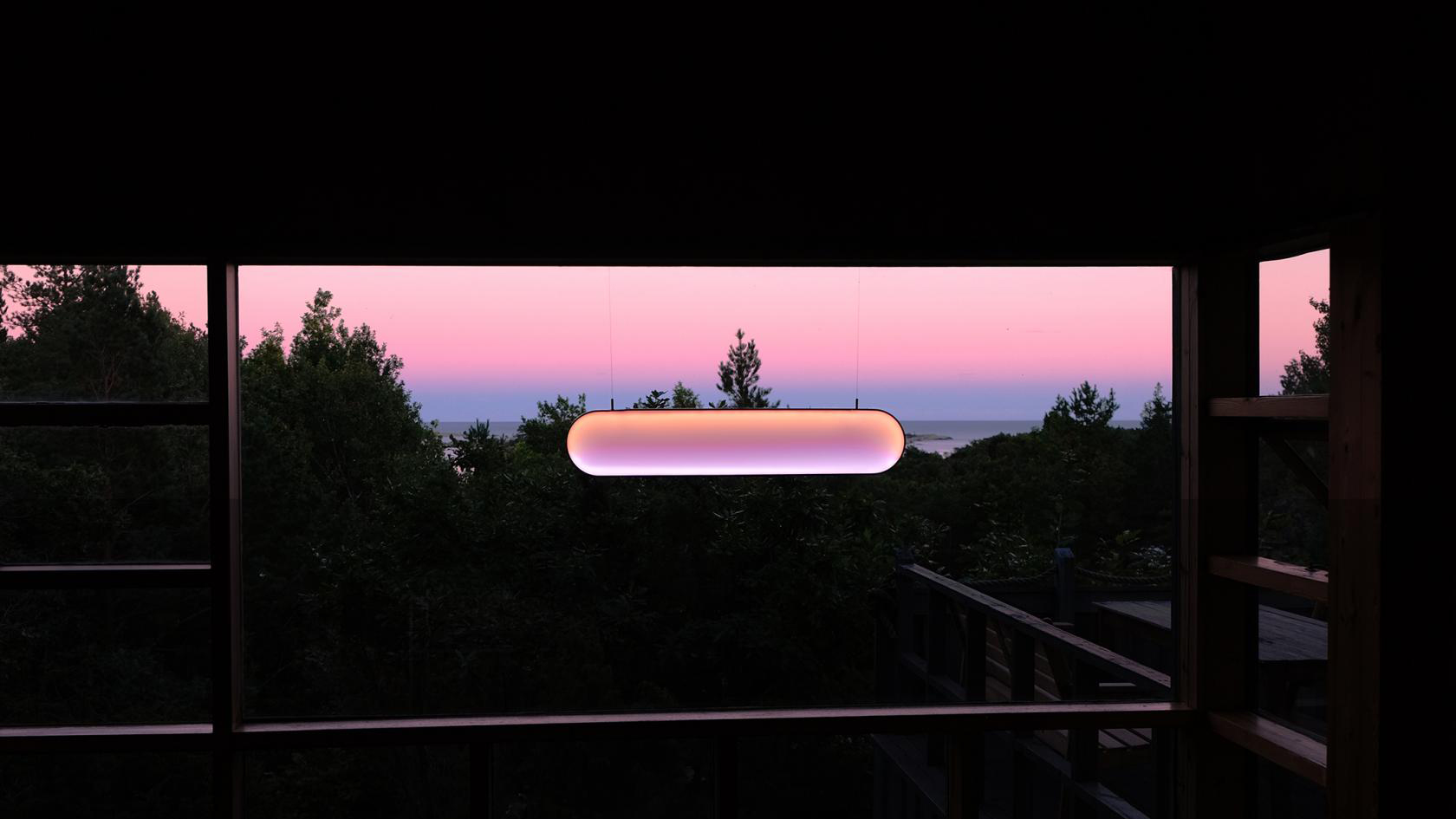 Biophilic product design to reduce stress and promote activity. Discover the power of nature with the lights, lamps and other concepts defining this upcoming trend.
The guiding principle of biophilic design is quite simple: connect people with nature and improve their quality of life. As the world continues to urbanize, the aim is to remedy the negative effects of the built environment.
This can be done in a myriad of ways, the most common approach is to incorporate features like water, vegetation and sunlight. It's as simple as bringing the outdoors in.
But what if you don't have these natural elements to hand? Well, another typical characteristic of biophilic design is the use of colour and shape. Green hues, undulating lines and organic shapes – as long as the interior includes features reminiscent of natural forms, those alone can reduce stress, enhance creativity and improve well-being.
That means it's possible to apply the principles of biophilic design through objects, and what better way than with lamps. After all, lighting is important and if forced to rely on artificial sources, an organic twist can imbue an interior with at least some of the desired qualities of nature. So, we've selected some inspiring examples that illustrate the power of biophilic product design and the concepts that define this upcoming trend.
Giving it some green
A straightforward approach to biophilic design is to incorporate vegetation into the design, which is exactly what these lighting products have done. Biophilic design isn't just about flora but using lighting to make plants or hanging baskets a focal point is a good start.
Mygdal Plant Lamp
Created by Nui Studio, inside the Mygdal Plant light is a self-supporting ecosystem thanks to LED grow lights and a clever design that keeps its plant watered. The design is hermetically sealed, so the water inside the pendant cannot escape, evaporating and condensing in a closed cycle that keeps the plant always sufficiently wet. What's more, the Mygdal Plantlight doubles as both pendant and table lighting.
Request the lamp on Nui Studio
Babylon Pendant Light
Inspired by the hanging gardens of Babylon, the Babylon Light is a multifunctional pendant for those who love plants but not the clutter of flowerpots. Designed by object/interface, it offers downlighting up to 180° horizontally, ideally suited as a centrepiece above tables, working surfaces and transitional areas.
Price: $495.00 on object/interface
Luxie by Qvarta
This concept design by Luxie offers a more minimalist take on plant-style lighting. Described as a"'vase with LED lights", the focal point is a narrow stem in which to place flowers or a decorative leaf. Surrounding that is a wall-facing ring light to illuminate any room or space in the most modern of ways.
Check the concept by Qvarta
What is biophilic design? Check out the Guide to Biophilic Design – Kellert's principles and the benefits of nature.
Copy circadian rhythms
Another approach is to come up with systems that mimic the natural pattern of the sun, otherwise known as circadian lighting design. These lighting designs work in harmony with our internal biological clocks, modulating intensity and spectrum to amplify occupant comfort and productivity.
Sunne – The solar light that brings the sun indoors
Sunne is an app-controlled, self-powered solar light that captures, stores and produces light indoors. It harvests energy from the sun by day and at night, it brings sunlight into your home. The Sunne light is made from one long curved strip of aluminum. It's shaped like the horizon, the curve providing a larger surface area that allows for maximum solar cells.
Back the project on Kickstarter
Dyson LightCycle Morph Desk
Dyson's Lightcycle Morph desk light emulates many of the properties of natural light and uses daylight tracking algorithms to continually adjust the color temperature and brightness in response to local daylight hours. As well as mimicking natural light, the lamp offers personalisation features based on the user's age, location and how they use the light. The device also features 360-degree manoeuvrability for lighting that can point in any direction.
Price: $649.99 on Dyson
mySun by Sunlight Inside
The tech behind Sunlight Inside's mySun desk lamp mixes 6 colors to deliver daily and seasonal cycles of natural light. Working to provide what it calls 'mySun Therapy', mySun delivers the benefits of natural light to support mood, energy and sleep. It's also incredibly easy to use with no setup required and Sunlight Inside preprogramming the lamp to the users time.
Price: $299.00 on Sunlight Inside
Mimic the look of nature
Another way to approach biophilic lighting design is to create solutions that look natural. This means echoing shapes and forms you'd expect to see growing outdoors.
Nana Lure 48 by Pelle
The Nana Lure 48 is part of a collection of nature-inspired designs by Pelle combining realism with fantastical abstraction to bring a botanical illustration to life. Here, a distinctive banana frond is hand-sculpted into a single giant cast-cotton painted leaf, which acts as a natural shade and is illuminated to become a standing or suspended light.
Request the lamp on Pelle Designs
Biophilia Hanging by Lanzavecchia + Wai
The star of the Biophilia hanging lamp is its lampshade of a sintered polymer. Its design takes cues from its growth-like method of manufacture, 3D-printing. Biophilia's design looks as though it's fed by a web of veins, sprouting and growing from the light source. Its designers, Lanzavecchia + Wai, describe it as an industrial product designed as a living organism.
Check the concept by Lanzavecchia + Wai
Discover how other companies are using digital fabrication technologies in lighting design, don't miss Giulio Masotti combines the digital and the physical realms.