Design
5 projects that explore different uses for bioplastics
Can bioplastics be utilized to wean the world off fossil fuels? Brands and designers continue their search and show us how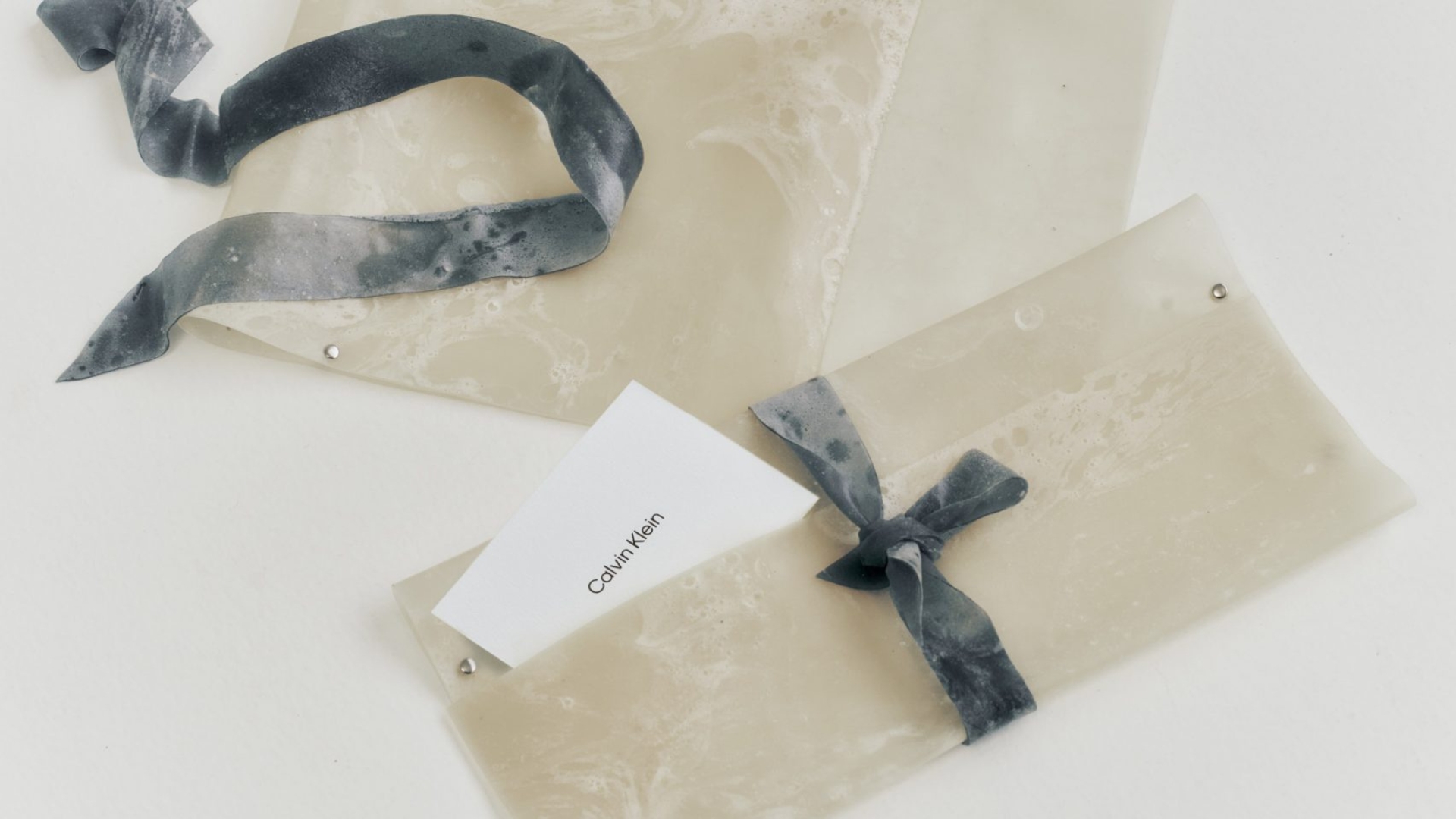 From Doppelgänger to Calvin Klein, Natural Material Studio, Evolution Music, Zuzanna Skurka, Stella McCartney and Radiant Matter – today designers and brands are constantly finding innovative ways of utilizing bioplastics and effortlessly integrating it into their everyday.
Here to reduce the looming problem of plastic waste and fight pollution, bioplastics are biodegradable materials that offer an alternative to traditional plastic – derived from renewable natural resources such as plants.
Did you know that regular expanded polystyrene (EPS) is difficult and uneconomical to recycle and ends up occupying approximately 30% of the space in our landfills? Shedding light on this – Doppelgänger has skillfully created a polystyrene substitute from plastic-eating mealworms, a material called Chitofoam.
On the other hand, rather than a traditional roll of disposable wrapping paper – Natural Material Studio seamlessly crafted a reusable biomaterial gift wrap for Calvin Klein. Intrigued?
Additionally, after struggling to find sustainable solutions for physical media – Evolution Music went on to make an ecologically sound bioplastic 12-inch vinyl record.
And curious about how architecture can be even more flexible, simple, translucent and "all the opposite aspects of a brick" – Natural Material Studio and Zuzanna Skurka further showcased organic Brick Textiles fabricated from soft bio textiles.
Lastly, with a gap in the market for a more sustainable sequin for garments – Stella McCartney and Radiant Matter released a bodysuit created with beautiful iridescent BioSequins made from tree cellulose.
Read on to know more about these five eclectic but one-of-a-kind projects that brilliantly highlight different uses for bioplastics!
1. Chitofoam by Doppelgänger
Based in the United States, Charlotte Böhning and Mary Lempres of Doppelgänger develop a bioplastic version of polystyrene foam – a material named Chitofoam. They have been also chosen among the 6 finalists of the Lexus Design Award 2022.
Shock-absorbent and water-resistant with the ability to be formed into cups, foam peanuts and other packaging – it's made from the exoskeleton of mealworms and breaks down in soil in a couple of weeks.
They created the bioplastic to offer a backyard-compostable alternative to traditional expanded polystyrene (EPS).
"At the end of its short life – polystyrene is not accepted by recycling centers and is undesired by landfills. It's a problematic plastic with no second life that affects the future generations, environment and earth!" says the duo.
While polystyrene is made from petroleum-based styrene – Chitofoam, on the other hand, is derived from a biopolymer called chitin, which mealworms utilize to build their strong yet pliable exoskeleton.
This bioplastic foam could additionally be made from any mealworm – the larval form of mealworm beetles, other insects or crustaceans with a chitin-rich shell such as lobsters as well as beetles.
Böhning and Lempres made their version from the mealworms living in their own homemade biodigester – which they developed to dispose of the polystyrene modeling foam and packaging used in their studio.
2. Calvin Klein Gift Wrap by Natural Material Studio
Designed as a Christmas gift wrap last year – Copenhagen-based Natural Material Studio unveiled a pouch crafted from a biomaterial for fashion brand Calvin Klein, reflecting its minimalistic aesthetic.
This neutral-toned pouch is formed from handmade sheets of a biotextile, developed by the studio, called Procel – fabricated with a blend of protein bioplastic, a natural softener and natural pigments.
Each rectilinear pouch features a subtle, swirly pattern on its surface that is reminiscent of bubble residue and is held together by four steel pins – one in each of its corners.
Created from a slightly softer version of Procel – a coal-hued ribbon can further be tied around the pouch as a decorative element.
Lastly, the pouches are recyclable as well as biodegradable.
"We wanted to design gift wrapping that could be reused, to challenge the whole single-use culture that especially accelerates during Christmas.
Our original inspiration was the Calvin Klein universe – we wanted to capture a contemporary organic tone in our material colors and tactilities.
Hopefully this bespoke gift pouch can start new conversations around the Christmas table!" says Bonnie Hvillum, Founder Natural Material Studio.
3. Vinyl Record by Evolution Music
Utilizing existing record pressing machinery – music and sustainability collective Evolution Music designs a 12-inch vinyl record made of bioplastic.
This product is created from specially designed bioplastic instead of traditional, carbon-intensive PVC.
Embodying a black disc illustrated with a central graphic design – it looks and functions exactly like a standard vinyl.
"It's a robust, ecologically secure compostable material made specifically to act and sound the same as a PVC-derived vinyl!" says Marc Carey, CEO Evolution Music.
To create this bioplastic – a four-year development process involved identifying a base polymer that acts in the same way as traditional PVC, without producing harmful substances.
After this – the team sourced bio-organic fillers and co-created a solid additive used for plastics called a bio masterbatch.
Their aim was to create a biopolymer that is authentic, truly sustainable and ecologically sound.
4. Brick Textiles by Natural Material Studio and Zuzanna Skurka
Copenhagen-based Natural Material Studio and Polish designer and researcher Zuzanna Skurka presented Brick Textiles at Milan Design Week 2023 – an installation made from soft bio textiles.
The studio worked with Skurka to create the textiles from highly porous repurposed bricks that were classified as waste after demolition projects.
Drawing upon traditional weaving techniques, the textiles were made from a combination of crushed bricks bonded together with Procel – a home-compostable, protein-based bioplastic of natural softener and pigments developed by the studio.
Featuring a distinctly reddish hue – the textiles were additionally divided into large roughly-cut slabs that hung suspended from the roof on metal bars in a room at Alcova to form a dramatic installation illuminated by skylights.
Holes were further pierced into the corners of the slabs so that they can be linked together.
While the water-resistant textile is already being used by interior architects as room dividers – the studio hopes that one day it could form whole walls.
"The way we build and how we live in the built environment shapes us – so if we can build a more flexible and organic biomaterial, we want to start the exploration of what that experience is!" says Bonnie Hvillum, Founder Natural Material Studio.
5. Bodysuit by Stella McCartney and Radiant Matter
British fashion brand Stella McCartney fabricates a bodysuit adorned with BioSequins – bioplastic sequins made from tree cellulose by biomaterials company Radiant Matter.
The shimmering sequins were developed as an alternative to the petroleum-based plastic options on the market – which may contain harmful carcinogenic chemicals.
"When I used to work in fashion design studios – I felt first-hand the discrepancy between the beauty of the craft, the narratives being told and the disappointingly toxic material choices I was confronted with.
Radiant Matter is working on solutions that are healthy for the planet without compromising aesthetics!" says Elissa Brunato, Founder Radiant Matter.
Each disc-shaped BioSequin is created from renewable polymer cellulose extracted from trees.
The cellulose's material properties mean that it naturally reflects light and makes the sequins sparkle.
By contrast – traditional plastic sequins are often coated or finished with synthetic, toxic or metalized parts to give them their shine.
"Our BioSequins are structurally coloured – the color stems from the material's innate structure rather than from dyes, metals or minerals.
Conventional sequins are made of a polyester film called Mylar or polyvinyl chloride (PVC), which causes particularly significant environmental and health risks – producing toxic, bio-accumulative chemicals, including carcinogens, such as phthalates and hormone disruptors!" Brunato adds.