Architecture
This Glass House sits on the rugged slopes of an extinct Mexican volcano
Conceived as an off-grid hideaway for two, Mexico-based Singaporean designer Prashant Ashoka created Casa Etérea as a sustainable housing concept that reconnects with nature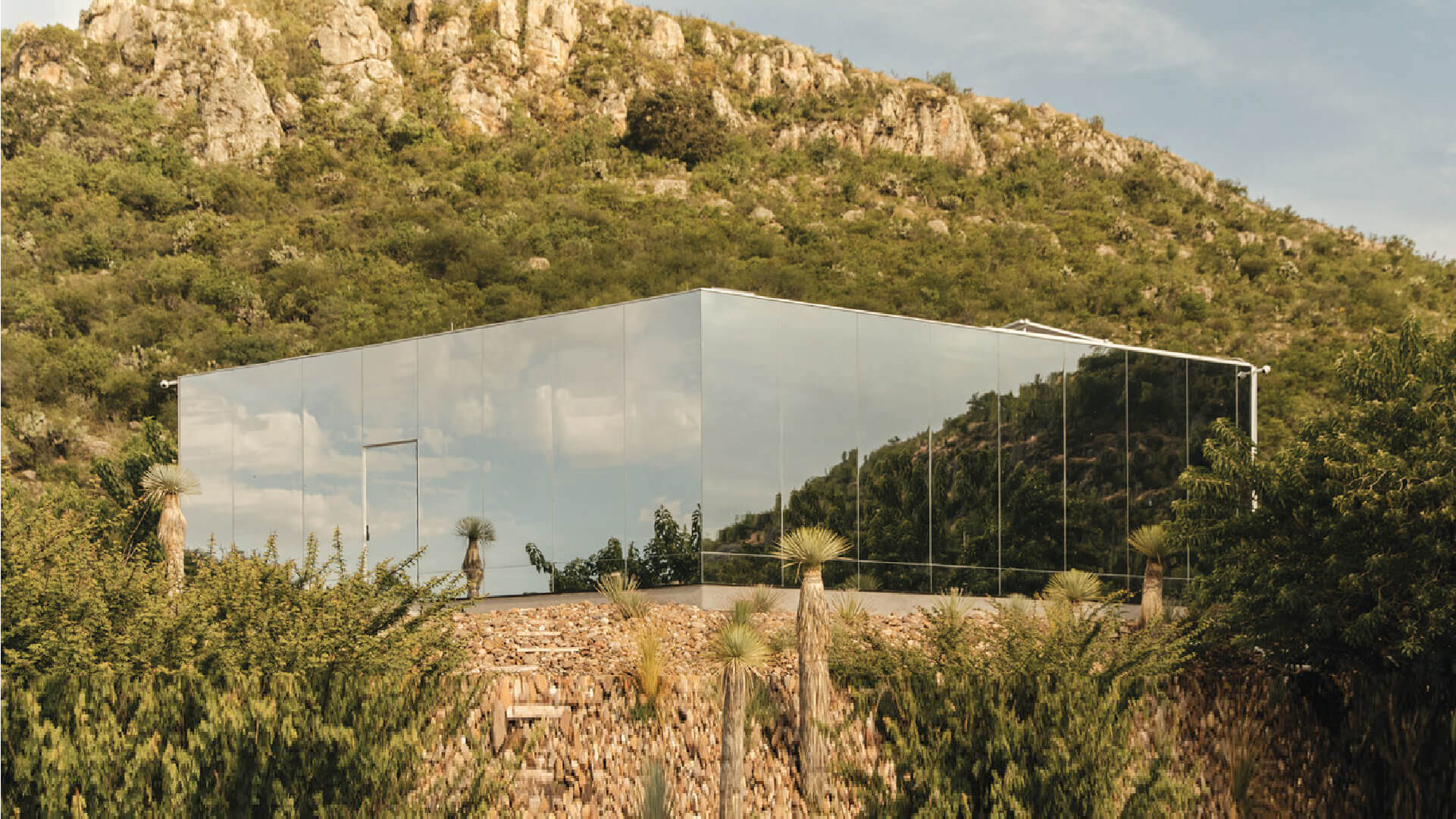 Twenty minutes from the UNESCO World Heritage Site of San Miguel de Allende in Mexico, Casa Etérea sits on the slope of an extinct volcano. The sustainably-built dwelling is encased in mirrored panels, reflecting the changing light that illuminates its rugged landscape. 
Conceived as an off-grid hideaway for two – the aim was to create an isolated writer's retreat completely integrated with the environment.
The minds behind Casa Eterea – Prashant Ashoka and NAMUH
Prashant Ashoka is the owner and designer of Casa Etérea, a writer and photographer who came up with the idea for a glass house during his first trip to Mexico. Motivated by its beauty, he moved to San Miguel de Allende to fulfill his dream of escaping into nature. 
Ashoka worked with the San Miguel de Allende interior design firm Namuh to accent the interiors of the open-concept house. Founded in 2014, Namuh Studio creates furniture and accessories inspired by cultural diversity, a respect for nature and the human environment. 
[ Read also 18 mirrored timber cabins form a mountainside hotel ]
Materials & Techniques – Bird-Friendly Glass and Polished Concrete
Set across 800-square-meters, the most prominent feature of Casa Etérea is its glass exterior, which uses striped UV-reflective lighting to create an almost celestial effect in the dark. It also makes the home visible and more importantly, bird-friendly, echoing the designer's respect for nature present throughout the project. 
Working from an intention to leave the landscape untouched, the foundation of the house was built entirely from rock collected off the mountain. And by utilizing site orientation, efficient ventilation design, and insulated glass, the house naturally regulates temperature in the semi-arid desert climate of the central Mexican highlands.
The open-planned concept consists of two rectilinear volumes that merge at a 120-degree V-shaped intersection – drawing an angular likeness to a staggering ravine visible through the exposed glass shower. Behind the intimate kitchen, a rooftop stairway access doubles as a utility room, and remote-controlled outdoor PVC shutters were added to provide security and privacy.
Style & Aesthetics – Modernist & Craft
The style of Villa Etérea is dictated by a language that merges nature and architecture. Inside the contemporary exterior, interiors are characterised by walls and floors finished in polished concrete, exposed wooden beams that soften the space, and floor-to-ceiling glass doors that the surrounding views.
Celebrating Ashoka's Asian roots and merging them with Mexican craft culture, he decided to collaborate with local furniture Namuh. The studio sourced pieces throughout the home including the Balinese jute lamps and earthen porcelain in the bedroom. In the kitchen, porcelain countertops are paired with blackened walnut cabinets while bar stools of the same material rest on a cream and teal Turkish Oushak rug.
Ashoka also commissioned artisans in Santa Clara de Cobre in the state of Michoacán to create a copper bathtub. Other touches throughout the home offset metal details and a neutral colour palette of jute, leather, and stone.
Emotional Architecture
Casa Etérea is heavily inspired by the concept of 'emotional architecture' – a term coined by Mexican architect Luis Barragán and sculptor-painter Mathias Goéritz. It can be seen in the project's success in creating a deeper sensory resonance by using exterior mirrored panels to create a visually abstract and interactive experience.
The mirrored façade diffuses the liminal space between the wild and the structured while allowing the volume to take on a transitional quality as it reflects the unfolding seasons.
Alluding to this quality of the building, the name 'Etérea' translates from Spanish to 'ethereal', and suggests a nebulous, otherworldly vision. Both visually and functionally, the project touches on architecture as site-specific installation art and as an extension of the environment.
Design memento – A trend in 'Isolationist Travel'
Casa Etérea is reflective of the trend in travelers seeking out remote experiences. It's of the moment right now when people are forced to socially distance themselves.
Ashoka wanted to build a space that creates opportunity out of this reality, fulfilling the desires of those who experience it to evolve and be inspired by a deeper examination with nature.
The writer's opinion comment – A celebration of all that is good in 2020
Ashoka put it best himself by saying that recent experience has made us acutely aware of our interdependence with our environment. Being forced to work remotely, and in many cases stay at home, has forged new meaning when it comes to our relationship with sheltered spaces.
2020 has also highlighted the importance of the environment, presenting several opportunities for us to build back better with stronger, resilient economies in harmony with nature.
Casa Etérea combines these themes – the importance of shelter and the natural world – in a striking project that creates a deep sense of awe for the wild.
[ Read also Casa Bautista: truly sustainable luxury at the heart of Sian Ka'an Biosphere ]