Architecture
Ancient Xi'an is playfully transformed by Cheng Dong: A Coherent City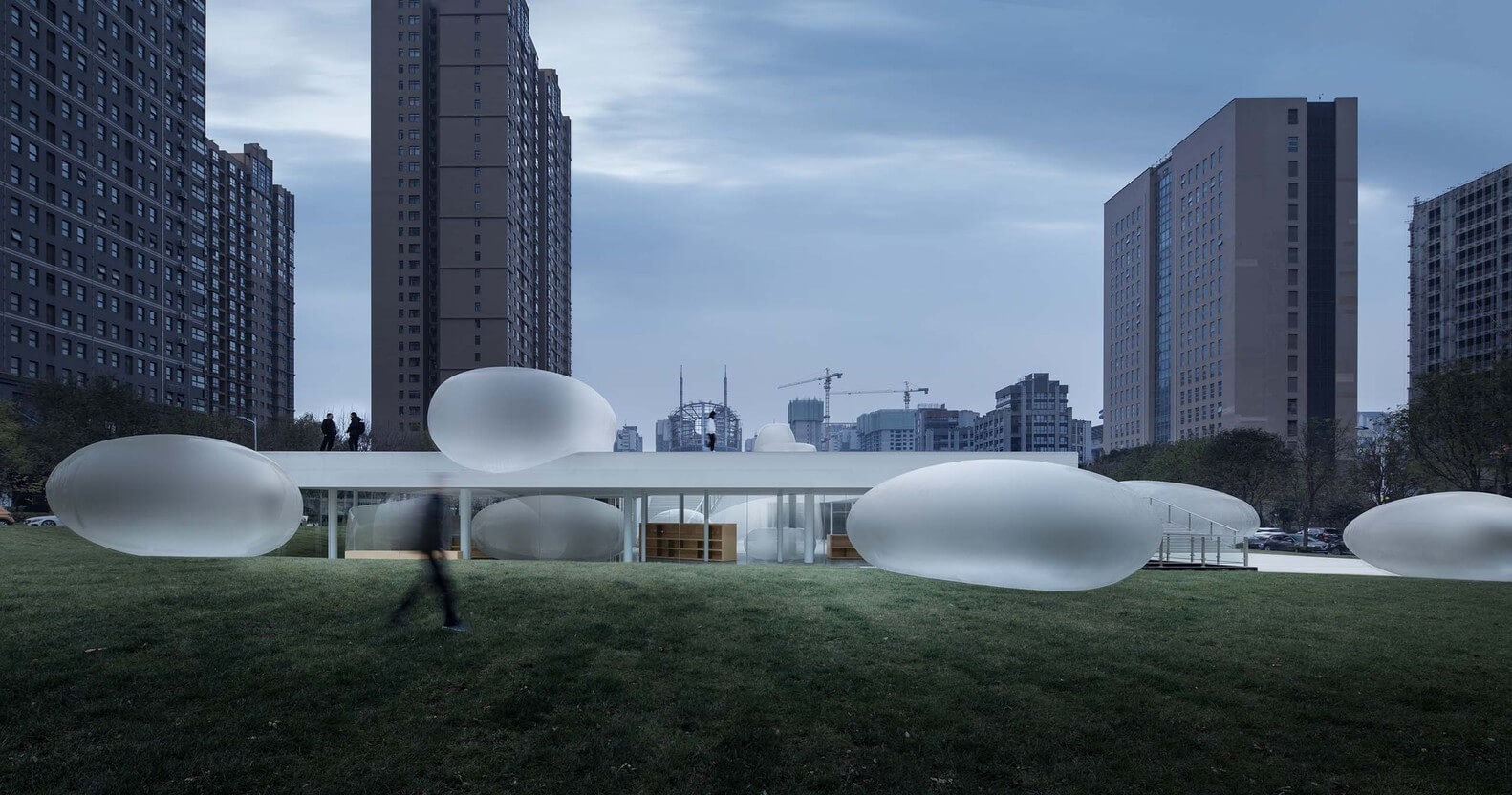 Giant white bubbles, stepped platforms and glazed walkways make Cheng Dong: A Coherent City by Sangu Design a human-friendly public space that stands out from the surrounding grey skyline.
Xi'an is a famous historical Chinese city which attracts many tourists who come to see the Terracotta Warriors.
Cheng Dong: A Coherent City sits as a dramatic contemporary renovation of a neglected site in the Qujiang district of Xi'an, surrounded by roads, office blocks and residential areas. Previously it was occupied by a two-story car park.
Why Cheng Dong: A Coherent City? To transform and revitalize a public space through simple human-centered design that avoids pursuing an extreme aesthetic.
Sangu Design was initially commissioned to complete an urban square and landscaping. What resulted is a revitalized area combining a public space with artistic and functional architecture.
The Minds behind Cheng Dong – Sangu Design
Founded in 2017 by Gu Teng, Sangu Design is based in Guangzhou China. Gu Teng describes himself as a "space designer, specializing in interior and industrial design."
Sangu Design is a design firm whose work includes interior and architectural design, furniture design and planning services. Gu Teng's work has received numerous design awards, including a prestigious Red Dot, and Gold in 2014 at the German iF Design Awards.
The studio takes a very human-centered approach and prides itself on being forward-thinking and providing innovative design solutions.
A project which stands out is the recently completed toilet block refurbishment 120m from Grand Tang Dynasty Ever-bright City, Xi'an. The existing toilet block which imitated ancient Chinese architecture could not be totally dismantled but was fundamentally re-envisaged as a minimal rust-colored building and the addition of a coffee shop.
Materials & Techniques – Secondary to the spaces
In the approach that Sangu Design takes, materiality is never at the fore of the discussion. As Gu Teng explains, "the space is the core of design".
Materiality remains at the service of the design concept and here is used in a pragmatic way. Glazed walls, round white columns, metal railings, paving and flooring all bring the form to realization in a cost-effective way using common industrial construction techniques.
Style & Aesthetics – Delightful and simple fluid spaces
This low, light and bright project standouts out against a backdrop of tall grey buildings. A collection of soft semi-opaque white membranes gather around and on top of the architecture. The proportions and mix of levels are a playful design that inspires the imagination.
The project creates completely different spatial experiences to anything around it and city residents can freely enter and move through the project. Disparate surrounding spaces are unified—underground parking, streets, and adjacent park. The flow is natural and relaxed as people cross it without any clear defining boundaries.
The architects explain, "No. 12 public building is like a seesaw. Its lower part is transparent on all sides, the roof is half-open, and its upper part of the building floats in the air, so it gives people a feeling of falling." There is a blurred relationship created between indoor and outdoor spaces.
Stepped platforms lead from the ground floor to the upper terrace area, which can be used for leisure or to take in the view. This platform forms a transition point and people can exit in a direction opposite from where they came.
Building to prevent human heartbreak
Gu Teng writes that "a totally humanized public space can prevent human heartbreak." Surely, a lofty and philosophical aim, but it is central to his design approach.
He is optimistic and ambitious in architecture's possibilities, suggesting that, "buildings actually could help make up for important social deficiencies when they take social conditions into consideration." They can be places which inspire connection and "transcend personal loneliness and urban barriers."
Design Memento – Design must be activated by people
Gu Teng sees the project as something of an experiment that is confirmed by how people engage and react to space. He stresses that design must understand people and that a "building needs people to activate it."
Cheng Dong increases the possibilities of interactions. People can wander through, use it as a meeting point, or for rest and a moment of contemplation, "thus the space can have multi-layer interaction, human-to-human interaction, and human-to-nature and social interaction."
The Writer's Comment – Images of community
This project demonstrates how carefully considered and simple urban spaces can have transformative power.
Informed by Kevin Lynch and his renowned book, Images of the City, Gu Teng is deeply concerned with how people understand and respond to the city and public spaces around them. Through contrast and connection Cheng Dong: A Coherent City would easily stand out as a key node in the area.
The relaxed design encourages harmonious interactions, and contributes to personal narratives as well as fostering a sense of community. It is no wonder that the architects say the project went viral on social media.