Home appliances
The Circulab concept includes a hairdryer with swappable parts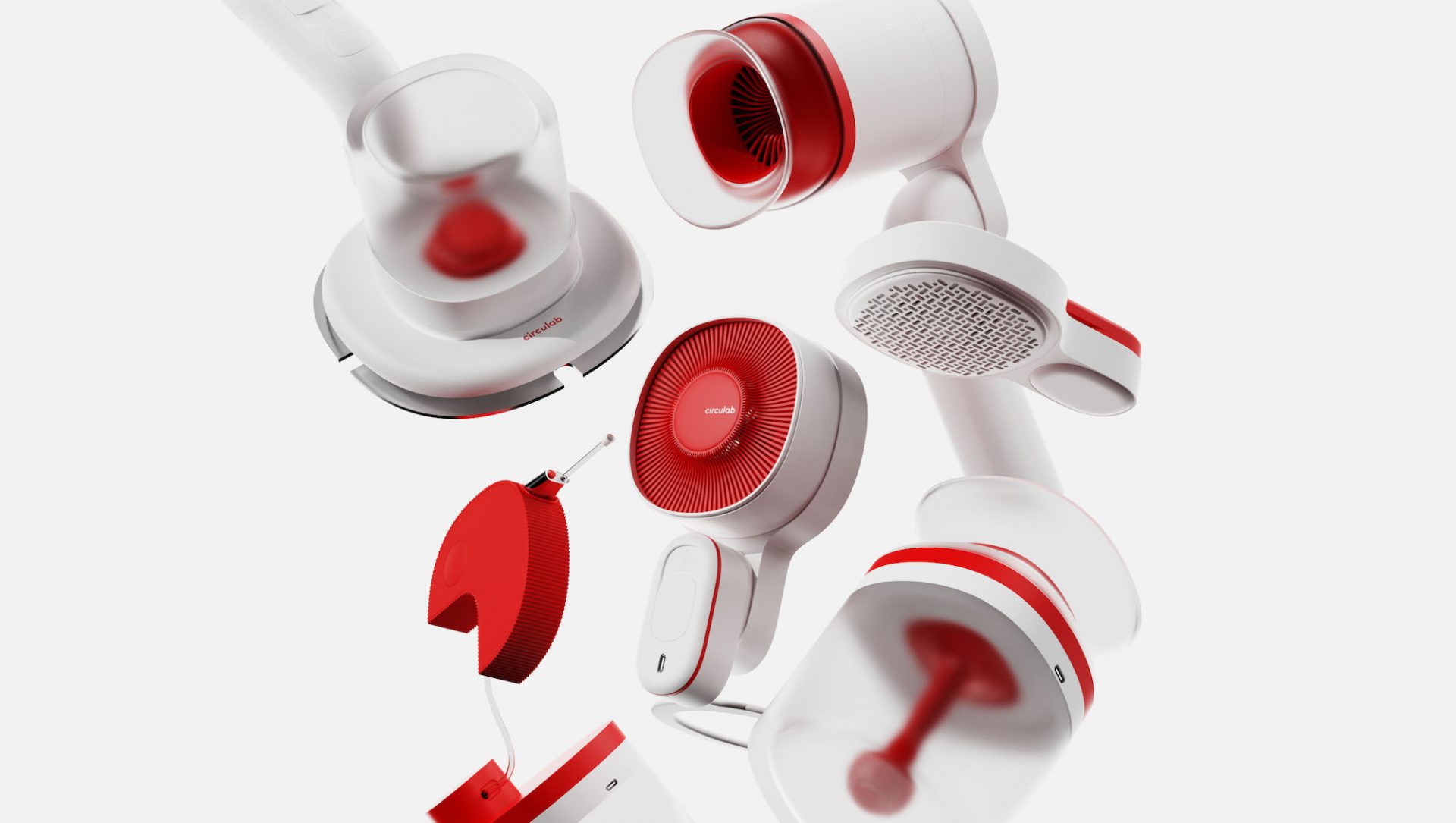 It challenges consumers' expectations about product lifetimes by offering a series of connected products with interchangeable parts.
There is an urgency in design to move towards sustainable production and consumption models, which Circulab works to address head on.
Korean designers Seungheon Baek and Soohyun Kim were inspired by circular design ideas, which inform the concept behind Circulab. It envisions a series of appliances that form part of an ecosystem based on interchangeable parts.
So, instead of purchasing a hairdryer as a finished product, the customer would buy a kit with all the necessary components within which certain pieces can be used to create other products.
The concept collection includes a hairdryer, handheld fan, an oral irrigator, lint remover, steamer, and a humidifier, all of which contain removable, repairable and replaceable parts to increase the product's lifespan. For example, the motor fan element of a hair dryer can also serve the same function for the handheld fan. Meanwhile, the battery hub for the handheld fan serves the same function for the lint remover. The cycle continues with the plastic barrel of the lint remover working as the compartment for storing water for the steamer, humidifier and the oral irrigator.
Combining mostly plastic components with some metal hardware, Baek and Kim have opted for a minimal aesthetic with a signature red, which highlights the theoretical brand's company colours. To accompany the series, the pair have also designed an accompanying app.
It underscores the design ideas behind the concept by using the Internet of Things (IoT) to connect multiple devices together, enabling users to track their usage and order new pieces when necessary. They can also track battery life and access help regarding product manuals.
Do you want a smart home, but without all the gadgets? Kano Sense scans anything and turns it into a responsive device.
The product is a sum of its parts
In a world where throwing products away at their first sign of failure is considered okay, it's crucial for designers to propose alternative modes of consumption. First, they need to design for repair, developing products that are easy to repair, which Circulab achieves with its minimalist aesthetic and snap-fit attachments.
It's also important for brands to highlight how easy it can be to repair a product by developing services that communicate this message, which Circulab achieves with its app-based services.
You can also use your mind to connect with products: Are you ready for these 6 brain-connected tech gadgets?