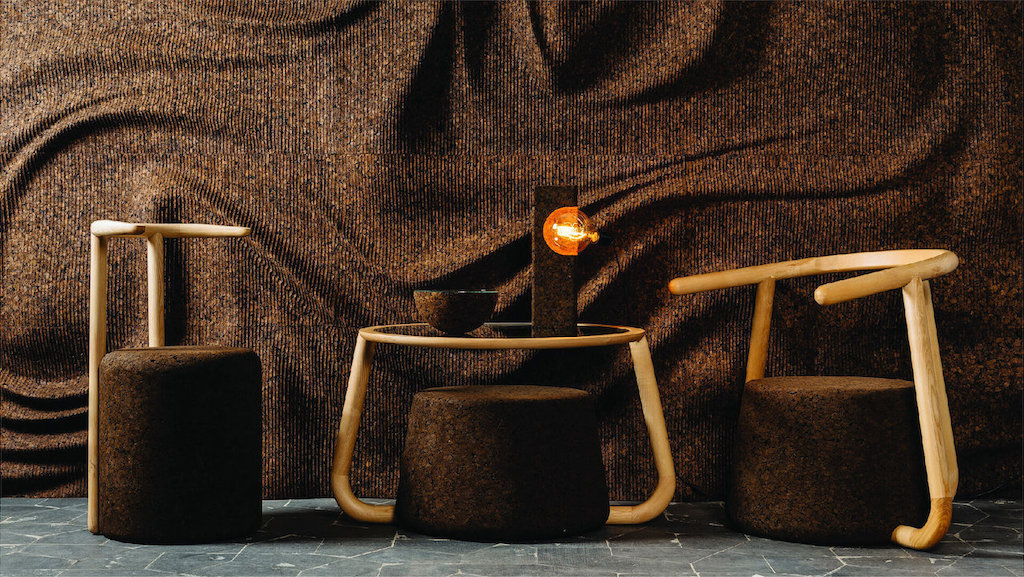 Cork gets a new aesthetic with Gencork's range of dynamic and contemporary surface coverings.
Cork is prized for its amazing natural properties. As well as being hydrophobic, it is compostable and recyclable. It is light, elastic and makes an excellent thermal and acoustic insulator, which is also fire resistant.
Why Gencork? To bring together high-tech computational design technologies with the natural and sustainable simplicity of cork
Gencork is a new vision for cork, that is attractive and utilizes contemporary digital designs to update its look and diversify its uses, receiving a Red Dot 2020 Product Design Award.
The minds behind Gencork – Sofalca and DIGITALAB
One-third of the world's cork oak plantations are in Portugal, so it is no surprise that Sofalca is a Portuguese cork processor. They have been producing cork since its founding in 1966. Its location in Abrantes is adjacent to the cork oak forests which are its natural resource.
Sofalca primarily creates cork board which is used in building insulation, but also owns the brands Gencork, Blackcork and Corkwave which produce designer cork products. The company prides itself on being environmentally and socially conscious and producing products in an ecologically sustainable way. Sofalca is also a certified cork recycler.
Curious to know more about other winners of the Red Dot Award? Check our article A spotlight on the year's best products: celebrating the winners of the Red Dot Award on Instagram
Creative direction of Gencork is by DIGITALAB. This innovative studio led by Ana Fonseca and Brimet Silva is focussed on generative design and digital fabrication. They explore applications of digital technologies across architecture, interior design, product design, and art installations.
Previously in collaboration with Sofalca, DIGITALAB developed a thread made from cork. The thread was woven to create lighting and weaves for furniture explored. Additionally, Designer and Art Director Toni Grilo has designed several patterns for Gencork. He is also Creative Director for the Sofalca brand of contemporary furniture, Blackcork.
Materials and techniques – Sustainable cork, no additives
Gencork is 100% natural cork. What differentiates it from most cork products is the collection and production process.
The cork is harvested from branches of the cork oak. The trees remain standing and growing. Sofalca developed machines that process the branches, removing the bark and turning it into pellets.
Sofalca bakes these granules in an autoclave to go from loose pellets to a block of cork. Water vapour is injected, making the granules expand and agglomerate into blocks. They are adhered only by the cork's own natural resins. Nothing is added.
The remaining biomass from the harvest is used to fuel the block making process. Gencork claims that the whole manufacturing process is 95% energy self-sufficient.
The cork blocks are cut into panels which are then CNC milled to carved out the desired patterns. They are sculpted using computational design technologies. Algorithmic scripts allow a huge array of shapes to be created in a variety of scales, adapting the forms to space and use requirements.
The aptly named 2020 Corkllection includes cork tiles, cork bricks for modular wall covering, a cork table light and customizable generatively designed wall panels.
Style & aesthetics – Dark and chocolatey patterns
The process of autoclaving the cork gives it a distinctive dark color. It is rich and chocolatey.
The shapes of Gencork are created using parametric systems. The generative designs take inspiration from nature, mathematics, geometry, and biomimetics.
From mesmerizing fluid ripples and swirls, to low-poly style abstract geometric surfaces that recall folded origami surfaces, Gencork suits a range of decor styles. The dark granular texture of the cork gives a warm and organic feel even when milled with straight lines and edges. The 3D cork panels also have a characteristic lined texture.
From mesmerizing fluid ripples and swirls, to low-poly style abstract geometric surfaces that recall folded origami surfaces, Gencork suits a range of decor styles. The dark granular texture of the cork gives a warm and organic feel even when milled with straight lines and edges. The 3D cork panels also have a characteristic lined texture.
The range of dynamic patterns can be used to create undulating or complex geometric wall surfaces. Corkbricks with a square form or triangular based module can be installed to form regular or unique irregular 3D patterns. 2D designs routed into the cork include a progressive hexagonal pattern inspired by M.C. Escher, lines that represent magnetic waves, and a grid that mimics op-art.
Several tessellating cork tile designs are available. Corkunit and Corkarc use simple regular patterns to form complex topographic surfaces of varying thicknesses. Corkboard is a great minimal diamond tile that has the option of including tiles with a small shelf. Perfect to create wall features and display selected objects.
A playlist for creating
Inspiration in the form of music might not be the first thing you would expect from a materials technology company. However, if you head to Spotify you will find a playlist by the Creative Director of Gencork, Le Brimet. Called, 'A New Beginning', he has put together two hours of tracks "which support the creative process", from a variety of electronic genres mainly inspired by the Berlin and London scenes.
Design memento – Enhanced properties and inspired by iconic artists
The generative designs effectively harness the thermal and acoustic properties of cork. Stylistically, the use of digital design to shape the cork takes it from a very simple traditional material that is often hidden, to one which can be showcased in contemporary design projects.
Through the use of design, Gencork adds value to the product and increases the options for its use. Lending weight to the designs, a number of the patterns are inspired by well-known artists. These include Paul Klee, Victor Vasarely, and Bridget Riley. As well as the aforementioned MC Escher. Delaunay triangulation, from the work of mathematician Boris Delaunay, forms the basis of both 2D and 3D motifs in the Gencork range.
The writer's comment – Disruptive and enticing
Cork wall tiles are nothing new, but often not especially impressive either. Gencork describe themselves as a creative and disruptive system. They have significantly raised the bar and successfully transformed cork into an extremely attractive feature product. It is now far more enticing for designers to include this natural product within commercial or residential spaces.
If the experimentation with materials and the minimal style look has intrigue you, you should also look at our article: L.A.F. chair: pushing materials to their limits, thinking bigger, breaking standards.