Lighting design
Against the grain: COZÌ tames wood into sculptural designs
The Tel Aviv-based studio unites traditional craft and modern technology to create fluid and texturally striking designs made of wood.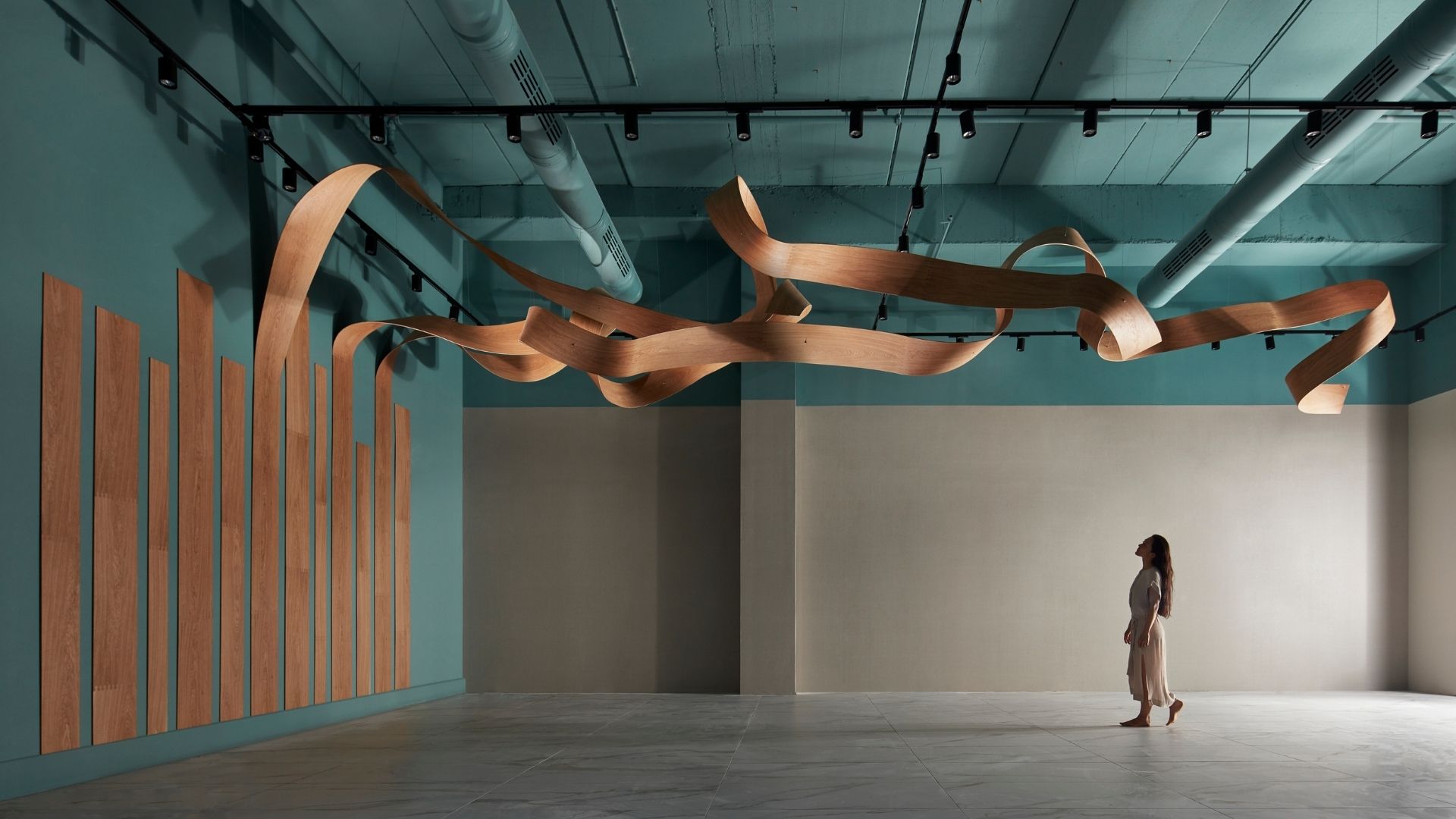 When Yuval Carmel and Ofir Zandani decided to join forces back in 2013, they didn't realise how perfect their partnership would be.
Yuval Carmel came with experience producing videos in which reviving surreal ideas was a daily habit; meanwhile, Ofir Zandani specialised in industrial design.
Uniting them together was a shared interest in the materiality of wood and a penchant for testing limits, which ultimately led to their founding of COZÌ Studio.
From large-scale lighting installations to tabletops and their accompanying ornaments, COZÌ Studio combines complex mold planning and 3D printing to create intricate forms and illusory textural surfaces drawing inspiration from the chaotic behaviour of paper and fabric.
However, their first project—the Elanor lamp, had nothing to do with wood at all.
"It was a material research that began in ceramics and later focused on porcelain," says Carmel.
"While diving into experimentation with this material, we had a mutual understanding that in order to make it interesting- some traditional techniques must be altered.
Using 3D CAD and CAM processes, we broke the traditional structure of porcelain making and realised complex geometric designs and textures that were new to porcelain casting."
Unfortunately, the product failed market testing and was eventually put aside but nevertheless, it helped establish an experimental approach that would go on to inform the duo's many other projects.
They include pendant lighting and floor lamps, wall tiles and fruit balls, all achieved by manipulating wood in both traditional and technologically innovative ways.
"When an idea strikes up we usually take a piece of paper and do one of two things: we either sketch on it, or we fold it into the desired shape," they explain.
"If we both see its potential, we fast forward together every step on how we can make it real, looking for flaws. If none are found, we go on to prototype, usually by hand, and continue development with the help of 3D scanners, CAD software and CNC machining, which we use to sculpt a mold from a wooden block."
The wood bending method the studio uses is called 'lamination' where thin plywood veneers are layered on top of each other using glue in between each layer before pressing them inside a mold.
"Once pressed, an electric current flows through the mold and solidifies the glue causing the wooden shape to settle," they explain.
"When released, the wooden shell is now ready to be manually trimmed and sanded. A couple of protective coating layers are applied to grant the wood its final lasting look."
This digital approach to craft transforms wood with "liquid" lines: Origins studio combines craftsmanship and digital fabrication to create wooden surfaces with striking effects.
Whether it's paper-like or fabric-like forms, Carmel and Zandani attempt to shape the wood in unique and surprising ways while keeping the wood's natural feel and DNA.
It creates a dissonance between the shape and the material that results in a somewhat surrealist aesthetic.
It finds physical form in designs like the Smashed Coffee table whose crumpled top generates tension between the elegant gold plated base; or the Onda Shelf, which features a single length of wood that has been bent to form a uniquely curved frame.
This ribbon-like effect is one of the studio's signature styles, which it challenged itself to realise across furniture, architectural interventions and lighting.
One of its most challenging was the Bloom lamp, whose fixture imitates the shape of a breaking flower bud.
"We spread a towel on the ground and lifted it up, pinching from the centre, which turned out to be a very ambitious geometry," explains Carmel.
"The veneers had to surrender to pressure in five points, while the center point pushed in the other direction. Add that to the fact that the veneer's wood fibres have a direction of their own, and you get a masterclass in wood lamination."
"It took around four years to develop. We had good results right from the start but in order to reach scaled production, we had to write down our own manual.
Apparently, wood bending is a tiny niche in Israel, and wood lamination is even more so. We developed 4 different molds along Bloom's journey, each one more sophisticated than the previous, climbing our way up with experience and quality."
Their commitment to overcoming any potential obstacles has seen the studio take on much bigger projects like Albatros, a mobile with bird-like pendants created for the MUZA Eretz Museum in Israel.
More recently, it also completed an installation inside the Israel showroom of Italian furniture brand Nicoletti.
The result is arguably their most impressive because their client wanted something so large-scale compared to their other work.
"The entire element is made using only 2 basic shapes that are repeatedly connected thanks to digitally cut interlocking edges.
These are positioned in different orientations, which make the object seem completely random and chaotic when in fact it is meticulously pre-planned," explains Carmel.
The piece was inspired by the fluid movements of a ribbon gymnast cast in midair. "It was poetic to us," explains Carmel.
"Projects like Infinity invite us to become storytellers, with characters, a plot and a twist ending. [The] only way of communicating that story is through a 3D element, one shot from a scene."
This approach informs the studio's current projects, which include 'wrinkled' tiles for a restaurant in Israel and a geometric wall design for the exterior of a visitors center.
"These projects shift us away from our main focus on wood and expand our designs to metalwork. Among the smaller-scale elements, we are now working on is a new product line of light fixtures that continue on from the concept and aesthetics of the Infinity project and make it suitable for a standard home."
"During the next year, we hope to expand our reach to more interesting design challenges."
Netherlands-based designer Koen Boersma created "A different turn" as a tribute to the dying craft of woodturning, highlighting the technique with an innovative process and a unique aesthetic.