Lighting design
David Taylor upcycles scrap materials into "rough-luxe" furniture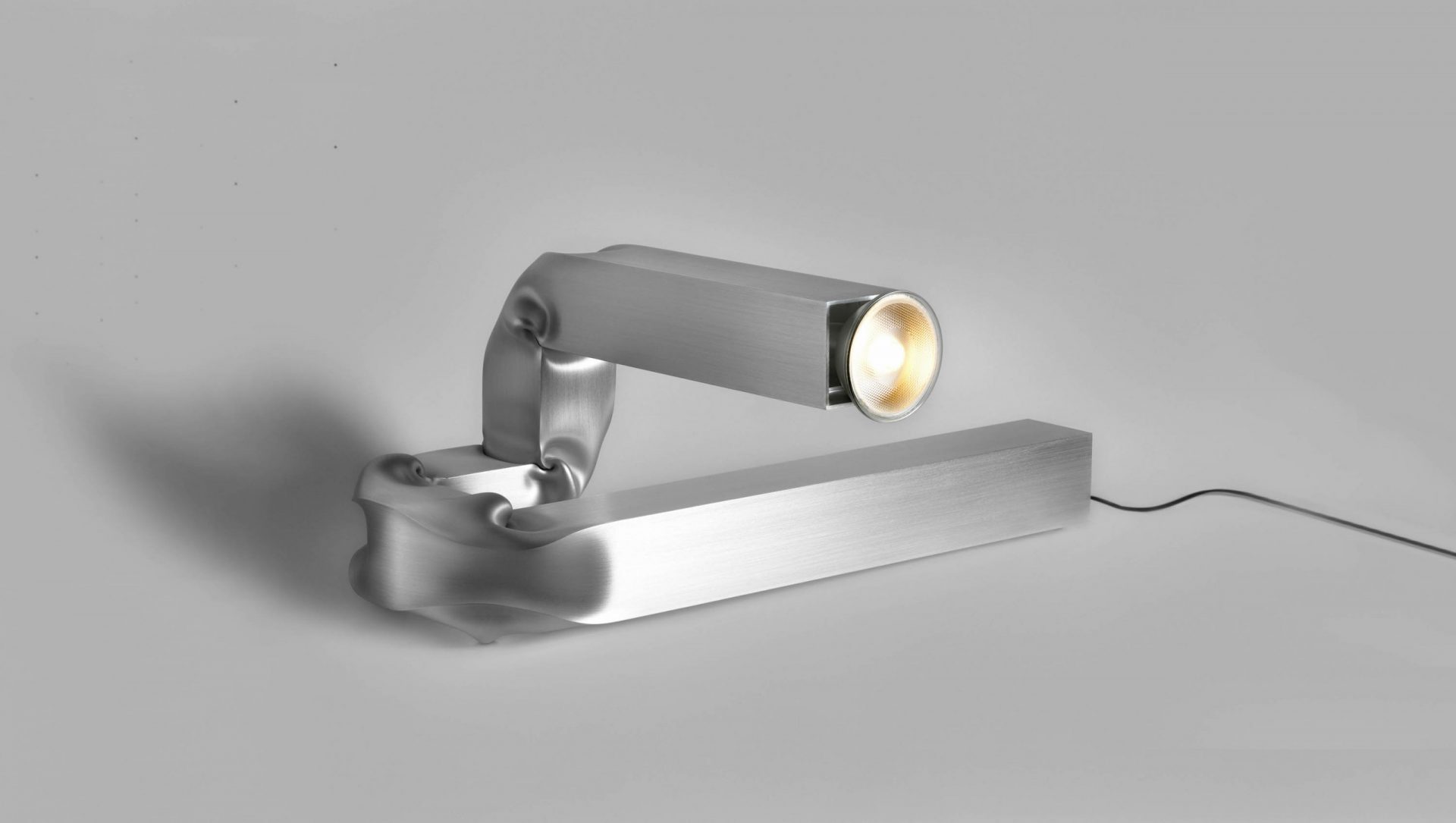 With dramatic effect, the Scottish-born, Sweden-based silversmith mixes an unexpected palette made up mostly of waste materials.
David Taylor's start in the world of design is a triumphant one. It began with a bad case of hepatitis and a six-week hospital stint in Tanzania. With time to think, Taylor realised pursuing his passion for making would make him truly happy. In the years that followed, the Stockholm-based Scotsman, otherwise known as Superdave, honed his craft as a designer by cleverly combining post-industrial waste with precious metal, DIY components and other materials, to create unique and extraordinary objects such as candle holders, dishes, lamps and mirrors.
Taylor did have some experience prior to his epiphany—he graduated from Swedish design school Konstfack, which laid the foundations for his fascination with materials. In the years that followed, Taylor embarked on a career celebrated for breaking down the boundaries between art and design but never compromising on functionality. He has won prizes such as the Red Dot Design Award and EDIDA/ELLE Interior Design Award, celebrated for his work as a silversmith, a designer but most importantly, a maker.
"Silversmithing, designing, making sculptural objects, furniture or public space installations all boils down to the same thing," he explains. "For me, it's all about becoming completely absorbed in the making of something—that's why I do what I do, it's all about moving my headspace somewhere else and becoming caught up in an activity that is all about balance, problem-solving, and visual storytelling."
Taylor's portfolio includes guerilla-art as well as industrial design products, working with a toy-like clarity to produce aesthetics that are lean and efficient, which he says is the result of nature and his training: "I'm careful with resources and this follows through into the work." He incorporates found objects into his works, recycles older pieces that he feels could do with an update, and upcycles used materials where possible.
"At the same time I'm not interested in an aesthetic that is obviously informed by this approach," he says. Using a range of industrial materials—at the moment, mostly aluminium—he puts together collages and groups of components, moving them around to create furniture, lighting and other decorative objects.
As such, his arsenal includes the usual battery of metalworking tools like a lathe, a milling machine, a roller and other sheet metal tools. Other than that, the production process is one Taylor goes alone. "I don't have a team, if I did they would all have to be clones of me," he says, which allows him to master the process in a way that suits him. "I work by nudging ideas forward towards a tipping point trying to achieve a critical mass that will help drive the process," Taylor explains. "I usually have 3 or 4 jobs going on at the same time, which allows me to shift focus when I reach a dead-end, or a piece just needs to rest." Dumping work and starting again happens a lot during the process, creating a self-sustaining feedback loop, which Taylor says is an essential element in his practice.
Discord the craft of French designer Paul Coenen using the flexibility of sheet metal to form rigid structures in his 'Tension' series.
Another crucial element is escapism. Every summer, the Stockholm-based designer retreats to his family's cottage in the Swedish countryside and spends his days foraging in the woods. It's there that he collected slag, the clumps of waste metal left behind in the production of metal, which he used to create a series of colorful candlesticks for Saatchi Gallery's Collect fair. To give them their sheen, Taylor washed away the residue revealing a vibrant glass-like rock and in his signature fashion, he fused the slag chunks with other, sleeker materials, contrasting them with aluminium and polished brass.
A pivotal moment for me came in 2008 during the global financial crisis when Taylor was working mainly as a silversmith at that time and almost overnight my customers just stopped coming by. "At the same time the cost of silver soared so I was left with an inventory that represented hundreds if not thousands of hours of work and no other choice but to cash out the scrap value of the silver," he explains, so, in frustration, he went to a local hardware store and asked them what their cheapest material was. He came back with a bag of cement, which over the years has helped him define rough-luxe tabletop accessories including mirrors, bowls and lamps.
"Guddling around with concrete was something else because it meant spontaneity, experimentation and suddenly the cost of failure was just my time and I had plenty," says Taylor. "From that point on I started using cheap material, found material and upcycled material simply because it was more fun."
This almost happy-go-lucky approach defines other works like his Crowd Series, an organic collection of approximately 30 pieces that change over time depending on if some are bought or Taylor has the instinct to change certain pieces. It's his intention to avoid a static or pre-defined output that lets him use his imagination to fill the gaps in a process of continual reinvention.
He applies the same design thinking to his larger-scale furniture and installations, which have included public commissions for the University Hospital in Linköping and the tube station in Central Stockholm. A favourite of ours is the Floor Clock, a coffee table fashioned out of sheets of oxidised copper arranged in a herringbone pattern. On the side, a large digital clock face reveals its double function.
The draw is Taylor's constant combination of forms and materials—whether that's concrete and aluminium; refined and unrefined, hard or soft. A balance is what Taylor strives for, integrating polar opposites as a result of his constant experimentation. "I'm working with material and method, shape and form so it's not brain surgery and failure is never total. There is always something to learn when your perspective shifts and I suppose a natural curiosity makes me relish trying things I've never done before."
By layering epoxy resin, Korean artist Seungjin Yang creates balloon sculptures that double as functional seats.