Furniture design
Writing the history of metal – Interview with De Castelli
Italian company De Castelli creates beautiful products through their deep exploration of metal, their infusion of artisan ideas and excellent workmanship into industrial processes, and their incredible respect for the material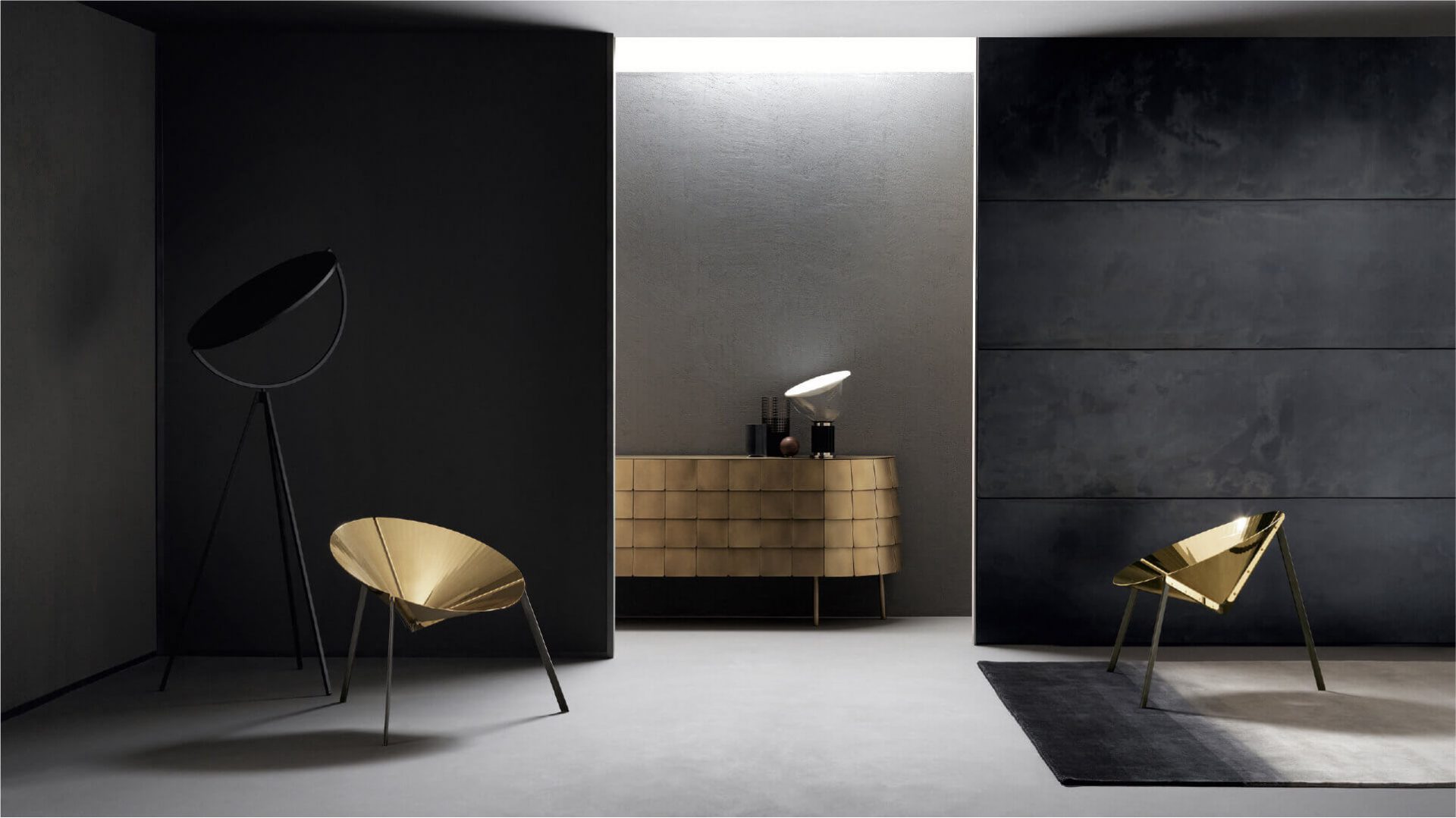 Metal is a material largely used in the design field. From product to architecture, its diversity and extreme malleability provide infinite possibilities of creation, making it very valuable. Knowing this and focusing on the deep exploration of the material, the Italian company De Castelli has been writing the history of metal for four generations.
Reinstating the special role of metal in design and experimentation, De Castelli creates incredibly unique products by infusing artisan ideas and excellent workmanship into industrial processes. Their bespoke approach, their passion, dedication, and long history with metal make De Castelli a distinctive company, one that has managed to build upon their knowledge and constantly innovate through beautiful aesthetics, adaptability to the contemporary market, and respect for the material.
To unveil their new collection "Copper at Home", De Castelli took part in the fair EDIT Napoli, a fair dedicated to giving voice to designers, manufacturers, and artisans while focusing on quality over quantity through the exploration of creative processes and use of material to find sophisticated expressiveness in design. While EDIT Napoli's physical event took place a few weeks back, the fair dived into the digital realm and opened the doors for the world through their virtual tour which is currently taking place.
Amazed by their creations and their new collection, DesignWanted interviewed De Castelli and found out more about the company, their participation at EDIT Napoli, and their incredible new collection.
How did the journey for De Castelli begin?
De Castelli: "De Castelli is heir to a long tradition in metalworking: it is the result of a journey that has its roots in three generations that have been capable of interpreting, working and maintaining this ever-current and contemporary material, introducing design as a new language."
Why De Castelli, why focus on reinstating the special role of metal in design and experimentation?
De Castelli: "De Castelli has remained faithful to the material that is part of its family history and tradition, as well as being an ancestral element linked to the history of man. This focus on a single material allows us to explore it thoroughly, continuously implementing the know-how that has made our company an international reference point in working and experimenting with metal.
A commitment aimed not only at the "product-project" but also at the "company-project" that broadens the horizon of the company by combining craftsmanship, design, and advanced technologies."
Curious to know more about the EDIT Napoli fair? Don't miss the interview with founders Domitilla Dardi & Emilia Petruccelli.
De Castelli creations are incredibly unique as it infuses artisan ideas and workmanship into industrial processes. Which are the main values, core concepts, or style inclinations that, above all, will always represent De Castelli?
De Castelli: "De Castelli's main values are: respect for the raw material and the accentuation of all the characteristics of the material, which is never hidden: metal becomes the protagonist, enhanced through expressive interpretations and original and special processes.
We have never wanted to "fit" into a precise style, but we have embarked on a path where shape, material, and surface dialogue with each other with eclectic and unexpected results. The world of art and the organic forms of nature are certainly the main references, today more than ever we are experiencing a great return of natural materials."
De Castelli was part of the EDIT Napoli fair and presented its new project "Copper at Home". Could you tell us what the inspiration and idea behind this project was?
De Castelli: "We have moved the perspective onto the material, trying to enhance one of its multiple aspects. In addition to the technical and aesthetic characteristics we know, copper has revealed antibacterial properties that are immensely significant in this historical moment: through specific research, we have tried to preserve these properties, so that they can be processed and used in interior design without altering the intrinsic effectiveness of the material.
With the "Copper at Home" project we have therefore intercepted the new post-Covid scenarios and collaborated with three design studios, which in turn have interpreted a new gesturality: the products designed by Lanzavecchia+Wai, Martinelli Venezia Studio, Zanellato/Bortotto enter everyday life, in a perspective that puts the focus back on domestic space and time spent at home."
As part of the "Copper at home" project, you teamed up with Lanzavecchia+Wai and introduced the shoe bench Wave. Could you tell us more about this collaboration and the product presented?
De Castelli: "With its essential forms and slow, sinuous movement, Wave suggests a new and more conscious awareness in the entering process. The project reinterprets an Asian archetype, the shoe bench, which as a service accessory is ennobled and made a welcoming element suitable for even the most sophisticated interiors.
We used thick natural copper to create the microarchitecture designed by Lanzavecchia+Wai with simple, fluid gestures, playing with curves, solids, and voids. For the vertical wall, we chose perforated copper, which lightens the volume and softens the sculptural form, accompanying the entry motion with its wave; the movement underlines the presence of the "pocket emptying" tray, inviting us to place objects on it that we bring in from outside. A wide top allows us to sit and take off our clothes, while the base houses and holds bags and shoes."
You also teamed up with Zenellato/Bortotto to create the BURRACO table. How did this collaboration come to be and what was the idea behind BURRACO?
De Castelli: "The game table, an object from the past with a refined allure, takes on a new value in the rediscovered time at home. The natural copper round top with heat treatment is characterised by the DeErosion finish, which we have made special by playfully including the different card suits.
We have also added four small serving trays – which can be pulled out from the under-top if required to place your pack of cards or a glass – and completed the table with four organically shaped stools, with a copper base and velvet-covered seat."
The coffee table ALPHA was also presented as part of the collection and was created in collaboration with Martinelli Venezia. Could you tell us more about ALPHA and the work you did with Martinelli Venezia?
De Castelli: "ALPHA is a small container table with rhomboidal base. Its simple shape makes it modular: by combining it with other identical, translated, or rotated elements, it is indeed possible to obtain numerous configurations. Thanks to its measured proportions and compositional possibilities, it can be inserted in all environments with different functions.
We worked the natural copper "skin" with the DeErosion technique, creating a diagonal striped pattern that enhances the geometries and emphasizes the graphic effect, but the absence of surface treatment keeps the antibacterial properties intact."
With a successful unveiling of the "Copper at home" project at EDIT Napoli, what can we expect next for De Castelli?
De Castelli: "2021 will be a very intense year and one full of novelties for De Castelli: first of all, we will open the new showroom in Milan, in a larger space than the current location in Corso Monforte.
We are working on new products for the "Collection" catalogue and developing surfaces on the theme of mosaic/intarsia; we will also present the results of unprecedented research on the contamination between metal and other materials."
Find out more about the products and designers presented at EDIT Napoli, don't miss A Very Simple Kitchen to take with you from lease to lease.