Technology
10 deaf technology products that also include gloves and a shirt
Light, vibrations, and devices designed to be discrete – all of these elements can influence and inspire communication for deaf and hard of hearing people.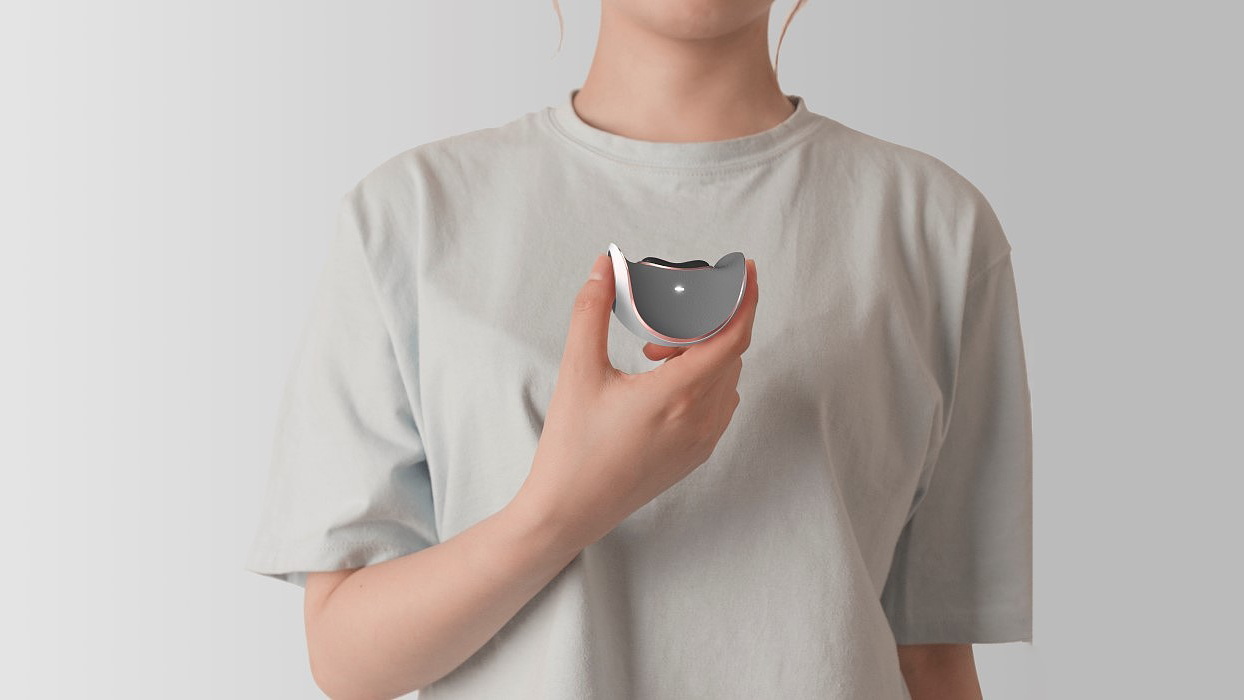 The World Health Organization estimates that 1.5 billion people live with some degree of hearing loss of which 430 million people require habilitation services. This is why we decided to dedicate this article to deaf technology products.
One of the main impacts this has is on spoken language requiring new and innovative ways of communicating with one another and the advancing technological world around us. As Deaf History Month (March 13th to April 15th) draws to a close, we are taking a look at the many ways design can help address these needs and create a more inclusive experience of the world for everyone. 
So, we've rounded up 10 of the best deaf technology products, including a pair of smart gloves and a shirt that converts live music performances into a fully haptic experience.
Hearingbot by Fountain Studio
This AI robot was designed as an alternative to hearing dogs.  Called Hearingbot, it uses a microphone and camera to translate sound and sign language into text, which it then displays onto flat surfaces via a built-in projector. 
Designed by Korean-based Fountain Studio, the colourful concept device comes with several features including a vibrating alarm clock, self-charging and a pairable smart watch that keeps users alert about dangerous situations, public transport, or if someone is at the front door.
Parenting Communication Companion by Georgios Tsampikos Kousvelaris, Billy Maniatis and Athina Bosta
Designed for parents with kids that are learning sign, the Parenting Communication Companion also converts sign language into text, displaying subtitles on an integrated screen. It also uses facial recognition, which recognises the emotion of the person signing before reading it out in a tone that matches their physical expression. 
"In this way, the parent can increase the child's auditory stimuli without having to turn to external factors like television and radio," the studio explains.
Commu by Kyuseok Lee & Hyunjin Kim
Commu is a two-part concept gadget that supports hearing-impaired users with pronunciation whilst also making sure their vocal muscles don't atrophy with lack of use. It works by capturing vocal-cord vibrations and translating them into speech. 
One half of the Commu sits on the throat and captures the nuances of the waves. Meanwhile, the other half docks a phone and displays speech waveforms guiding the user through the process of enunciation and pronunciation. Artificial intelligence determines if the pronunciations were correct, becoming easier over time and with practice. 
[ Read also 10 of the best autism-friendly design projects ]
Sign-iO by Roy Allela
Although still in its developmental stages, Sign-iO is an assistive wearable technology that translates sign language to speech.  Created by Kenyan engineer and innovator Roy Allela, it comprises a pair of smart gloves connected via Bluetooth to a companion mobile application, which captures the sign language gestures. 
The mobile app then vocalizes the signed gestures in real-time, enabling seamless communication between sign language users and non-sign language users.
Ontenna by Tatsuya Honda
Japanese graduate student Tatsuya Honda has developed Ontenna, a hairpin that uses vibration to relay sounds to the wearer. The white compact device looks just like a hairpin but with integrated sensors that register noise in the surrounding environment. 
Each one carries a mini-computer that conveys vibration with the objective of enabling the wearer to associate certain levels, rhythm and patterns with certain sensations, thereby finding it easier to navigate without being able to hear.
Listen Carefully by Craig McGarrell 
Unsatisfied with the stereotypical hearing aid, British designer Craig McGarrel has designed a discreet alternative. With contact charging instead of fiddly batteries enabling a minimal, earpod-inspired design, Listen Carefully aims to offer a premium yet accessible experience.
Dubbed "headwear" instead of "hearing aid", McGarrel has designed several versions in premium machined metals including gold, rose gold and silver, to give the object a jewellery-like finish and value.
Light Bell by Ian Bok
Korean designer Ian Bok has designed Light Bell to inform hearing-impaired users when there's a visitor at the door.
The device triggers a light signal using a Bluetooth connected bulb, which can be easily installed on any fixture or lamp, providing an intuitive and simple solution to an everyday occurrence.
Vibeat by Liron Gino
Vibeat devices are jewellery-like devices that use vibrations to allow deaf and hard of hearing people to experience music. Designed by Liron Gino as an alternative to headphones, the collection features a necklace, bracelet and pin with circular modules which translate music into vibrations at various levels of intensity.
Once the Vibeat pieces have connected to a music source via Bluetooth, internal motors inside react to the varying frequencies and cause them to vibrate at multiple speeds.
The Sound Shirt by CuteCircuit
CuteCircuit's Sound Shirt was named one of Time's 100 Best Inventions in 2020. The tech-infused garment brings music to life using a series of haptic sensors that are built into the material.
The shirt features 30 micro-actuators embedded in the fabric of the garment that translate sound into motorized vibrations in real time, allowing deaf and hard of hearing users to feel music.
Oh! by Pureunyi Kim 
Another mention within our deaf technology products selection is 'Oh!'. This record-shaped speaker is the result of an exploration into the relationship between music and people that are hearing-impaired. Designed by Pureunyi Kim, the Oh! Speaker converts sound into visual patterns that are emitted via LED lights embedded behind the perforated cover.
[ Read also Simon Dogger is creating more inclusive forms of communication ]
The personal and societal impact of deaf technology products
Deaf technology products have undoubtedly transformed the lives of individuals who are deaf or hard of hearing, empowering them with enhanced accessibility and communication capabilities. With advancements in technology, a wide range of innovative devices and solutions have emerged, catering to various needs and preferences.
From specialized smartphones and video relay services to vibrating alarm clocks and captioning systems, these products have bridged the communication gap and provided a sense of inclusivity in the digital age.
By amplifying sound, converting speech to text, and facilitating seamless interaction, deaf technology products have fostered independence, improved social connections, and opened up a world of opportunities for individuals with hearing challenges.
As technology continues to evolve, these remarkable innovations will undoubtedly continue to play a pivotal role in ensuring equal access and opportunities for the deaf community, enriching their lives and promoting inclusivity in society.