Furniture design
10 Charles and Ray Eames designs that changed the world
From lounge chairs to colourful hangers – discover the works of the iconic couple of the 20th century design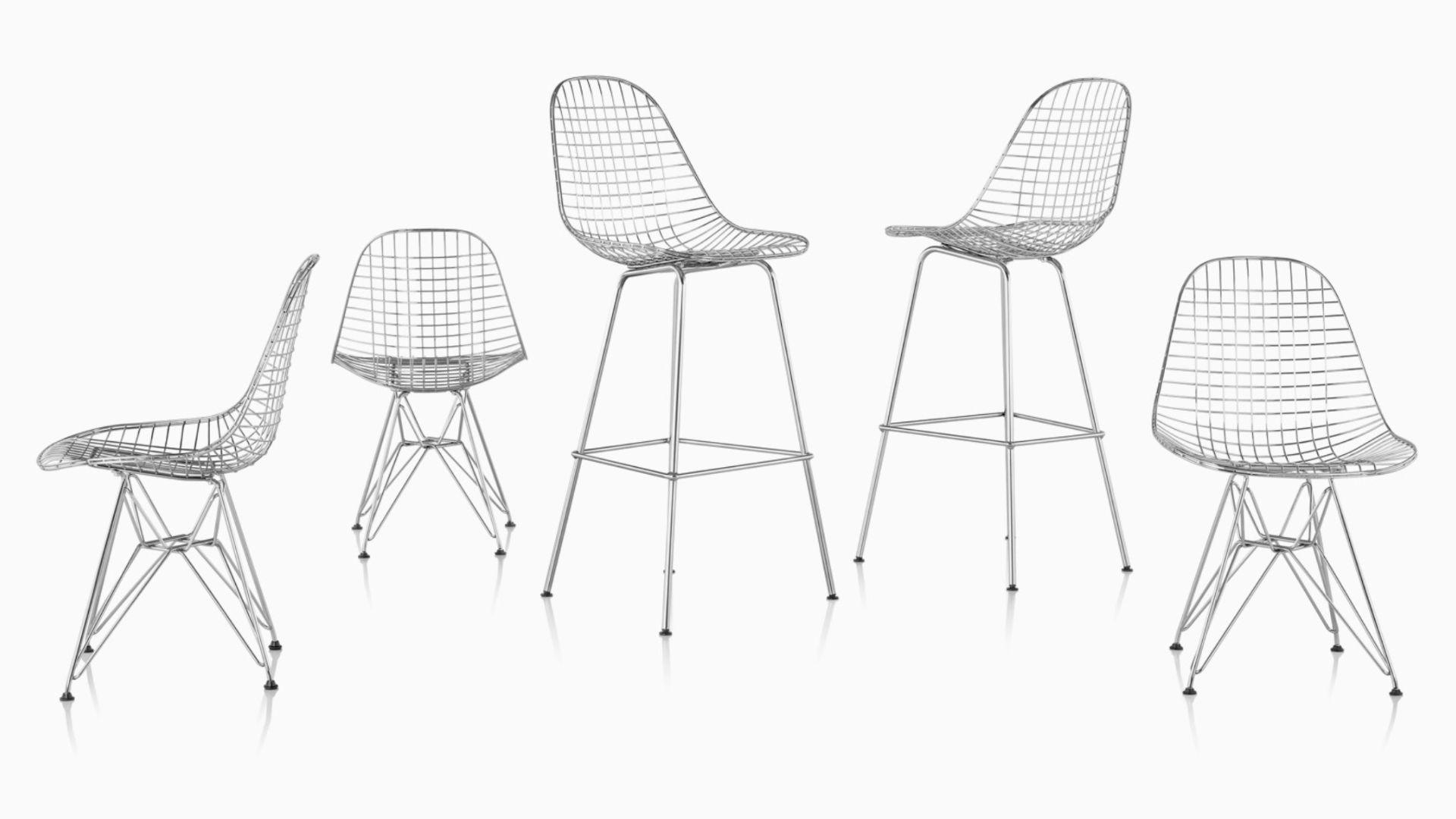 In the design world, the name of Charles and Ray Eames doesn't pose any questions.
Two of the most influential designers of the 20th century shaped our lives in more ways than one.
Although it's been more than 30 years since the pair passed away, their designs still inspire many today.
Most known for their iconic chairs, Charles and Ray Eames were also textile designers, architects, and filmmakers.
Their mission statement explains their work perfectly: "We want to make the best for the most for the least."
It's difficult to narrow down just the 10 Eames designs because there are so many that could have made the list easily.
Their work with Vitra, Herman Miller, and other companies has had a lasting influence on the entire design industry.
1. DSR chair
If you show a photo of the DSR chair to someone who has no clue about design, they will surely recognize it.
That's how famous it is.
Perhaps one of the most replicated chairs in the world, the DSR was created by the duo in 1948.
Thanks to its distinctive chrome base, back then, it had the nickname 'Eiffel' chair. It's not difficult to see the resemblance!
Originally, the DSR chair was offered in parchment, greige, elephant hide grey, and seafoam green.
2. Lounge Chair and Ottoman
Another design Charles and Ray Eames are known for is the Lounge Chair and Ottoman, released in 1956.
The chair in molded plywood and leather can be considered among the most comfortable in the world.
During the creation process, Charles Eames envisioned the chair to have a 'warm, receptive look of a well-used first baseman's mitt'.
3. Eames Lounge Chair Wood
Just imagine – in 1999, Eames Lounge Chair Wood was named the greatest design of the 20th century by Time magazine.
That, itself, is proof of how influential the designers have been.
The original chair was created in 1945, using two pieces of plywood combined with a plywood spine, and the curved shape mimicked the human leg.
4. Designs for WWII
Did you know that Eames also crafted parts for the US army? That's right.
From arm and leg splits to aircraft details – they experimented in many ways.
Back then, they were just starting out with plywood, which later became an important part of their furniture designs.
5. La Chaise
Organic furniture design wouldn't be imaginable without La Chaise.
Charles and Ray created the chair for 'International Competition for Low-Cost Furniture Design' in 1948.
The iconic design, which consists of two fiberglass shells and a wooden base, got its name from french sculptor Gaston Lachaise
6. The Aluminium Chair
Finding office furniture that isn't just functional but also stylish can be challenging.
But, by choosing the famous Aluminium Chair, you will never go wrong. Charles and Ray Eames developed it in 1958.
Its first owner was an art collector in Columbus, Indiana. Back then, the seatback suspension it came with was something unheard of.
7. Hang-It-All
Eames are mostly known for their chair designs, but other products deserve your attention too.
Hang-It-All, originally released in 1953, was a fresh of breath air in the midcentury design.
Adding unexpected whimsy to everyday objects, it soon became a part of many interiors.
This colorful coat rack was created using the same wires the couple developed for their tables and wire chairs.
8. House of Cards
You probably didn't know that Charles Eames had also crafted toys.
Throughout his career, he experimented with many different toy designs.
Among the most famous ones is the House of Cards – a deck of 54 cards.
What made it unique was the fact each card had a different picture of plants and animals, which would encourage children's creativity.
9. ESU 426-C
The title of Eames' funnest designs could be given to ESU 426-C.
The multipurpose freestanding storage units are as cool today as they were in 1954.
With their metal surfaces, brightly painted screens, and adjustable legs, they were unlike anything else you could see on the market.
10. Wire chairs
These wire chairs made by Charles and Ray Eames are the only ones you'll want to sit on.
These chairs are unlike other designs of the famous pair known for their fun and funky projects.
Still, the 1951 wire chair sure does look great, especially when you place it against a concrete wall.
When you look at Charles and Ray Eames's designs, it seems almost impossible they were created 70 years ago, but that's just a showcase of how impressive they really are.
Their designs have stood the test of time and have managed to stay equally popular.
Admire their works and ethos of functionalism, and gain inspiration from their elegantly simple and modern approach.
Curious to learn more about designs of Charles and Ray Eames?
Read our previous article on the history behind their products.