Furniture design
Bold colour and Italian marble unite in Very Simple Kitchen's Teklan collection
Swedish interior designer Tekla Evelina Severin unveiled an exclusive collaboration with the Italian kitchen manufacturer at Milan Design Week 2021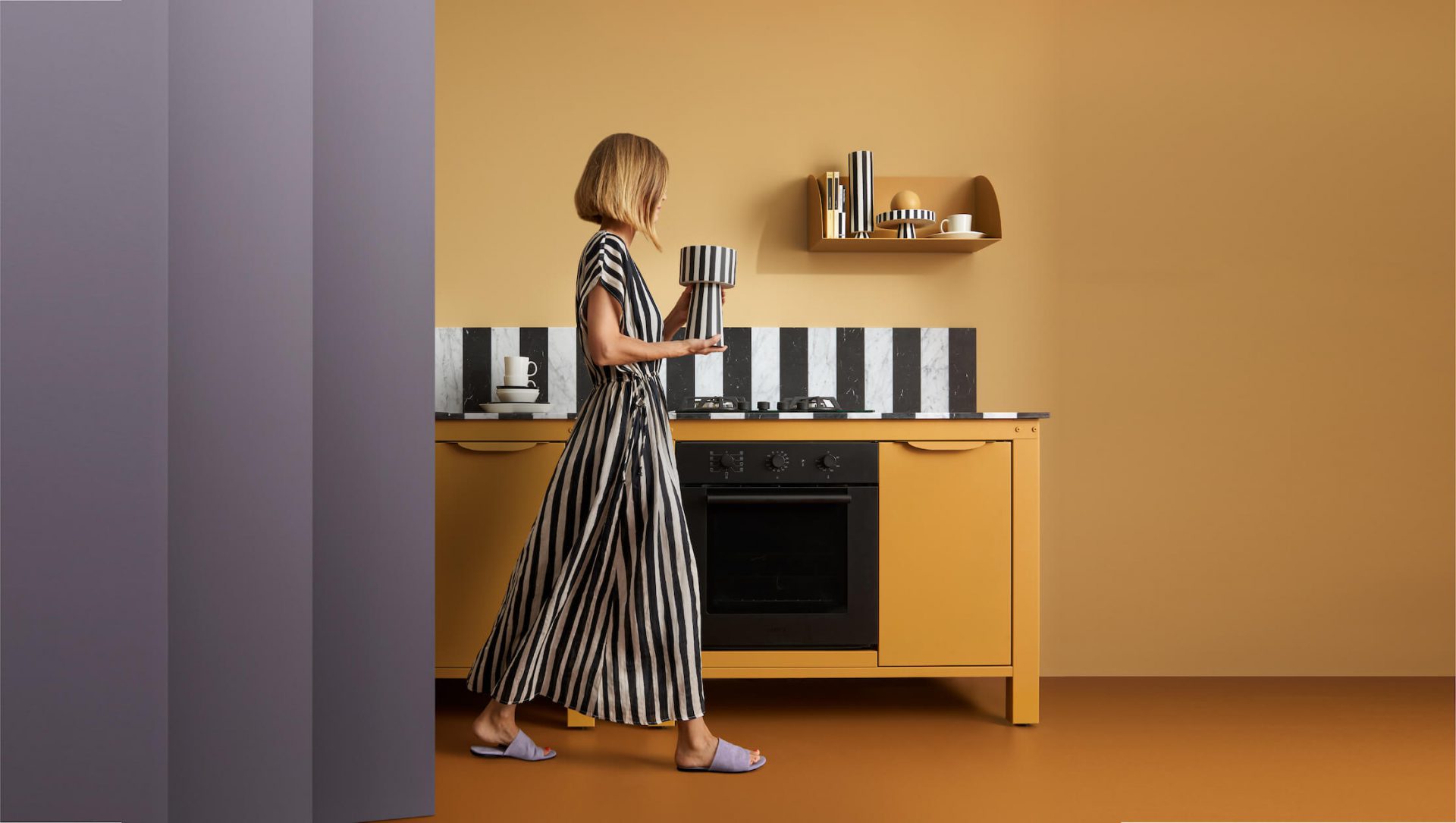 Tekla Evelina Severin is best known for her mastery of colour and this is exactly what she brings to her new Teklan collection for Very Simple Kitchen.
The collection, which features two bright kitchen models, pairs bold colours and geometric forms in a series of elements that marry Italian tradition with Swedish colouring.
The collection is characterised by its striking combination of white Carrara and red Levanto with black Marquina marble arranged to create a uniquely striped effect recalling Romanesque and Gothic architecture.
All three of these marble types were recovered from waste before being restored by skilled artisans to give it a renewed appearance.
"Despite its second life, the material retains its full naturalness and all the characteristics that derive from it, including the continuous maturation of the product and the ability to restore it like new," said Very Simple Kitchen.
These combinations define the countertops and built-in splashbacks of kitchen units available in two different colours, the first of which is a mustard yellow commonly found in contemporary Swedish design.
The designer chose this colour to create "a warm and welcoming environment" and to balance the marble countertop's traditional appearance.
"Very Simple Teklan Edition is inspired by the exchange of cultures starting with a profound reflection on the history of Italian and Swedish architecture," said Very Simple Kitchen.
"The result is two entirely handcrafted and sustainable made-in-Italy products."
Very Simple Kitchen is reinventing kitchen spaces, don't miss A Very Simple Kitchen to take with you from lease to lease.
The second kitchen model combines a subtle Portugal pink hue with Levanto red marble, which Tekla intended to reference Italian artistic tradition.
"The result is a timeless collection vibrant in both concept and colour," adds the brand.
From its base in Bologna, Very Simply Kitchen manufactures kitchens inspired by the minimalism and straight lines of Italy's industrial heritage.
The company was born as a contemporary reinterpretation of the classic kitchen, which here creates a blank canvas for Severin's painterly expression.
"With simplicity, attention to detail and creative soul, Very Simple Kitchen finds a perfect match with Tekla's personality, establishing an unprecedented and functional partnership between Italy and Sweden."
Check out London-born brand Buster & Punch's new kitchen collection featured here: Stockholm Creative Edition—The best of a brand new design week in Sweden.