Furniture design
Goodbye marble? ecoBirdy turns plastic toys into terrazzo-style furniture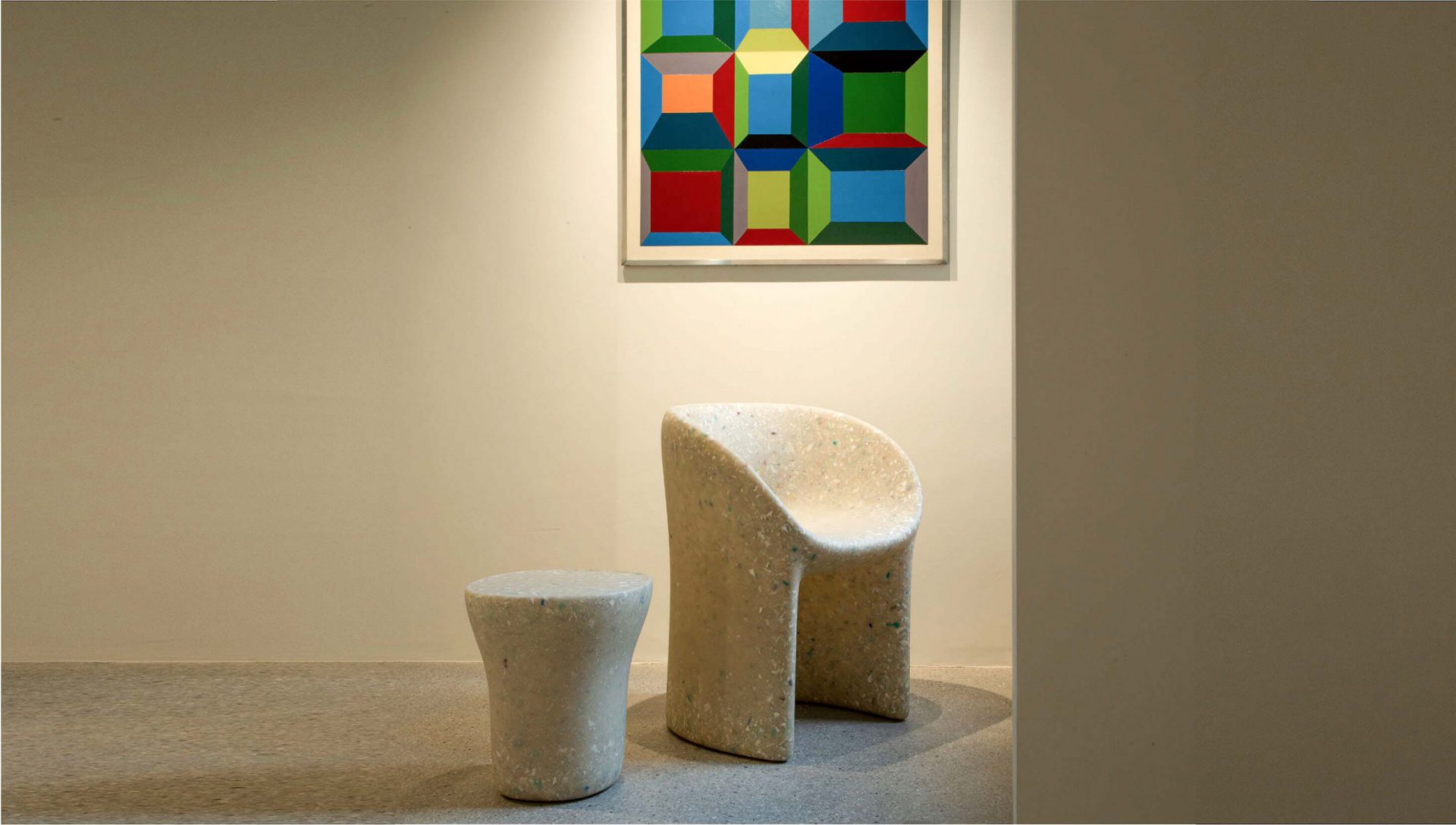 Belgian studio ecoBirdy produces plastic furniture made from recycled plastic similar in appearance to man-made stone composites like terrazzo.
When ecoBirdy made its debut at Maison&Objet back in 2018, their colourful children's furniture made quite the impression. If it wasn't because of its adorable appearance (note: a lamp shaped like a rhinoceros and a storage container that looks like a Kiwi Bird) it was because the four-piece collection was crafted from 100 percent recycled plastic fashioned from unused toys.
Now, the Belgian studio is building on the popularity of their children's furniture with its first collection intended for grown-ups. Unveiled as part of the Rossana Orlandi exhibition "RoGUILTLESSPLASTIC" at Milan Design Week, the Richard Armchair and the Judy Side Table are reinterpretations of ecoBirdy's award-winning, pint-sized table and chair from its children's collection.
The series in its entirety is the result of a two-year research project into plastic, plastic toys and their recyclability, which eventually led to them developing ecothylene, a 100% recycled plastic without the need for added pigmentation or resin with a colourful, terrazzo-like appearance.
"Recycled plastic products are usually recognised as being greyish, dullish and not very attractive," they explain. "Our aim was to change this, and make something colourful out of the colourful plastic waste."
"Due to accurate sorting and using state-of-the-art technology, we are able to transform post-consumer plastic waste into high-grade raw material. The patented technology features integrated material separation and an improved binding formula for polymers."
"The result is that no pigments or new plastics need to be added."
More plastic-based designs with an elegant and elevated finish? Don't miss Marble-look surfaces top 3D-printed plastic bases in Elli's furniture collection.
The latest pieces by ecoBirdy to be made from ecothylene include the Richard Armchair, an ergonomic seat designed to maximize postural support, and the versatile Judy Side Table, which can be used as a coffee table, side table or a stool.
Their dappled surfaces can range in appearance depending on the original colour of the toys used to create the new pieces. The options for the Richard Armchair and the Judy Side Table include Shadow Black and Faded-White to appeal to a more mature audience while still featuring an egg-shell type finish.
"Judy and Richard are conceived as a set suitable for indoor or outdoor use, a classic match destined to be the setting of any memorable moment, with an additional value due to its upcycling production process," the studio explains.
Besides being aesthetically pleasing, the speckled surfaces help to identify each piece as a "recognisable product of recycling" Yuan and Vanbriel hope. The source material is visible, giving value to plastic waste's repurposed beauty.
How are other designers attempting to elevate the look and feel of recycled plastic? Check out Bloom by Peter Van de Water makes us forget the association between 'recycled' and 'cheap-looking'.