Design
ECOPIXEL turns industrial waste into fun pixelated designer objects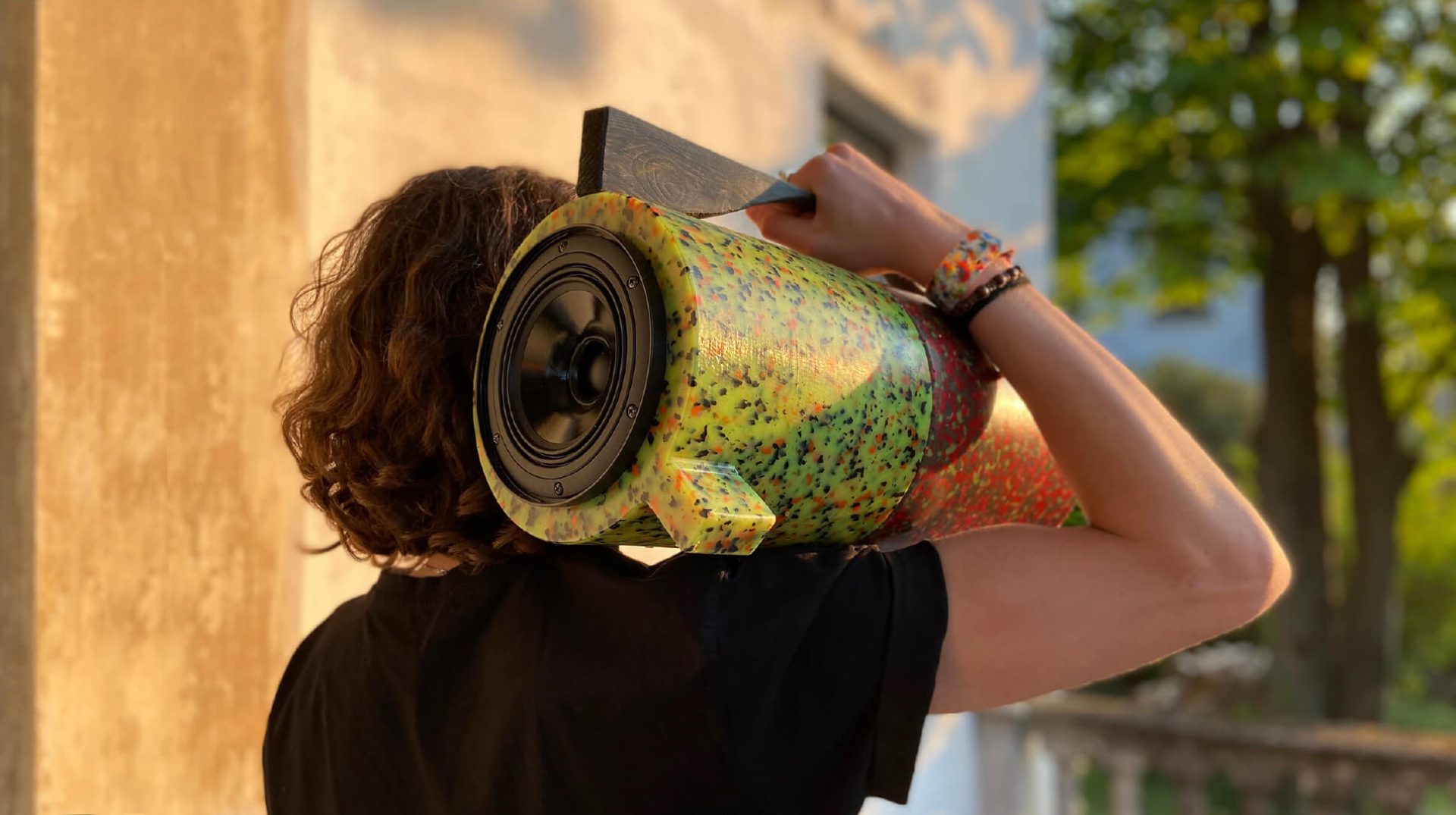 An innovative plastic recycling technique by ECOPIXEL allows infinite recycling of products.
Plastic waste can be one of the tougher materials to recycle, and not all collected plastic is necessarily recycled. It is also not as straight-forward as we like to imagine. Whilst plastic recycling techniques are improving, many plastics are often mixed together in a way that results in a downgrading of quality, and used in products that cannot be recycled further.
Why ECOPIXEL? To develop a method for recycling plastics, which allows the products themselves to also be reused, ensuring a 100% sustainable material
ECOPIXEL is not only an innovative material and technique. It is also a high-end design brand, which produces a range of consumer products.
The minds behind ECOPIXEL – Claudio Milioto and Jan Puylaert
In early 2017, designer Jan Puylaert collaborated with producer Claudio Milioto to form ECOPIXEL. All products are Italian made and the firm is located in Porto Valtravaglia, north of Milan.
Puylaert studied industrial design at NHIBS in Antwerp, then completed a Master of Science at Instituto Europeo di Design (IED) in Milan. He has extensive experience in bathroom product design, and spent three years as Head Designer at RIHO International. In 2000 he founded his own design and production studio, WET.
WET has been a leader in bathroom trends for the last two decades and has developed a range of unique products. Here there is already a clear concern with materiality and use of recycled plastics. Products include sinks that can be lit from inside, as well as free-standing washbasins and bathtubs.
Materials & Techniques – Mono-polymers moulded with pressure
Not all plastics are created equally, nor are they equally recyclable. A key principle of ECOPIXEL is to keep different plastic polymers separate. It selects and uses only LDPE— low-density polyethylene. This results in a mono-polymer thermoplastic product which can be melted and re-melted an infinite number of times.
ECOPIXEL is 100% recycled plastic waste material. It is predominantly industrial waste, but may also include some material collected from households and other sources. The waste is shredded into small 'pixels' about 5mm in diameter.
To create new forms from the shredded plastic, ECOPIXEL has developed an innovative low-temperature pressurized production technique. Using pressure allows for a lower melt temperature, which helps minimize the ecological impact of the whole process. The plastic is pushed up against the inside of a mold to create a hollow, thin-walled shape. The form remains 'blown-up' and pressurized from the inside until it cools into its own self-supporting solid state.
According to the brand's statement, ECOPIXEL is a robust material that does not fade and is suitable for indoor or outdoor use. It has a continuous clean surface, which eliminates the need for joins, making it very easy to clean and maintain. Objects can be made up to 180cm of diameter for round shapes and 40cm in height. It is also available as a sheet material of 90 x 70cm that can be bent or shaped when heated.
If you are curious to know about products made out of recycled plastic, don't miss Design studio Gomi turns plastic waste in production material.
Style & Aesthetics – Folded forms, plastic pixels, and a cheerful pop sensibility
ECOPIXEL gets its distinctive pixelated aesthetic directly from the shredded plastic pieces. The colors do not mix, as the chips only melt when inside the mold. This gives ECOPIXEL an appearance rather like a colorful granite, or funky terrazzo.
Owing to the manufacturing process, it works best to create clean and simple shapes, with flat surfaces. The products have minimal geometric quality. But, one that exhibits a certain cheer and embodies the hopefulness of a recycle and reuse philosophy.
This feel was captured particularly well in the impressive 'Alex Chaise Lounge', that ECOPIXEL created in collaboration with Alessandro Mendini. It is brightly colored, with a modern pop style, and features chunky 24mm pixels. The lounge was produced for the launch of ECOPIXEL and you can now find one sitting in the permanent collection at the Groninger Museum in the Netherlands.
Mendini has enthused that "ECOPIXEL transforms polyethylene waste into a work of pointillism".
The plastic trash is 80% black
Despite the images of bold bright-colored ECOPIXEL pieces, it turns out that black is the most commonly available color of plastic waste. The ECOPIXEL website notes that this is an obvious design challenge and also recognizes that the colors available will always be in flux.
The waste plastic that comes in is meticulously sorted by color and ECOPIXEL has created a range of interesting combinations—all based on black. Currently, you can find Volcano, Falling Snow, Batman and Coal listed.
Design Memento – Create a technique and showcase it
The obvious design story of ECOPIXEL is about making excellent use of material that would otherwise be thrown away. ECOPIXEL goes beyond this and also produces a range of well-designed consumer objects that showcase the product and technique.
A simple twisted triangular prism forms the basis of the DELTA range of seats, tables, and stools. There are also floor lamps and hanging light shades, a washbasin, and champagne cooler available.
Research which pushed and refined the sound-absorbing properties of ECOPIXEL resulted in ECOPIXEL 'AUDIO', and a fun Bluetooth ghetto blaster. Whilst the APEX table, tray and vase piece exposes and celebrates the rough chunky interior surface of the process.
Demonstrating ECOPIXEL in action sets the firm up for many impressive future collaborations to emerge.
The writer's comment – A product which is just one step in the journey
The circular economy has long been held up as the ideal to strive for. Yet, so often the reality falls far short, as recycling hits material limits and is frustrated by social and economic practicalities.
The perfect scenario is to never need to extract raw materials again, and ECOPIXEL gets us a little closer to this goal. Each product is simply one use for a specific time period and it can then be shredded, melted, and transformed again.
If you want to know more about innovative uses of plastic waste, don't miss Print your public space with Zero Waste Lab.