Design events
Our highlights from design fair EDIT Napoli 2021
Held in the de facto capital of Italy's south, EDIT Napoli once again gathered a multidisciplinary mix of designers, artisans, and independent manufacturers.
The third edition of EDIT Napoli, founded by Emilia Petruccelli and curated by Domitilla Dardi (read the interview), took place October 29-31 on the grounds and in the splendid frescoed halls of the Complesso di San Domenico Maggiore, a 13th-century church burrowed within the historic center.
Established manufacturers as well as independent designers and brands—with a particular focus on the Mediterranean—made up over 80 exhibitors from Italy and beyond, brought together by an appreciation for artisanal flair and local craftsmanship, even when it comes to industrially produced design.
The fair focuses on what we call editorial design and covers craftspeople working in wood, weavers, ceramic companies, stone specialists, glassblowers, and designers of architectural materials like terrazzo and tiles, among others.
The third edition also promotes a dialogue between the fair and the city of Naples and its historical-artistic treasures.
In some of the most prestigious sites of Neapolitan culture special exhibition projects are presented including the Made in Cloister Foundation, Teatro di San Carlo and the Museo del Tesoro di San Gennaro.
Other leitmotifs include natural materials, transparency in production, the circular economy and hybrid furniture that promote sustainable practices amongst consumers.
Here are 10 of our favourite finds:
The AMALGAM Collection by George Geara
Traditional woodworking is put at the service of a very current formal and chromatic approach in the AMALGAM Collection by George Geara.
The Lebanese designer presents a contemporary twist on majlis-style seating comprising several graphic chairs and barstools that juxtapose laser cut stainless steel arms and legs with minimal wooden backrests.
The collection, which also features a marble side table with a similar aesthetic, is a curious blend of the traditional and the modern captured in a functional series of totem-style pieces.
"We are emphasizing the importance of the two sides (Craftsmen/Machinery) and how they meet and complete each other in creating a new product," says Geara.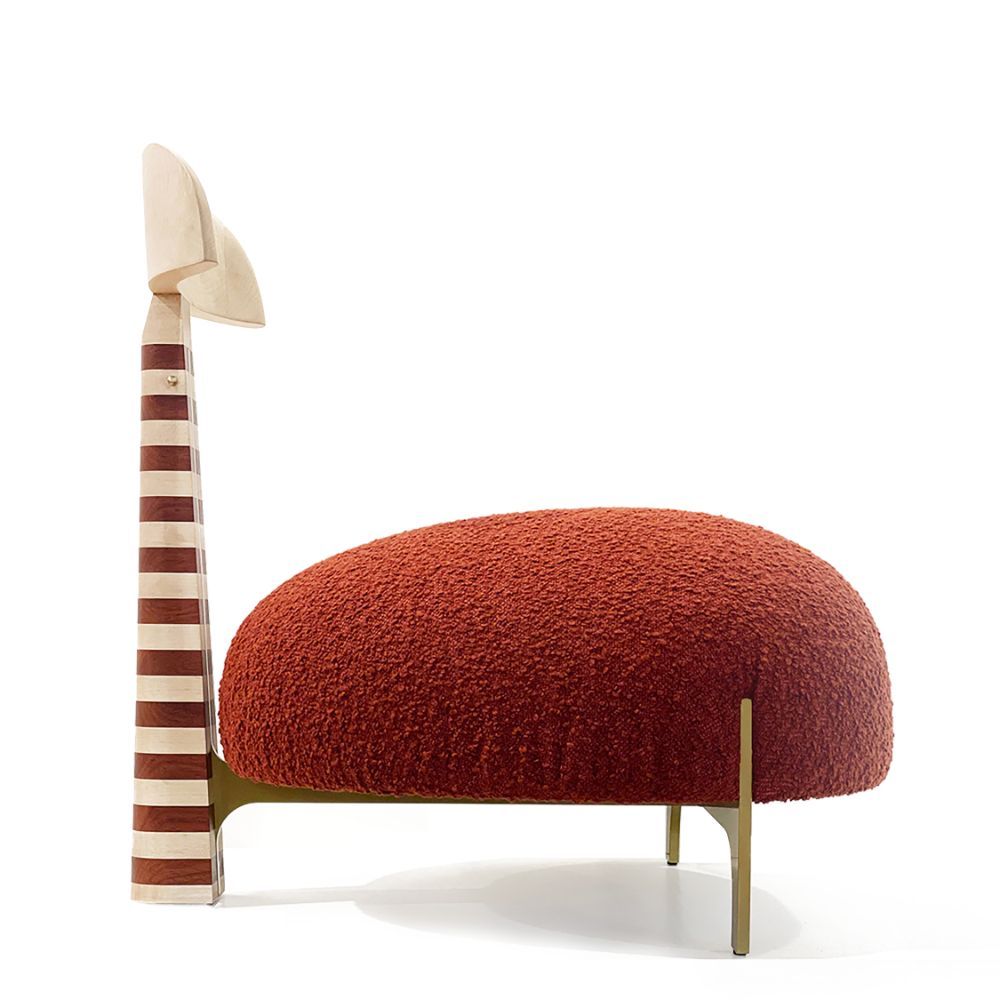 Very Wooden Kitchen by Very Simple Kitchen
Italian kitchen manufacturer Very Simple Kitchen unveiled its first-ever wooden kitchen. Blue is the primary color of the collection, which defines two plywood kitchen modules handcrafted in San Lazzaro di Savena by artisan carpenter Luigi Tenebruso.
Very Simple Kitchen also collaborated with three Italian designers on a collection of homewares.
They include a tableware series by interior designer and ceramicist Chiara Caselli, a selection of customisable chairs by furniture designer Cesare Ehr, and a rechargeable lamp by established designer Gian Franco Gasparini.
The collection has been coloured blue to mark the launch of Very Wooden Kitchen.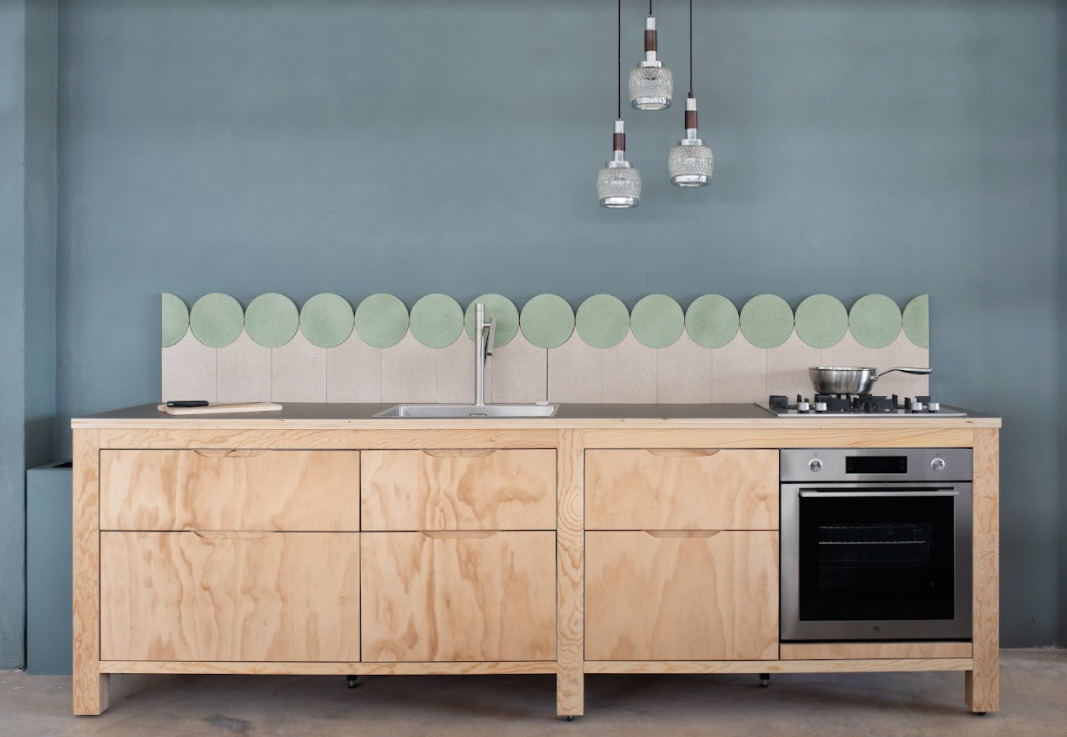 NERO by Maddalena Vantaggi + Studio Lievito
Designer Maddalena Vantaggi and Studio Lievito have created a series of spinning tops celebrating the unprecedented reworking of an ancient technique of firing and decorating ceramics known as bucchero.
Called NERO, the sculptural pieces are all polished by hand in the historic workshops of Gubbio, a medieval town in central Italy synonymous with fine ceramics.
"When placed vertically they manifest all their sculptural elegance, while placed horizontally as table mirrors," says Studio Lievito.
"They evoke imagery made of ancient Etruscan amphorae, overflowing with precious "crystallized" oil in a reflective surface.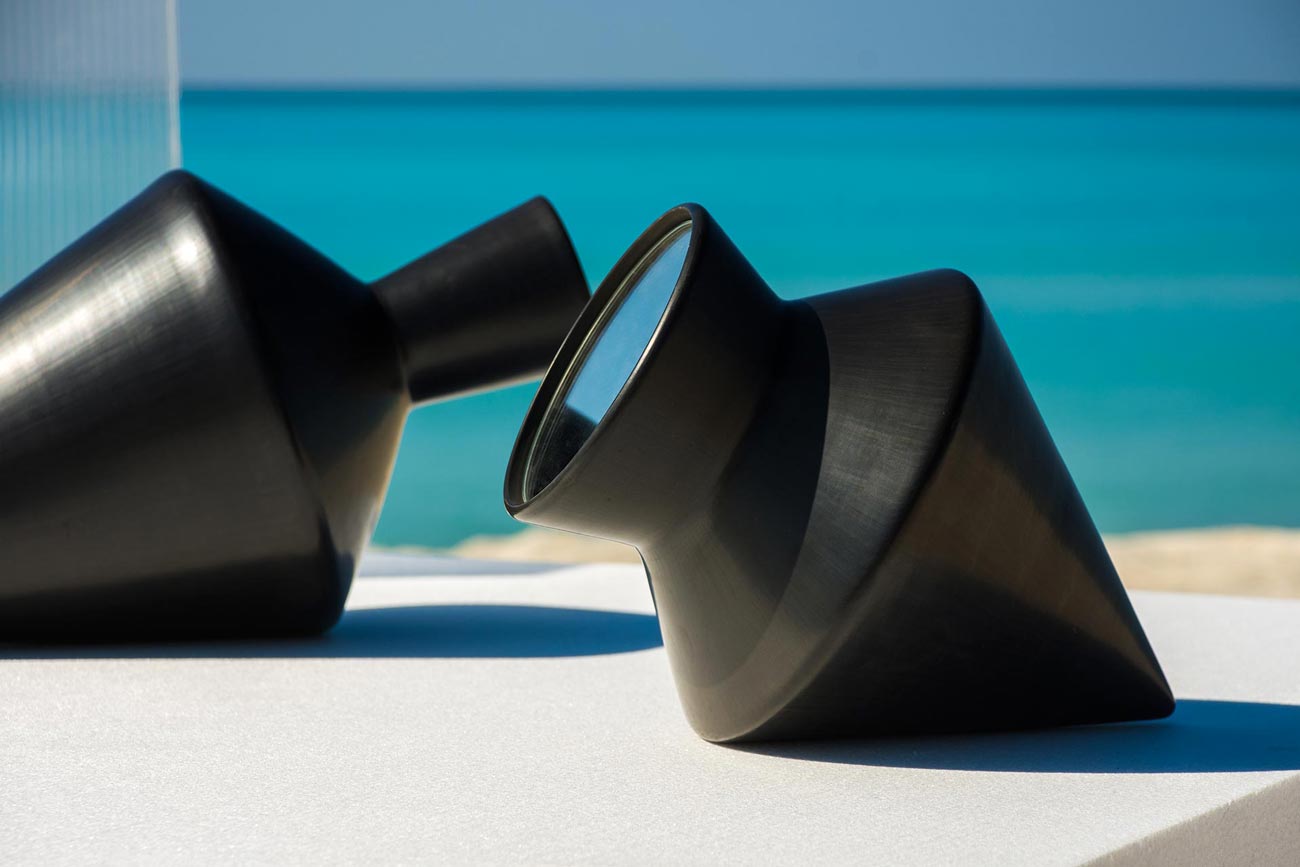 Orb carpets by Milla Novo for Moooi
Netherlands-based designer Milla Novo has designed a series of macrame wall hangings for Dutch Design brand Moooi carpets.
Called Orb, the collection incorporates the knotting technique and metallic ropes from Milla Novo's signature designs and takes inspiration from shapes typically seen in the indigenous Mapuche culture of South America. 
Xilo Edizioni by Xilografia
Italian brand Xilografia unveiled Xilo Edizioni, a collection of innovative furniture serving multiple functions.
Milanese designer Paolo Stefano Gentile exhibited Pole, a system that uses its fixing between the floor and the ceiling to create storage.
Meanwhile, Matteo Ragni unveiled the Xilo Station, a hybrid workspace that conceals itself as a wall painting comprising a frame and a folding panel with customisable graphics.
Finally, design studio ZUMMAUT unveiled a multifunctional wardrobe integrating a sling-style leather seat.
[ Read also Original furniture with original function at EDIT Napoli 2021 ]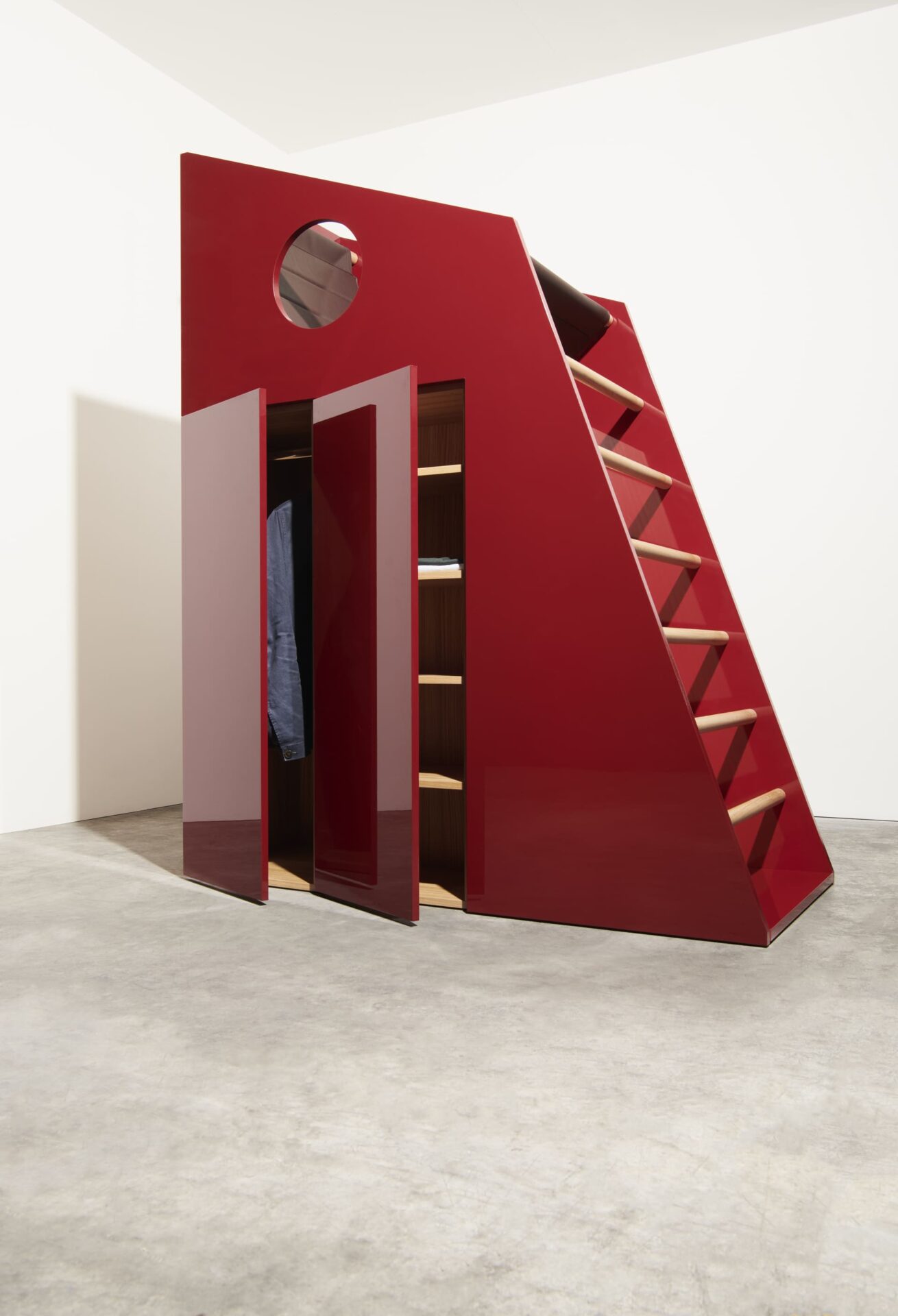 Plinio by Francesco Maria Messina
Contemporary furniture designer Francesco Maria Messina paid tribute to Naples with a table inspired by Mount Vesuvius.
Plinio resembles volcanic terrain thanks to its lava stone base and steel column covered in polyurethane with a concrete finish.
It supports a smoked shaped glass tabletop, which further references the inspiration behind the piece.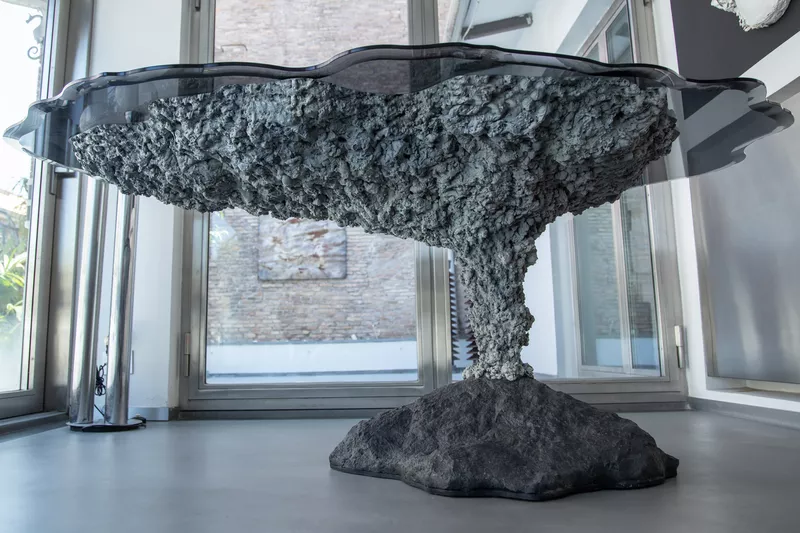 Tavolino 2 by Julia Chiaramonti Studio for Pulpo
Franco-Italian designer Julia Chiaramonti unveiled a glass table with a base made from a single sheet of wavy aluminium. The piece was created in collaboration with luxury furniture manufacturer Pulpo.
"We decided to use only one sheet of aluminium in order to keep the idea of movement which is quite unique," says Chiaramonti.
"The manufacturer buckled the sheet in order to avoid any type of soldering process which would have broken the perfect lines."
"We have chosen a powder-coated base and colored glass in order to engage the customer in the playful mix and match game."
Chest'è by Federico Pepe at Museo Civico Gaetano Filangieri
Federico Pepe's monographic exhibition Chest'è presented a body of work comprising a multitude of media, from painting and sculptures to carpets and even editorial projects.
Curated by Federica Sala, it takes over the Museo Civico Gaetano Filangieri to showcase his fluid vision within a unique set of spaces.
The artist's alphabet of signs enables dialogue not only between the various pieces but also with the space, from the succession of symbols on majolica ceramics through to the incredible chromatic cross-referencing between the artist's colour palette and that of the museum room hosting the exhibition. It runs until 30 January 2022.
Hybrida by Patricia Urquiola at Istituto Caselli
Architect and designer Patricia Urquiola reinterpreted traditional Neapolitan white ceramics for the Istituto Caselli – Royal Factory of Capodimonte.
Hybrida is a complex collection of centrepieces inspired by the full-bodied catalog of plants and flowers present in the outstanding factory for early Italian porcelain.
The collaboration between Urquiola and the Institute began in 2020 with the aim of re-reading the ancient tradition of porcelain and enhancing the unique excellence of Capodimonte.
The result is a series of pieces that merge between flora and fauna, blending international design with the marvellous art of Campania of the masters of the Real Fabbrica, and of the students of the school.
Le Manufacture at Teatro San Carlo
Finally, French brand La Manufacture unveiled its latest collections in the halls of the historic San Carlo Theater.
The ornate setting was the backdrop for pieces by Emma Boomkamp, Todd Bracher, Noé Duchaufour-Lawrance, the FRONT, Nendo, Neri & Hu, Patrick Norguet, Marc Thorpe and Michael Young.
Highlights include the Liaison Sofa by Luca Nichetto, which featured a distinctly curvy outershell design cocooning a soft seat with generous proportions.
Meanwhile, Elena Salmistraro exhibited 'Petits Signes', a line of accessories featuring vases, trinket bowls and mugs, all inspired by the doodles in her diary.
[ Read also Elena Salmistraro pays tribute to the Mediterranean with her latest collection for Lithea ]