Mobility design
EHang AAVs takes urban mobility to the air
With new partnerships in Europe and a two-person autonomous air vehicle (AAV) already flying, EHang gets closer to realizing the vision of urban aerial transportation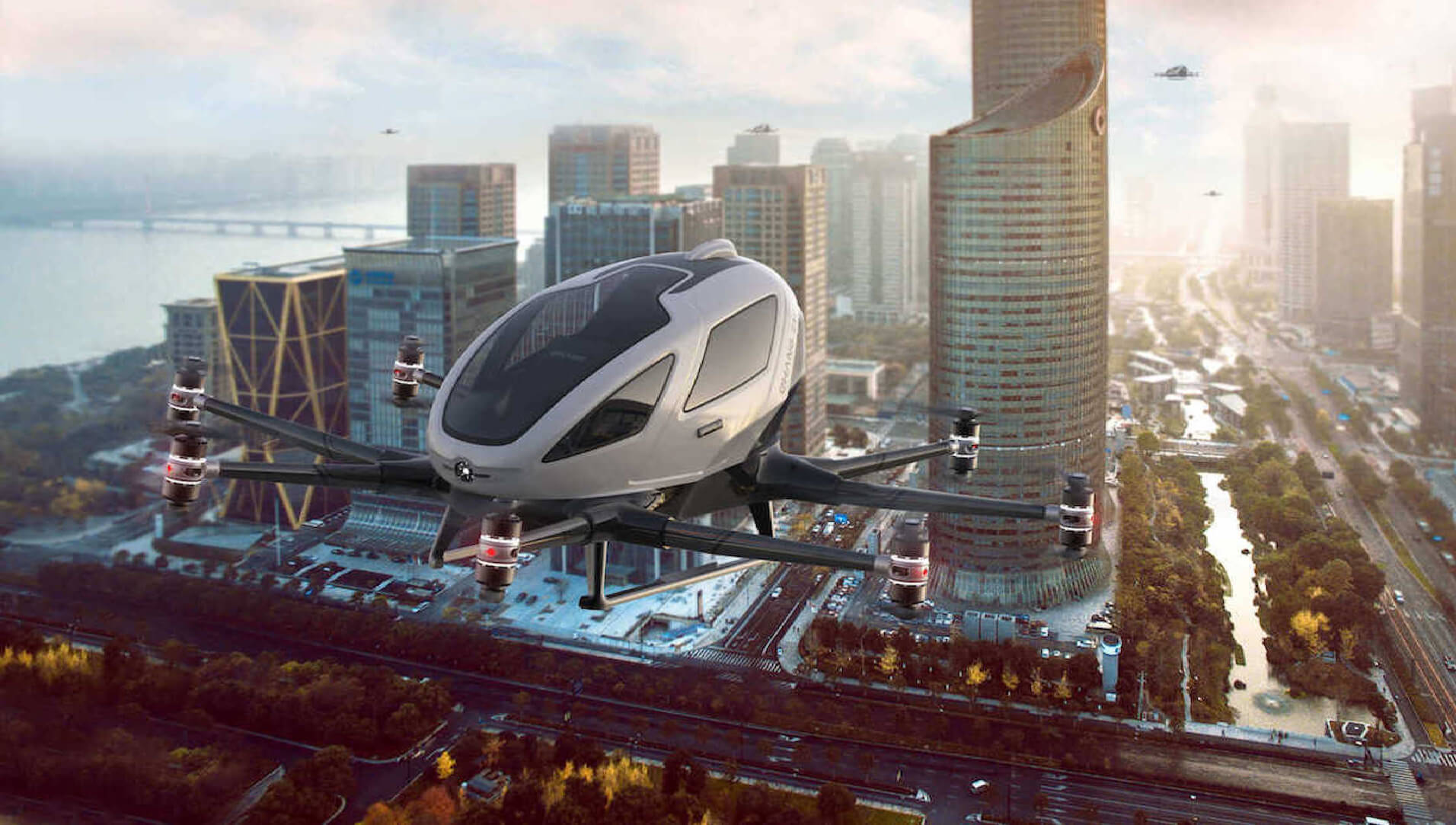 In response to escalating traffic congestion and air pollution, calls for alternative transport solutions are growing. EHang AAVs offers a low-altitude urban mobility solution which is eco-friendly and suited to short and medium-range journeys.
There are also concerns that ground-based mobility solutions might be reaching their limits without significant incentives to reduce private car ownership.
Urban Air Mobility (UAM) is being proposed as a natural solution that uses the air rather than crowded ground space.
EHang proposes an intelligent transport system and believes that as technology costs drop, its AAVs will be accessible to the general public.
The minds behind Ehang AAVs – EHang Holdings Ltd.
Based in Guangzhou, China, EHang is a start-up founded in 2014 that went public in December 2019.
Initially, the company developed drone technology used for aerial photography and surveying missions.
They are behind the world's first autonomous air vehicle (AAV) capable of carrying passengers, which was unveiled in January 2016 at the Consumer Electronics Shows in Las Vegas. EHang aims to "become the world's foremost authority on intelligent aerial vehicles."
Through agreements with several European cities, EHang is now extending its research and development outside China.
At the end of 2018, it announced plans for a research center in Lyon, France, and has since started cooperation with the Austrian FACC and Spanish aviation bodies
EHang is also developing and testing the use of AAVs for logistics, medical and fire response uses and tourist operations.
[ Read also Quarter Car provides ride-sharing with privacy ]
Materials & Techniques – Two-seater AAVs and a central control ecosystem
The EHang 216 is part of a new class of vehicles dubbed eVTOLs: electric vehicles capable of vertical take-off and landing.
It is a two-seater air vehicle, with sixteen propellers on eight foldable arms surrounding the cabin.
The company cites three key philosophies for the design concept: full redundancy of systems to ensure safety, autonomous pilot vehicle, and cluster control via a central command center.
The EHang AAV's electric technology includes a sophisticated battery management system to control its 12 batteries. It has a range of 35km when loaded to maximum capacity, and recharge takes around 1 hour.
The AAVs will fly at a low altitude, below 800 meters. The EHang 216 stands 1.77m high, with a width of 5.61m. It can take up to 220kg in passengers and luggage, and fly at a maximum speed of 130km/h.
Construction of the vehicle is from aviation quality materials to ensure maximum strength and lightness.
The body uses epoxy CF composite material and aviation-grade aluminum alloy. Two 9.7 inch tablets form the dashboard display, and luggage can be stowed in the 18-inch port at the rear.
As part of the overall urban mobility plan, EHang proposes a network of stations that contain charging facilities and enable a constant flow of commuter air traffic to fly along predetermined routes. Customers could book flights via an app.
Similar to train and current air traffic, an intelligent control center to monitor traffic and ensure safety.
Long-distance wireless communication using 4G/5G technology will allow remote control and real-time data transmission and monitoring of the aircraft.
Style & Aesthetics Function driven
The aerodynamic body of the EHang 216 looks familiar as it resembles the cabin of conventional helicopters.
The doors open up gull-wing style, and a long front window allows a view overhead. Inside is comfortable ergonomic seating which was inspired by F1 sports car design.
What we see in the current images of EHang 216 is a base model that could easily be painted and fit-out to suit various commercial operators.
First European license granted to EHang in Norway
The Ehang 216 has received its first approval to fly in Europe.
In March 2020, the Norwegian Civil Aviation Authority (CAA) issued a preliminary operating license to allow long term flight testing.
The CAA considered Norway's 'abundance of sparsely populated areas and free airspace' along with its network of small airports as highly suited to testing the AAVs.
Design Memento – Extend emerging technologies and ensure regulators are on the side
EHang aims to "become the world's foremost authority on intelligent aerial vehicles." In January 2020, it issued a white paper on UAM.
This outlines a bold vision for a future with small agile air vehicles used to fulfill a variety of urban transport functions.
The vision draws upon several technological innovations currently emerging and developing, from drones to autonomous vehicle control, electric vehicles, ride-sharing apps and advances in 'smart' city planning.
EHang sees AAVs as a perfect urban extension to the commercial airline industry.
Without pilots, the vehicles are proposed as safer and more efficient.
They are also far cheaper and quieter than helicopters.
What is unique about Ehang's vision is the central control of the fleet of autonomous vehicles.
There will be no individual AAVs flying about freely. This eliminates the need to rely solely on individual autonomous vehicles making localized decisions about routes, operation and safety.
The white paper acknowledges that cooperation with governments is necessary to realize this.
Regulatory structures must keep pace to allow development and implementation, and are a key part of the design strategy.
The writer's comment – Patents outweigh trust and social analysis
EHang is not the only player with air taxis in mind. There are many new patents for eVTOLs and companies including Lilium, Kittyhawk, Volocopter, Airbus and Boeing are also building their own models.
With the specter of reduced car use looming and their economies of scale in place, automotive companies are also expressing interest in the area.
What might be lagging behind is consumer trust. Safety is paramount and many, many thousands of hours of test flights without incident are needed.
Cooperation with regulators should also be coupled with dialogues which include planners and social policy experts. We should be wary of becoming too enamored with the promise of solutions, and not neglect to consider the wider implications of the technology.
Consider that evidence now suggests ridesharing added to the road congestion it promised to alleviate.
[ Read also Flying taxi coming soon: Lilium Jet announces the first successful test flight ]