Mobility design
A talk with Denys Lapointe, the visionary Chief Design Officer of BRP
The award-winning designer behind this leading recreation and powersports vehicle company, Denys Lapointe recounts his decades-long journey with BRP, his methods and perspective, and insights into the industry as it moves towards greater sustainability
As is often the case, great companies are created when their founders provide a response to a previously unmet need. And Bombardier Recreational Products Inc. – a Canadian snowmobile, ATV, side-by-side, motorcycle and watercraft manufacturer – is no exception.
For founder and mechanical engineer Joseph-Armand Bombardier, this defining moment came in 1934 – before he set up his original company, L'Auto-Neige Bombardier Ltée, in 1942 – when due to a blizzard he was unable to reach the hospital in time to save his son from a burst appendix. While in previous years he had been developing a vehicle that could weather the elements and lighten the burden of harsh Quebec winters, this tragic event was his additional inspiration to design the first snowmobile.
Fast-forward to over 80 years later and the company – which was officially launched as stand-alone company BRP in 2003 after the Recreational Products Division of Bombardier Inc. was spun off – is now traded on the Toronto Stock Exchange and the NASDAQ, has over 20,000 employees worldwide and 12 manufacturing facilities in six countries, and boasts a wide portfolio of industry-leading products including snowmobiles, all-terrain vehicles, motorcycles and watercraft.
Someone who has been along for the ride (literally and figuratively) for almost 40 years is Denys Lapointe, Chief Design Officer and BRP Design & Innovation team head who joined Bombardier in 1985 and has been with BRP ever since it was spun off. He and his department have brought to life unique and innovative products that continue to change how people travel across land, sea, dirt and snow.
Over his impressive design career, Lapointe has authored 27 patents with BRP, and he and his team have won over 120 international design awards. With a degree in Environmental Design, he is a member of major design organizations like the World Design Organization (WDO) and the Association des designers industriels du Québec (ADIQ), and his accomplishments include being inducted into the National Marine Manufacturers Association in Canada for his career achievements and contribution to the recreational boating industry.
We interviewed Lapointe to learn more about his formidable career and work and his vision and perspective on the design world and his industry.
What is your personal vision as a designer, and how do you bring this vision to life in your work?
Denys Lapointe:
"I often say to my team that identifying the right problem is 50% of the solution. I challenge them to be ethnographers at heart. Designers have an antenna into the future and must be sensitive to environmental, political, societal, generational and other trends. They look for key insights, combining creativity, facts, technical skills, and observations to propose solutions to ongoing and future challenges faced by a given consumer segment. In doing so, they help make the world a better place."
How would you describe your and your team's design process for your products? How important is a design thinking approach?
Denys Lapointe:
"Consumers provide us with a wealth of information by sharing their impressions of a product, identifying the things they like about them, and telling us about some of the challenges they encounter. It's our job to use creativity to meet these challenges head-on, to go beyond their answers and come up with solutions.
It all starts with the insights we gathered, with the general context. Then we place the concerns of the consumers at the heart of our thinking to come up with a hypothesis, a problem statement. From there, we leverage creativity and our team's diverse technical expertise and backgrounds. We challenge each other to think beyond the problem. We diverge to converge until we find the most promising solution. We can then create functional prototypes, test them, go back to our consumers to validate our solution, and see if it resonates with them.
Two recent examples come to mind in our fleet of products. Through design and innovation, we were, in both cases, able to change the paradigm of our industry.
The design of the Can-Am Spyder, a three-wheel motorcycle arose from some of the concerns consumers shared with us. Many of them wanted to ride a motorcycle, but having never done it before, were concerned by the stability of a two-wheel motorcycle. It can be challenging to learn to ride a two-wheel motorcycle as it demands you counter steer, which is different than most products people have maneuvered before. Our consumers didn't say "what about adding a third wheel to the motorcycle?". We listened, noted they wanted stability and visibility and designed a product that gave them all that and more to enable them to have a totally different experience on the road.
The Sea-Doo Switch completely revolutionized the pontoon segment. It earned a Red Dot Award, an IDEA Award, an If Award, as well as awards from Good Design Australia, Good design USA. Consumers were looking for a product that could provide them with the flexibility to go fishing in the morning, but that would also allow them to enjoy life on the water with the whole family in the afternoon.
We derived some insights and inspiration from a long-standing childhood favorite: LEGO blocks. With its flexible layout options, the Switch cuts through the sea of sameness that had been the norm in the pontoon segment for decades. Consumers helped us identify the problem. We went beyond the problem to revolutionize the market offering."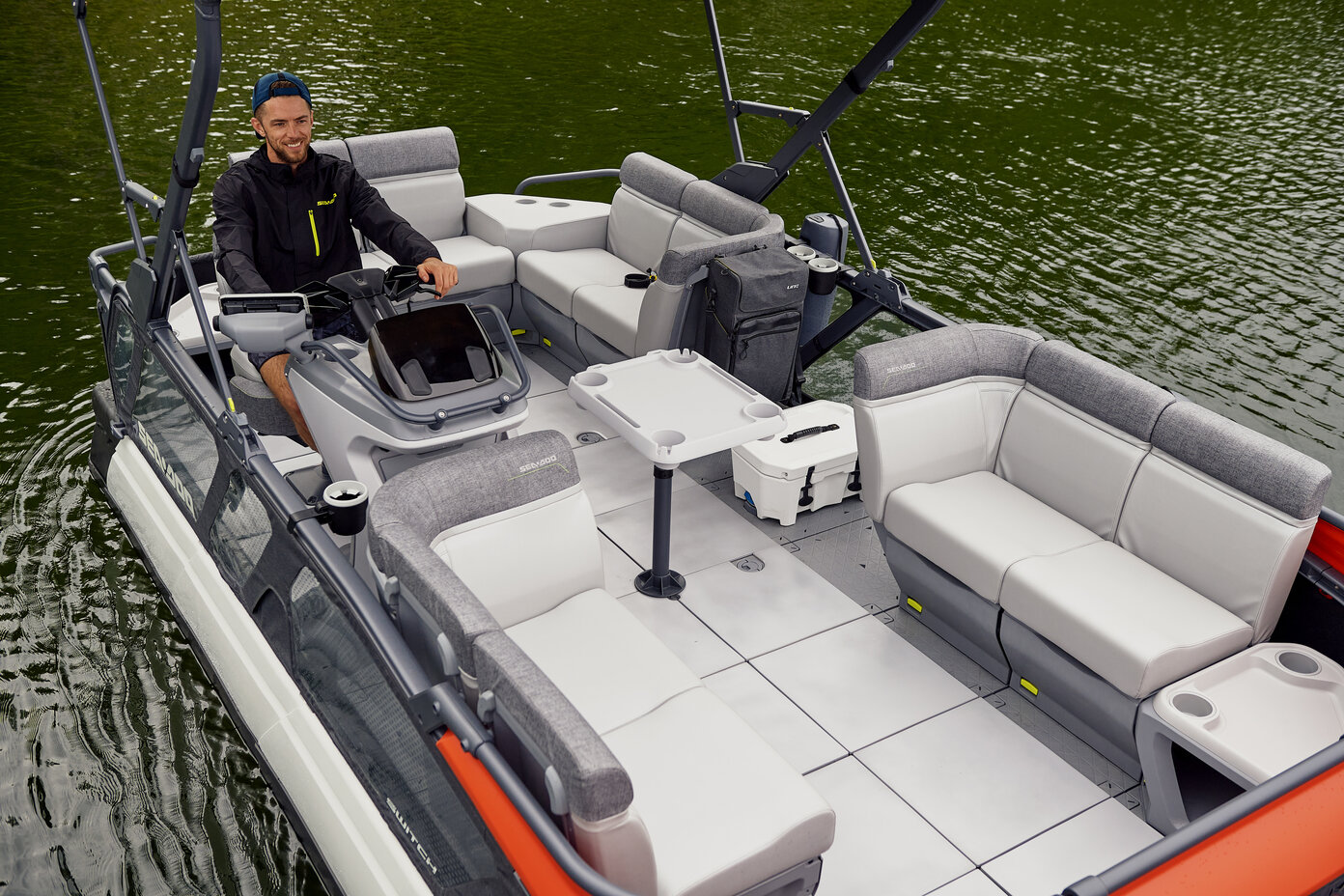 What can you tell us about the early days of your career? What made you continue with the company following BRP's spinoff and evolution over the years, and how have you changed as a professional over this time?
Denys Lapointe:
"The first project I worked on was a car. It was a joint venture between BRP, Bombardier and an external partner. The program didn't fly, and Bombardier ultimately moved into the aerospace sector. There was an internal design competition when BRP was still under the umbrella of Bombardier early in my career. We were asked to design the rebirth of Sea-Doo, and my design won. I was given the mandate to bring my vision to life. That led me to designing the first five generations of Sea-Doo products. I had the chance to slowly build a team to support this growing business segment.
Starting in 1989, I was asked to help implement BRP's design philosophy which is centered on innovation, functionality, and the wow factor, to help increase the chances of commercial success of our products. I was named Director at age 27 and asked to take over the design at Ski-Doo, where I implemented the same design philosophy. The hard work of the team and having a common philosophy and focus enabled BRP to regain the number one position in the snowmobile market, in part because of our innovative REV platform.
After a few decades with BRP, I now have the great privilege of being Chief Design Officer and I am overseeing 130 talented individuals hailing from 19 different countries. Over the years, the team's philosophy and know-how garnered more than 160 international design and innovation awards. I keep learning and growing and get to work alongside world-class designers who share my vision of the profession and want to change the world through design.
What is your personal relationship with nature and the vehicles you design?
Denys Lapointe:
"This is twofold for me as our products are both inspired by nature and enable exploration and discovery of unchartered territories. I have the utmost respect for the natural world. In fact, we often, as part of our ideation process, attribute animal-like qualities to our products. Our brand's DNAs are made up of several design cues colored by animal influences. We use these points of influence to create dynamism even when the product is standing still.
Biomimicry, a practice that learns from and mimics the strategies found in nature to solve human design challenges, is quite central to our creative work. For example, birds played an influential role in finding a solution for the wing of the Sea-Doo Rise eFoil, an all-electric hydrofoil board which we unveiled last summer.
I like to think that in the last few years, with the travel restrictions due to the pandemic, our products allowed people to discover or rediscover nature near and around them."
How do you overcome challenges and/or failure as you create your products?
Denys Lapointe:
"Design as you know, is not a linear process. Creativity does not strike on demand, but the creative process is most effective when framed by limits, including deadlines. Design is a field that requires humility and collaboration. Everyone must check their ego at the door for the process to work.
Challenges and roadblocks are part of the everyday life for designers, as it is the case for many others. Our colleagues in engineering, who we work with extremely closely, also overcome multiple failures and challenges while bringing products to life. It's trial and error.
Ultimately, we must let the subconscious do its work. It can help to sleep on the challenge, take some time to analyze and digest problems, go back to the why, etc. The concept of creative tension is central to our field. You lose sleep over the problem, and eventually get out of your own way. This usually happens when you stop focusing on the issue, get out of the forest as we say, so that creativity can bring about magic.
Leveraging the pool of talent, the team's experience, the diversity of expertise and background allow us to come up with multiple solutions and to pick the best ones. We diverge to converge, and through the power of the collective, we get there!"
What are some current trends linked to the powersports vehicle industry? How has people's use of these vehicles changed over time?
Denys Lapointe:
"Beyond trends in our industry, we look at mega trends, emerging environmental, demographic, and social trends, because our goal is to be different from the competition. Being sensitive to trends outside of our industry allows us to create products that meet the needs of different generations of people in different markets.
Our first step is always ethnographic research. Incorporating big trends into our problem solving and conceptual research is how we became a leader in our industry, trend setters. This also allows us to fully realize the role of the designer, which again, goes beyond product design. There is a greater purpose to what we do.
At BRP, we often say the road is for everyone, and we mean it! Fundamentally, our job as designers is to build a more sustainable and inclusive world and help people have unique adventures within it."
As sustainable mobility becomes an ever-pressing issue, what adjustments are you and your team making, and what will the impact be for brands like BRP?
Denys Lapointe:
"In early April we inaugurated our first European Design Centre in Sophia Antipolis in the south of France. It will carry out advanced concept studies on sustainable urban mobility. Geographical proximity to European consumers, as well as collaboration with regional business and community stakeholders, will allow us to reinforce our understanding of market dynamics.
Our team in Sophia Antipolis will work together with our LVHA (Low-Voltage and Human-Assisted) Group, a business unit created in 2022 to support BRP's global electrification strategy. Acting on our ambition CSR25 program, we committed to a technological transition. Our aim is to offer electric models in each of our existing product lines and to have, by 2035, 50% of the units we sell be electric.
To feed our thinking, and wishing to support the emerging generation of designers, the fifth edition of the BRP International Design Competition took place between September and
December 2022. Winners were announced live from Rovaniemi, Finland, during Arctic Design Week in March this year. Students from six universities located north of the 45th parallel were invited to participate. Participants were asked to design an alternative personal transportation device, capable of accommodating an occasional passenger and offering storage space for daily needs. The product had to facilitate access to and from cities, in a safe and sustainable manner.
Participants also had to consider cold-climate imperatives such as snow and ice. Our interactions with the students were mutually beneficial. They received mentoring, and we had a chance to hear about the concerns of the next generation. From both an employer and a design standpoint, the competition provides a unique opportunity to include upcoming talent in our ethnographic process and look into the future differently."
Can you give us a glimpse of upcoming projects, products or plans you're working on?
Denys Lapointe:
"We are working on a lot of exciting new projects, and more will be revealed in August as part of our BRP 2024 Summer Club. We have two Clubs every year and that is when we unveil our new products.
Last February, we announced our first ever electric Ski-Doo snowmobiles, which will be dedicated exclusively to Unchartered Society, BRP's global network of certified experience outfitters and tour operators that offer curated powersports adventures. This will enable consumers to have a new kind of experience on snow.
We are also pretty excited to offer, for the summer 2024 season, a completely new experience. Our Sea-Doo Rise will democratize the hydrofoiling watersport. This new product is one of its kind, cleverly designed with innovative and dynamic features that transform the board as riders gain experience over time.
To empower the 130 members of our Design & Innovation team to do what they do best, change the face of power sports, BRP has invested in its design centers in Valcourt, Palm Bay and Sophia Antipolis in recent years. Our team works in world-class facilities, which helps us unleash the full power of design. Investments into infrastructure and into our staff is a testimony to BRP's philosophy and commitment to design and innovation as a lever for growth."