Furniture design
Marble-look surfaces top 3D-printed plastic bases in Elli's furniture collection
Elli is a design brand with a strong belief that it is possible to create long-lasting pieces of furniture with Italian excellence, without harming our planet
Elli Design challenges the future with avant-garde shapes and contemporary innovative designs, using the most revolutionary technology that blends with a wide network of highly passionate artisans.
It is only through the union of crafts with technology that we can provide solutions for a better planet. Elli uses "the past" as a motor power towards innovation, to create with enthusiasm products with a soul and a strong identity.
Manufacturing & Sustainability
Innovative & sustainable manufacturing is part of the DNA of Elli's creative process. Their challenge is to reshape the current design procedure, combining Italian tradition and excellence, with innovative and sustainable technology.
Through a network of professional artisans and innovative methods, Elli supports circular manufacturing: by using Caracol's 3D printing technology each piece of furniture produced can be recycled and transformed into a material to produce something new.
Furthermore, the production process used allows to manufacture of objects according to a zero-waste logic and in full compliance with the circular economy rules. By virtuously exploiting the incredible properties of plastic, Elli products are in turn 100% recyclable once they reach the end of their life cycle.
Packaging
According to Elli's philosophy, the brand proposes reusable packaging for its products made with FSC wood, no plastic such as bubble wrap and polystyrene are used. Elli's wooden packaging can be reused as a container, storage unit or even urban garden.
[ Read also Shape it, click aaand: print! Unleash your imagination with Roche Bobois' 3D printed concrete CORAIL table ]
Soho Table
This table is composed of a central leg characterized by an organic and slender shape, built using a 3D process. The material used for this piece is glossy white PLA (polylactic acid), which is a bioplastic obtained from corn and wheat. The top that makes up the table, has a round shape and it's available in two versions: ceramic or fenix.
Soho chair
The Soho chair symbolically represents all the values of the Elli brand. Clean lines, aesthetic references to the historicity of Italian design but with an innovative vocation expressed by the material language and the production process chosen.
The seat is made using robotic 3D printing technology in polypropylene with glass microfibers, a resistant and durable material with a soft and velvety perception, coming from 100% recycled sources.
Bryant
The design of Bryant side table is characterized by a twist that makes it look almost like a fabric. The material of the structure is PP (polypropylene) in opaque black color coming from recycled sources.
With its top is available in two material versions, ceramic or fenix, Bryant Coffe table connects the ancient artisanal expertise with the most avant-guard manufacturing technologies.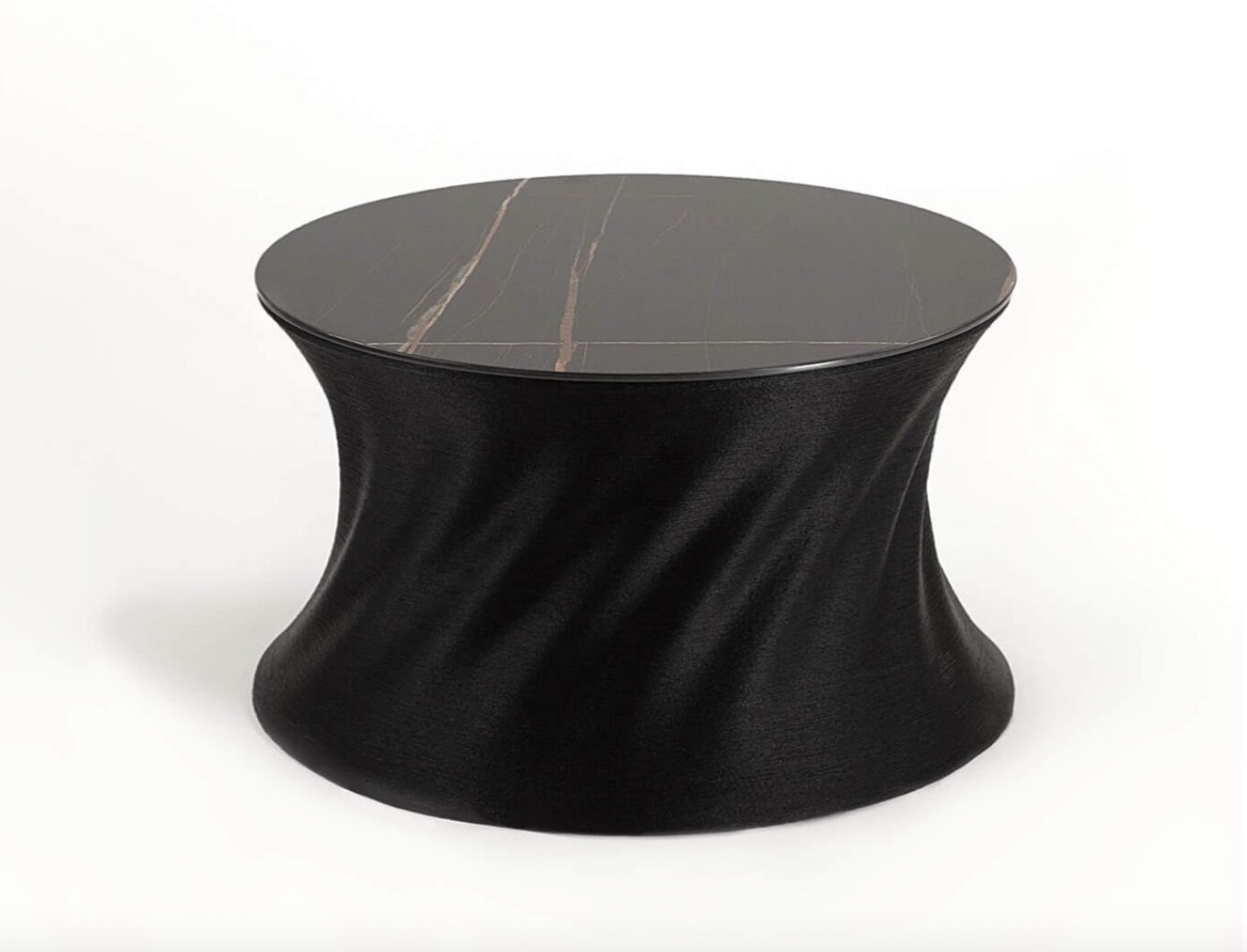 Achille
The design of this coffee table pays tribute to the exceptional Italian designer Achille Castiglioni. The base is made of canaleatto walnut and has sumptuous shapes with a single tapered leg inserted in a diagonally cut globe.
The round top is of FENIX NTM®, a nanotech material with a matte black finish.
[ Read also Pushing the boundaries of sustainability and digital craftsmanship with The New Raw ]