Furniture design
Weight of Wood invites you to explore the fascinating world of wood
At the recent 3daysofdesign festival, Dinesen captivated visitors with a showcase of tactile, balance-oriented objects crafted from exquisite Dinesen wood, encouraging attendees to engage, touch, explore, and interact with these extraordinary pieces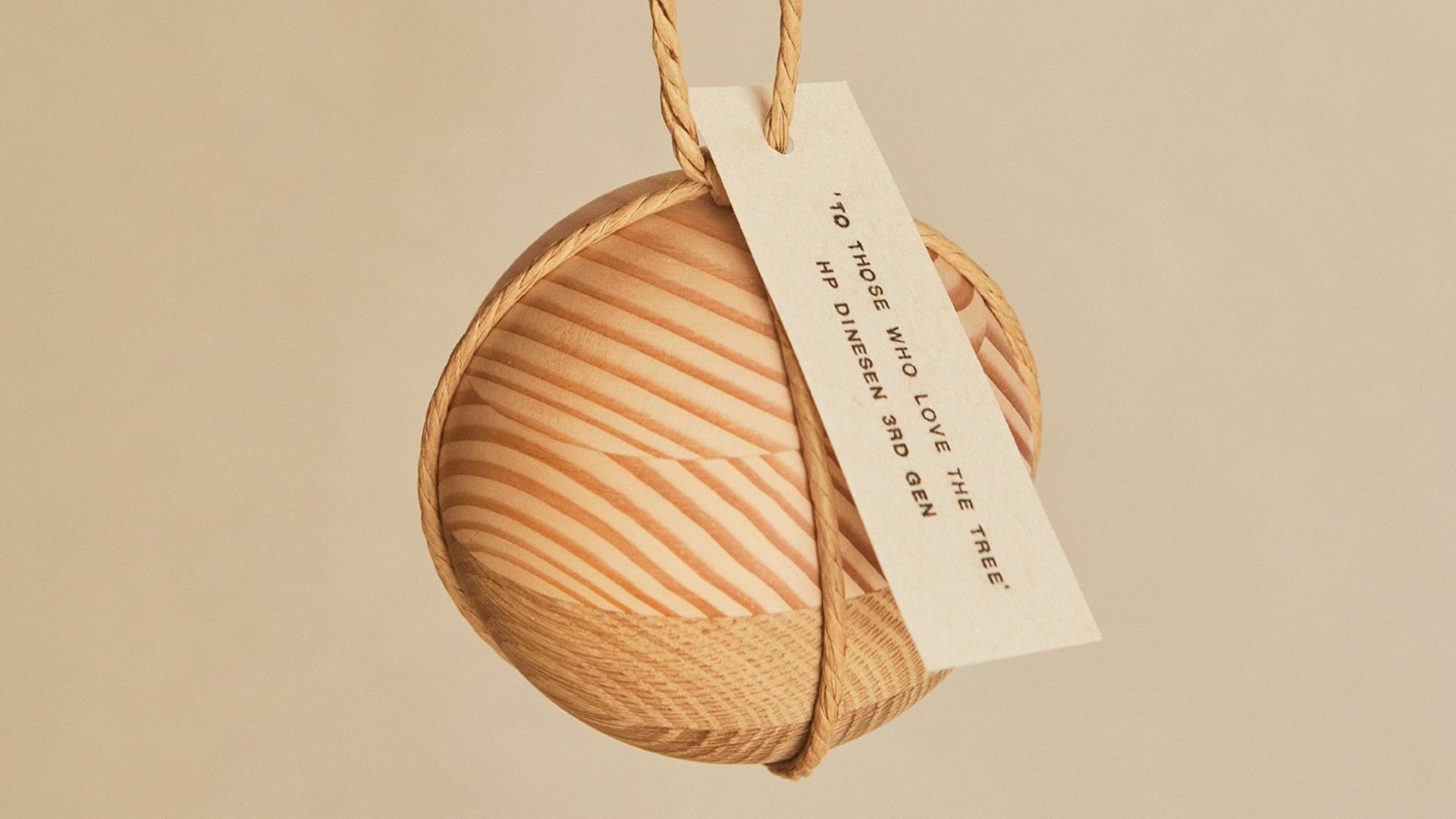 Dinesen, the foremost manufacturer of exquisite plank floors in Denmark, traces its roots back to 1898 when it was established as a family-owned sawmill. With an unwavering commitment to exceptional wood quality, the company has garnered a reputation for setting the highest standards in the industry. At the 3daysofdesign event, Dinesen and Christian+Jade collaborated to present "Weight of Wood," an immersive and imaginative exhibit that aimed to ignite curiosity and fascination surrounding the captivating world of wood.
Christian+Jade is a design studio led by Christian Hammer Juhl (DK) and Jade Chan (SG). Their collaboration began during their studies at the Design Academy Eindhoven. Currently based in Copenhagen, they explore design as an artistic form of expression, with a special focus on craftsmanship and materials.
Through a playful and explorative experience, visitors were encouraged to delve into the depths of their curiosity and engage with the exhibit, allowing them to gain a deeper appreciation for the unique qualities of wood.
Throughout the course of human history, wood has held a crucial role in our lives, providing us with fire, shelter, and tools, aiding in our evolution. However, as time passed, we inadvertently undervalued its significance. Today, wood surrounds us, silently existing in our floors, walls, tables, and chairs. Yet, paradoxically, we have become increasingly disconnected from the forests and the trees that provide this invaluable resource.
Weight of Wood aims to bridge the gap between our perception of the forest, the growth of trees, and wood as a commodity. By exploring the weight of wood, we gain insights into its unique personality, temperament, and the environmental conditions in which it was nurtured.
After visiting the event, we decided to ask some questions to both Jens Jacob Dinesen, Head of Strategy and Business Development at Dinesen, and the designers involved in the project.
QUESTIONS FOR THE COMPANY
What motivated you to collaborate with a young duo like Christian + Jade? What was your objective?
Jens Jacob Dinesen:
"At Dinesen, we have a deep curiosity about wood and a sense of responsibility towards developing a greater understanding of the wood, the tree, and the forest. A few years ago, we initiated a project called "A Sense of Dinesen" where we explored the journey from the forest to the final product through the sense of smell. Since then, our aspiration has been to further explore this theme from different senses and perspectives.
We were fortunate that Christian + Jade approached us and presented their project idea, "Weight of Wood." It seemed like the perfect continuation of the exploration we started with "A Sense of Dinesen" and a project through which we could learn a lot and inspire people to engage more deeply with wood. From the beginning, Christian and Jade had a genuine interest in forming a close connection with wood and gaining a deeper understanding of its characteristics through collaboration with Dinesen.
When collaborating with designers, artist, and architects, we like to be challenged and to seek to gain a better understanding of ourselves and the possibilities of wood as a material.
Dinesen's mission is to give the largest part of the tree trunk as long a life as possible. This entails a responsibility to utilize every part of the wood we source. To achieve this, we must maintain a constant sense of curiosity, innovative mindset and explore the best possible uses for each individual tree. We hope that Weight of Wood will inspire people to embrace and appreciate our passion for wood."
In what terms did the designers contribute to communicating the brand and its specificities with this project?
Jens Jacob Dinesen:
"A collaboration like Weight of Wood usually starts with wood as the focal point and moves back through the history of the company, into the forest, to the sawmills, and out with new insights through design. Prior to starting the project, Christian & Jade had limited knowledge about Dinesen and limited experience in working with wood.
Their exploration into both Dinesen as a company and working with wood provided us with a fresh new perspective. There is a very natural match between Dinesen and Christian + Jade. For Dinesen this meant that it was easy keeping the project relevant and aligned with our brand. Christian & Jade have provided tools to deepen the understanding of the connection between the forest, wood, and humans.
Through this project, we can communicate how wood grows, acquires its unique personality, and plays an essential role for humans. The title "Weight of Wood" encompasses both the importance of wood for humans and our climate, as well as the actual weight and density of wood."
Are there aspects of this exhibition that will remain in your communication beyond 3daysofdesign?
Jens Jacob Dinesen:
"We always strive to develop our language regarding our company and products. Similar to "A Sense of Dinesen," "Weight of Wood" teaches us new ways of communicating the qualities of wood. When presenting our products, we prefer to start by engaging the senses and discussing how wood makes us feel.
There are several objects from the exhibition that are ideal for initiating conversations like this. Additionally, the exhibition will be showcased in Oslo at Designers Saturdays and as part of The Mindcraft Project in September."
QUESTIONS FOR THE DESIGNERS
What does it mean for a young entity like yours to collaborate with an established brand like Dinesen? How did you establish contact with the company?
Christian + Jade:
"When we first conceived the idea for the Weight of Wood, we knew that if we wanted to truly dive deep and explore it, we had to reach out to a company that were not just experts in wood, but that also encompassed a sense of curiosity and love for the material and the forest. Dinesen has through their collaborations, projects and summerschools for architecture students expressed a wholesome approach to working with wood – so we thought that Dinesen would be the perfect partner for this project.
Working together with a company like Dinesen has been a fun journey as a young entity and gave us access to a large network of foresters, wood anatomists and dendrochronologists, that all gave us great insights and perspectives to work with. The historical weight of the company grounded our project and has been a door opener to meeting lots of interesting people that has been essential for the project."
What motivated you to undertake the Weight of Wood project? Why do you believe it is relevant for Dinesen?
Christian + Jade:
"What motivated us to work on the Weight of Wood was actually something very simple – and that was just standing with two pieces of different pieces of wood, and being able to feel that they do not weigh the same, and asking yourself – which one should I use? We saw the Weight of Wood as an opportunity to go beyond the surface of that question, and really explore the different properties, but also personality of various wood species.
When we first reached out to Dinesen, Jens Jacob in particular, one of the first conversations we had was about how the concept of "weight" has become inseparable to ideas of quality, and floorboards of the highest quality is what Dinesen is renowned for. What does that mean when Dinesen says that? Is it how the tree is grown, is it the choice of tree species? That became our collective starting point."
Could you walk us through the creative process, from inception to the actual realization of the exhibition? How did you gather information, and how did you define the exhibition outputs?
Christian + Jade:
"The project started with a one month residency in Dinesen's production facility in the South of Jutland in Denmark. We worked in "Jels Savaerk", where the company began as a local sawmill that sold all forms of wooden products. With that as our basecamp, we spoke to people in Dinesen's production facility, foresters, scientists, building engineers and more, all of whom presented very different perspectives and angle to wood.
To define the exhibition and project, we divided the Weight of Wood into three categories:
Forest and Wood – explores how wood can have different weights based on where they are grown
Wood and Wood – explores different wood species from Schwarzwald, the Black Forest in Germany.
Wood and Human – explores how knowledge and research about the forest and its trees can be used as a tool for designing."
Do you think this experimentation/exercise could be carried out with other materials? If so, which materials and with what potential perspectives in mind?
Christian + Jade:
"Yes, for sure. What we developed with the Weight of Wood was not just a design methodology, but mostly a way of thinking about material, about where it came from and the hands it passed through to arrive where it did today. Our goal has always been to expose its hidden life and stories and complexity. We actually recently completed a project about glass with a similar way of thinking. You may read more about it here."
Thinking about the end customers of the company, what role does an experimentation like the one you conducted play? What message does it convey to potential buyers?
Christian + Jade:
"We hope that our experimentations will spark more curiosity and questions around wood, but also serve as a reminder of its richness, warmth, beauty and complexity, and why we continue to surround ourselves with it today. In regards to the message it conveys to potential buyers and end customers of the company, Dinesen has a better idea of their customers and buyers."